Note: You cannot possibly hire a full-time agency, a full-time freelancer, or a full-time employee for this price point (since they'll cost you more). To achieve deployment of complete digital marketing, all month, every month, it's expected that you'd do the bulk of all the work (especially the content production, content marketing, and content distribution work).
Second Note: You'd be spending a lot more (in terms of value of time and effort, not including experience) to make this happen. The $500 is mainly attributed to PPC spend (across channels).
When businesses only focus on PPC, I see a strong need for them to start doing something on the organic side of digital marketing such as Blogging, social media, and organic email.
If you are consistently pushing out content as a part of your content marketing strategy, you could add the power of PPC marketing to your marketing mix and set the whole ball rolling. That's the part where the $500 will kick in.
I think of digital marketing is a v12 Engine. Most business owners think that it takes a lot to fire up every channel that digital marketing entails.
Heck, many businesses I know can barely put up with their blogging and social media schedule, let alone running everything.
Although we do provide end-to-end digital marketing services for clients, I want to show you how you could do it within $500 per month.
Scheduled Blogging (1, 3, 5 times per week)
Your business solves a problem. The problem your business solves usually relates to a very specific buyer who needs your products or services (aka customer persona).
When publishing blog posts, your goal is to inform, educate, inspire, or roll out ideas that empower your community. Your blog posts shouldn't be so much about your products and services but more about what your products and services can actually do for your customers.
Either that, or directly address related problems and nuances that your community relates to.
HootSuite is a social media management and publishing platform, and their blog has loads of tips and tricks to help you use social media for your business.
Freshbooks publishes more content that helps freelancers to tackle the business of freelancing.
Reply.io does what it can to publish content that'll allow sales professionals, entrepreneurs, and marketers tap into the power of cold email outreach, social selling, and more.
OptInMonster regularly publishes content on digital marketing. More specifically, their blog helps readers understand, use, and deploy methods to grow your lead base.
Convertkit blog is all about using the power of email marketing to build a side hustle or even a full-time business.
My own blog covers everything about digital marketing (because that's precisely what we do).
Decide on a frequency of publishing for your blog (much like a magazine has a specific release frequency like fortnightly or monthly).
Start blogging. Don't ever stop after.
After you establish a frequency, you'd get into the act of doing secondary publishing activity, which leads us to:
Complete Content Marketing
Starting from your blog, and reaching out into the far corners of the Internet, you have the never ending job of content marketing.
It sounds simple, but it isn't.
At the outset, you'd have to focus on the following:
Publishing videos, audio podcasts, Interviews, Webinars, etc.
Publishing snippets, posts, questions, discussions on Social
Media.
Publishing reports (such as this one), White papers, etc.
Creating an iPhone App, Android App, a widget, link bait content (such as calculators or other nifty content), or a Facebook App.
Publishing Slide Decks, Infographics
What do you do with a round-the-clock, gargantuan effort such as above? Go social, that's what.
Social Media Management
Set up a Facebook Fan Page, a Google+ account, and a Twitter account (for your business). If it makes sense for your business, an Instagram account, a Snapchat account, and more.
Your personal accounts don't count.
Also, Create accounts with StumbleUpon, Pinterest, and Tumblr (if you want to). Facebook, LinkedIn, Google+, Twitter, Pinterest, and StumbleUpon works for a lot of my clients.
Now, every blog post along with any other content (videos, podcasts, Slide decks, and infographics) that's published should find a way to float through each of these accounts. Share your content as you publish (this should become second nature, and a part of your publishing activity).
Setup another schedule (you don't have to be precise with this) for all the content you produced (yesterday, today, and in the future).
Use can use a tool like Hootsuite to make it easier for you to plan and schedule ahead.
Email marketing
There are precisely two ways to use email marketing: the no-brainer way and the advanced way. If nothing, you'd do well to do email marketing at least the "no brainer" way, right?
The no-brainer email marketing method takes care of bare bone basics of email marketing which will still go a long-way to help nurture your subscribers, leads, and potential customers.
Regardless of the email service provider you might use, you'll be able to attempt and keep basic email marketing campaigns active and live.
RSS-to-Email Campaigns
Because you publish on your blog regularly, it makes sense to send out a digest of your previously published (and recent) blog posts as a digest to your subscribers. Email service providers such as Campaign Monitor and Mailchimp (and many others) make it easy for you to setup an RSS-to-Email campaign easily and effortlessly in a few minutes.
Depending on your email provider, pick their existing RSS-to-Email campaign template, add logo, change colors to match your branding, add the RSS feed, and set it up.
This is one-time work and it's automatically sent each week to your subscribers ( this campaign only activates itself when you have new blog posts published the previous week).
No blog posts? No emails are sent out.
Regular broadcast Email Campaigns
Often, you'd want to make a few announcements, let your subscribers know what's happening, announce new features, show off your new set of services, or let your subscribers know how special they are. Either way, you are going to use regular old email campaigns for these purposes.
Sending out regular email campaigns keeps your subscribers engaged. You can also inform them, arm them with more information, make announcements, and more.
All it takes is to type in a couple of words (make sure your subscribers feel good, receive new information, or get to know something new) and your broadcast emails are ready.
See how Flywheel does it for its Local By Flywheel offering: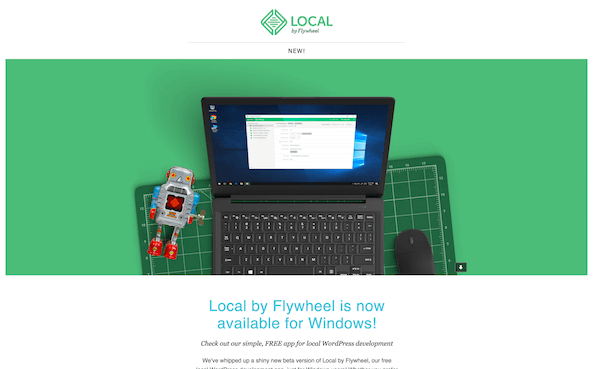 Autoresponders and Marketing Automation
Enter the realm of smart email marketing. Marketing automation might sound all fancy, but it isn't. If a lead subscribes using your contact form, you'd send out a simple email message saying any of the following: "thank you for getting in touch with us. We'll be back with you soon"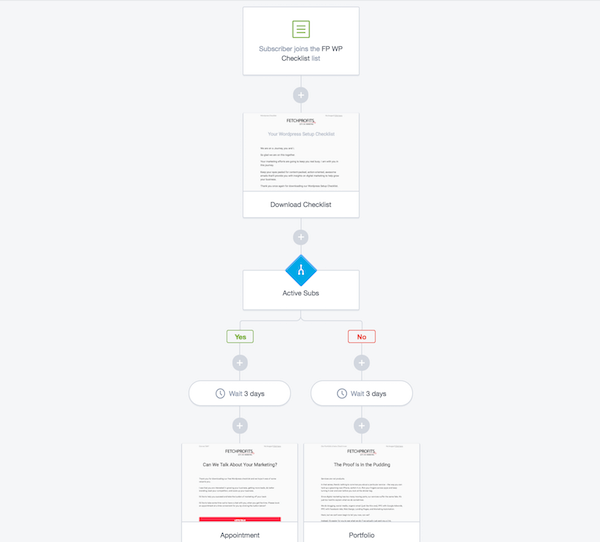 If you have opt-in bribes, content upgrades, or specific white papers, eBooks, reports, or anything you might have given away in exchange for your subscribers' email address, you have the potential to start off a marketing automation campaign to nurture your leads.
Paid Advertising
This is where you'd really be spending money (the $500 per month, in ad spend). You can choose to do advertising with Facebook Ads, Google Adwords, or even mobile advertising. The principles of doing PPC advertising right are the same.
Now, regardless of which platform you start with and also irrespective of your budget, you'd need a sales funnel. Don't even think of getting started without a sales funnel.
Learn more about sales funnels.
You'd also need a few basics like landing pages and you'd need to have a way to track and analyze your paid campaigns.
Read:
14 Tips to make Your Landing Pages Work
and
The Short Guide on Lead Generation That Just Works
You'd also need to focus on Retargeting (at least for later after your paid campaigns run for a while. To dig more into retargeting, go ahead and read up on:
How to Start Retargeting Like a Champ
7 Cardinal Rules for Retargeting You Should Follow
How to Allocate PPC Budgets
Remember that there's no minimum spend on any of the popular platforms such as Facebook Ads and Google Adwords. If there's an agency or freelancer that tells you that you need a minimum of $1000 to get started, they are screwing you all over.
It's true that more ad spend leads to more leads (and hence more sales). But you don't have to lose sleep over your PPC budget in a hurry.
If you choose Facebook Ads to start with, allocate a daily budget of $5 or $10 (which is $150 per month or $300 per month) to start with.
Let's assume that you choose $10 per day ($300 per month) to begin with. This is how your budget allocation should be:
Facebook ads Monthly Budget: $300
Retargeting (Custom audiences on Facebook): $150
Extras (like landing pages, payments to vendors): $50
When you split your budget and allocate it, you are essentially doing the best you can within your budget.
Testing and Optimizing Campaigns
While your campaigns are live, be sure to:
— Test everything out with A/B testing (test your ads, copy, colors, landing pages, marketing automation sequences, email subject lines, timing of those emails, and more).
— Start small and scale up only when you are profitable.
— Make decisions based on data, and not emotions, whims, fallacies, or unproven "ideas".
— Use separate landing pages and ads for Retargeting campaigns.
You'd need as much data as possible to make proper decisions. You can't a campaign for a day and decide anything. You won't see any results in a day and you certainly won't see sales or profits.
Even if you do see any sales, it's going to be short-term (and you might as well call it beginner's luck).
Do you now think it's possible to do complete digital marketing with effort, consistency, and just about $500 per month?
Tell me what you think.