Did you know that you could literally change your marketing game overnight just by sending email broadcasts? Learn how to send ConvertKit email marketing broadcasts in this post.
ConvertKit is one of those email marketing service providers that integrates well with almost every other marketing tool and CMS systems (like WordPress or Webflow). You can easily create and send ConvertKit email broadcasts whenever you want (I'd recommend creating them before hand and scheduling your email broadcasts out. 
Also, it's incredibly easy to use. Get your forever free ConvertKit account and try it out for yourself. 
Learn how to Create broadcasts (and also split test or A/B test your email subject lines) as you use ConvertKit.
Email marketing is something you couldn't do without. It's the marketing strategy that actually makes money but it's also the channel most small businesses don't practice
If you just ignore the noise in the world of digital marketing — say about chatbots, SEO, influencers, social media, and paid ads, you'll realize that it's still email marketing that counts.
According to Caroline Forsey of HubSpot, email marketing generates around $38 for every $1 spent — an astounding 3800% ROI. Yet, not many businesses do it.
How to Use & Send ConvertKit Broadcasts
When it comes to sending your email marketing broadcasts, there's a lot to cover. So watch the video below:
ConvertKit Email Broadcasts
One of the reasons why email marketing doesn't even work for most businesses is because most businesses just forget to "communicate" enough.
They fail to make just enough impact to make email marketing work for them.
They don't nurture email subscribers enough. Or maybe most businesses are guilty of treating subscribers as just a "number" — or something that happened — while subscribers sit in empty, non-engaging email lists.
Be sure to fix on a frequency to send emails.
When you are out and about, sending Convertkit email marketing broadcasts, ensure that you don't "sell" in every email. Instead, do a healthy mix of value-added emails sprinkled with one or to emails to make sales (maybe 1 sales email for every five emails that inform). 
You'll eventually figure out the best frequency for your email marketing. 
Email Subject Lines Split Testing
Your success with Email marketing rests with the efficacy of your subject lines. It's the subject lines that make your subscribers take action. It's your subject lines that affect your email marketing open rates. It's the subject lines that'll help you connect with your subscribers.
Don't underestimate the power of your subject lines. Thankfully, ConvertKit has a handy A/B testing functionality right at the part where you add an email marketing subject line.
As you go about sending emails, be sure to test your email subject lines.
Need help with email marketing Subject lines? Mary Fernandez of OptinMonster has a monster list of 164 Best Email Subject Lines You Can Use
Practice Email Marketing Segmentation
As you create an email broadcast within ConvertKit, you'll have the option of sending your email broadcast to: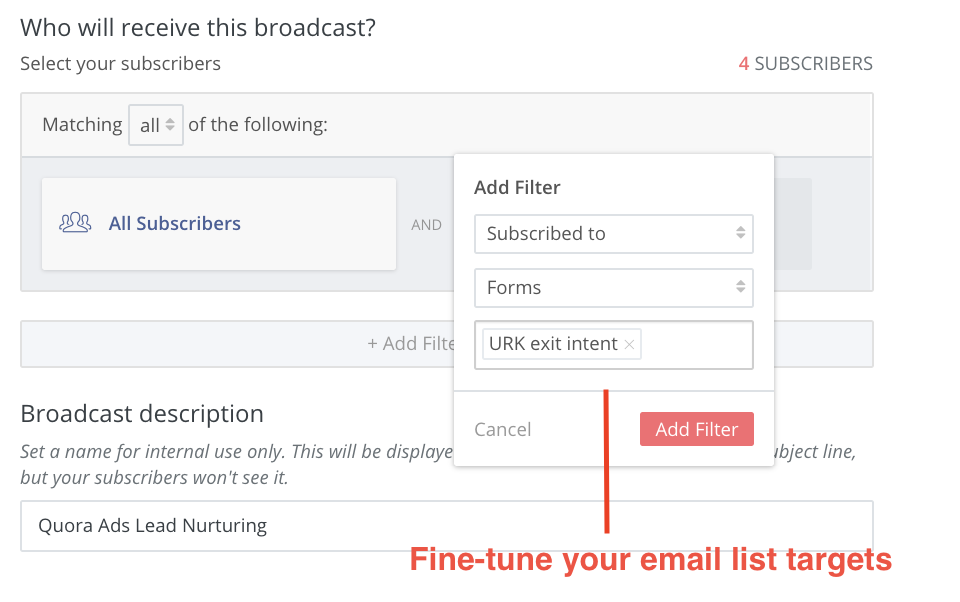 Sending your Convertkit email marketing broadcasts doesn't have to be rocket science. With a little bit of strategic play, consistency, and all the goodness of copywriting, you can change the way you do marketing