I am sorry to put it to you this way: But digital advertising (along with digital marketing as a whole) is now distrustful.
We've always believed that there's no more authenticity and credibility to digital advertising or marketing if you do it the way you are inclined to do.
Assuming you are not doing it the right way, all that hustling and pushing is making your customers wary.
In fact, a lot of people don't trust digital advertising. Steve Olenski, a contributor of forbes.com, refers to a bunch of stats and an infographic by Lab42 reveals the incredible resistance customers have for ads.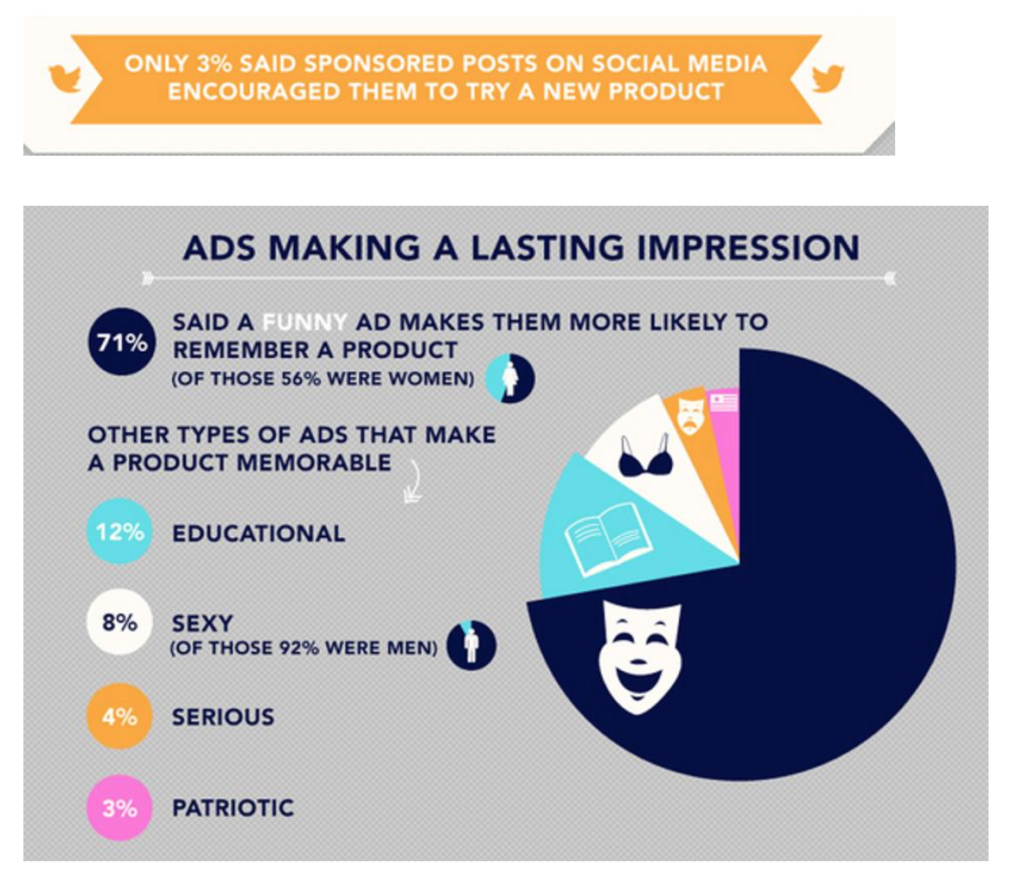 76% of respondents said that ads in general were either "very exaggerated" or "somewhat exaggerated"
87% think half or more cleaning ads are photoshopped
96% think half or more weight loss ads are photoshopped
Further,
Only 3% would describe claims in ads as very accurate, and only 21% would describe ads as somewhat accurate.
A clean, blunt message to all businesses out there: stop peddling all that stuff. Get real. Build trust. Pour out some love. Show some respect.
Adding to all of that prevalent distrust, a new army of non-marketers disguising as marketers now broken the barricades of sensibility and entered into a long, cavernous hall of meaningless buzzwords like "content marketing" and "Inbound marketing"
Do marketing with content and Inbound marketing beats outbound marketing anyway, but no one had to make these buzzwords and rally off to earn retainers and bullshit clients.
On HBR, Greg Satell writes:
We never call anything that's good "content." Nobody walks out of a movie they loved and says, "Wow! What great content!" Nobody listens to "content" on their way to work in the morning. Do you think anybody ever called Ernest Hemingway a "content creator"? If they did, I bet he would punch 'em in the nose.
Samuel Scott on Techcrunch then wrote on why everything the tech world says about marketing is wrong.
It's all for a reason: we just don't give up on the "marketing" crap.
Earlier, we pushed flyers and newspaper ads on customers' faces; today, we do that with megatons of crappy content that now plagues the web.
By its very definition, "content marketing" is:
Content marketing is any marketing that involves the creation and sharing of media and publishing content in order to acquire and retain customers.
This just has to stop. When you do digital marketing for your own gain, it won't get you anywhere.
Here's what you should be doing instead:
Stick to Marketing basics, Please
Direct marketing, publicity, indirect marketing, referrals, offline advertising, online advertising, and anything else you do has its own place in the big "marketing" mix.
No one channel is bigger, greater, faster, more reliable, or less reliable than another.
Different channels; varying results. Stop leaning towards any one channel or method or model.
On Warrior Forum, for instance, you get a lot of crap:
"Tap into native advertising; it's still new"
"Facebook ads are the best. Nothing else works"
"I know this secret to push 56,876 subscribers to your opt-in list in less than a month"
"It's SEO, baby. It's always SEO. It just works"
Can you imagine the bad neighborhood your business can get into?
Don't chase influencers; become one instead
Influencer marketing? What's That? It's strange that we tell ourselves that we need to find someone else to vet what we publish or piggyback on an influencers' hard-earned reputation.
Yes, there are amazing people out there. That includes authors, entrepreneurs, executives, self-employed powerhouses, social media moguls.
They all have opinions, and they have followers who listen and engage.
None of that means that you should chase them on FollowerWonk and start another line of selfish emails to have them endorse your product, review your app, or share news about you.
That's begging. There are better ways to do business than to beg.
There's a better of doing this with influencers: work hard to become an influencer yourself.
Let other marketers chase you and put you up on a pedestal.
Optimize for Honest-to-God results; not metrics
Everyone is desperate for metric-bases reporting, KPIs, and a truckload of nonsensical numbers on charts. Publishers keep optimizing for page views and Google Adsense. Business work to bring conversions on pages, eCommerce owners worry about shopping abandonment.
You are not focusing on you should: results.
Not just any result, though. You'd need a growing sense of confidence that comes from a raging, passionate, and dedicated community of potential or existing customers.
When a sale happens, it should have been a "happy sale" and not a manipulated one.
Your social shares, page views, time on page, bounce rate, events, and behavioral flow — none of this actually tells you how well you are communicating on your website, how honest you are, and how your customers perceive you.
There's no analytics tool in the world to tell you if your business is really the best fit for your customer, and then explain that clearly.
You need something like "I-am-so-thrilled-that-you-are-thrilled-Ms.Customer".
Go count that.
Do marketing to build trust
Most businesses want to do digital advertising to get sales. Everything screams "spam" when that happens.
Turn it around. Don't push; pulling is better.
Use information as currency for your marketing. Publish to gain trust. Amplify on social media to expand your network, so that you have more potential to get the trust you need. Use email nurturing to really "nurture" your potential leads.
When you nurture, you'd have to remember that email isn't just another medium for you to peddle your wares.
Your email subscribers are equivalent to paid customers. Treat them well, pamper them with more information, products, or services that they really benefit from.
Do that with everything from web content to web design; from blog posts to infographics; from social updates to email pieces.
Why take all the trouble? The numbers will tell you a story. According to Nielsen, the most credible form of advertising comes straight from people we know and trust.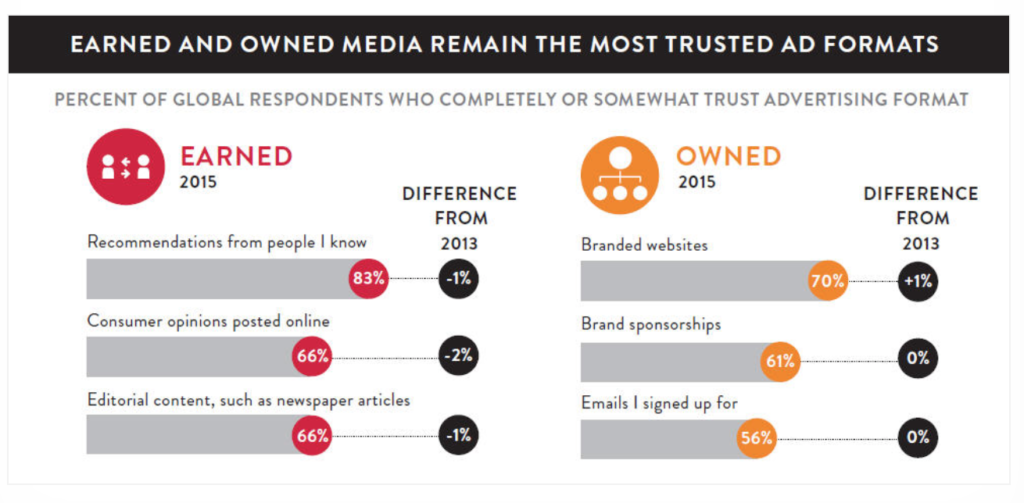 Your customers are going to love you. They'll then share what they know about you with people they know.
More than 83% of people all over the world trust recommendations from friends and family. Another 66% trust other customers' reviews online.
In short, earned and owned media remain the most trustworthy channels.
Your business owes it to you to make the right decisions. Your customers depend on you to help solve their problems. If you'd never manipulate friends and family; you'd never want to manipulate your customers either.
How do you work on building trust? How do you run your advertising campaigns?