Are chatbots dead?
Facebook's M Virtual Assistant doesn't as well as it should? Erin Griffith and Tom Simonite wrote a piece on Wired speculating that while Facebook did manage to keep M for as long as it did, maybe the technology was ahead of its times and that what customers were demanding were buying the AI technology available now.
Maybe. Maybe not. Erin and Tom can have their opinions, but there's a strong case for Chatbots (that makes for another post). At least for marketing, there's a lot that chatbots can do.
Chatbots just kick ass.

How to Build Facebook Messenger Chatbots
Img Credit: Manychat
As such, there are many use cases for Chatbots. According to the folks at Botpress.io, here are a few use cases (quoted as such):
A takeaway restaurant allowing customers to order from a chatbot, either in the store or at home.
A sit-down restaurant allowing customers to order food from their table using a chatbot.
A retail store offering promotions for customers in the shopping mall via the chatbot.
A marketing campaign that asks customers questions or allows them to play a game using a chatbot.
A chatbot that helps customers make e-commerce purchases.
A chatbot that answers customer services questions.
A chatbot that monitors employees or customer's satisfaction
A chatbot that allows customers to book flights and receive relevant information when they are in the airport.
That's a pretty awesome list of use cases if you ask me.
As CEO of chattybots.com, Murray Newlands puts it:
"Chatbots are easy to use, don`t request any downloading or unique skills to make them and communicate with them and that is why it makes them number one tool to use when interacting with customers."
You probably are already using bots in your daily life, asking Siri (Apple) for traffic updates or controlling smart devices in your home via Alexa (Amazon) and these have more conversational human qualities.
Plus, almost 65% of people surveyed by Vibes 2017 Mobile Consumer Report are already comfortable with chatbots.
Further, the number of adults using chatbots is growing phenomenally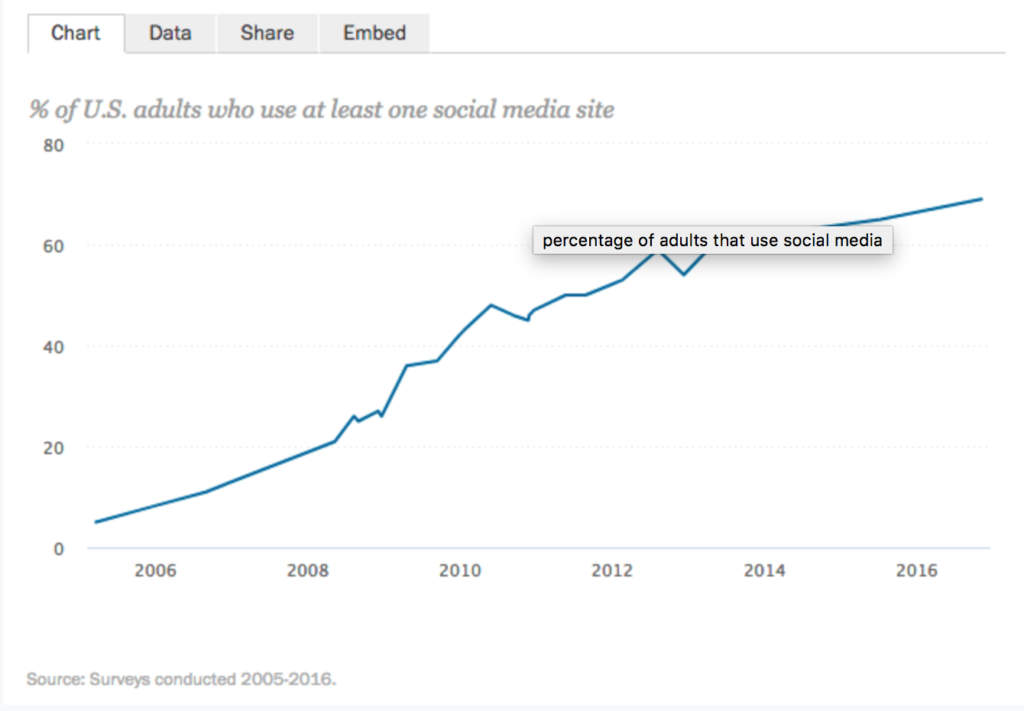 Img source: Pew
Also read: Rise of the Chatbot: 5 Ways Using Chatbots Helps Your Business 
Facebook Messenger Platform (Native)
As the original house of the Facebook Chatbot, this is something you'd always want to have as a plan B (or even plan A) despite the tools below.
For one, if you can work with code and find your way to build Facebook Chatbots with the Facebook Messenger platform, it's unbeatable. You get full-fledged guides, case studies, and a forum for developers this platform making it easy for you to create a professional chatbot in no time.
But then, I get it. Not everyone wants to bury their head in code. For that reason, we move on…

How to Build Facebook Messenger Chatbots
MobileMonkey
MobileMonkey was founded by Larry Kim of the Wordstream fame and also a columnist at Inc.
MobileMonkey doesn't just help you build chatbots (although that's where it all starts). With MobileMonkey, you can:
Grow your list of messenger contacts
Build Chatbots that qualifies leads (so you don't have to)
Create audiences (or segment them) based on intent and interests.
Make use of artificial intelligence to serve the exact kind of content your users want. MobileMonkey's AI engine lets you match user intent triggered by keywords and interactions with relevant content or trigger sequences or messages.
Take advantage of the messenger's 80% + open rates by sending audience-based "blast chats" (10X open rates compared to your regular email blasts).
Launch Messenger-only Facebook Ads and Integrate directly with MobileMonkey
The easy-to-use chat builder helps you automate or semi-automate tracking purchases, visitor engagement, answer FAQs, making appointments, and more.
You can let your chatbot handle basic conversations with your visitors or customers and also choose to step in and override the conversation.
Build conversion funnels with your MobileMonkey chatbots. Create conversion-focused workflows, qualify leads, and go from conversations to conversions.
MobileMonkey also acquired  ChattyPeople — World's #1 Chatbot Builder Tool According to Entrepreneur Magazine — recently.
This adds a lot more power under the hood for MobileMonkey.
ItsAlive
ItsAlive boasts of a super clean interface making it easier for you to build your Facebook Chatbot. You can use the Facebook Chatbot you'd create with Itsalive to engage, help your customers with frequently asked questions, roll out an entire onboarding sequence, or make offers to them as they come visiting.
With itsAlive, you can launch RSS-based content updates (from your blog?), enable your users to subscribe to your preset sequences, send out instant notifications, manage your subscriber lists, monitor activity, and check out analytics from time to time.
Opesta
Opesta seems to be a new kid on the block (and it's not actually live and ready for you to use unless you sign up — at least at the time of writing this). Opesta is a way for you to squeeze the most of our the Facebook Messenger experience (since almost everyone of the 2.01 billion Facebook users are already there).
As Chatbots certainly seem like they can beat email marketing, Opesta promises you a way to generate more leads, follow up in style with your subscribers, and even deliver your products straight through the Facebook messenger.
ManyChat
Manychat is a tool that helps you build a Facebook Chatbot for marketing and sales. Armed with a visual drag-and-drop builder, you can easily click, drag, and drop your way to make your first Facebook chatbot in 2 minutes flat.
As with most Facebook chatbot tools, you can create instant notifications, send out broadcasts, create complete autoresponders to automate your Facebook Messenger marketing, set custom messages based on user actions or time delays, and much more.
If nothing, Manychat has a handy guide on messenger marketing and automating with chatbots
Smooch
Smooch is slightly on the techy side of things (and it might not be for the DIY types) and aims to bring all your communication channels within your app. Also, Smooch might just be for your app or software (and not for a website per se).
It's an app that allows you to explore the world of multi-channel mobile & app messaging. You can bridge your business apps like Slack with your everyday messenger apps like wechat, for instance. It links these two together and streamlines your conversations into just one app. This considerably saves your time by responding to your customer chats.
But that's just one of the applications I envisioned. Since we are on the topic of building Facebook chatbots, Smooch certainly has that too, and some more.
Connect your software with voice assistants, email, SMS, social messaging platforms, and then bring context to each conversation since Smooch automatically enriches your users' profiles (with channel and proprietary data).
With features such as message translator and conversation orchestrator, it can plug everything from your Livechat to chatbot platforms; from CRM to your customer engagement efforts.
Chatfuel
Chatfuel — unlike Smooch which was built for omni-platform consolidation and for a unified experience, while limited to apps and software — is a tool that helps you build chatbots for Facebook without knowing a piece of code.
Whether you are a blogger, publisher, media house, event company, business, or an individual, your can be up and running with a Facebook chatbot in less than 7 minutes.
Chatfuel also allows you to plugin your chats from external sources, so anyone can contribute their own plugins and have others benefit from them.
Chatfuel works by using simple rules and sequences (that you'll set up, with appropriate content for each). Using triggers (initiated by your visitors), the sequences roll out appropriately.
Of course, it almost always starts with a welcome sequence (or at least a welcome message).
Read my earlier post on How to Build a Facebook Bot with Chatfuel 

How to Build Facebook Messenger Chatbots
Sequel
Sequel promises to help you build Facebook Chatbots with a "personality" — and you know that can keep me hooked up.
But there's so much more to Sequel with an ability to build a Facebook chatbot given your own particular use case. For instance, you can build a Gamebot with Interactive quizzes and story-based format to hook potential players; you could a personal bot (which is awesome when you are a journalist, an influencer, a public figure, a celebrity, or if you are someone who wants to build a personal brand.
As for businesses, you could build a publisher bot to help distribute and engage your Facebook Chatbot subscribers with the best content on your blog. Or you could build a story bot to try ramp up your engagement with interactive stories  (using branching plots).
At best, you can build a bot to replace you — complete with your personality and style.
The usual features that you expect are all there such as RSS-driven content distribution, message broadcast, group charts, NLP (Natural Language Processing to make your bots smarter over time), Polls, Quizzes, and API integrations.
As with most other tools on this list, you'd need no coding skills (and use their drag-and-drop interface). Answer a few questions and your Facebook bot will be ready.

How to Build Facebook Messenger Chatbots
Botsify
Botsify is a Facebook Chatbot building platform built with a purpose — they want you to be ready for the future, what with integrations (integrate your platform with chatbots, such as via RSS Feed or JSON API),  artificial intelligence, and machine learning all enabled for your Facebook chatbot.
Botsify also allows you to easily integrate your Facebook Chatbots with Alexa, WordPress, and Shopify making your integration that much easier.
Built your Facebook Chatbot with Botsify but you'll be happy to note that there's a "Human takeover" feature which lets you cut out the automatic chitter chatter and take control of your conversations.
With Botsify, you can also build lead generation conversation forms helping you make better use of your conversations and lead your visitors towards making sales.
It's time to consider investing in your very own Facebook chatbot which will prove to be an invaluable asset in driving customer engagement, generating leads, nurturing leads, keeping your customers informed, and obtaining crucial data to your business to add a ripple effect to growth.
So tell me: Do you have a Facebook chatbot yet?

How to Build Facebook Messenger Chatbots
Photo by rawpixel.com from Pexels