Want to generate leads for your business? Would you like to get marketing results the smart way?
Do you want more opportunities to do guest posting? How about a few initial beta users for your product? Or perhaps you are out of beta for your startup and you are now looking to onboard a few paying customers?
Regardless of what your goals are, it's time you do things like a maverick.
Maverick? You bet.
If you are in business today, that's who you should aim to be. You can be all sweet, charismatic, and predictable at home, but not when you are in business. When in business, focus on getting marketing results (because product development by itself won't make you money).
Ordinary methods and ordinary people only end up doing ordinary things.
While you don't have to be extra-ordinary from the start, and most people aren't, you can at least get on the path.
Here's the maverick's way to get marketing results:
Forget ROI. Focus on ROR (Return on RelationShips)
Every single business owner out there thinks in terms of ROI (Return on Investment). But guess what? Did you honestly think that your customers care about what you "invest" on? Do you think it matters to them if you took on a $300,000 loan to get your business up and running?
I first heard of of the term Return on Relationship (ROR) from Chris Huntley, founder of Wealth Insurance Services, and he writes:
When I look back at the past 8 years, I can track a lot of my success to a handful of key relationships I built.

A good relationship can provide you:

* Introductions
* Referrals
* Guest post opportunities
* Backlinks
* Affiliate or referral agreements
* Cross-promotion
To get a meaningful return on investment, there are a few things you ought to do:
Stop asking around for things. Give stuff out: Do you send out cold email outreach campaigns asking for projects, backlinks, have people checkout demos, or whatever? Stop it right now. Instead, create something of value first and give it out to them, regardless of what they do with it.
Focus on really getting to know people. Just an email asking for advice or just letting people know that you shared their blog posts, videos, or podcasts opens up windows for some really awesome relationships.
Do email outreach but not for gain. Don't ask for anything like sharing your blog posts, linking to a previously written post, or requesting a demo. Do outreach to build new relationships.
Now, you might ask me this:
Ash, it's all nice and dandy, but I got bills to pay. I can be sweet-talking to the entire world. That's just ridiculous.
I get it. That's this "relationship building" should be a permanent side hustle for you. This isn't something you do today and expect to gain from it tomorrow.
This is long-term. This is called "planting seeds". This is real hard work.
Try to initiate, build, and keep relationships almost as it's something you just have to do apart from your regular business or day job or both.
Study success. Then, do what It takes
If a blog post gets linked to automatically by another blogger, or if you see someone being interviewed on a podcast, or an entrepreneur with a string of success behind him or her, they must be doing something right.
Brian Dean Of Backlinko did so well with his super long and authoritative posts like this guide on Backlinking, and his purposely low-frequency-high-impact publishing. He did it so well that even Jon Morrow goes out of his way to share one of his posts in his email newsletter.
Pat Flynn, over a period of time, gathered an audience by making himself a personal brand and with complete honesty while he went about doing it.
Every post on Salty Droid rips seedy Internet Marketers apart. Respect.
How Rand Fishkin of Moz started his journey, how frequently he'd churn out post after post made of pure gold, and how he made his company worth millions of dollars today.
Regardless of which person's story you pick, you'll realize that there are tons of lessons out there for every business to learn from.
None of those influencers, bloggers, business owners, and others had it easy. They all broke their respective backs trying to get some quality content out, and they have results to show.
Do Cold Email Outreach. Like it's religion
Cold email outreach — it's demanding, it's scary, and not everyone is used to (or can get used to) rejection.
Ordinary folks don't do cold email outreach. Is so much more easier to write up a blog post, do a video, or launch a podcast than gathering the nerve to send out an email to a complete stranger.
For precisely that reason, cold email outreach (when you do it right), gets you results:
Anand Sanwal — CEO and cofounder of CB Insights — analysed more than 147 cold sales email pitches and over 93.9% of them sucked big time.
Cathy Patalas of Woodpecker recounts her entire experience of what the folks at WoodPecker — an awesome tool backed by a great team that helps you with email outreach — did to find their first few customers.
But then, don't get all hung up on the success of cold email outreach. Regardless of how much you want to beat the cold email drum, it has its share of rejection
Kalpesh Darji, Digital Marketer at Sales Handy, shares his experience that cold emails only work when you send follow-up emails. No matter how much your message is fancy but you only get 5-7% reply rate on your first cold email. According to Kalpesh, follow-up, emails get 15-30% reply rate.
Kalpesh swears by a teeny weeny bit of work you'd need to do to verify the emails before you send in those cold emails. He loves using Findthat.email — an essential tool while sending cold emails. Before you send cold emails to multiple recipients, it is critical to verify your email list and Findthat.email does that very well.
When I tried cold email outreach this month (February 2017), I got the following modest results:
I made some people take notice of who I am and what I do
Got two responses to complete cold pitches (and we turned down both the prospects because they weren't a good fit for our agency)
I got some people to share my posts on their social networks
I ended up getting listed as an expert in Digital marketing on Brand 24 Expert's Hub.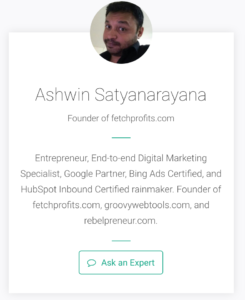 I am about to be featured in a handy WordPress setup guide soon.
I managed to get some requests for doing guest posts at Mouseflow and I am in talks with FullContact to drum up some amazing content.
I just sent out a grand total of 26 emails and see what I managed to get?
Now, what happens if you incorporate cold email outreach into your daily sales cadence or your every day lead generation process?
Go dream.
Hustle for Exposure (or Fame or both)
Too many marketers and business owners tend to do things for instant gratification.
— I have my landing page setup, now all I have to do is to send traffic to this page and leads will sign up.
— Ecommerce store is ready. When will the sales come in?
— We just launched our SaaS product. What's our monthly revenue looking like now?
Patience has just gone out of the window, now-a-days.
If you are the long-term kind of a person (I am), you should hustle for exposure.
How often and how frequently, and with what kind of an impact can you show up on the Internet?
Apply that for anything you do as a part of digital marketing:
Have paid ads running? Aim to show up consistently for your keyword searches.
Are you on social media? Don't be pleased with 4 updates per day. You can do better than that. Plus, while you are on social, aim to connect, engage, and make someone's day.
Are you blogging? Be sure to give away everything you know, feel, or do.
Write a book and get it published. That's a lot of exposure and credibility [ I am toying with this idea soon]
Get featured somewhere. This goes a long way to help kick in some eyeballs.
Do all that for exposure. Do it for excellence. Do it for the sheer love of doing it.
Success will follow.
Do it all by doing more of it
I might take flak for this, but I am going to say it anyway.
These are times when what used to be good (or easy) isn't that way anymore. Advertising costs are up, customers are nearing the point of complete digital marketing blindness.
Plus,
It's so hard to get a good clients to work with
Your free giveaways aren't working any more.
Your customers who opted-in for a free plan don't upgrade.
The only way to cut through this blockade and mow down your own problems is to be in the zone. Do more of everything until you know that something doesn't work.
Have No Expectations, & Egos
You know why a marketing maverick is a maverick? Marketing Mavericks — as I like to call them — don't give a rat's ass about what others think or about the outcome of their efforts. They don't worry endless on how to get marketing results.
They have no baggage, expectations, or egos. Even if they do, they train themselves to subdue everything emotion that can slow them down or to make them any less efficient than they ought to be.
Whether you are bidding for projects, sending out cold emails, or sending a steady stream of pitches, your aim is to do it to a point that it just works for you.
This also applies to trying out new ideas, staying consistent with your organic marketing or when you are launching and running paid digital campaigns.
You'll know when things don't work.
At that point, you can pivot, change, or try new things.
But until then, there's no place for pussies in this world.
Either be a maverick or God be with you. How do you get marketing results?