Chances are that you have a few Google Adwords campaigns up and running as you read this. Or maybe you never tried it at all because Paid advertising requires you to invest upfront for relevant traffic.
Even worse, you tried to do some paid advertising with Google Adwords but gave up after you realized that your budget ends up getting spent faster than the time it takes for you to create a Google Adwords Ad.
While it's incredibly easy to setup a Google Adwords campaign, it'd be just as hard to deploy campaigns when you have to do it the right way. Most shady PPC agencies don't bother with it.
Businesses don't know any better (no matter what they think they do).
It's been more than a decade since Google Adwords has been around and it's remarkably stupid if you don't take the time to setup your Google Adwords campaigns the right way. Here are a few things you should absolutely do to help squeeze more out of your Google Adwords Ads.
Setup Your Google Campaigns Right
I know you've read this before, but since absolutely no one seems to have paid any attention, this bears repetition: set up your Google Adwords Campaigns right.
Don't start with Google Adwords' default settings (unless it makes sense, as it happens in some cases). For instance, don't set the default for "ad rotation" as "let Google show the best performing ads". You need to rotate ads Indefinitely and start with 2 ads (and not three) so that you can test two ads at a time.
Group your ad groups and keywords tight.
Run one campaign for one geographic location (unless those countries are close to each other or if the target audiences share similar characteristics — like the United States and Canada, for instance).
Read more on how to setup your Google Adwords Campaigns right.

Do Your Adwords Due Diligence
Before launching campaigns, there are certain housekeeping tasks that you'd need to do. You can't skip this.
Make sure you have specified your audience sources and that you are building your audiences on Google Adwords. You might want to specify your landing page URL as one audience source. You'd have your website URLs as another standard audience source. When you specify URLs and tell Google AdWords to track your audiences, you'd also be already for Google Remarketing campaigns when you want to go at it.
Since you are dealing with Google Adwords, you'd need to track your conversions. To do that, you'd have to install the Google Adwords Conversion Tag the right way.
Watch this video below and learn how to do just that:
Add Extensions
It's remarkable just how many businesses don't use extensions at all. It befuddles me to even think of the lost opportunity with extensions. Google Adwords provides with the following extensions that you can use at campaign level or at adgroup level.
Sitelink extensions (link along with descriptions to various pages of your website such as your blog, gallery, reviews, testimonials, product pages, etc).
Callout extensions ( little calls to action like "Grab your offer now")
Call extensions (add your phone number please?)
Promotion extensions  ( 20% off, 40% off, Buy 1 Get 1 Free)
Structured Snippet Extensions ( possible for few cases like Featured hotels, courses, degree programs, brands available, or your service catalog etc).
App extensions (Have an app?)
Review Extensions (links with your Google+ or Google Business Manager)
Using extensions ensures that you are adding more relevant information to your Google adwords campaigns or ads. Automatically, you also enjoy more real estate on the search engine page than a normal ad would.
See examples here: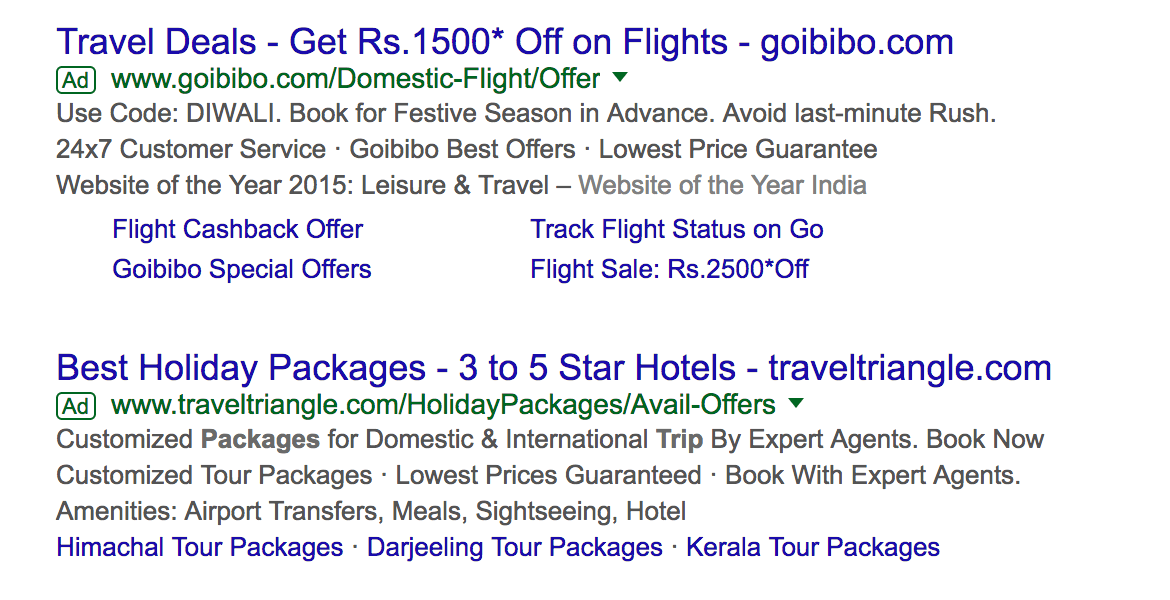 Get the match right
Setup your keywords with "broad match" and you'll run out of your modest budget even before your campaign starts (rhetorical).
In some cases (low volume keywords or for generating traffic — and not conversions), broad match keywords do make sense. For all other cases, use Phrase match (add "" quotes around your keywords) and exact match (Put [square brackets] around your keywords).
No Funnels? No Campaigns
If you are planning to create an ad to send traffic to a website or an ecommerce store, you are doing it wrong.
Don't. Ever. Launch. A. Campaign without a funnel in place.
I've written about funnels before, so do check out the links below:
Free Marketing Sample: Will You Stop Making Excuses?
As Perry Marshall writes in his Book Ultimate Guide to Google Adwords, you'll end up paying Google Stupidity Tax if you don't pay heed to the tips above.
Which of these little things are you doing for your Google Adwords Campaigns?