Facebook will make it easy for you to believe that all it takes is an image and a bunch of text (we call it copy) to set up and launch a campaign on Facebook Ads. It's easy. It takes almost no effort, and it's almost a sin if you didn't launch because you can launch a campaign even for a dollar or two.
Maybe, maybe not.
If you wanted to launch "any" campaign for the sake of it, it's incredibly easy, really.
If you wanted to make sure that you get what you want (read: results), then it's hard. It takes a lot more effort to make sure your Facebook campaigns work. We are assuming that's what you really want out of your Facebook campaigns.
Here's how you create and run Facebook ads that really work for your business:
Don't Start Without Clarity
For your Facebook Ads to be successful, it's not about the technical nuances of actually running and managing your Facebook Ads (though that's important too). To ensure that your Facebook Campaigns are successful, you'll need:
Customer Persona & Audiences: You are in business. Your products and services appeal to a certain type of audiences (if your business is for everyone, it's a wrong business to run). Your job is to identify who that ideal customer is. For instance, your broad customer persona could be (you could get as deep and specific as you like):
White Male, lives in the U.S, aged between 22-35, loves sports (and hence brands like Nike, Reebok, etc.).
Caucasian Female, aged between 30-66, hardworking, lives in American Suburbs, loves magazines like Cosmopolitan.
Objectives: What exactly are you running the campaign for? What do you want out of this campaign? [No, sales aren't always the only objective]
Offer: What offer are you making to generate leads, likes, interest, brand reach, or sales? Everything else you do below (for the campaign) depends on this offer you'll make.
Forget Photoshop. Use SaaS tools
We still see a lot of clients stuck with Photoshop for creating Facebook Ads, among others. Don't get us wrong; we aren't against Photoshop. In fact, we have a never-ending love for Adobe's Photoshop and what it can do for creatives.
Facebook Ad campaigns demand speed of implementation along with creative assets that work. For that, you don't need to use Photoshop. You could use any of the several tools available on the market today that could help you create ads in minutes (not hours, and not says or weeks).
For your regular Facebook Ads, use tools like:
Canva
Crello
Visme
Bannersnack
If you want video ads, use:
Shakr
Biteable
Animoto
Vyond (called Goanimate earlier)
Animaker
Always Create Ads in Pairs (Do A/B Testing)
Whether you are experimenting with Facebook Ads or if you are a veteran advertiser solely depending on Facebook ads for the money, create ads in pairs. There's no way to tell whether your ad will really work or not if you just depend on intuition, opinions, suggestions, or expert inputs.
Your own target market will tell you whether or not your ads are working, and you do that by creating your ads in pairs (like versions A and B) for split testing (or A/B testing your ads).
Want an example? The folks at Adespresso love to use Illustrations in their Facebook Ads. But because they know better, they also used an image of a real person as another version for the same ad (the one with the illustration).
When they tested both ads in a real campaign, see the difference the image of a real person made in the campaign as against their favorite mascot (an illustration).
Here's that example by Adespresso: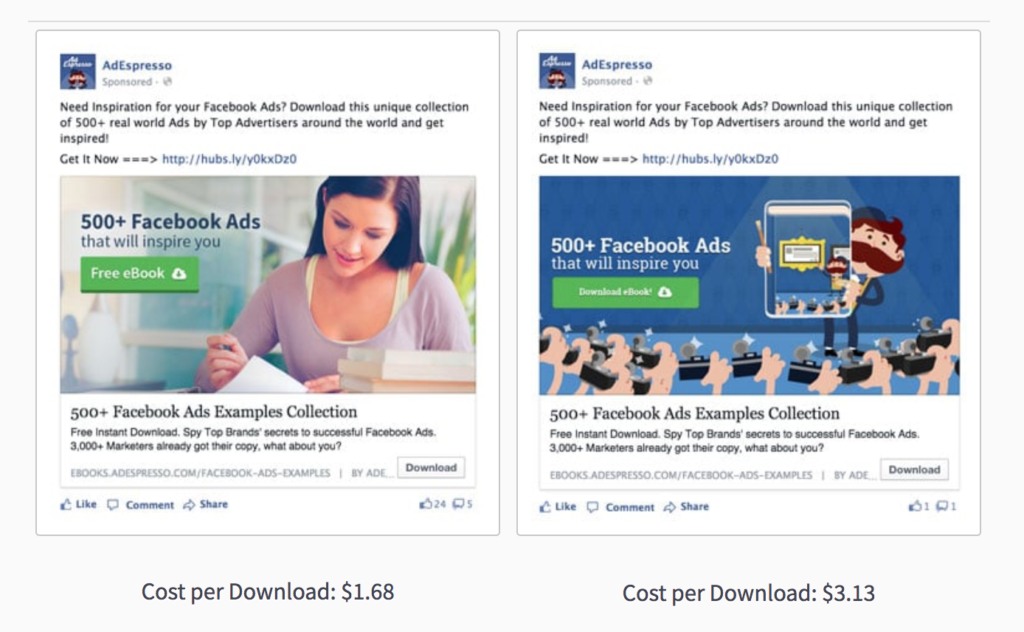 As you can see, their "lookbook download" campaign led to a reduced $1.68 instead of their usual $3.13 per download (or lead generated).
Use Landing Pages, always
Using landing pages is not optional. It doesn't matter if you don't like landing pages or if you thought it's a little much of a hassle to run your campaigns with them. I don't care if it costs you to build landing pages. If your IT team or the developer duo you've hired on Upwork talk to you "against" using landing pages.
Without landing pages, your campaigns will lose even before you start.
Now, just because you do decide to use landing pages, don't make the mistake of building landing pages with HTML/CSS3. I love websites built with HTML/CSS, but just not for landing pages.
You'll have many landing pages to build and your landing pages will have to be built fast (like in days). You'll also have a need to integrate your landing pages with a central system where leads are collected (like a CRM) and you'll also have a need to trigger autoresponders and email marketing automation.
Just use Unbounce or Leadpages to get your landing pages built. Bonus: both these tools — Unbounce and Leadpages also come with several other features to help you generate leads and also have A/B testing for landing pages built right in.
Email marketing Automation Follows Campaigns
Your Facebook Campaigns (or any other campaigns) don't directly make you money; they only help you get highly-focused, targeted, and relevant traffic. They help get you exactly those people who are primed to buy your products or services.
They still aren't going to buy.
Not unless you put email marketing to good use.
By using email marketing automation — just use Mailchimp or Drip — you'll nurture your leads. You'll keep them ready to buy from you when they are ready to buy from you. Make use of campaigns, broadcasts, RSS-to-email campaigns, and several other campaign types to keep your leads nurtured and ready to buy. Email marketing automation isn't something fancy;it's just something you have to do now.
There are no shortcuts to this. Period.