Local marketing is almost untapped, as is. It's, however, one of the biggest opportunities for businesses today. It just makes sense for businesses to be positioned in such a way that they are easily found when customers seek. The trends are telling. The opportunity is here. As a business, you don't need to lift boulders or run marathons. You'd just need to show up.
The signs are all here.
Work on the wrinkles
It's time for a little housekeeping on your website. The number one negative local search ranking factor is "Incorrect business category" and "listing detected at false business address", according to Local Search Ranking factors report by Moz.
Get the NAP (Name, Address, Phone) right, remove the presence of any malware on your site (or get good hosting), stop stuffing keywords in, and get glowing reviews on your Google+ page.
List for Local search = Footfalls
If you are a local business, know this: local searches lead to 50% of mobile users to visit stores, according to Jessica Lee of Search Engine Watch .
It's plain common sense: users won't whip up their mobiles and "search" for your business out of boredom. They do it with intent, local intent that is. These people, according to Google's new study, are ready to buy once they are in your store.
Read Moz's Local Search to find out more, and visit Google My Business to list your business now.
Consumers seek a variety of local Information. Give them that
It's not just "Which store, where" intent that comes with local search. Consumers look for a variety of information such as business hours, directions, address, availability of products, reviews, and more.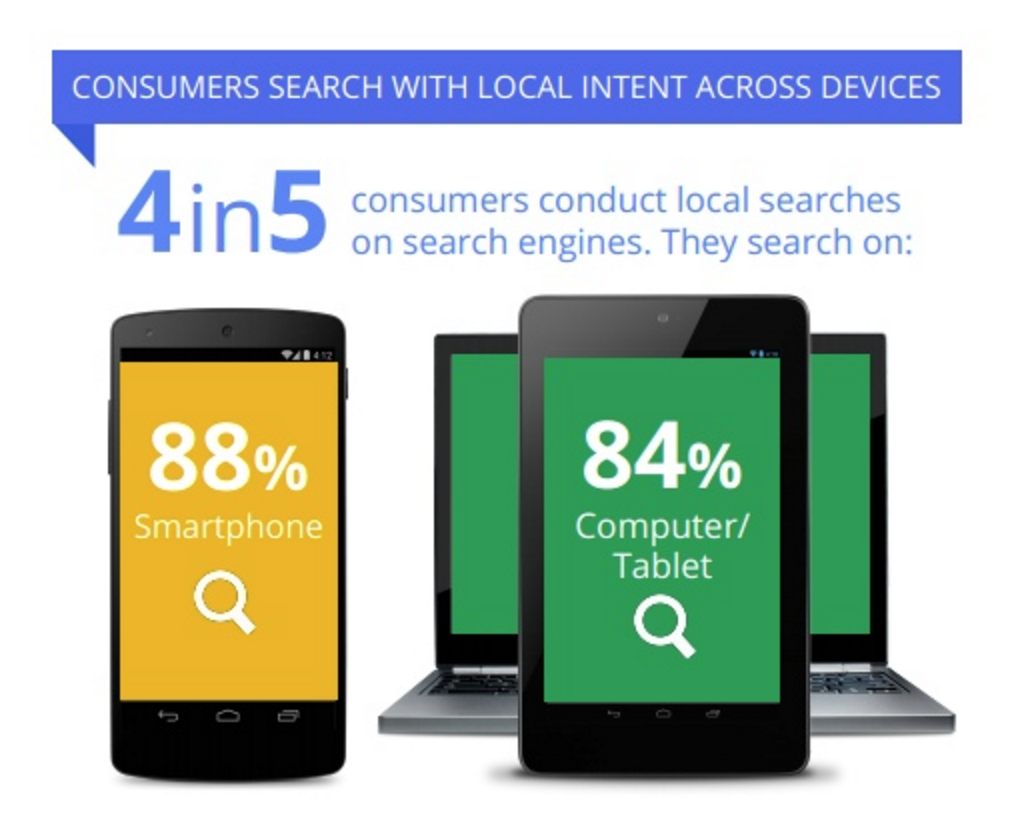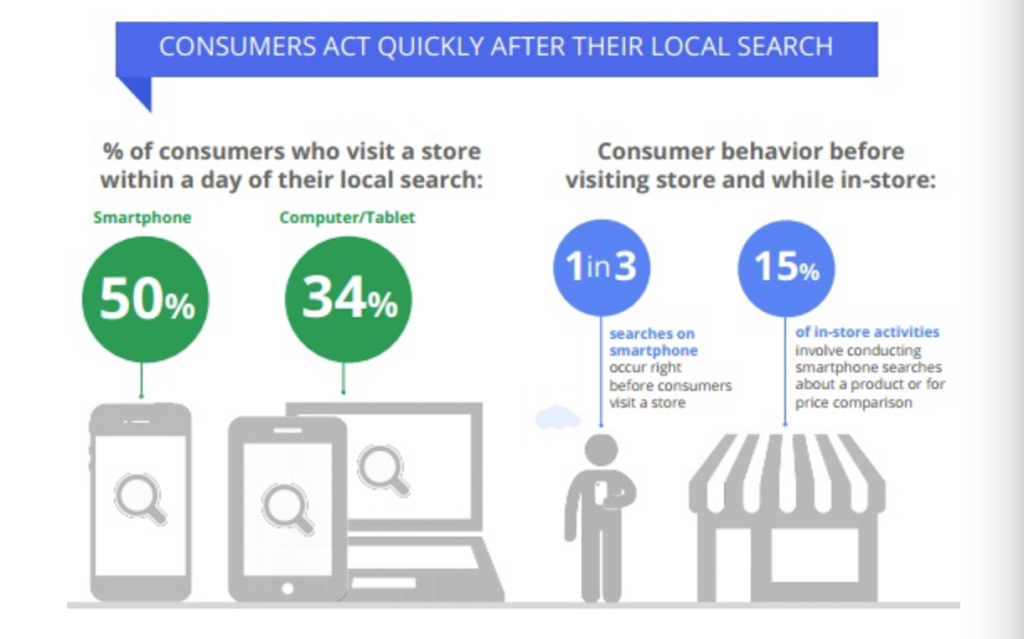 Their decision to purchase grows stronger if they knew they were close to a store, if they could get to the product quickly, and if they see a reason enough to believe that pricing was better.
Make ads relevant to local search
Be it search optimization, content, or PPC ads, keep the ads localized. The more the ads are optimized for customers' location, the more effective your ads are.
About 32% of customers who clicked on optimized local ads visited stores or made purchases. Another 19% made unplanned visits to the stores.
Use location optimized ads, build landing pages matching these ads, keep the flow going, capture the lead. Period.
Those extensions matter
Help customers find you. Make it easy for them to look up your information online (and on mobile), add location extensions, provide a number for them to call, have them "click to call", and provide a map for directions.
If you are using paid local ads on Google, use radius bidding or locale-based bidding to reach customers near stores to build an attribution model for local searches.
Have Multiple locations? Flaunt it
Some fortunate businesses have multiple locations nationwide or even globally. Use that to your advantage. Bring in a tool like BullsEye Locations which makes it easy for you to setup a store locator in minutes.
If you have multiple offices, a dealer network, or a directory of agents working out of various locations, put that to good use.
Are you using local search to your advantage yet?