Twitter is humongous and is still growing. At its last count, Meg of Talkwalker pointed out that there are now 313 million active users on Twitter and at least 500 million tweets per day.
About 87% of users get their news from Twitter. Meanwhile, more than 67% of Twitter users are likely to purchase something from those that they follow.
That's powerful.
Yet, all is not well for thousands of small businesses trying to make their presence count on Twitter.
So, here's exactly what you should be doing to make sure that your presence — apart from the time, effort, and resources that you'll spend – really works for you:
Be an Evangelist
Everyone loves attention. We are human, after all.
So, why not give it to them? We did learn that it's always nice to make someone else's day, and if all it takes is a Tweet, why not do it?
Dig into your list of followers and give out praise. Plus, you are likely to be following, learning, getting inspired, or maybe even using products or services of people you are likely to point to.
Just like that.
Don't bother if you don't get any reactions, thanks, or if no one reciprocates. Just do it for the sake of doing it. Here's how you can shower praise or maybe just make mentions about anyone on Twitter.
Use Voice Tweets
Here's an example of a Voice Tweet (I am now on the #voice100 challenge) to try to create 100 voice tweets (one voice tweet per day) to get into the habit.
Voice tweets are a refreshing (and powerful) addition to help you make more impact with your voice. Instead of writing Tweets; it's time "say it".
Are you going to use Voice Tweets? Please be sure to tag me (@fetchprofits) and let me know when you do it.
Join TwitterSpaces
Twitter recently launched Twitter Spaces — an incredible way to connect with groups of people on Twitter who launch spaces on various topics. If your business has anything to do with any of those topics, you should be there.
Start off as a listener, listen and join conversations, and even launch your own Twitter Space.
Here's how a Twitter Space looks like:
Follow the 50-30-20 Rule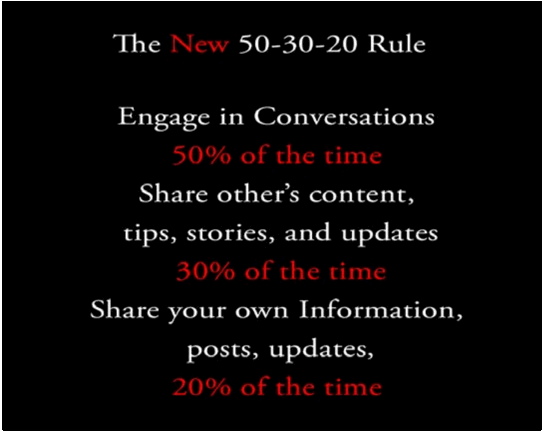 If you are doing 10 updates a day, 5 of those could be information from any source that your followers can relate to (maybe from non-competing sources such as magazines, blogs, or online publications). Three tweets should be your own content (and for this, you'd have to be blogging in the first place), and finally 2-3 tweets could be random conversations, chats, and engagement of some kind.
Don't complicate it. This rule is not etched in stone. It's just to give you an idea about how you can split up your tweets and keep your social media calendar full.
Everyone with a finger and a button can retweet. What's more important is to add a dash of your own personality to retweets and then almost making them your own (although they aren't).
Adding a comment, question, or remark enhances your Twitter update's sex appeal
Your followers follow you on Twitter because they expect you to bring insights and ideas to them, right to their Twitter stream.
They don't want to hear what you did over the weekend and they also want you to be concerned about the number of updates you push out on a regular basis.
Ineffective way to share insights is to make a collection of them related to your niche and share them (after scheduling, of course). Make sure you credit sources.
With all that content stretching into reams of text, sometimes little 140-character insights are a welcome addition to the rushed and tight space in your followers' twitter streams.
Cut down on the words and give insights, one tweet at a time. Of course, keep it relevant to your niche and make every "#twinsight" count. Further, be sure to give credits when due.
Drop Statistics
The Twitterati loves statistics. On your part, they ooze credibility (and they make you look smarter than most people). Statistics are also easy to find online.
Dig into slides on Slideshare, infographics, and even monster pages with all sorts of statistics and research already ready for you.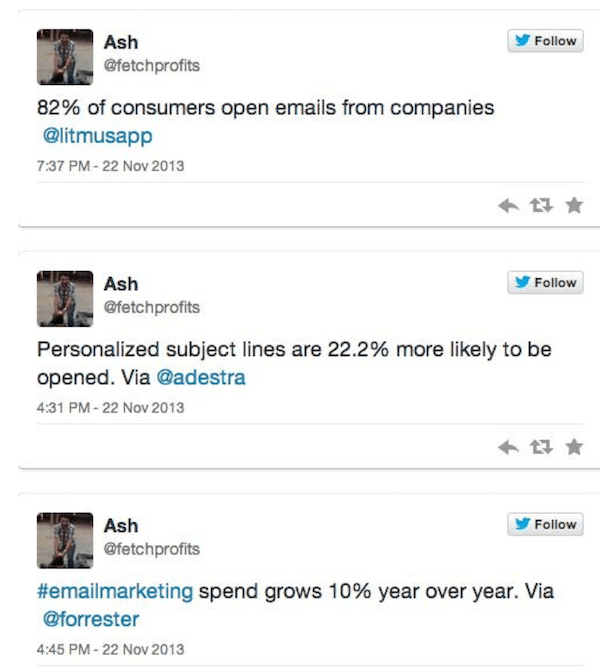 Have an Opinion? Let the world Know
You can't talk of personality and voice without an opinion. Have opinion, will succeed. Eh?
While you'd still be making sense to your followers — in business terms — you'd suddenly get personal and have a strong opinion of your own.
These opinions can only do two things to your Twitter account 24 hours from an update going live: you'll either get a couple of follows or unfollows. That's clarity.
Start Having Conversations, Please
Your twitter engagement is never complete without a bit of provocation, a conversation, and some engagement.
Everything about Twitter — and what makes Twitter "Twitter" — is conversations.
After all, it's people out there on Twitter and you can't pretend like they don't exist (although you get a full stream of updates all day long). If there's anyone who should start a conversation, it's you.
Go ahead and use intriguing questions for your followers. Maybe just start saying "hello" [hint: some of these answers can well be attributed and linked to. More love. More awesomeness]
Use Follow Fridays, Like You Should
Most Twitter users are still old-fashioned and they'd use follow Fridays to just list a few of their respective followers. That's boring.
Instead, dedicate every Friday for about 10 followers who've been actively communicating with you. Perhaps, there's a thing or two you know about them?
Maybe their own tweets gave away some information that you can use to your advantage. Get professional personal. Don't push #FF updates like a machine.
Here are a few ways to do it: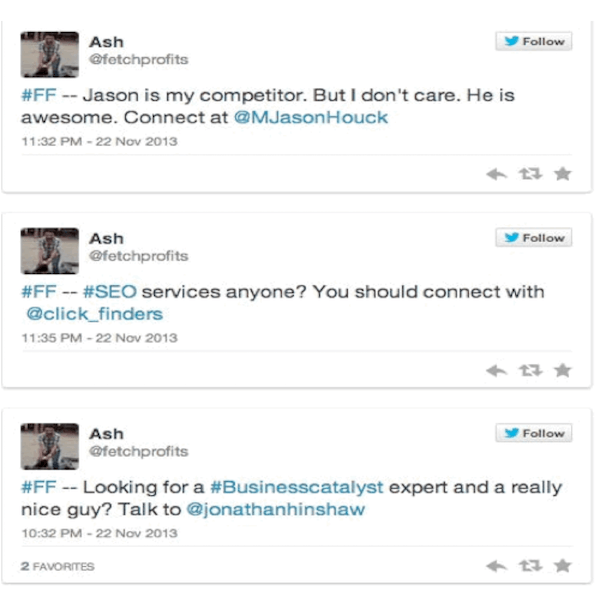 –Show your personality on Twitter. Show who you are and what you stand for. It's a public place, for heaven's sake, so be your best.
–Discover something your followers are passionate about. Go all out to find out what ticks them.
–Make it a point to take time out to craft the best possible #FF tweet. It's an effort that's like once in a week but it has a lot going for it.
— Respond to every piece of conversation that ensues your #FF tweet.
–Attempt to cover as many followers as possible each week. Try not to pick on the same set of followers again and again.
How do you do #FF?
Go Visual
Use visuals, vectors, graphics, and photos for at least 40% of your Tweets. It's not going to be easy, it'd demand a change in the way you update your Twitter account, and it'll call for extra effort on your part.
This would probably bring down the volume of your Tweets, and that's a good thing because you'll be forced to focus on the quality of your Tweets rather than the quantity. The folks at Twitter recommend you do this.
Belle Beth Cooper of Buffer reports that using images in Tweets boosted their engagement rates by 18%.
Fire up your graphics solution (Canva, Adobe Photoshop, Gimp, or Sumo Paint) and create graphics quickly that are relevant to your Tweets.
When you do, they'll look like this:
What's a Tweet Without a Hashtag?
Frederic Lardinois of Readwrite.com notes that after analyzing billions of tweets, a team from Sysomos found that only 29% of tweets ever get a reaction. Only 6% of these tweets are Retweeted within the first hour of the tweet going live.
If you've been spending an hour everyday on Twitter just sharing your content, others' content, and re-tweeting others' content, plan to spend another hour for getting into conversations. The best way to make your tweets live for more their designated lifetime is to get into conversations.
Get into conversations, nimble and smooth. Leave your comments, post your reaction, contribute with your insights, and give away your valuable suggestions.
Don't be afraid to say what you want to. Most conversations start with (#) hash tags and here are a few resources to help you delve into the world of hashtag-triggered conversations on Twitter:
Hashtags.org
Tagdef
WhatTheTrend
Also, find a way to hack your way into conversations. If you were into digital marketing, for instance, use hashtags like to get into instant conversations with people looking for answers.
#socialmedia #help
#socialmedia #question
#emailmarketing #help
#emailmarketing #question
#contentmarketing
#inboundmarketing
#digitalmarketing
#landingpages
#PPC #SEO #SEM #Blogging
You get the drift, don't you?
Make use of Twitter's ecosystem
Twitter, thankfully, has its own ecosystem of tools and directories for you to make use of. From Twitter analytics to Twitter directories, you have everything you need to automate, semi-automate, or just make your job easier.
Start with any of the directories below:
Twitterholic
FollowerWonk
Connect.Me
LocalTweeps
TweetFind
ExecTweets
Wefollow
Twellow
Play with Content Curation
If you love content curation, you may also curate content and semi-automate updates using:
Tweeted Times
Paper.li
Scoop.it
Curata
Last.ly
Headslinger
Spundge
JuxtaPost
Pearltrees
Bundle
EverPost
LinkedIn Pulse
Pocket
Prismatic
Newsle
Storyful
Magnify
Shareist
Summify
CurationTraffic
Mass Relevance
BagtheWeb
iFlow
Trap.It
Postano
PostPlanner
RebelMouse
Many other tools are available for social analytics, social trends, and social signals. If you'd like to manage your Twitter account (along with other social media accounts), you could use SEMrush, HootSuite, Social Oomph, SendSocialMedia, Sendible, and Buffer for Business.
As a measure of appreciation, You may share this report with your friends, acquaintances, staff, and business associates.