Blogging is a pain. It's hard, it's thankless (most of the time), and it turns all of us into "writers".
Businesses are trying to come to grips with this new need for writing and publishing.
It was just way easier to throw the money on Television, newspapers, magazines, and traditional marketing collateral.
Heck, even Google Ads is fun.
Chad Polllit on Relevance.com writes that more than 2.73 million blog posts are published daily. We can bet less than 1% (or even less) of those blog posts make it to more than 10 views per day.
Content marketing isn't easy, no matter who tells you what. All those blog posts you end up writing have to be pushed to your target customers.
The blog posts aren't going to fly by themselves.
If you depend on SEO, it's going to take you a long time (assuming you are doing everything right) to get some traction. PPC, at the time of writing this, is already expensive for most markets.
As Solve Media puts it, you're more likely to survive a plane crash than click on a banner ad.
Social media, as we've always maintained isn't really a place where you should be selling.
Then, how do you make sure your spectacular content is going to be consumed?
Say hello to native advertising, also called as "sponsored ads" or "sponsored media".
Instead of just showing ad (with very little space for you to really showcase your product), push out a piece of well-written, targeted, and valuable content to your target audience.
David Ogilvy, known as the Father of Advertising once said,
"It has been found that the less an advertisement looks like an advertisement and the more it looks like an editorial, the more readers stop, look and read."
Let's take Mr. Ogilvy's advice to heart. See why Native Advertising is the best thing that ever happened to you:
Native Advertising is still growing. Fast.
According to Ginny Marvin of Marketing Land, by 2020, media buyers will spend a whopping, wait for it, $84.5 billion on mobile advertising. Of that, native ads will be a major driver of this ad growth.
Laura Montana of Inc.com points to an infographic by MDG advertising. It's self-explanatory and we'll share it here for you.

Native Ads Outperform other channels
Thanks to the "editorial" style, presence of context, and the fact that people want to read before they buy, native ads have potential.
It's all in the numbers.
Danny Wong of Shareaholic wrote a helpful post on statistics that prove Native Advertising outperforms Display and PPC.
We'll just put Danny's curated stats as it were, right here:
1. 70% of individuals want to learn about products through content rather than through traditional advertising.
2. People view native ads 53% more than banner ads.
3. Beeby Clark+Meyler led a native advertising campaign for GE which reached 5.1 million people and resulted in 416,000 clickthroughs — an astronomical >8% CTR.
4. Compare that to traditional display ad CTRs, which have dropped from 9% in 2000 to 0.2% in 2012.
5. 32% of consumers said they would share a native ad with friends and family vs 19% for banner ads.
6. Viewers spend nearly the same amount of time reading editorial content and native ads — 1.2 seconds and 1 second, respectively.
7. 57% of surveyed marketers measure engagement — time spent — when evaluating the effectiveness of native ad campaigns.
8. Native advertising generates up to an 82% increase in brand lift.
9. Native ads that include rich media boost conversion rates by up to 60%.
10. Purchase intent is 53% higher with native ads.
11. 57% of publishers have a dedicated editorial team to create content readers will care about, leaving publishers in full control, not brands, which ultimately benefits readers.

Bonus: 71% of publishers received no major complaints from readers for featuring native ads while 29% received minor backlash.
Enough said?
Native Advertising Gives Wiggle Room
The minimalistic and space-constrained — but still prohibitively expensive PPC ad — isn't enough to let the world know that you arrived. Don't get me wrong: I am a PPC fan, and If I could, I'd keep that cylinder firing.
With native advertising, however, you have a possibility to write out a 3500 blog post on how your products and services are better than others of the same ilk. You have a way to shine through. You have more wiggle room. You can expand on every aspect, down to the minutia.
There's just no such thing as limited space. Go fly.
Native advertising is a Great Push for Small Businesses
If SEO takes time and if PPC is expensive, you'd just be blogging and spending time on social.
For small business owners struggling to get found on the web, it's still hard to make that happen.
Native Advertising instantly pushes traffic to your blog or website, and the speed at which it does (while it still brings in targeted traffic) is remarkable. Depending on the geographic locale you are targeting, it might still be way cheaper to acquire that traffic than any of the other options available to you at present.
Oh, it doesn't matter if Chistopher Ratcliff of Search Engine Watch doesn't particularly like Native Advertising. He is the editor of Search Engine Watch and he was with EConsultancy blog earlier. He is an influencer and he has a lot going for him.
You aren't Chris. Your website needs targeted traffic.
Native Advertising Examples: Our experiment with Native Ads (Outbrain Amplify)
We ran an experiment to figure out how Native advertising really works for one of our popular posts on Groovywebtools titled Shopify App: The Best Your Shopify Store can get.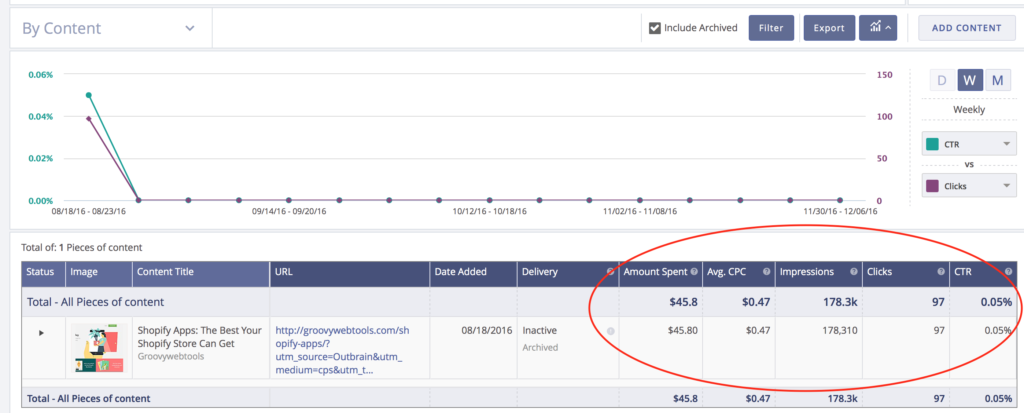 As you can see, we got plenty of impressions and 97 clicks at CTR 0.05%. Costing us about $0.47 per click, for a total of $45.8.
We just ran the ad for the heck of it — no A/B testing, no call-to-action buttons on the native ads (just links), and we ran it for a very short time (which doesn't give us time for proper data collection).
The point: there's potential in native advertising. Outbrain and Taboola aren't the only platforms to help you amplify content. Native ads are on Mobile advertising too (that makes for another post). Then there's sponsored blog posts, Sponsored Media, and more.
Tell me. Are you even giving native advertising a try?