It's one thing to get numerical data from your analytics tools. The usual KPIs you'd be watching like a hawk are visits (new visitors), page views, conversions, form conversions, time spent on site, bounce rate, and many more.
Truly, watching over those numbers is truly a gift digital marketing gives you (try to get similar stats for all that radio and newspaper spend you do, if you ever do).
Google analytics tells you how many people came and they arrived from which source exactly (along with tons of other crucial information).
Google Analytics also shows you behaviour flows which show you the exact path visitors take from one page to another, and then to another.
Most of the answers to those questions don't lie in those numbers you get from Google Analytics; these answers are hidden in all those things visitors do "after" they land on your website pages.
Those numbers don't tell you the complete picture. For instance, you have no idea about:
What exactly happens after your visitors reach your website pages or landing pages?
What exactly do they do?
What do they click on?
They scroll. But by how much? How deep? How engaged are they?
Do your forms convert at all?
Where do they go from your home page?
What do they click on and what don't they click on?
How do they scroll your pages (and to what extent do they scroll?
What happens when all those pop ups, livechat windows, and push notifications show up on your website?
What elements are showing up the way they ought to and what doesn't show up as expected?
Are your visitors able to get to your high-intent, converting landing pages on the website?
Are visitors able to fill up the contact forms or other forms on your website? Are those contact forms even working?
You won't find the answers with Google Analytics. You'd need more. In essence, you'd need tools like Mouseflow to help answer these questions. But it's not just heat maps and user session replays that you'd get with Mouseflow.
You also get:
Geographic data for all your visitors
Complete recordings of user sessions –exactly as they occur on your site.
Time stamped data on what exactly happens where, and how.
Through click data, heat maps, and form analytics
Exact replay on how your website itself shows up — including all the bells and whistles that you have on your site.
A thorough visual display of what your visitors or users experience when they land on your website.
Using session replays, there are a huge number of things you could fix on your website.
Here are some of them:
Don't Stand Out, Blend In
Imagine this: A visitor arrives. She gets a prompt for a push notification (right on the top center of the browser). She clicks "no".
Just while she's about to navigate to our resources page (which is where most of our visitors go to) or to read our blog, to check out our resources section, or to dip their beak into our "perks" page.
By the time she navigates to the page she wants, our GoSquared Livechat prompt would show up.
Usually, she doesn't talk. She's just not in the mood for it.
Tremendous will power she does have and so she ignores the livechat prompt and heads to the resources section. She spends 2 minutes on that page and decides to leave.
Only to meet another pop up nudging her to download some kind of a content upgrade.
What does all this tell you?
It's irritating for the user. We can't help but push her gently, hold her hand, and nudge her with pop ups but we do know it's annoying for her.
It's working for us but it's still annoying for her.
What do you do?
The answer: always keep testing.
Experiment with timings, the URLs those pop ups must show at, and decide just how much you want to annoy your visitors.
We understand you need results. But you'd also do well to care for your visitors. The only way to draw a fine balance is when you do testing.
How do you test? How do you determine what's annoying and how much?
What's Missing, Charlie?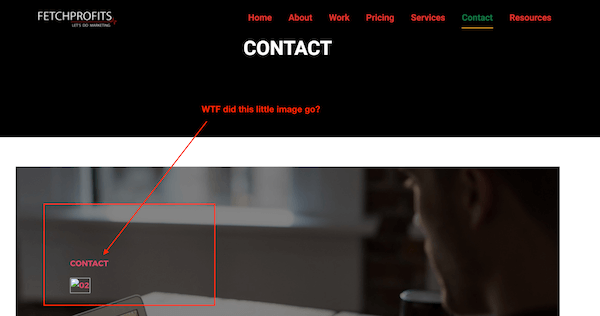 When we last did a review of our website using Mouseflow's analytics and session replays, we found this:
Our portfolio items were completely missing
The portfolio items, for those that did show up, had the elements (text and images) completely screwed up.
We found a few tags and categories that had no content associated with them.
The main CTA button on our home page leads to nowhere when users click on it.
Sometimes, the hero section (our most important section of the website) doesn't load properly and often has the headline and the sub headline missing (especially on tablets and mobile devices).
Our contact form didn't work at all.
The big fat image on the contact page did not show up. Instead, there was an empty space with nothing on it.
Our blog's "read more" button wasn't showing up
Those are just some of the many missing things on our website. This is on top of the fact that we work on our website every single day.
Can you guess what an average small business website which isn't even checked regularly for these missing elements might feel like for an average user of those websites? Before all the big talk about UX/UI experiences, it only makes sense to take care of the basics.
What say?
Hunt for The Annoying, Obstructing, Website Elements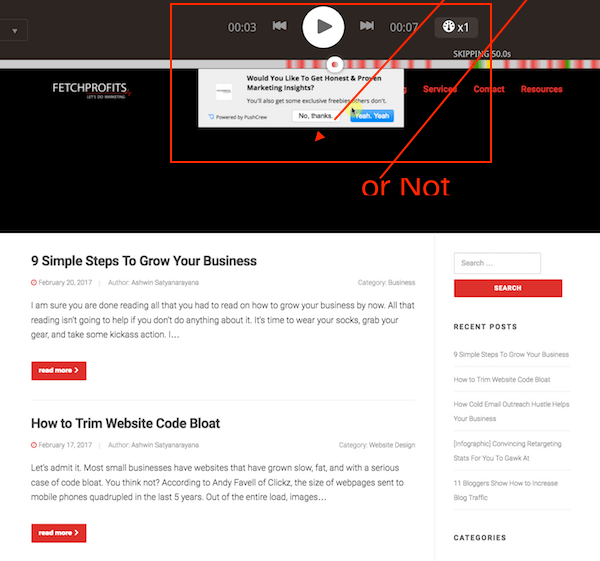 Often, we tend to assume that those pop ups don't annoy and that the livechat feature we just paid for and installed should work great to get us leads.
Leads? Forget about that.
Some elements on our websites are outright annoying. We once did a complete website review for a client (and we do it often for ourselves) and notice that the particular livechat tool that the client was using would cover up the entire screen when users visited their pages (all pages).
On the mobile mode, users don't even get to see the website in full. They are usually slapped by a big ugly livechat pop-up
What? That Doesn't Work?
As you go through your session replays and recordings, you'll be surprised just how much information you'd gather about all those individual moving parts on your website.
The feature image on your blog post tends to push the sidebar away to some unknown corner.
The Image within a blog post or a web page doesn't show up anymore.
You'd meet all those new 404 error pages you had no idea about.
You'll get a cursory glance of the links that don't work anymore.
Say hello to your contact form that doesn't work anymore.
So, they clicked on your "portfolio" and they see nothing there except the name of the project?
The larger your website is the more information you get about all those things that don't work on your website. It's been a few months since this website has been revamped and I see see some links that don't work, images that don't load, and complete website pages that don't exist (but are still being linked to).
You could do full website audits and reviews with Mouseflow. Or just find out what's missing on your website. If you want to get advanced, figure out how well your website is working for you to get you the results you want by keeping tab on form analytics, form conversions, scroll ratios, scroll depths, heat maps, and more.
Whatever you do, don't just assume that your website will work just the way it is.
How well is your website working for you? What kind of hidden problems do you think you can dig out of your session replays?