Chatbots are another layer of automation for your business. Since you can't always be sitting in front of the computer manning your Livechat, you'd need a way for your users, potential customers, and existing customers to interact with your business.
Chatbots help you deliver just that. Chatbots are autonomous and always available; they are reliable (and they don't slack off like we humans do); chatbots help drive conversions; and chatbots are the best bet you have for automation along with a bit of personalization thrown in.

How to Build Facebook Messenger Chatbots
Here are the top reasons why you should seriously consider using chatbots for your business:
Being Instant, In the Age of Instant
Customers don't like to wait for someone to respond, even on live chat. They'll leave a support query but they'd hate if you don't write back to them. Customers have everything else "instant" in their lives today — instant taxi booking, Instant coffee, Instant noodles, Instant whatever.
Why would they make a beeline for your products or services and prepare to wait when they are better off getting "Instant" support or instant response to their questions?
Chatbots allow you to go "instant", in an "Instant" (sorry about the word play, I couldn't help myself).
Chatbots get into action anytime, 24 x 7, every single day, all year around (only until you switch them off).
You can't beat a chatbot in this regard, can you?
Increase Traffic (Or Bring Your Subscriber Traffic Back)
Here's a fact: not all of your followers see every message you share on Twitter (or elsewhere). Not all of your email subscribers read your emails. Just because they are "into" you doesn't mean they are hanging on to everything you ever write, publish, or share.
But you did spend time, money, and effort to create all that awesome content. Or your team and you created an awesome update on your already fantastic product.
How would they know if they aren't engaged with you 100% of the time? Use chatbots to send out updates (broadcasts, scheduled posts, etc.) and bring in that engaged traffic back.

How to Build Facebook Messenger Chatbots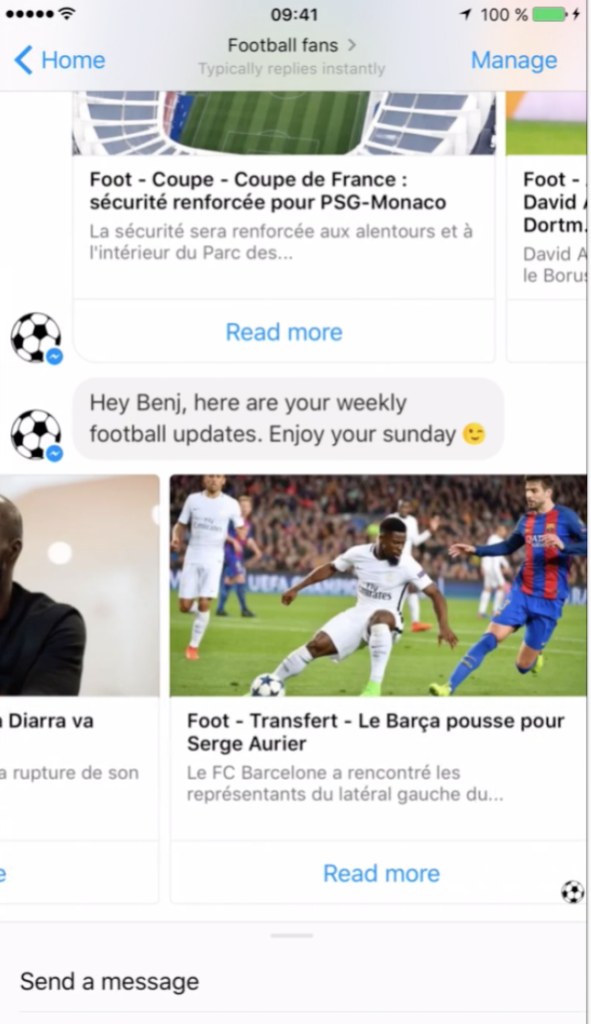 How cool is that, eh?
Ask questions. Get leads
Livechat is popular because of the human touch you bring in just by letting your visitors talk to you while they browse your website. If you want to take this to another level altogether, use chatbots to start engaging your visitors right away, without you ever having to be present (live) while your customers are on.
Apart from mere engagement or helping you provide customer support, Chatbots are incredibly effective from lead generation standpoint.
Grant Gould of Venture Beat writes that chatbots make for awesome lead generation machines simply because your chatbot can help with information gathering, content distribution, lead nurturing, and instant/ongoing engagement.
Plus, today's marketing-focused chatbots also integrate with plenty of email marketing tools, CRM systems, and more.
By welcoming your visitors, and then carefully asking the right questions, you could have them sign up for your offers, newsletters, grab a coupon, or go and make a purchase right away.
Hot Tip: leave a window of opportunity open for them to chat with you nevertheless and don't start pushing them for the sale as soon as they land on your website.
Use variables to Automate Marketing
Your chatbots can be really intelligent if you take the trouble to make them work to their potential. If you do, you have an arsenal for proper marketing automation.
Your visitors can subscribe to your chatbot so that they don't miss your updates
You could set up RSS feeds (much like the RSS-to-email automation sequence used in email marketing) to release content or updates as you publish them
Using keyword detection, you could design responses that could be triggered by specific keywords users or visitors type
Send a one-time welcome message for each new chatbot subscriber (make them feel home)
Schedule notifications, broadcasts, updates or messages to be sent out one-time (later) or as regular message sent out periodically (like once per week or once per month).
Deliver personalized content depending on variables set and the segments you create.
That's only the start of the wonderful possibilities of marketing automation with bots. What else can you think of?
Cut Down Resources
Can you imagine the amount of money your business can save by just "not" having to have agents or real people to sit and respond to customer questions or support queries.

How to Build Facebook Messenger Chatbots
While you can't obviate people altogether (since you'll need them if bots can't deliver for some reason), you can certainly reduce the number of people or resources you need to deploy to help give answers to regular questions, to provide customer support, to tackle pre-sales questions, or to help visiting customers make decisions prior to their purchase.
Given that you could create a chatbot in a few minutes and that you could do it yourself, there are no excuses to create and use chatbots for your business.
What's stopping you?