As on 2016, according to MakeUseOf more than 500 – 600 hours of Video content is uploaded to YouTube every minute. One-third of the entire world's population is on YouTube already with businesses with just a few videos out there (on branded channels) get more exposure than thousands of dollars worth of traditional advertising.
Interestingly, at the time of writing this, Youtube has already gone mobile.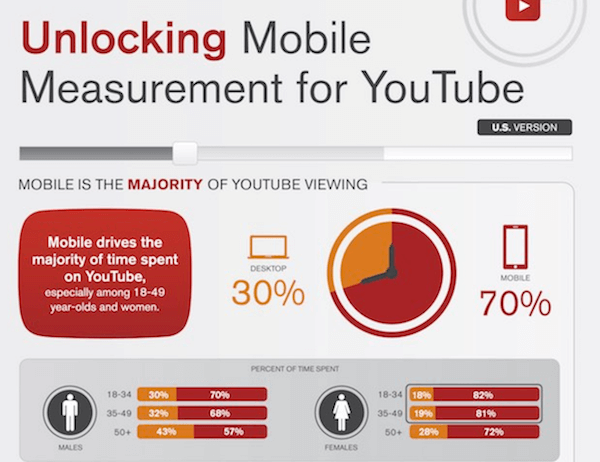 According to Kit Smith of BrandWatch,
On average, there are 1,000,000,000 mobile video views per day

YouTube is the world's second largest search engine and third most visited site after Google and Facebook

300 hours of video are uploaded to YouTube every minute

There are 3.25 billion hours of video watched each month

More than half of YouTube views come from mobile devices

The average mobile viewing session lasts more than 40 minutes
If you are still asking Why YouTube Advertising? So, I only ask you this: Why not?
YouTube is 11X bigger
YouTube is a big bad boy. Your brand misses out on a lot if it's not on YouTube one way or another. According to John Koetsier of VentureBeat, as on 2015, YouTube is at least 11 times bigger than Facebook (still a minnow compared to Google?). In the United States alone, Americans give away a combined average of 8,061 years in a single day to YouTube (Facebook grabs about 713 hours).
Now, put that into a Global perspective and the numbers are mind-boggling. Ever single day, YouTube takes away 46,000 years of the people in terms of time spent.
YouTube Is Still the Preferred Media Choice
YouTube viewers absolutely love videos, and YouTube is still the default choice. Average viewers tend to watch YouTube for a significant amount of time – 20,40, and even a full hour.
Younger viewers tend to watch even more. Viewers aged between 13 to 17 tend to skew towards YouTube more than Facebook by almost 19 times.
And what about Television? Viewers today watch just as much video as they watch Television. But then, TV time did decline while viewers aged between 18-49 ended up watching YouTube more than 44%, according to a Nielsen's report in association with Google.
YouTube Videos = Longer Shelf-life
Good video ads on YouTube (and "good" isn't because you liked your own brand's video ad) tend to leave viewers wanting more. But most other video ads are only "fleeting" – they play for a couple of seconds and they are gone – from the screen, and from the mind.
If you do video ads right, however, you get a long shelf-life for video ads. You only have to see these 10 videos that have hundreds of millions of views and more than 21 million cumulative subscribers.
And then, there's TrueView.
Running TrueView ads helps you not only promote new videos for your business but also drive past videos in your collection. Overall, this helps boost your brand presence and engagement.
According to Visible Measures, brands using TrueView see their previous video view increase by, wait for it, 500% "after" posting new videos.
Need I say more?
Extend Phenomenal Reach & Engagement
Consider this, from YouTube Official Stats:
YouTube has over billion users (1/3rd of all the people on the Internet)
YouTube (YouTube on Mobile) reaches more 18-49 year olds than any cable network in the US (and the world).
YouTube allows viewers in more than 88 countries navigate the site in about 76 different languages (and that's 95% of all Internet Population).
YouTube isn't even Just YouTube anymore. Online video is now part of the furniture, at home, in the living room.
In the UK, for instance, the fastest growing screen for "YouTube" watch time is the humble TV, and the rate of that increase has been doubling year-on-year.
Higher ROAS (Return on Ad Spend)
Spending on YouTube Video Ads can help yield a higher ROAS – about 2X to 8.5X or even higher – across categories.
The high Return on Ad Spend (ROAS) is directly tied in with higher revenue.
Google commissioned MarketShare to use Media Mix Modelling (MMM) to provide insight on how it'd look like if media spend moved from Television to YouTube.
For a specific example, Google reports this:
"One category we examined was action movie tickets; at average spend levels, US$1 spent on TrueView generated 7X the box office revenue of US$1 spent on TV. For action movie tickets, a 20% shift of ad budget from TV to YouTube would have increased marketing-driven revenue by 25%.
"
Be there, When You Are Expected
More than 3 billion people in the world have "moments that matter". Those moments matter to them, their family, their friends, and their lives.
Marketers and businesses have a new job to: show up at the right time, with the right message, and make the right impact.
We have no "online sessions" anymore; it's so over, this 1990s thing. Today, people "live" online.
Sparks of inspiration now originate while users are "online" than when they are in the shower.
Consider this snippet, from Think With Google:
"Online video is also the new default solution in those "I-want-to-do" moments – 59% of web users in the UK use YouTube when trying to find out how to do something.
What's more, a whopping 83% of web users under 35 believe that they can find a YouTube video on anything they want to learn.2
Brands can connect with more potential customers by aligning their brand content with these "I-want-to-do" moments.
Youtube is huge and phenomenal. It's where your customers are spending all their time. Many of them actively upload their own videos as I write this. Plus, never before has there been a media platform that's not only huge by itself but also allows you direct access to tell your story, grow your brand presence, get traffic, and even generate leads (top of the funnel).
What are you going to do with video?