HONEST, ROCK-SOLID, DIGITAL MARKETING FOR YOUR BUSINESS
It's not Just SEO, Blogging, or PPC. We Do It All. You Just Sit Tight, eh?
HONESTY
We don't do "quick wins". We don't beat around the bush. We'll kill your abortive processes. We'll change everything and we'll test everything.
PASSION & LOVE
We work for your business, and not ours. Our recommendations don't come from theory. They come from years of experience & from spending our money.
PROBLEM? SOLVED
There's nothing we can't do. If you have a problem with marketing, we can solve it. All you have to do is to tell us. We shamelessly use technology, people, and marketing smarts, if you had to know.
24 x 7 SUPPORT
We work as partners with our clients, and not vendors. We ensure that we take charge of every clients' business. Our support is available 24 x 7 and we respond to each query in less than 24 hours. Period.
My Story
I am a passionate marketer with attention to detail, more knowledge than I know what to do with, and genuine care for my clients' businesses.
I started off as a freelance writer. Today, however, I manage complete digital marketing — from websites to marketing automation.
I am a Google Adwords Certified, Bing Ads Certified, and HubSpot Inbound Certified marketing professional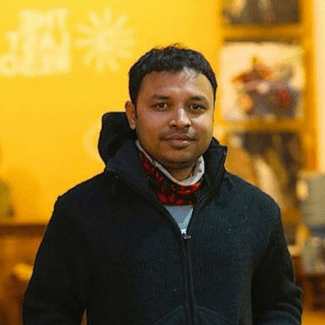 Website Design & Redesign

90%

Organic Marketing

100%

Pay Per Click

100%

Customer Happiness

99%
I AM USUALLY HANGING AROUND HERE…
After 15 years in this business, I can tell you this: Trust your gut and put your faith in digital marketing.
The digital medium gives you opportunity you never had to promote your business the way you can.
Have you been spending time, effort, and resources on getting the word out, traditional advertising, going out on cold calls, and meeting strangers trying to convince them about your business?
You are doing it wrong.
That kind of marketing is expensive; today, it's almost stupid.
People don't like to get cold calls. They don't want to buy when they are not ready for your products and services.
Just because you showed up with a logo and a website doesn't mean your customers should buy from you.
Customers buy when they are ready to buy.
You just have to make sure that "you" are the business — the merchant, the service provider, the freelancer, the authority, and the expert that they can reach out to.
Digital marketing lets you benefit from people who'd come to visit you and not the other way around.
It's called inbound marketing. Digital marketing helps your business surface — right in front of their eyes — when they need you.
If you get it right, you could even deep dive straight into their hearts.
You don't just need customers today; you need evangelists.
The Digital medium is misunderstood; it's abused; and it's certainly not the medium where you hope to show up with an ad and make a sale.
You owe a lot to yourself and for your business. You need to not just survive but thrive.
Your competition is already kicking your ass. If it hasn't, it soon will.
Fetchprofits is an End-to-end digital services agency. We provide organic digital marketing, paid advertising, retargeting, tracking, and analytics.
We also help launch, optimize, and generate results that speak for themselves.
Get Blogging, Social Media Management, Organic Email Marketing, Google Adwords, Facebook Ads, Twitter Cards, LinkedIn Advertising, Mobile Advertising along with continuous optimization, A/B testing, and reporting.
We also help with cross-device and cross-platform retargeting. Reporting, collaboration, and consulting is all a part of the package.
It's an exciting time for all of us, now that technology is affordable and married to business. The intersection where business and technology meet is the oasis of amazing opportunities for small businesses, individuals, bloggers, medium-sized business, and large corporations.
WHY TRUST US?
We spend all our time practicing what we preach. Take a look, we blog, we are on social, we do emails, we do PPC, and about 45% of our business is automated.
Our processes and systems just work.
Honesty, ethics, and client-centric work means that we won't even honor your request to get 1000 fans on Facebook for $10.
We spend our money to test what works and what doesn't. After billing little less than a million dollars so far, we aren't here working to squeeze off your marketing dollars.
In fact, we want you to spend less and gain more. We want you to get leads for low ad spends.
Maybe get relevant traffic for no spend by using organic marketing (but you'd need patience though).
We'd love it if your customers begin to love and trust you so much that they remain customers for life. That's called real profitability.
Work with us so that you can leave marketing to us, and you can focus on your business.