Instagram stories have been growing in popularity ever since it's been released. You'd only be looking for serious chops on Instagram stories design then. Further, you'd need the right kind of Instagram stories design tools to help speed up the process and make it easier for you.
According to TechCrunch, the daily use of Instagram stories has already surpassed that of Snapchat taking the average time spent on Instagram on average per user.
As Josh Constine of TechCrunch puts it
"Half of the businesses on Instagram produced a story in the last month, and it's boosted the app's average usage to 32 minutes per day for those under 25, and 24 minutes per day for those 25 and up."
There more than 1 billion Instagram accounts worldwide, 500 million + active accounts used every day, and 400 Million + accounts Instagram Stories every day.
According to the Instagram Business Blog:
People say that stories bring them closer to friends and brands.
47% find that Instagram Stories helps them be more authentic in their communication with friends and family
44% are drawn to Instagram Stories because content disappears after 24 hours
39% have become more interested in a brand/product after seeing it on Instagram Stories
The fact that Instagram stories are available only for a day makes it for a compelling content type.
As such, this post digs into several tools you can use for Instagram Stories Design.
You don't have to try too hard for creating your own Instagram stories regularly. Here are apps to help you:
Special Tip: Phone Screen Casts (Using Your iPhone)
Did you know that you can use your phone to take quick screencasts of your phone (not the laptop, because there's QuickTime for that)?
Thanks to Donna Mortiz of SociallySorted for this tip
Here's how you do it:
Go to Settings > Control Centre > Customize Controls on your iPhone, and scroll down to find Screen Recording.

Make sure that to include screen recording in your control center, so that it features in your Control Center.

Go to your home screen and Swipe Up to access your Control Settings. You should see the Screen Recording Icon there now:

Simply click the Screen Recording icon when you are ready. You'll get a 3-second countdown and you're on! Or you can press and hold that same button to get the microphone to switch on if you want to record your voice!

This is the icon that shows when the recording has started!
You can then click around, scroll and move about your phone. Everything you do is recorded from your phone screen using this feature. It's the easiest way to screencast a demonstration on your phone:

When you are finished recording, you'll get a reminder – telling you that the finished recording has been sent to your camera roll.
The potential for this feature is huge. You can:
Screencast a how-to video, showing how to do something on your phone.
Tease a new blog post by clicking to it and scrolling.
Showing how to do something on social media.
Highlighting reviews or testimonials.
Preview something – Show what a website, membership site, lead magnet or a download will look like to potential customers – on their phone.
Share a new app, your own products, landing pages of your products, and anything else that you love.
Instagram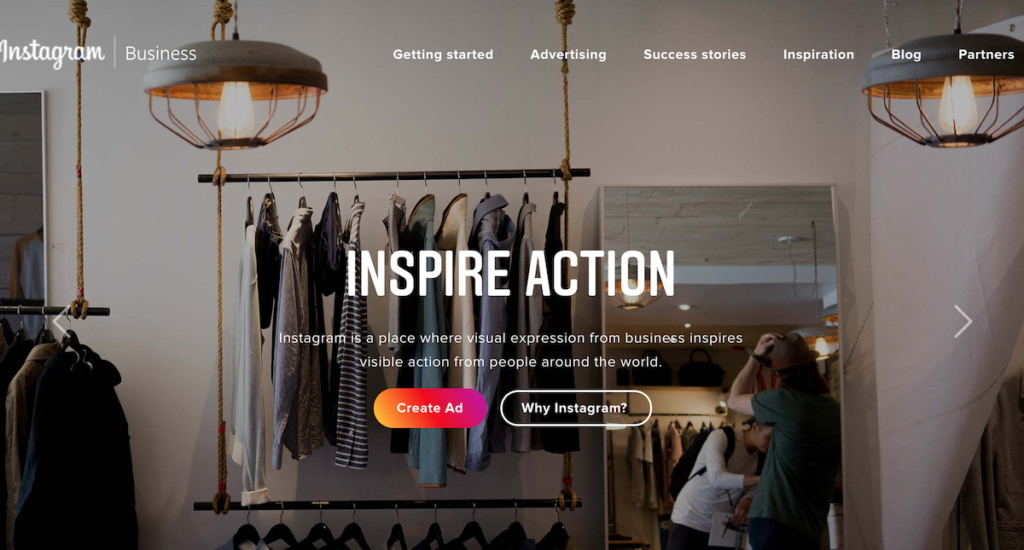 Start with Instagram's own collection of tools and features available for you to use to create Instagram stories on the fly.
Within Instagram itself, you could just use text with color background, pick up Instagram's native video/photo shooting feature, go live on Instagram, use other features like Boomerang, Superzoom, focus, rewind, and hands-free (so that you can shoot yourself or something else without having to press down the record button).
Sophia Bernazzani of Hubspot has a handy post that explains how to use Instagram's built-in features (you can grab their 25 Free Instagram templates to give yourself a kickstart).
Instasize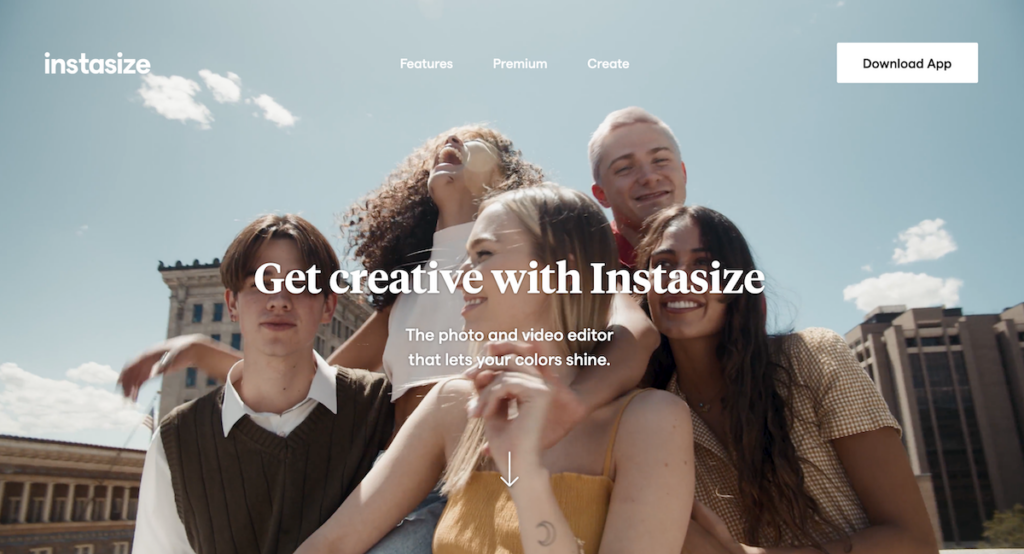 If your Instagram Stories design has a lot more to do with snazzy photos (more than anything else), Instasize is one of those photo editing tools you should use.
With Instasize, you can achieve pro-level photo editing in much less time than it takes for you to read this post. See how:
No need to deep dive into labor-intensive color correction. Just use the broad range of filters that Instasize provides. At the last count, there are over 80+ various color corrections available on the app.
Crop and resize your photos as you deem fit (reframe shots, resize according to various photo size format requirements such as those needed for Instagram stories, and more.
Want to look good on your Instagram feed and Instagram stories? Use the extensive suite of beauty tools inside the app (correct skin blemishes, go crazy with retouching, and even fix discolored teeth).
Choose from more than 30+ text styles, add text to photo, and make your Instagram posts or Instagram stories come to life.
Pour life into your Instagram feed (or Instagram stories design) by creating a Photo Collage with a no-fuss, one-click move. Display mini-photo albums, magazine-like layouts, or maybe get creative with photo grids.
Instasize has several options for you to work with. Check out why it's one of the best purpose-built Instagram tools for you to use for Instagram stories design and Instagram posts.
Canva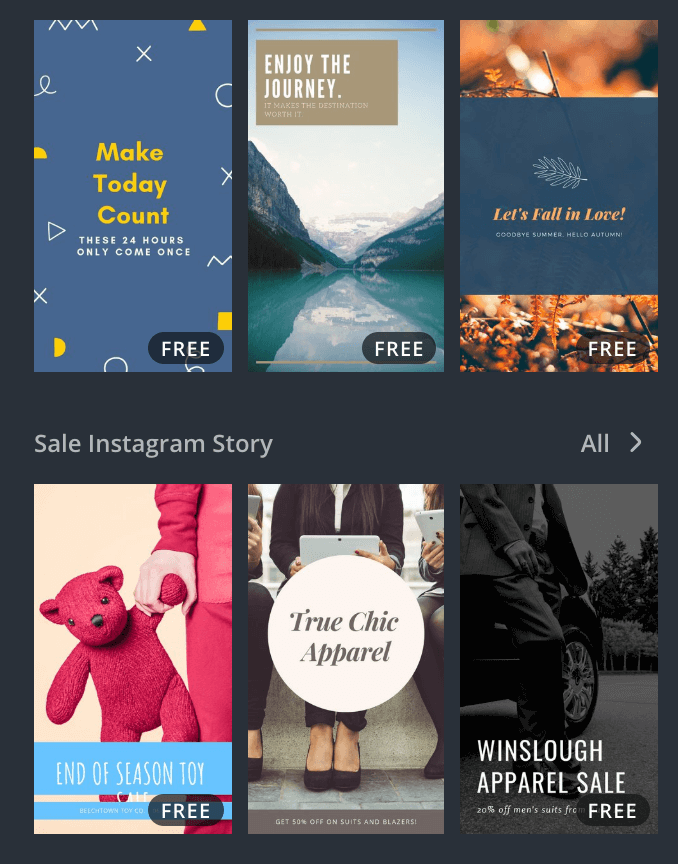 Canva has templates for literally every kind of design you'd want to create. Starting from simple social media graphics and blog post featured images all the way to Canva Animations and also Instagram stories.
You can use Canva to practically design anything under the sun but you can also create Instagram stories from ready-made templates. Just swap images, edit your text, and you can download stories ready to be uploaded to Instagram Stories.
It's absolutely free to use (and you can upgrade if you want to) to create stunning assets for Instagram stories. You can also use Canva Animations — this is as close to a video as you can get (just in case you can't do video at the moment).
Shakr
While more skewed towards making creative assets for Facebook and Instagram ads, you can make fantastic, vibrant, and rather upbeat assets for Instagram and Instagram stories (along with Facebook video Ads) with Shakr
Shakr has all sorts of templates for you to use. Pick a template, edit the templates to go with your brand (and assets), and you are good to go.
Easil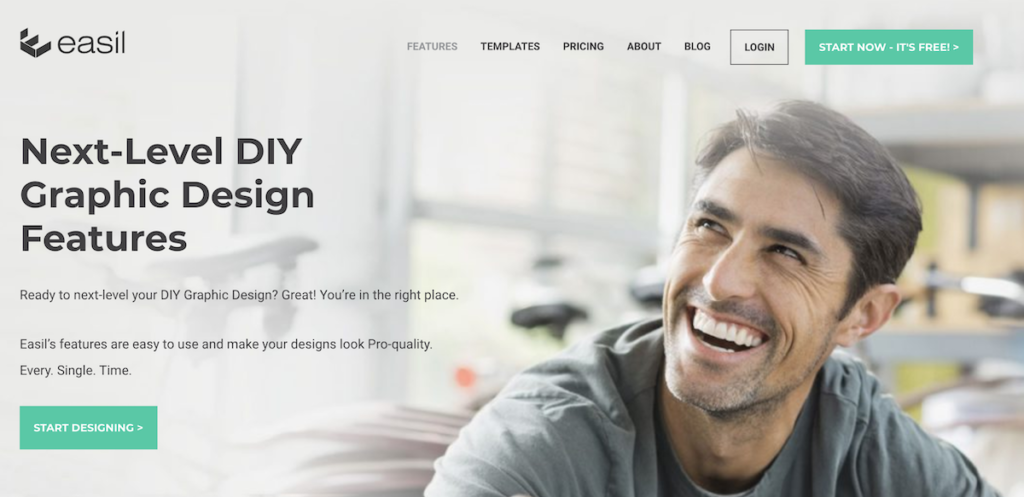 Browser-based Easil is a DIY drag-and-drop design tool with pro-quality templates to help you quickly create Instagram Stories.
Featuring thousands of templates, the ability to resize your designs, a fantastic range of free fonts, several thousand royalty-free stock photos, and folders to organize your work into, it's one of the more able Instagram stories tools (among others) available for you to use.
Sign up for free, use their templates, and go Instagramming happy.
Unfold (for iOS)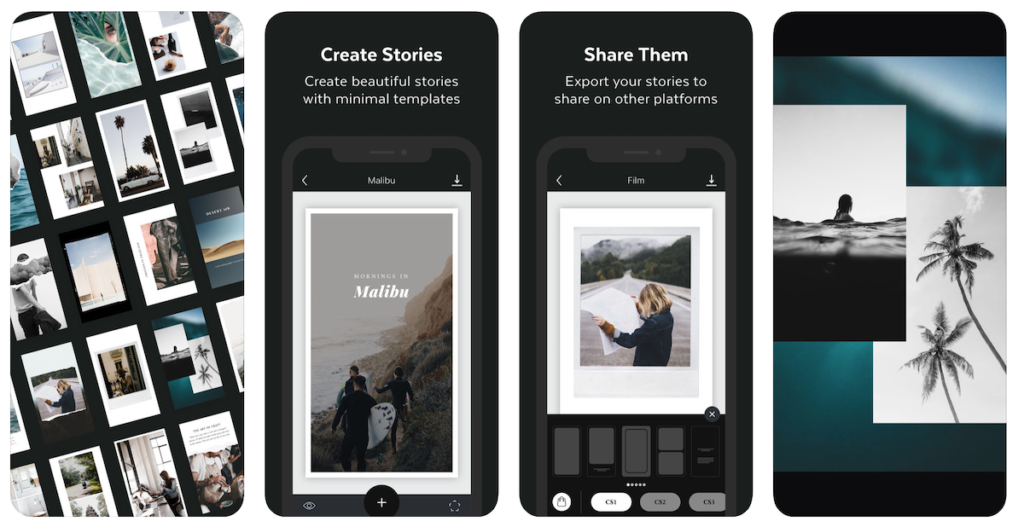 Unfold is a free iOS-only app that lets you create multi-page Instagram Stories. With simplistic and minimal design, the layouts are awesome to look at, and to use. If you want to make a statement, Use Unfold.
Quik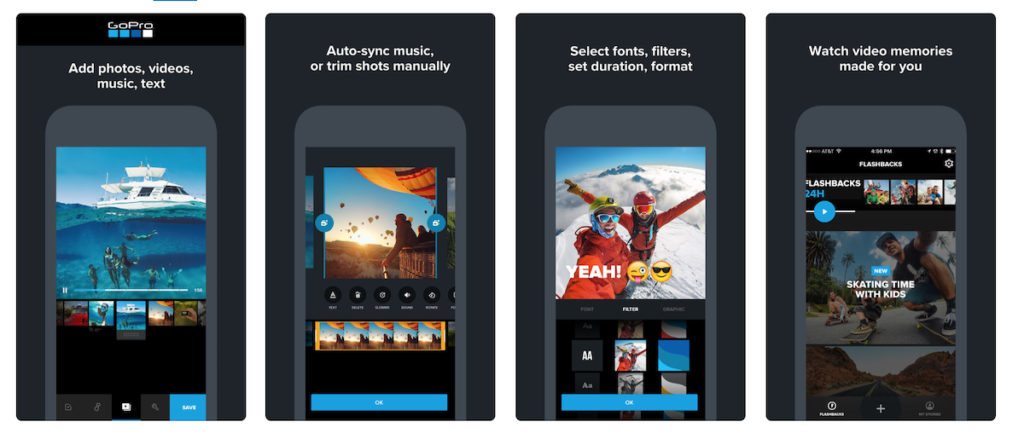 This iOS app originally built for editing and adding effects and transitions for GoPro footage. But you can use Quik for videos that you'd take from your phone, other devices, and even off of your social media feeds.
Choose some photos and home movies from your device or social networks and Quik does the rest, assembling them into videos with automatic music and edits.
Adobe Spark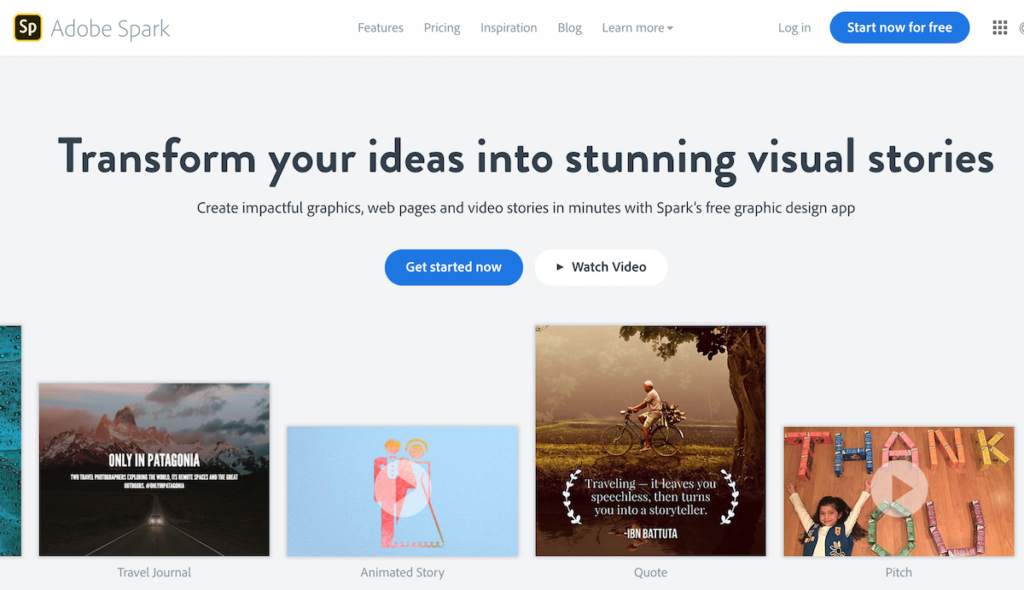 You are well aware of Adobe's PhotoShop, Premiere Pro, and others. But not everyone needs the heavy suite of tools Adobe offers. So, you can use Adobe Spark instead (Update: Spark is now offered as a part of creative cloud).
With Adobe Spark, you can create graphics of all kinds of designs with Adobe Spark. Specifically using (Spark Post), video stories (Spark Video), and web pages (Spark Page).
Storeo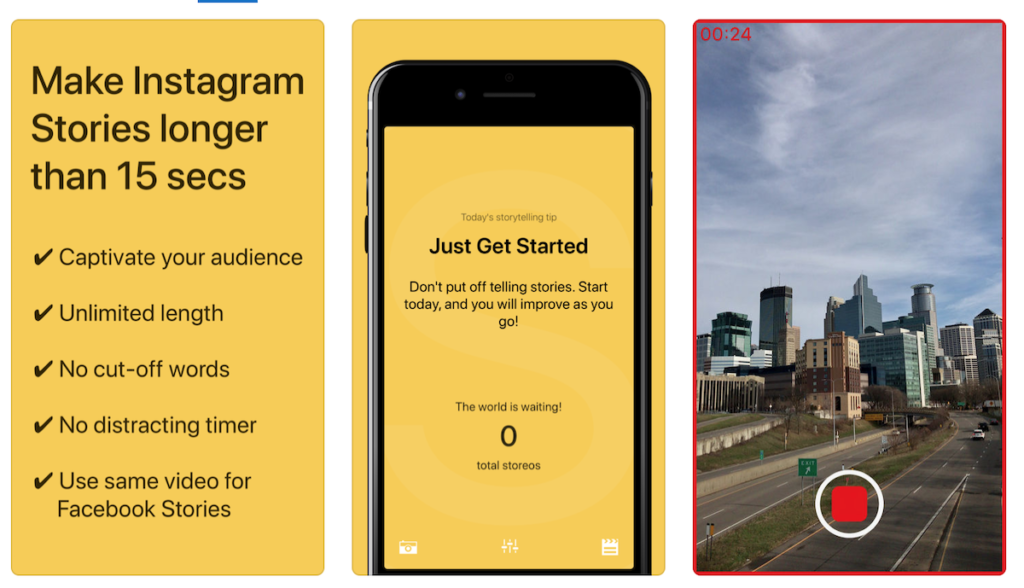 Want to make super-long Instagram stories (like videos longer than 15 seconds) and still make an impact? Use Storeo.
It slices videos into 15 seconds and loops them together. You'll love this if you are a non-techy.
Infinite Stories for Instagram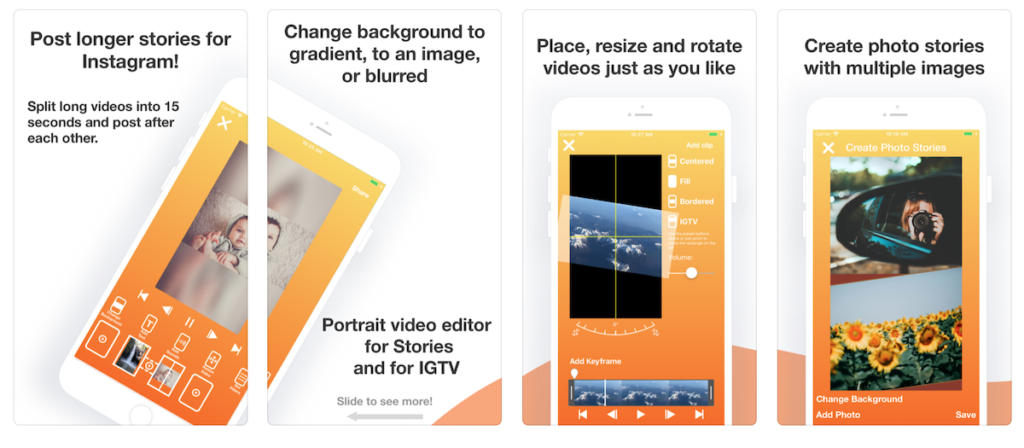 Another super tool to help you post longer stories on Instagram.
Share landscape videos, add transitions, use keyframes, speed up (or slow down parts of videos), add music, and more.
Kapwing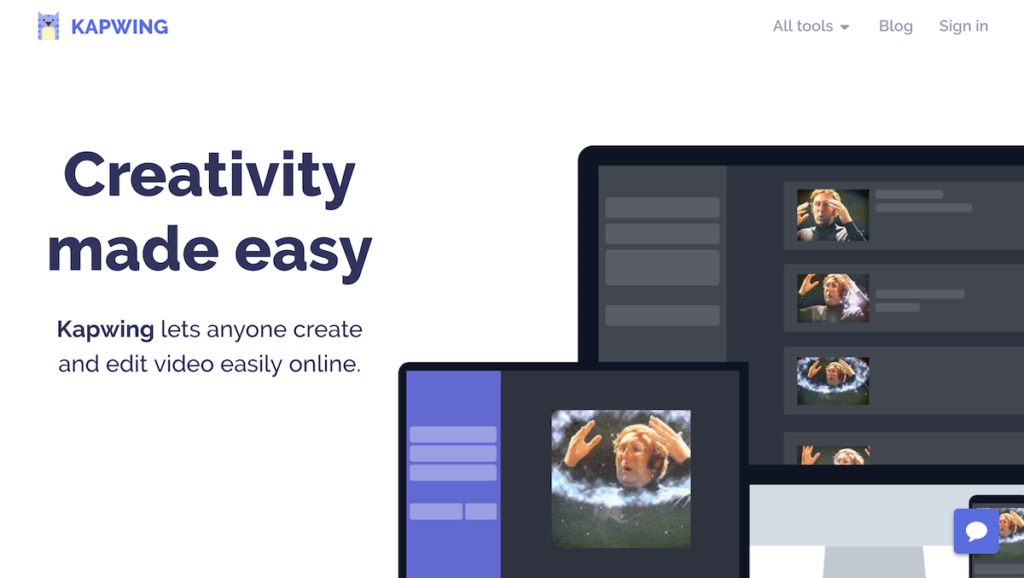 Apart from giving you the ability to create stop-motion videos, memes, and several other content types for free, Kapwing also has an instant Instagram story creator with stunning templates ready to use. You can even add layers, resize your designs, and so much more.
Hype Type (for iOS and Android)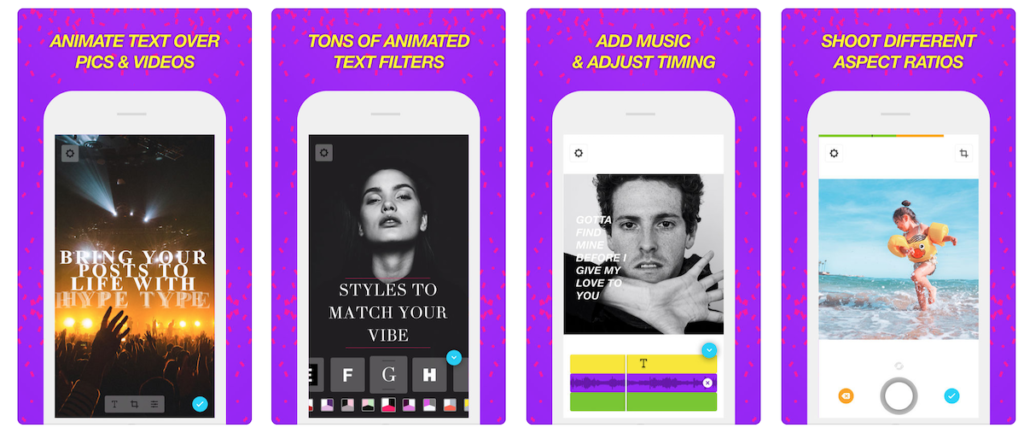 Hype Type (for iOS and for Android) allows you to capture photos and images and then add fun typographic, music, reposition fonts, double-tap and edit your creatives, and then easily upload to Instagram stories.
InShot App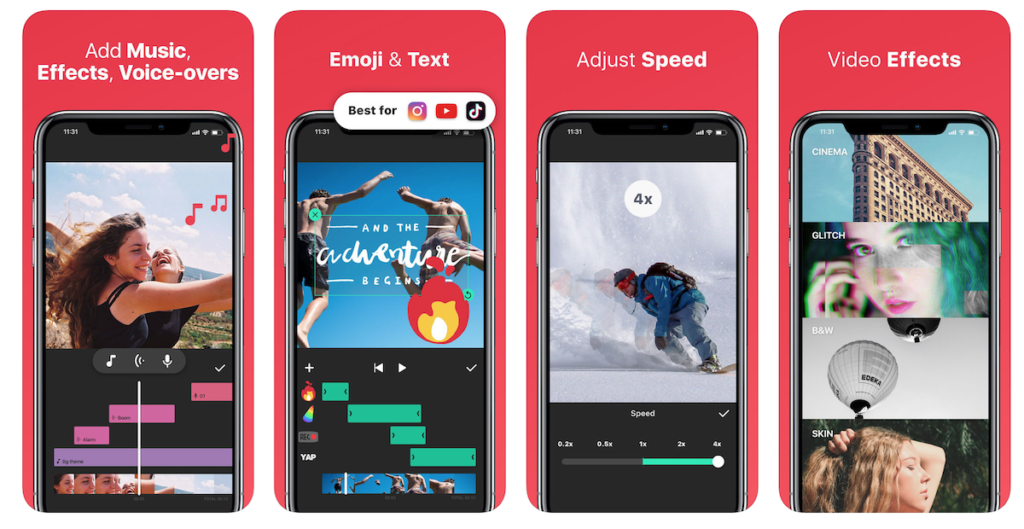 Inshot App for iOS allows you to trip, cut, delete, merge, and adjust your videos however you like.
For Instagram, you can blur borders for photos and videos, use colored borders, and also crop videos or move videos inside the square.
Inshot also allows you to add music, sound effects, add voice-overs, sync sound (with timeline features, add text on video or photos, add emojis, use photo/video filters, rotate videos and more.
CutStory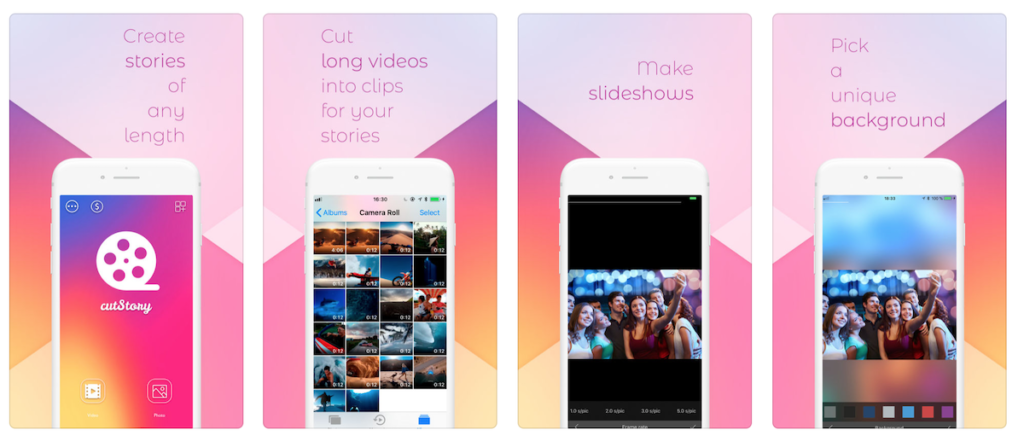 CutStory for Instagram lets you work with videos of any length, divide longer videos into clips of any length size, arrange clips in a chronological order, add music to videos, and export video without compression (giving you better quality) to share on Instagram stories.
EmbedStories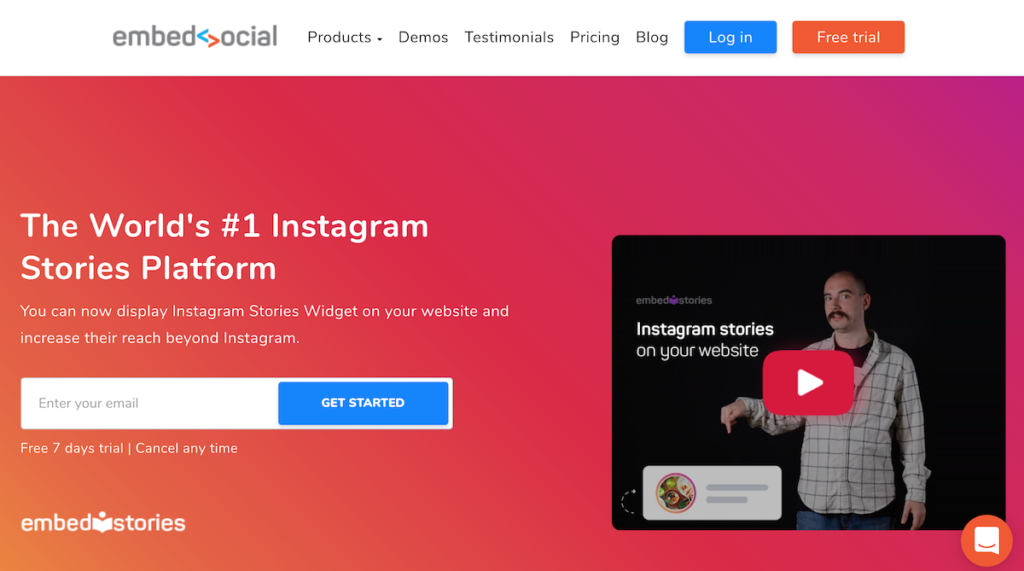 EmbedStories — from the folks at EmdbedSocial — does a lot more for you in terms of making Instagram stories work for your business.
Instead of just letting you create Instagrams stories, EmbedStories allows you to embed Instagram stories on your website (WordPress plugin Included), boost your Instagram stories, help generate new Instagram stories automatically, archive stories, and even make your Instagram stories Shoppable.
Flyr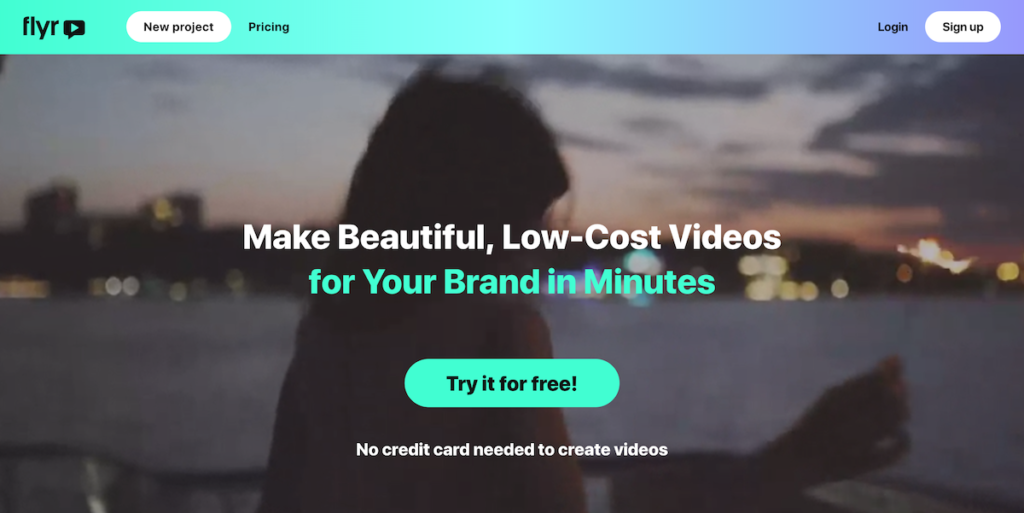 Flyr Is easy to use and gives you thousands of royalty free videos and images to use for your projects.
It's free to start with but it'll cost you $20 per video if you want to brand your videos complete while exporting to Instagram or Instagram stories.
Storrito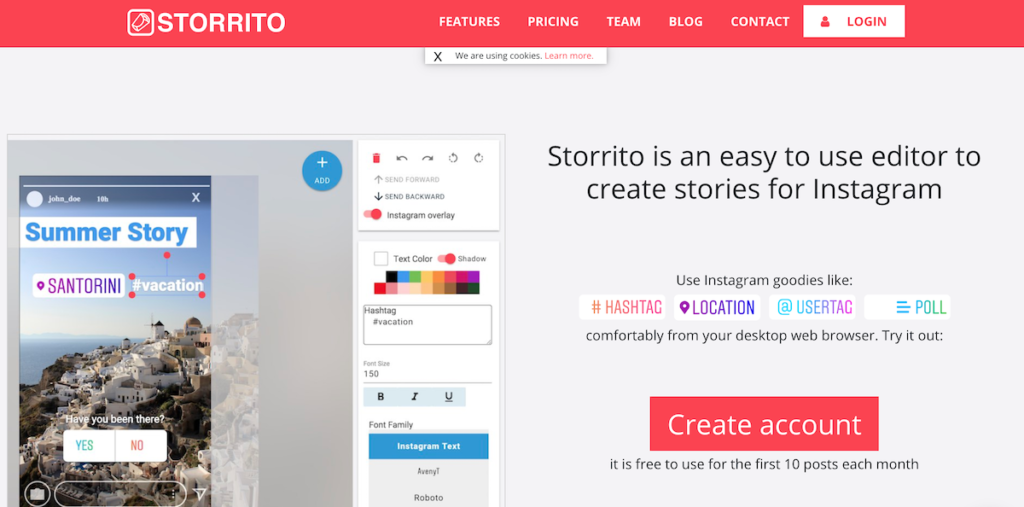 Need an easy-to-use, handy Instagram stories creator and editor?
Storrito is free for up to 10 posts per month (upgrade for more) and it comes it plenty of options to create an edit your Instagram stories.
Pick your choice from several fonts, post your stories directly to Instagram, or pick a date and schedule for later.
You can also add as many Instagram accounts as you like while all your posts and Instagrams stories can be organized and archived.
Which of these tools are you going to use to take your Instagram Stories game to the next level?