Affiliate Marketing could just be the panacea for ever-rising costs of advertising or content marketing in general.
Are ads turning out to be too expensive for you? Did you realize that content marketing, Inbound marketing, or organic marketing (however you want to call it) is a back-breaking, long-term effort?
Say while you are still doing your business to promote your business, wouldn't it be nice to multiply your ROI, say infinitely?

It's possible.

Individuals have been expressing their opinions, voices, knowledge, and insights for several years now with blogging, content, videos, podcasts, and on social media networks.
It could be a myriad of topics (depending on individuals and the content they produce) but chances are that there are bloggers, online publications, and publishing powerhouses that have made it their mission to spread the word and to influence.
So, you now have micro influencers, major influencers, LinkedIn influencers, Twitter Influencers, Instagram Influencers, and several others.

In some circles, their word is respected. They opinions are revered. Their suggestions are taken to heart. Their recommends are promptly lapped up.

Now, imagine if an entire army of talented, self-motivated, focused, energetic, enthusiastic, and savvy influencers take up the work of promoting your products, services, or apps?
What if they'd do all that for you, all the time, 24×7, 365 days a year, year on year?

How would it be if they take up that massive, continuous, and dedicated effort on your behalf (for your products and services) without asking for cash, remuneration, commissions, monthly retainers, hourly fees or fixed fees until they get you results?
Those influencers (major or micro) exist, and they are called affiliates or partners (however you wish to call them).

According to Tasos Perte of WebmarketingSupport, affiliate marketing accounts for at least 7.5% of retail spends.
A Rakuten Marketing survey reveals that the U.S. affiliate marketing spending will increase by a compound annual growth rate (CAGR) of 10.1 percent between 2015 and 2020, creating an estimated $6.8 billion industry.
Affiliate marketing is huge and has limitless potential for your business. But let's dig deeper on why you should start affiliate marketing for your business:
Affiliate Marketing = Performance Marketing on Steroids
Performance marketing is when you only pay for results. Normally, the kind of results you seek would be traffic to your website, leads, or conversions — and you'd normally spend time, effort, or money to get the results you seek.
With affiliate marketing though, you recruit an army of affiliates — each of whom will spend "their" own time, resources, and money to get "you" results.
In exchange for a recurring or a one-time commission for their efforts, it's one of the best ways to monetize "their" effort as affiliate marketers.

The numbers only prove this right. In the United States, affiliate marketing spends through 2015 to 2010 (in billions) as shown below (thanks to webmarketsupport).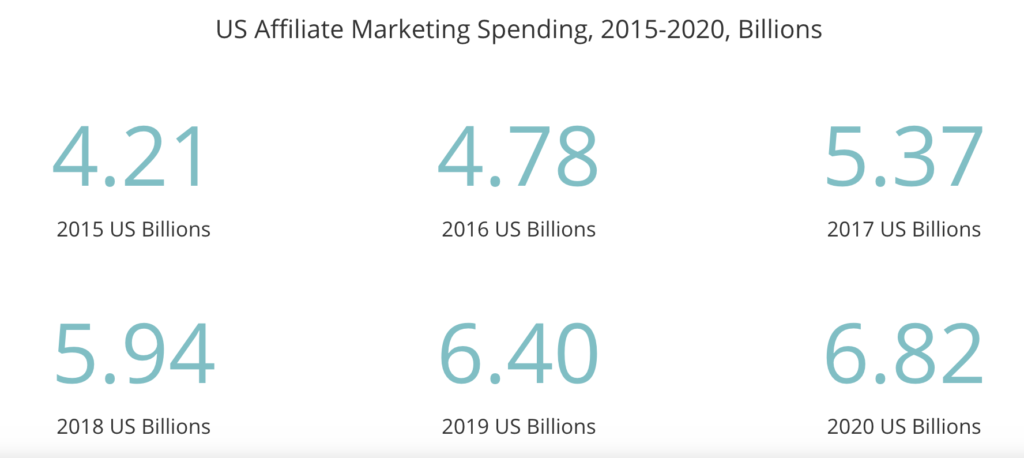 All of that money did not go in vain (for retainers, salaries, or hourly pay) — all those billions spent were for "results" — actual payouts for sales made, for conversions, or for leads generated by affiliates.

When you start an affiliate program or a partner program, you get performance marketing with a global reach, on steroids.

Affiliates are Loyalists
When affiliates choose to partner with your brand, they aren't in this just for the commissions. They join your affiliate program because they are loyalists.
They've used your product before. They use your product which brings about a positive difference to their lives or that which adds value to them.
In short, they are your fans.
They are your aficionados.
They are your evangelists.
As such, they now want to spread the word about how awesome your products or services are.

Affiliates are Influencers Who Give Value & Take Cash (For results)
#funfact: Instagram was the most preferred platform for more than 92% of influencers in 2017.

Influencers — small or big, known or unknown — don't just hang out on Instagram (doesn't apply for all businesses and all kinds of influencers, you see?).
Influencers "influence" by thought leadership, insights, suggestions, and recommendations.
If they have a point of view, they'll write a blog post about it. Or maybe they voice it out in a podcast. Perhaps they'll communicate using a video on Youtube.
They'll tweet on Twitter, write a short post on Medium, publish a post on LinkedIn Publishing platform, or go all guns blazing in an active network.
Maybe they'll answer questions on Quora or even launch a Quora Session about.

Some influencers want to monetize their efforts (no one does anything for free). Influencers will then partner with a few brands or become affiliates to help monetize the effort they take and for the value they provide to their respective audiences.

It's just another way for them to make money from the value they add or from the assets they work hard to create (such as blog readership, email marketing list, or an instagram following).

Affiliate Marketing Is For Everyone, Thanks to Tech
You and I know how popular Amazon's Associate Program is, right? Don't just sit there thinking that affiliate programs are only for brands with deep pockets.
You can start your own affiliate program or partner program for your brand by letting affiliates join you and then promote the heck out of your products and services for you.
There are so many different options for you to consider when it comes to affiliate marketing solutions or affiliate marketing software.
Today, you have technology, infrastructure, and numerous solutions to help you launch your own affiliate marketing programs or partnership programs.

Using Partnerstack, for instance, you can quickly and easily build an affiliate or a partner program without breaking a sweat just like several other brands such as Asana, Unbounce, and others do.

If you are looking for a traditional affiliate marketplace, Shareasale provides you with a simple pay-for-results platform to help you manage a global roster of affiliates.

Depending on your business, there might be built-in solutions for affiliates management too.

For instance, if you were in the business of creating online courses or if you were a course creator, platforms such as Podia, Payhip, and Thinkific provide you with built-in affiliates management (make your students your affiliates, partners, ambassadors, or evangelists).