Do you use Call tracking tools for your business? If not, you should. Here's why
156 customers called you this month.
Without Call Tracking tools, how would you know if the 12 people in your team who received these calls performed well enough? How do you know what happened during those conversations? Did those potential customers who called convert?
They didn't? Why not?
They did. What was the average order value?
If your customers called you by checking your number off your website or from a Google Adwords campaign you run, how would you know how many calls those campaigns generated?
There are some businesses that would never know how well their digital marketing efforts, Paid advertising campaigns, or email marketing campaigns will work.
You can throw all the analytics tools you have at your disposal, show them how much their website gets per month, allow them to take a peek at the fantastic open rates and click rates of their email marketing strategy.
Yet, for some businesses, it might just not work.
Why?
According to Kissmetrics Infographic, BIA/Kelsey predicts that the annual number of mobile phone calls to businesses will reach 162 billion by 2019.
Wait, it's 162 billion. Let that sink in.
Some businesses purely depend on inbound calls to know whether or not their digital marketing is working for them.
Plus, there's a lot to click-to-call commerce. Check out this infographic below:
++ Click Image to Enlarge ++


Source: Infographic: Click to Call Commerce
For that reason, Google adwords has exclusive campaigns called "Call only Campaigns" that only show up on searches done for specific keywords on mobile phones.
Plus, many businesses also use toll-free numbers or other vanity phone numbers in their marketing campaigns to account for all those customers who'd rather pick up the phone and call instead of clicking through to sign up.
If and when people call in, how do you track these calls? [ Whatever you do, don't even think of using Excel spreadsheets, ok?]
It's for use cases like these that you use call tracking tools for your digital marketing campaigns. Phone numbers (a single number or dedicated numbers for each digital marketing channel) go up on the top of websites, landing pages, and are inserted into ads. Then, all calls coming in, — thanks to these campaigns — are tracked.
While some call tracking tools are standalone, others are part of a larger software suite.
Here are a few call-tracking tools you can use to track Inbound phone calls (regardless of where those phone numbers are shown, and this can include all of the traditional advertising too):
Easy Call Tracker
Easy Call Tracker from PowerMyAnalytics Suite is an easy to use call tracker to help increase conversions and spend your marketing budget more efficiently by knowing which marketing sources your phone leads and sales are actually coming from.
With Easy Call Tracker, you can practically insert dedicated (and trackable) phone numbers for your print campaigns, television commercials, Facebook ads, Google Adwords, Bing Ads, and social ads.
According to the folks at Easy Call Tracker,
"Using Google Analytics UTM parameters, you can trigger unique tracking numbers for each campaign, ad group, email, brochure, billboard, etc. You can also configure goals in Google Analytics to only count calls that exceed a specified duration as conversions. In addition to source tracking, this tool is great for setting up experiments and A/B testing landing page call conversion rates."
You also get call recording, A/B Testing for Calls, and much more.
CallRail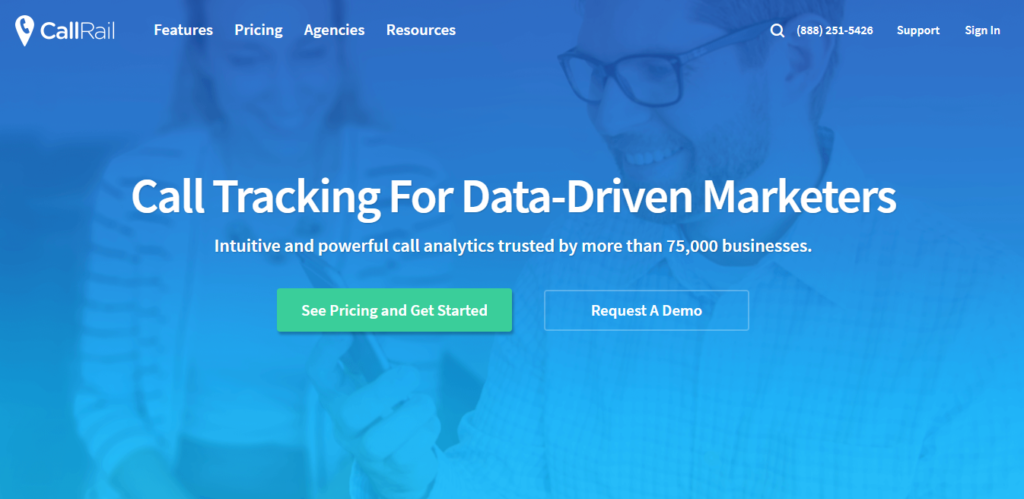 Callrail was built for marketing campaigns first. Any other use cases you can find are secondary to its primary purpose of analyzing phone calls off paid ad campaigns and organic digital campaigns.
Callrail helps you record calls everywhere, and those originating from anywhere — both traditional and online advertising.
With features such as Caller ID, visitor timeline (reminds me of Drip's Visitor lifetime tracking feature), Call Score and other intelligence tools,
If you're using click-to-call, or if a significant number of your sales come via phone, it's important to know which keywords and ads closed the sale. Good for measuring the total impact of click-to-call ads, CallRail can track online and offline calls in one interface.
Bizible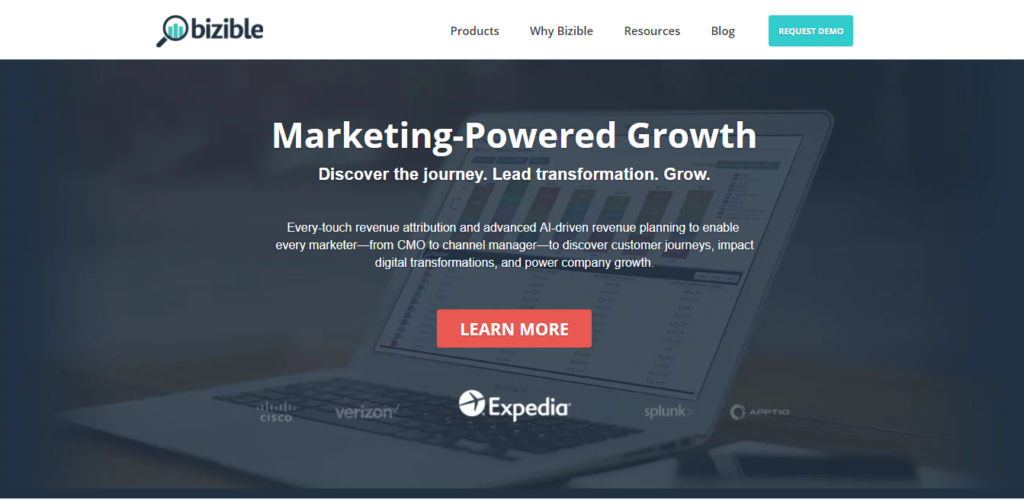 I can't define Bizible better than what Bizible does. So, here goes:
"Bizible unifies behavioral and ad data with sales outcomes and machine learning so you can make the right marketing decisions."
Bizible (now part of Adobe Marketing Cloud) tries to help you attribute properly for marketing, lead generation, demand generation, revenue, and sales.
It helps with multi-touch attribution, account-based measurement of numbers that matter, full funnel insights, and ad network tracking (granular level data for all your paid ad campaigns).
Use Bizible to combine AdWords and Google Analytics data with SalesForce to close the loop between your online marketing efforts and your lead nurturing system. (Thanks & due credits to Dave Rigotti for talking about Bizible first)
Twilio Call Tracking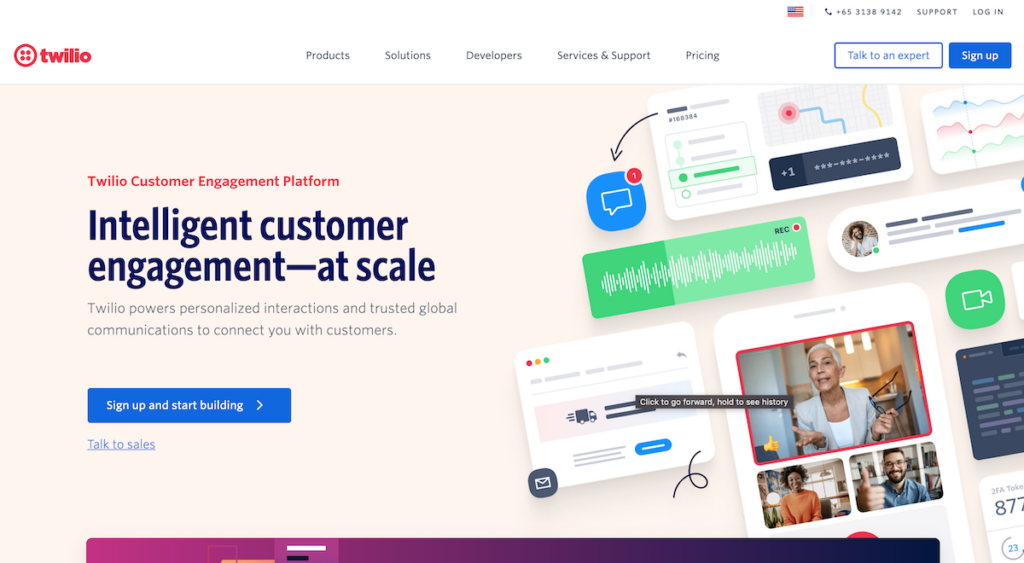 Twilio call tracking provides businesses and marketers with deep phone number inventory (a massive inventory of phone numbers while all of these numbers are tested to ensure unwanted calls, messages, and spam).
All incoming calls come with analytics and custom reporting which can then be linked with analytics tools like Google Analytics — slide and dice data as you need. Twilio call tracking also comes with "Intelligent lead routing" so that you can use rule-based automation to pass phone calls to the right agents (users, or people) so that customer calls are fielded by appropriate teams.
Twilio call tracking also lets you connect your CRM system so that all your efforts to nurture inbound call leads don't go to waste.
Invoca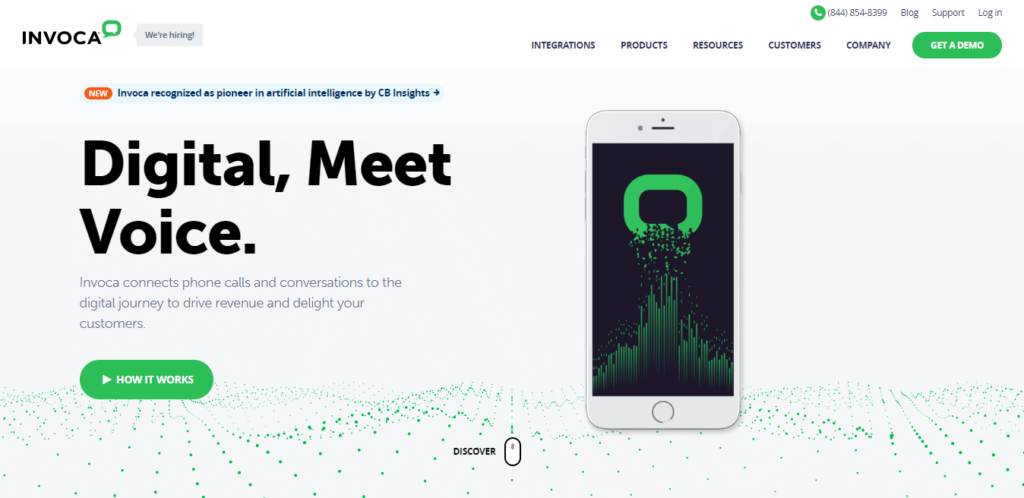 Invoca is a complete Voice Marketing Cloud system helping you bride all those inbound/outbound sales calls, conversations, and talk to the digital journey — right on the path of your own Inbound digital marketing efforts — to drive your revenue up.
As the folks at Invoca put it, customers move from digital channels to the phone when it matters the most for them: the point of conversion.
It's at this point of conversion that you need a reliable way to personalize your Inbound calls, make the experience better for your clients, enhance those interactions, and finally expanding your reach across channels and devices.
Invoca now also has Signal Ai — a product that uses artificial intelligence to dig in, analyze, and provide you with more insights to help you understand caller intent and outcomes. This fundamentally changes how you assign and identify buying signals; how you devise your PPC strategy; and how you deploy your digital marketing campaigns.
Aircall
Aircall takes the "call center route" — outbound call centers and Inbound call centers and has a clear emphasis on "teams". Marketed as a complete "Call Center Software Suite", it has everything you need to make those inbound and outbound phone calls count.
With Aircall, you get a virtual call center number; voicemail; Interactive Voice Response systems; an ability to choose international phone numbers; a Warm Transfer service which helps check in with agents before transferring calls; toll-free numbers; call monitoring; and many other features making it be one truly expansive and robust call center software available today while it's still incredibly easy to set up.
To use Aircall for purely marketing purposes, you'd have to make a few tweaks to how you name departments and what kind of "concurrent calls" your team can take.
For fast-growing businesses and for marketing, Aircall is a cool fit (while it's built for support and call center use cases)
Convirza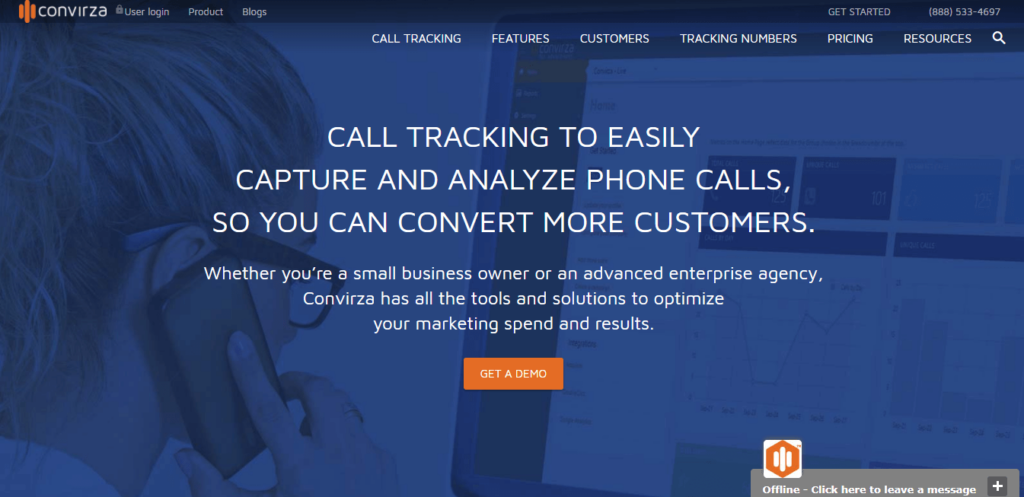 Convirza was built for a single use case: track, analyze, and gain insights to help convert all those inbound calls originating from your campaigns.
With Convirza, you get complete call tracking, call analytics, paid advertising campaign attribution, integrations (with CRMs and other tools), and even post-call automation.
Convirza squarely focuses on conversion attribution accuracy — to help you not just understand where your calls come from, how long they last, etc., but also to accurately determine what happens during phone conversations.
Determine which keywords and campaigns are getting you the actual phone calls that convert. You can also use Convirza's dynamic number insertion and multi-channel call attribution features to help close gaps and loopholes in your existing digital marketing strategy.
Whatconverts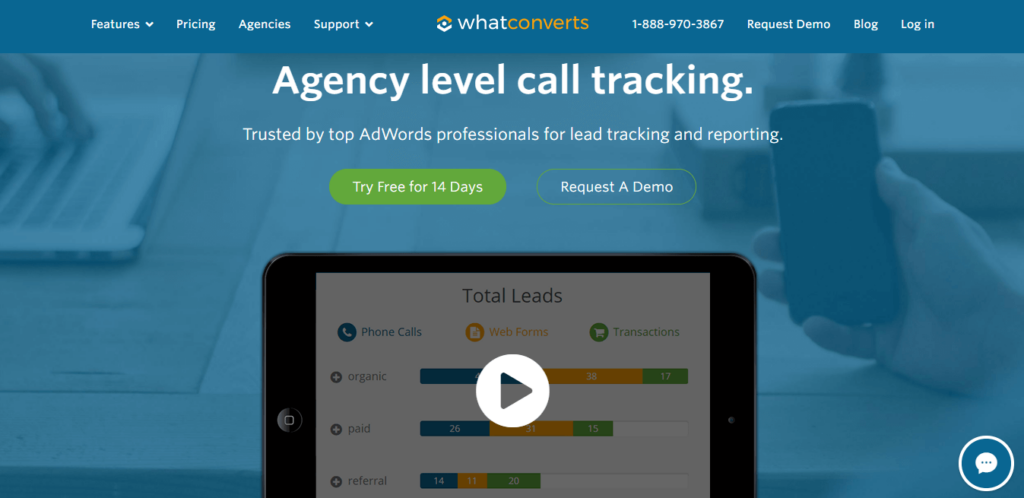 If you focus big on Google Adwords, Whatconverts is built for you. As an agency-level call tracking software, it provides you with away to setup instant call tracking; track all leads (not just calls); record all phone calls; and also dynamic number insertion features.
With Whatconverts, every lead is emailed to you (gotta love that) along with a big focus on lead enhancement. Sort and find leads by regions, by traffic source, and more.
Whatconverts integrates with Google Adwords, Google Analytics, Livechat, WordPress, Salesforce, and Bing Ads. In fact, Whatconverts integrates with a 1000 other apps, thanks to their integration with Zapier
What other call tracking software do you know of and you think I missed? Let me know and I'll include it here.