The difference between Gumroad and Payhip can save you trouble, make marketing or branding easier, and save you cash.
This post will be updated continuously to keep it updated and fresh.
Both Payhip and Gumroad are absolutely free to use. The difference between Gumroad and Payhip is crucial because the right choice (or the wrong one) would mean hundreds of thousands in dollars, time, effort, and resources wasted.
Payhip and Gumroad are both popular to allow content creators, solo business owners, and even brands to sell digital downloads, online courses, memberships, coaching programs, physical products (Payhip only, among the two), and more.
If anything, the platforms differ in just how they handle some critical features for eCommerce platforms that enable you to sell digital products (including online courses).
Interested in checking out the massive difference in "what you really end up paying"?
Dig in (with a calculator) and checkout the Payhip Vs Gumroad: Pricing & Costs explained post.
Now, let's see the difference between Gumroad and Payhip (there's more than you know) 👇
Payhip Vs Gumroad: What's Common?
Features: What's Under the Hood?
Selling Online Courses: How they Differ?
Selling Digital Products: Restrictions on Either Platforms?
Payhip and Gumroad Pricing Differences
Conclusion: Gumroad and Payhip: Which is Better Now?
Payhip Vs Gumroad: What's Common Between The Two Platforms?
Sell Digital Products (with ifs and buts..): Gumroad has a few restrictions and differs from Payhip in the way it handles the "type of digital products" you can sell.
For a few products like memberships and online courses, the way the platforms allow you freedom also differs.
The experience is also different when it comes to how these platforms allow you to design sales pages, checkout, customization, embeds (on websites).
Starting Cost: Both Gumroad and Payhip are free to start (no upfront costs, no subscription fees).
Fees: You pay when you make a sale. Gumroad takes 9% off of every sale (going down to 2.9%) depending on your lifetime sales volume.
Payhip takes 5% uniformly (going down to 2% and 0% for the paid plans). For either of the platforms (or for any other platforms you might use), you'd still have to shell out a wee bit for Stripe and PayPal (that, you can't get away with).
Storefronts: Both platforms give you storefronts. Payhip's store is completely customizable; Gumroad's storefront is not.
Sub domains: Gumroad and Payhip both give you the ability to create subdomains (like learn.fetchprofits.com) — useful for branding, marketing, and more.
Video hosting: Gumroad allows you to upload videos. Payhip allows you to embed videos from YouTube, Vimeo, Wistia, for free.
Payhip has Payhip Videos at an additional cost of $9 per month that gives you the ability to upload/manage/sell videos (as individual videos or as a part of your online courses/coaching programs/etc.)
Marketing Integrations: Both platforms allow you to integrate with other marketing tools (such as email marketing tools, landing page builders like Instapage, Unbounce, LeadPages, and so on).
Each of the platforms also allow you to connect with Zapier (to make even more integrations possible).
Difference Between Payhip Vs Gumroad Features: What's Under the Hood?
When selling online courses, memberships, coaching programs, digital products, and more, there are some critical features online course platforms should have.
Payhip
Gumroad
Pricing
Free
Free
What You Really Pay
Lifetime earnings
5% (free plan), 2% ($29/month plan)0% ($99/month plan)
Lifetime earnings (on milestones)
9% — $0 to $10007% — $1000 $100005% — $10,000 to $100,0003% — $100,000 to $1,000,0002.9% — $1,000,000 +
Custom Domains
Yes
Yes
Video Hosting
Free (YouTube, Vimeo, Wistia)…or $9 per month for Payhip video hosting + video player
Free (but no video player).
Online Course Delivery
Proper Course Player with Online Course Delivery
Videos can be downloaded or streamed
Integration with WordPress or Other website platforms
Yes (with Subdomains)
Yes (with Subdomains)
Complete Storefront Customization
Yes
No
Landing Pages for Courses
Yes
Limited
Course/product embed
Yes
Yes
Marketing Integrations
Yes + Zapier
Yes + Zapier
Email Marketing
Free (with Mailchimp, extend with Zapier)
Free (built in, extend with Zapier)
Payment Processing
Stripe and PayPal
Direct Deposits Plus & PayPal
Read:
9+ Critical Online Course Platform Features [You Can't Do Without]
Ease of use: How Easy Are These Two Platforms to Use?
Payhip is incredibly easy to use and the product onboarding is fast. Like, really fast. There's no downtime, videos load fast (even better if you use Payhip videos).
Watch this video on How to Create, Sell, and Manage Online Courses on Payhip:

Gumroad is fast and easy too (and it's hard to tell the difference between the two).

The differences really come down to How your digital products are presented to your potential customers.

For instance, Gumroad checkout is standard and you can't customize the buttons. Payhip allows you to customize the product pages, checkout buttons, checkout button copy, the way the checkout looks, and more.
If you sell online courses, the course delivery is different again (see below)
Storefront Customization: How Will It Look, In the end?

Gumroad has limited storefront customization (all you can change is a few things, with some CSS).
This is how Gumroad storefront looks like: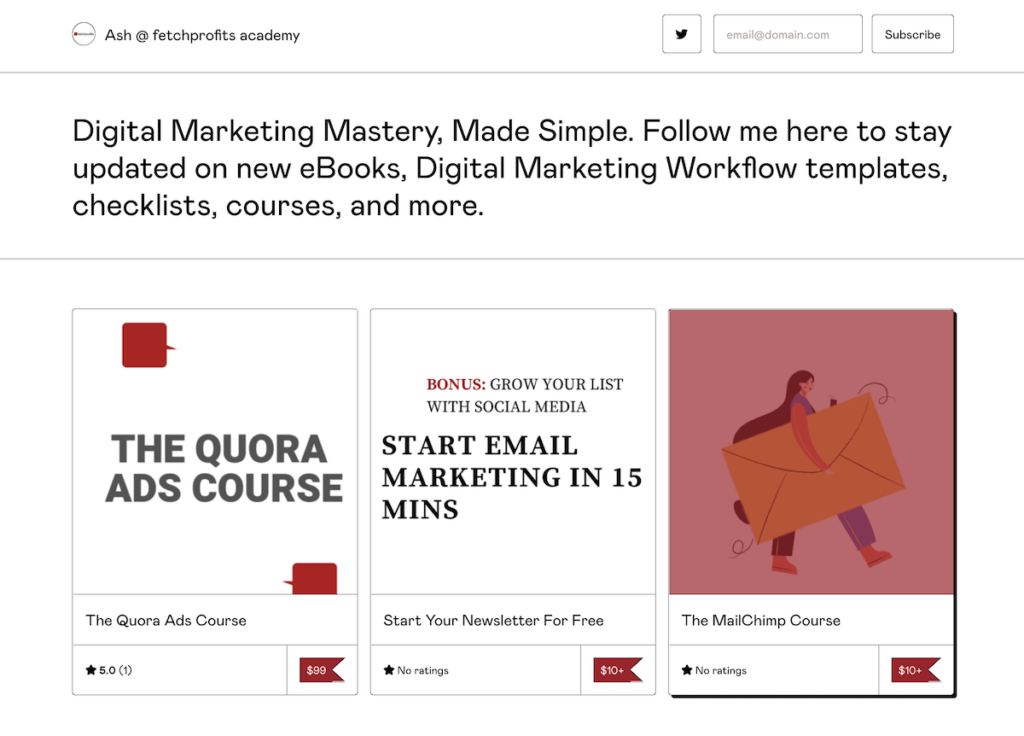 Payhip offers complete customization for your digital storefront. This is how Payhip storefront looks like: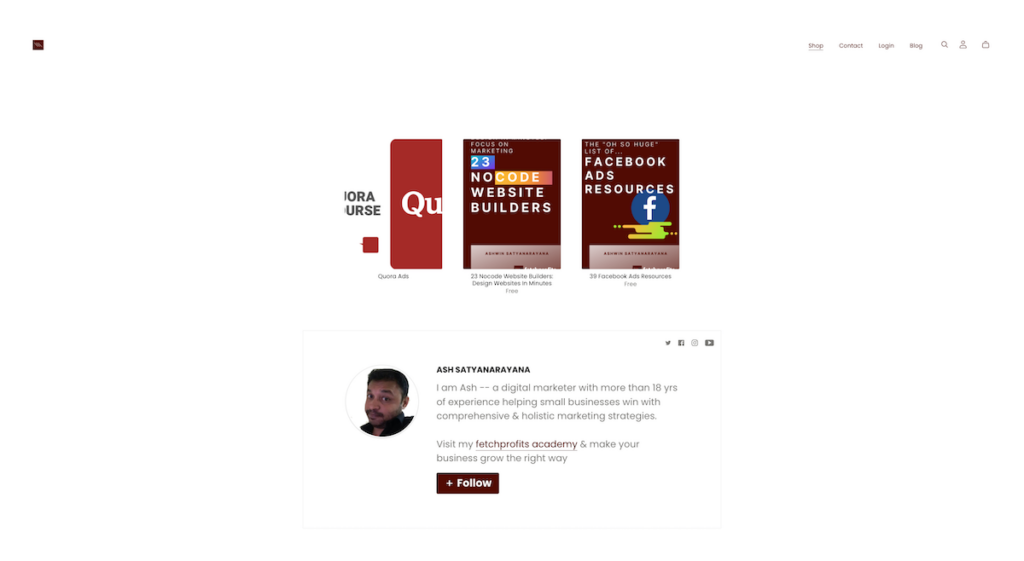 You can clearly see that Payhip is completely customizable (including background images, logos, colors, and more. Design your storefront with product collections, a large banner image, or necessary calls to action.
You just can't do that with Gumroad. Your Gumroad store looks like any other Gumroad store.
Selling Online Courses With Payhip and Gumroad: How Does It Look Like?
With online courses (and possibly — I say possibly because I haven't done that yet — with online coaching, membership, and selling recurring services with recurring payments), things look different.
Let's talk about online courses.
Selling online courses with Payhip will give you exactly what you expect (with a clean online course delivery method that most of us are used to. Like, how LinkedIn learning is. Or just as your course on Udemy.
Selling online courses with Gumroad is not the same:
Here's the difference:
Gumroad Online Courses
When someone buys your online course on Gumroad, they get an email with a link. Then, they'll have access to your set of videos, text, PDF documents, etc. They can stream these videos (click on link and the video plays) or download them (if you enable it).
Gumroad delivers the entire bunch of video files, text files, PDFs, and anything else you add to your course in a single email. Your customers will have to click through each of those files to access (or download, or stream).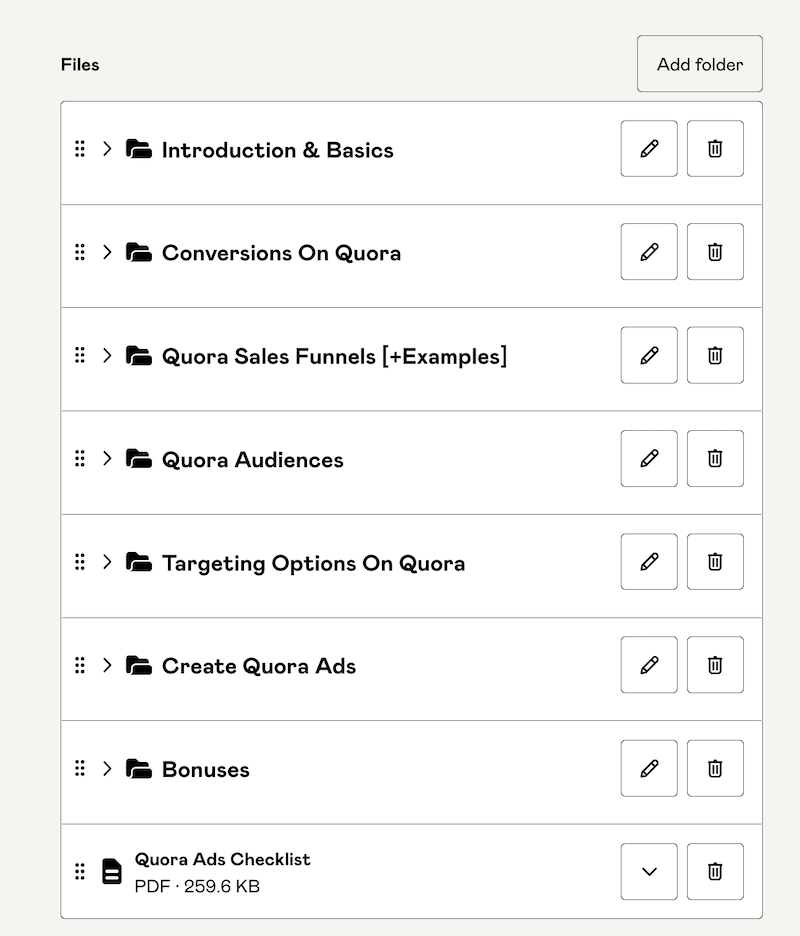 Payhip Online Courses
Payhip online course delivery is like what you expect. Left panel has the titles, modules, lessons listed. The entire right side (80% of the screen) has a video player (even if you upload videos from YouTube, Vimeo, or Wistia).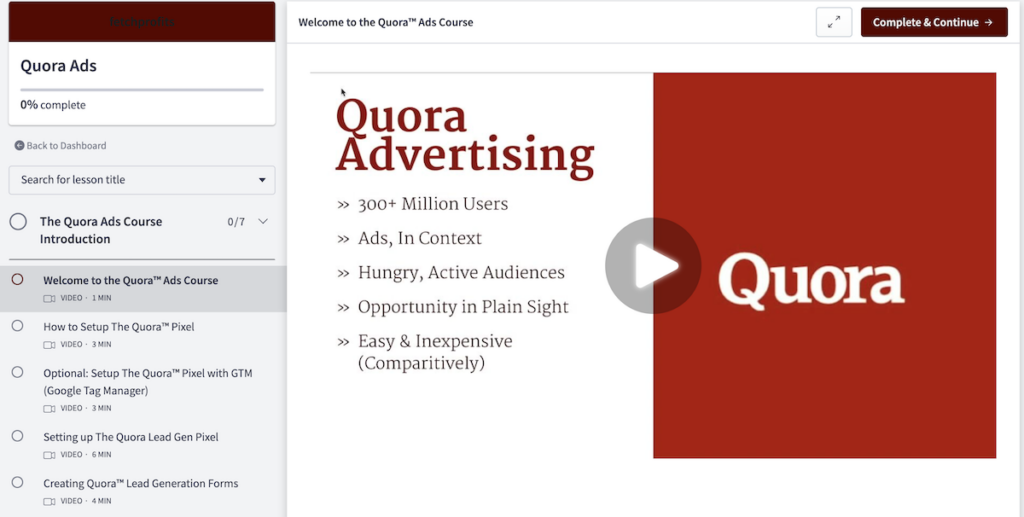 You can start with any of the platforms (for most types of digital products). However, for online courses, I certainly recommend Payhip.
If you want more, there are other awesome platforms as well:
Digital Storefront Analytics
Without storefront analytics, you have no way to know how your business performs.
For all the effort you put into digital marketing strategy, you need to have a way to see how your marketing performs, the sales you make, which traffic sources work out the best for you, and more.
Right off the bat though, this is what you get:
Gumroad Analytics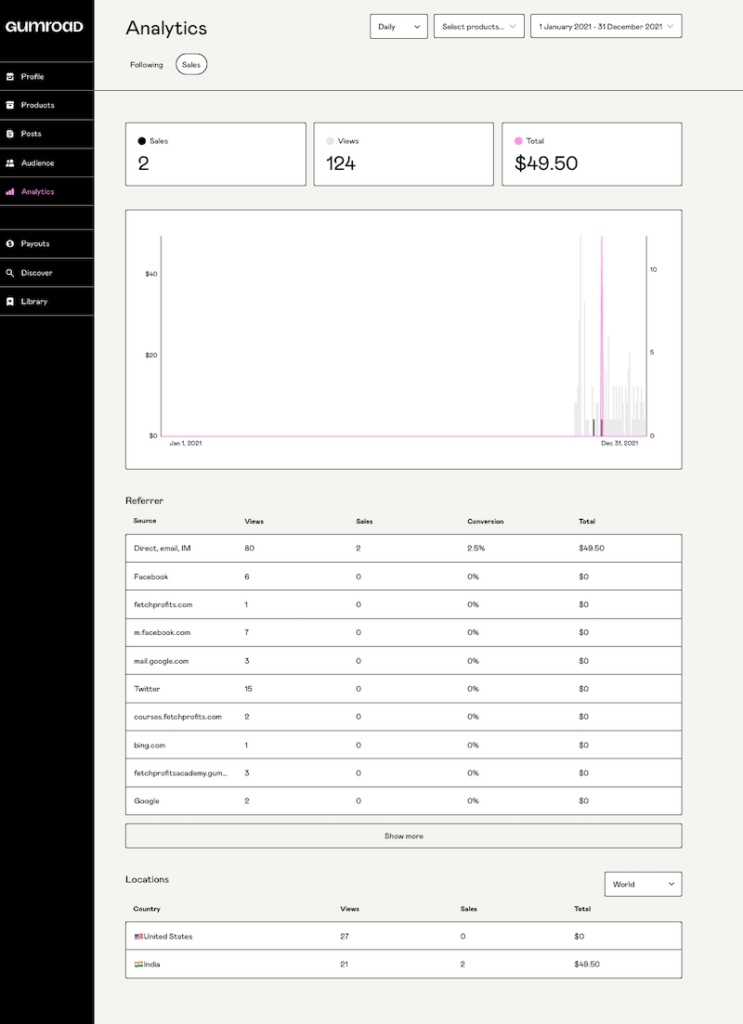 Payhip Analytics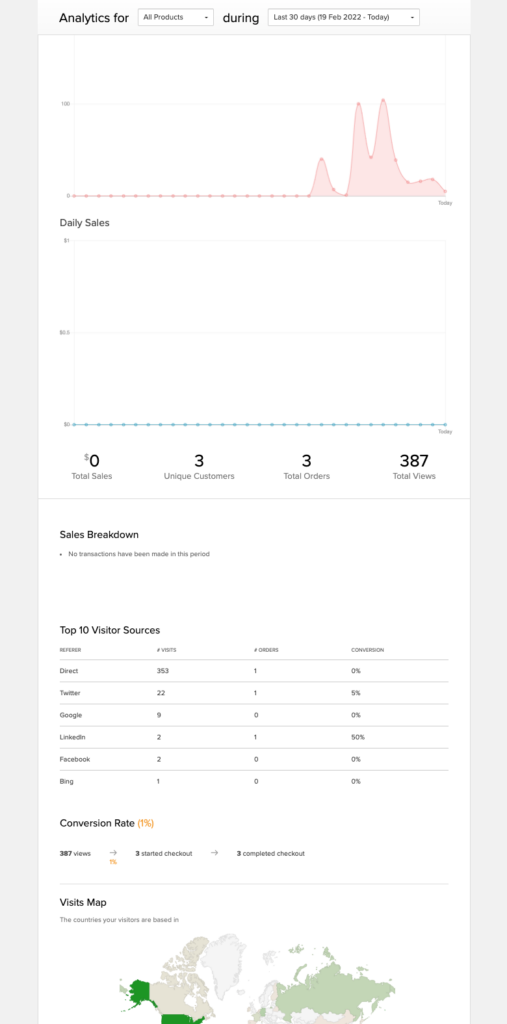 Both Payhip and Gumroad give you analytics to make sense of how your business is doing.
For both the platforms, it's possible to integrate with Google Analytics or use Zapier to integrate with other analytics tools such as SuperMetrics.
Or you can get Databox and plug it in regardless.
Product Restrictions on Gumroad Vs Payhip
Payhip has no restrictions on the type of products you'll sell. You can sell online courses, physical products, digital products (such as downloads, digital art, printables, icons, fonts, illustrations, video files, music, and more).
You can also sell software with Payhip (including license keys and product download limitations).

With Payhip, you can also sell online coaching programs, memberships, or sell services with recurring payments.
Gumroad has a few restrictions.
Most importantly (from the usual creator economy point of view), you can't sell:
Physical products
Recurring business payments (in other words, using Gumroad as a way to bill a client for a service you're providing them with).

If you want to sell online courses, the user experience (what your students see) is not going to be what you expect.
This is how it's going to look like for someone who purchases your courses:
Cost and Fees Difference between Gumroad and Payhip

For us creators, costs and expenses are a big thing (not all of us are multi-millionaires while we sure would love to be).
As such, there's a detailed post on the cost differences between Gumroad and Payhip.
Here's a table to show you the cost differences between Gumroad and Payhip:
Let's assume that you sell an online course worth $199.
Now, see how that plays out, depending on the number of sales for your online courses
Gumroad is free (but takes a varying cut based on lifetime earnings) — 9% to 2.9%.
Meanwhile, Payhip has:
Free plan ($0 per month, 5% fee)
Plus plan ($29 per month, 2% fee), and
Pro plan ($99 per month, 0% fee)
In terms of your revenue and the actual fees you'll pay on either Payhip or Gumroad, this is how it'll look like.

How payhip and Gumroad Pricing Compare:
Assuming 1 Product, $199
Payhip Free Plan
Gumroad
10 (ten sales)
Revenue: $1990
Payhip cut (free plan): $99.5Payhip cut (plus plan): $39.8Payhip cut (pro plan): $0
Revenue: $1990
Gumroad cut: $139
100 (hundred sales)
Revenue: $19900
Payhip cut (free plan): $995Payhip cut (plus plan): $398Payhip cut (pro plan): $0
Revenue: $19900
Gumroad cut: $995
1000 (thousand sales)
Revenue: $199000
Payhip Cut (free plan): $9950Payhip cut (plus plan): $3980Payhip cut (pro plan): $0
Revenue: $199000
Gumroad Cut: $5970
10000 (ten thousand sales)
Revenue: $1990000
Payhip Cut (free plan): $99500Payhip cut (free plan): $39800Payhip cut (free plan): $0
Revenue: $1990000
Gumroad Cut: $57710
Payhip is cheaper than Gumroad. At some point (depending on sales and the price of your product), you'll meet Gumroad somewhere where costs are equal.
Beyond that point where the fees match Payhip and Gumroad, the fun stops. If you switch to Payhip paid plans (plus and pro), you'll not pay anything beyond your monthly fees. With Gumroad though, you'll continue paying out as shown in the table above.
Conclusion: Main Differences between Gumroad & Payhip [Which is Better Now?]
Payhip will prove to be inexpensive compared to Gumroad anyday.

For your marketing efforts to pay off — beyond costs and expenses — you'd also need a certain degree of freedom in design, using subdomains, branding, customizing storefront, the products you sell, and so on.

Payhip ranks better w.r.t all of these features (except for subdomains that both platforms give you).
See how my own digital storefront looks like on Payhip
Start with Payhip completely for free. You'll thank me later.