Looking for eCommerce subscription examples? Do you want to see how some brands use the enormous power of eCommerce subscriptions to keep their customers paying for much longer?
eCommerce subscription business models are a revolution — not so much in the idea or concept (that's been around for ages.
You've been subscribing to Netflix for a while and newspapers and magazines long before Netflix and the likes).
eCommerce subscriptions are a win-win for both merchants and customers. These eCommerce subscription examples will only prove that.
For eCommerce merchants, eCommerce subscriptions only mean steady, regular, and dependable cashflow (much like SaaS MRR or ARR — that they love to talk about).
For customers, it's the sheer delight of getting what they love, month-on-month
More than 15% of Americans have signed up for at least one subscription service to receive products on a recurring basis.
By 2025, the eCommerce subscription market is projected to reach $473 Billion, according to McKinsey. I believe that's just the beginning since these numbers don't take most other markets into account (including emerging markets like Brazil, India, and others).
Are you curious as to what eCommerce brands already use eCommerce subscription models to boost their profits?
Note: Most of these businesses featured were built with Shopify.
Learn
How to grow your own eCommerce subscription business
Here are examples of 13+ eCommerce Subscription Examples of Businesses (across 5 eCommerce industries or niches):
Others, Miscellaneous
Clothing and Fashion
Fashion & clothing is an unstoppable juggernaut of an industry, even without eCommerce (with big time environmental concerns, but we aren't getting there). The global fashion industry size is estimated to be at the US $700 billion mark, according to Statista and Shopify.
As for fashion and clothing eCommerce brands embracing eCommerce subscription, here are a few of them:
#1: Stitch Fix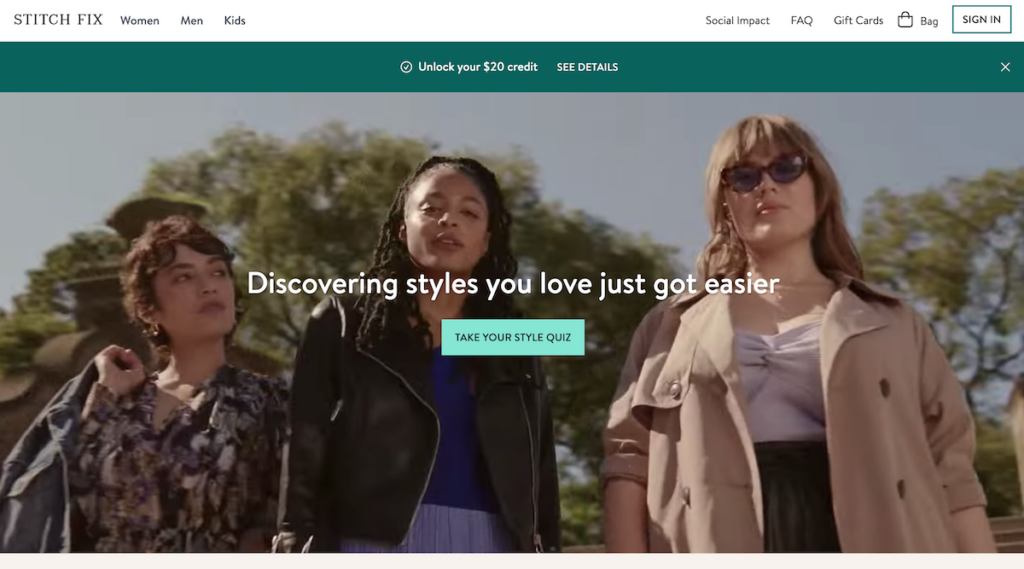 Are you a fashionista but sick of having to keep up with the latest fashion trends, styles, outfits, and more? Stitch Fix changes all that.
Take a quick quiz (let them know what you love), stylists at Stitch Fix send you pieces and clothing that reflect your style and preferences (along with expert guidance), then discover and shop items or outfits that suit you.
Clothing items are available for men, women, and kids. Outfits are also available for "plus size", "maternity specials", and for "petite" needs.
Your favourite outfits are sourced from more than 1000+ brands and styles (from Columbia to Hudson; from Vince to Nike).
Of course, no commitments needed. Products are shipped free.
#2: Fabletics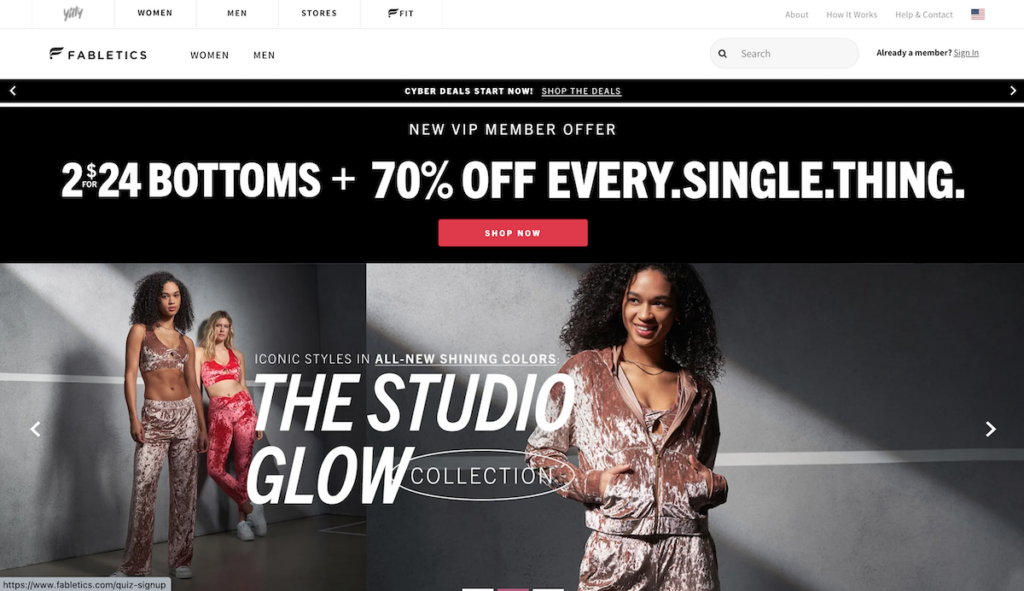 Fabletics specializes in active wear, fitness, and workouts fashion. Fabletic collections range from bottoms to sports' bras (for women) to underwear, jackets, vests, and socks (for men).
Interesting note: Fabletics also makes use of "Buy now, pay later" by AfterPay (from the Shopify App Store)
Fabletics features "VIP membership" which ensures that you save anywhere from 20% to 50% on full-priced items and also get access to monthly "members-only" exclusives.
The subscription to the VIP membership itself is flexible (skip any month between the 1st to 5th of each month), cancel anytime, and customers get billed monthly.
#3: Rent The Runway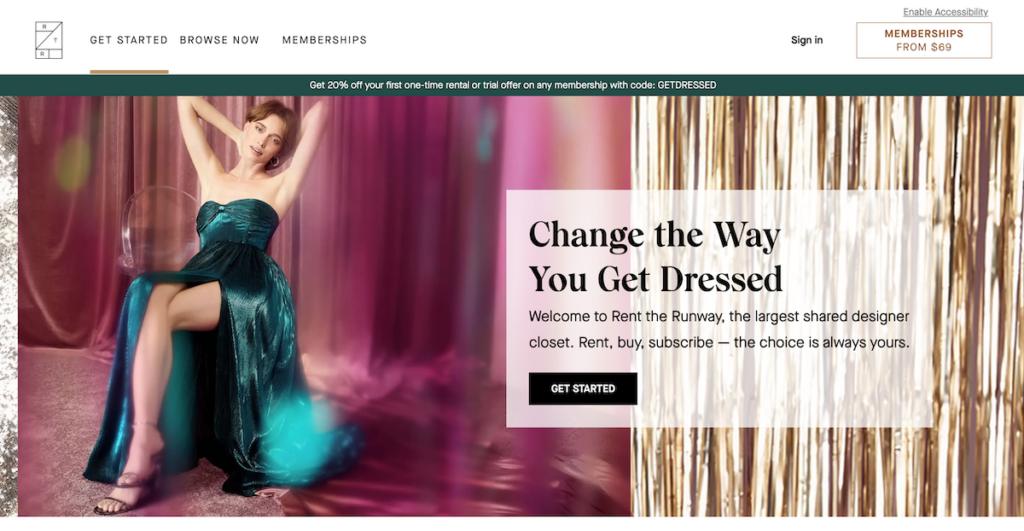 Ever dreamt of your own walk-in closet (something similar to Mini Morris on Bling Empire)? You might get there or maybe not.
Your dreams, however, don't have to wait. Why build one when you can rent it? Rent The Runway provides you with the largest "shared" designer closet?
Yes, shared. Of course, designer labels.
Explore different styles from various designers. Try out new things and forget the price tag. Pick outfits to suit occasions (black tie? Casual? After party?)
Do all of the "bling" thing without the crazy money required and also leave a sustainable footprint while you binge on fashion.
Rent The Runway Subscriptions start at $69 per month. There are also one-time rentals available.
Pet Supplies
With pets increasingly thought of as "children" now, the industry saw an increase like ever before, Worldwide. The Pet supplies -and related- eCommerce industry is now worth US $97 Billion dollars, and growing at the rate of 10% Year-on-Year.
Pets are seriously good. That's seriously good business.
#4: BarkBox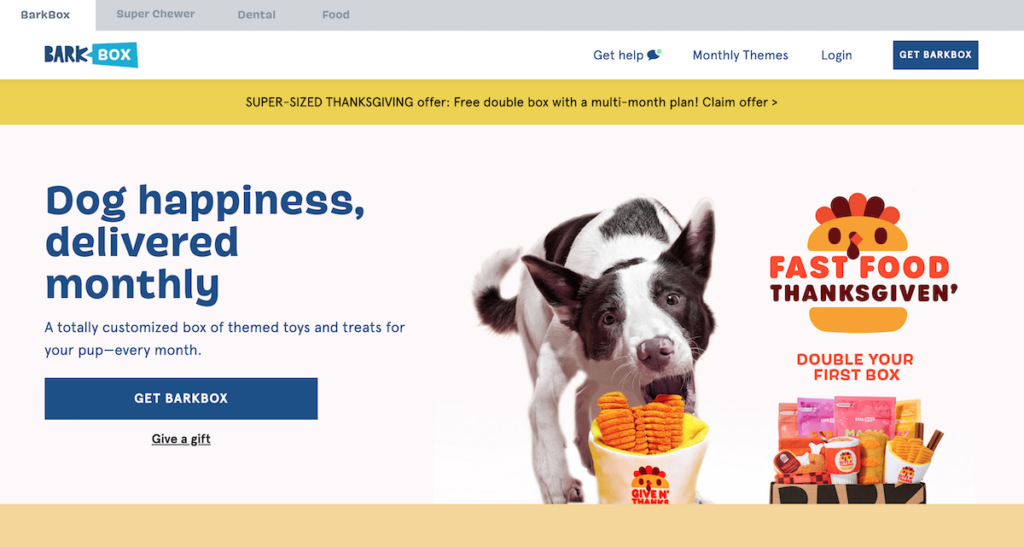 Love dogs? Love your pets? Life is good with them. Managing pets and procuring pet supplies, though, is hard work.
It's time to make it easier for yourself with BarkBox
Among other things, BarkBox provides you with a completely customizable box of themed toys and treats for your pup or pet dog every month.
Essentially, you get 4 toys, 4 treats, and 2 chews in your first box. Customize these subscription boxes based on what your pup loved and they'll be sent in, each month.
Themed boxes include one for Thanksgiving, national parks, Totally Normal Deli, and many others.
Go pup Bonkers!
#5: Meowbox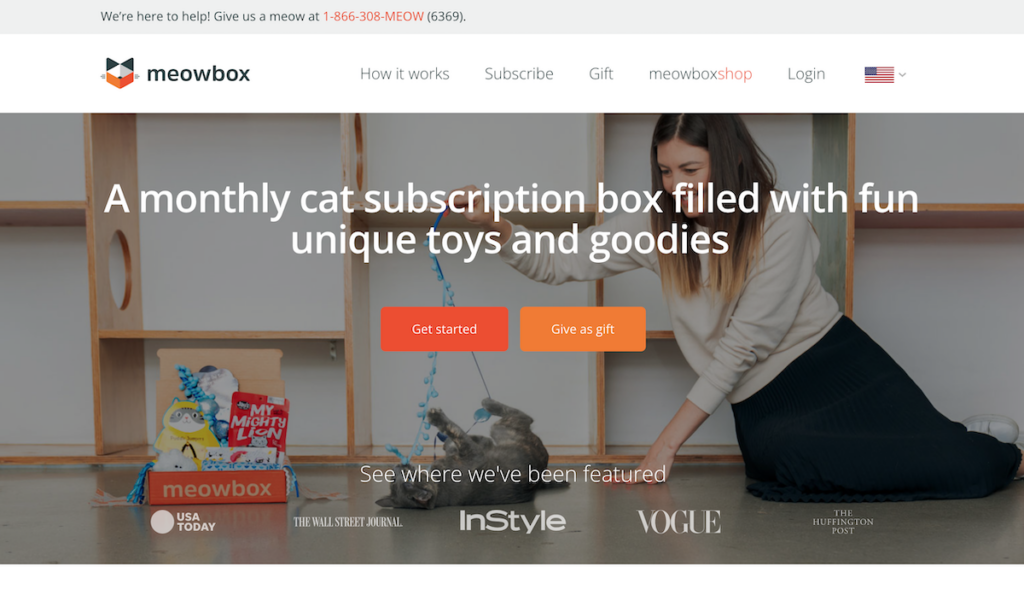 Why should dogs have all the fun? Cats can go bonkers too.
Meowbox is an eCommerce subscription business built just for cats. Just like BarkBox, your monthly subscription gets you a box filled with unique toys and goodies for your cat(s).
Cat toys include adorable monthly themes and products are sourced from small businesses and artisans (including at least one handcrafted or locally-made toy). Cat treats are healthy, tasty, and just what cats would love.
Doting cat parents can finally be proud.
Beauty & Makeup Products
Beauty and makeup are a part of a thriving eCommerce industry (not including store-based sales worldwide). The global beauty, makeup, and related industry is projected to reach at least US $450 billion by 2025.
Women (and some men) rule the world, Indeed.
#6: Birchbox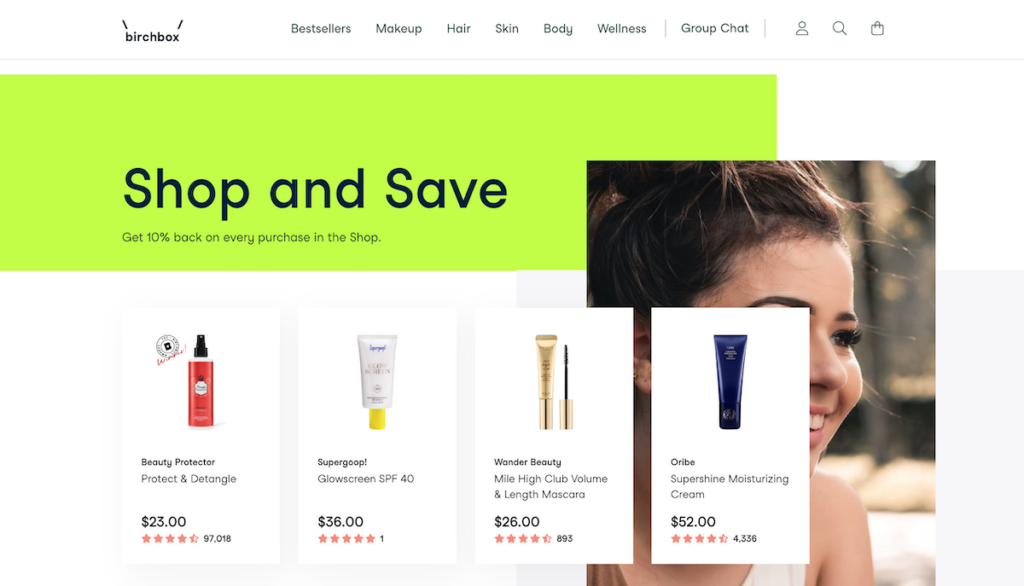 Birchbox sells products related to makeup, hair, skin, body, and wellness. With Birchbox, you decide what you get in the boxes sent in as a part of Birchbox subscription.
Try 2-5 products of your choice every month (on top of the surprises Birchbox sends your way). This allows you to experiment, try, use, and find the set of products that work best for you.
With hundreds of brands available, you can work your way through a collection before you shop and save on exactly what you love.
#7: Dermstore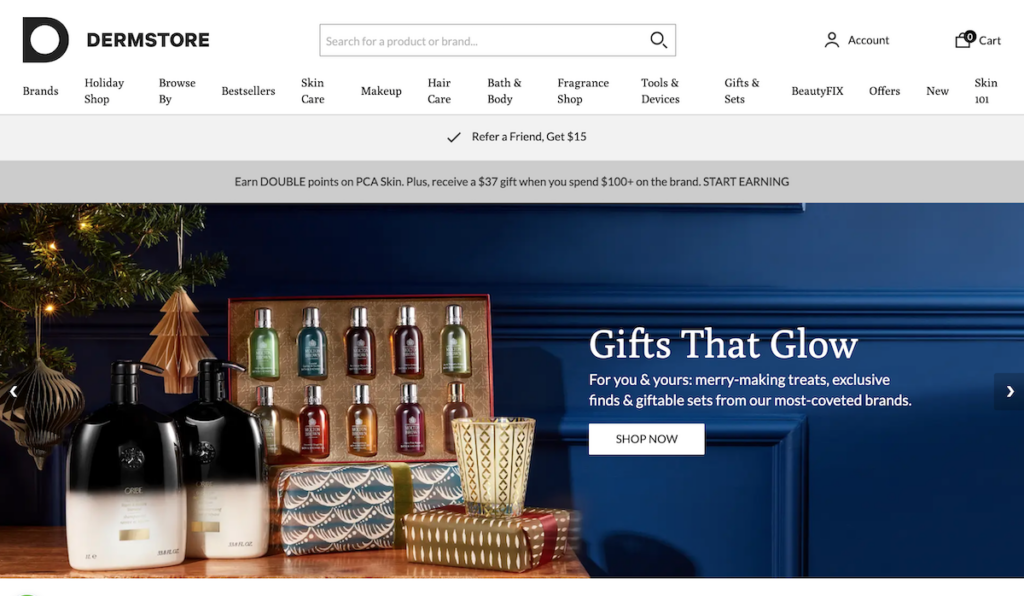 Dermstore is a well-known eCommerce brand that sells skin care products, fragrances, makeup, and bath & body products.
Dermstore also has tools and services, BeautyFIX, and other Dermstore exclusives.
Dermstore mainly focuses on "replenishments" — a certain type of eCommerce subscription business model that uses subscriptions to help "replenish" supplies or products.
While you use the eCommerce store as any other store, the eCommerce subscription example here relates to a simple (and effective) eCommerce subscription business model.
#8: IPSY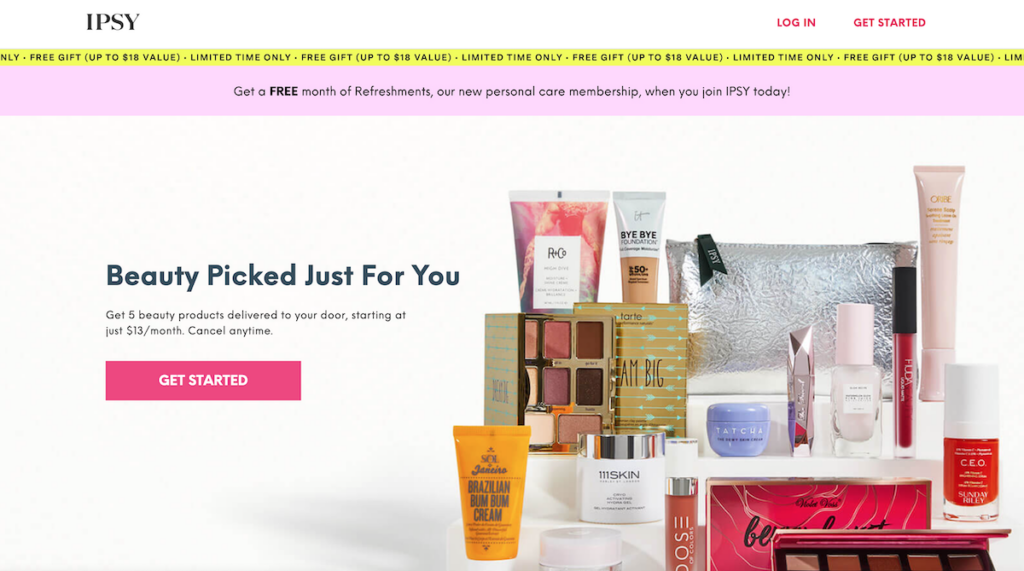 IPSY is a beauty-related eCommerce-based subscription services that sends personalized beauty products, straight to your door. It helps you try a lot more products (than you'd, if you were to buy and use each one) and try out your favourite brands.
State your preferences, options, and likes and those choices to your shipments with a quiz. IPSY then sends out the goodies to you.
Started and led by Michelle Phan — a make-up artist and influencer on YouTube — you can adjust your preferences and choices as you go along with the monthly subscription service.
Gaming
There were 29.6 million eSports viewers in the U.S alone. The online gaming eCommerce market was worth $137.9 billion in 2022 alone, and is only projected to grow to at least US $450 billion by 2029.
Playing games not just "play" anymore. No playing games with this one.
#9: Playstation Store & X Box Store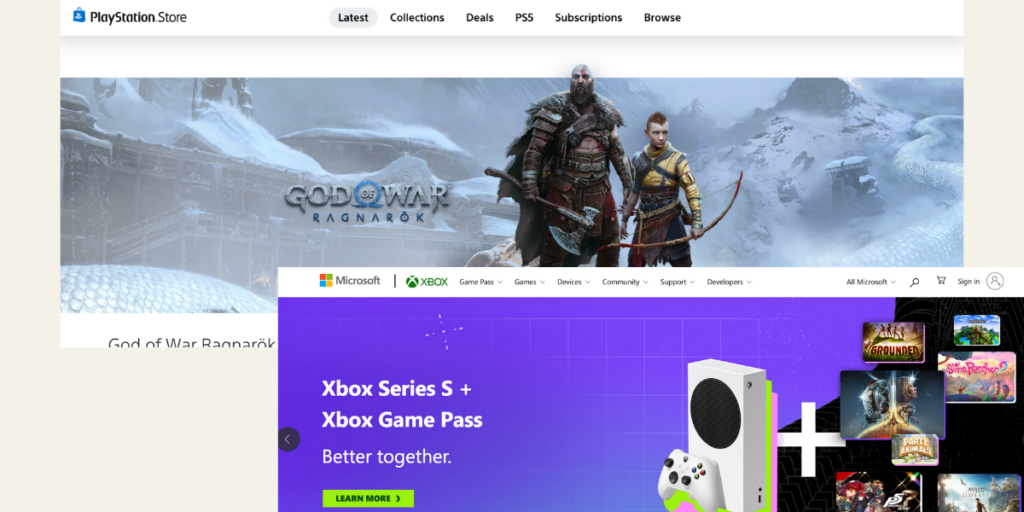 Both the Playstation online store and Microsoft X Box Online store need no introduction, even for non-gamers.
The two giants are leading the way with gaming subscription eCommerce business models for a while now, and the move is increasingly towards online subscriptions for games (rather than the traditional In-store experience).
Thousands of individual gaming titles are available to choose from — on both the stores. Then, there are the gaming subscriptions available (on both).
Sony's Playstation Store subscription(s) offers the new Playstation Plus with several pricing and options for you to choose from – each including game titles with the latest versions always made available online.
Microsoft's Xbox game collections also feature Game Pass and XBox Live Gold and others making their latest titles, best selling games, and gift cards available for gaming enthusiasts.
Can't get bigger than that, when it comes to some of the best known eCommerce subscription models for gaming.
But the biggies aren't the only ones out there.
#10: LootCrate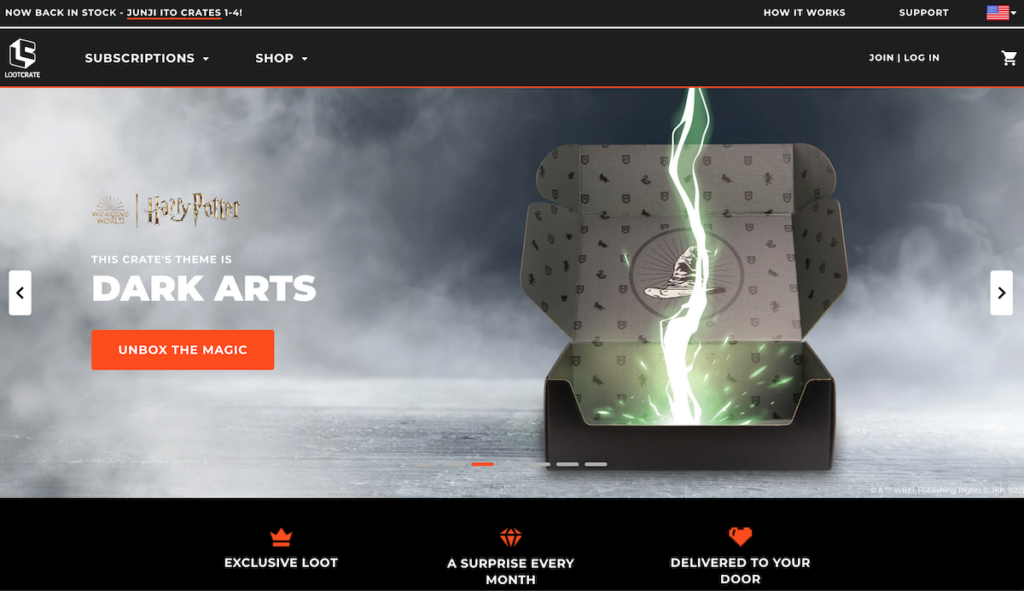 Much like DungeonCrate (below), LootCrate was built for gaming aficionados.
Promising a surprise every month, the LootCrate subscription gets delivered to your door.
Filled with a curated collection of awesome items for gamers, open the world to a choice of collectibles: tees, household items, comic books, wearables, action figures, anime, horror collectibles, and more.
#11: DungeonCrate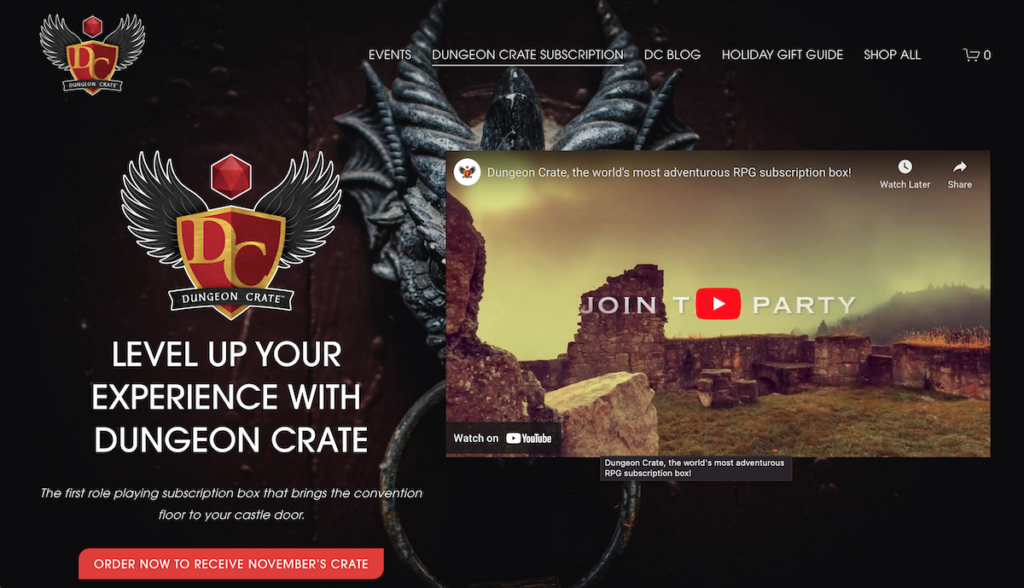 It only gets better for gaming enthusiasts. Dungeon Crates — on subscription — sends you a box loaded with crafts, accessories, fantasy coins, and more.
Aimed to please gaming hobbyists looking to build their niche collection of gaming related paraphernalia, there's just no telling what your Dungeon Create will consist of.
Surprise, Surprise.
Members reportedly received elf ears, tabletop terrains, miniatures, figurines, enamel pins, game tokens, dice, collective items, memorabilia, maps, limited edition gaming accessories, and more.
Food, Beverages, and Drinks
The global food, beverages, drinks industry — or the CPG (Consumer Packaged Goods) industry was valued at $2 trillion in 2021. Sustainability, a green footprint, reasonable prices, convenience, and many other factors have led tot he rise of eCommerce brands in the ever-growing Food and Beverages eCommerce market.
More niche offerings, Buy Now Pay Later (BNPL), better checkout experiences, social commerce, omnichannel experiences, and of course eCommerce subscriptions for food & beverages are the next big trends, according to Shopify.
#12: Better Booch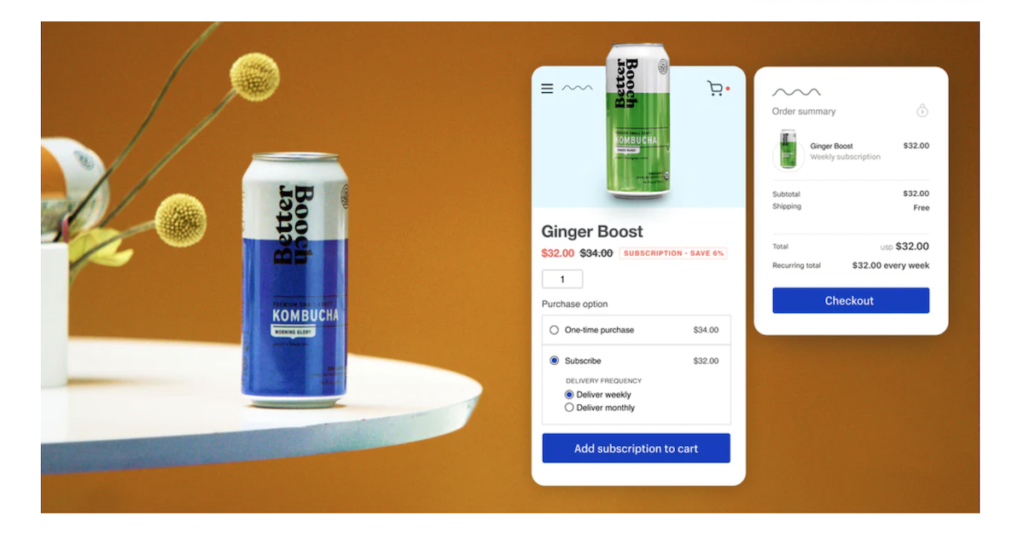 Looking for fizzy, fresh, and "this-is-good-for-your-gut" kombucha? Ashley Lockerbie, Co-founder at Better Booch, is pulling out all the stops to make healthy food available (and accessible) to everyone.
Better Booch is an organic kombucha company (based out of Los Angeles). The company has been brewing probiotics for a while now with Ashleigh and Trey Lockerbie starting their business from the ground up.
From the early start, the entrepreneurial duo always knew that recurring revenue (and hence a more predictable and healthier cash flow) was critical for their growth. This led them straight to the subscription model, with Shopify as their platform of choice.
#13: NPR Wine Club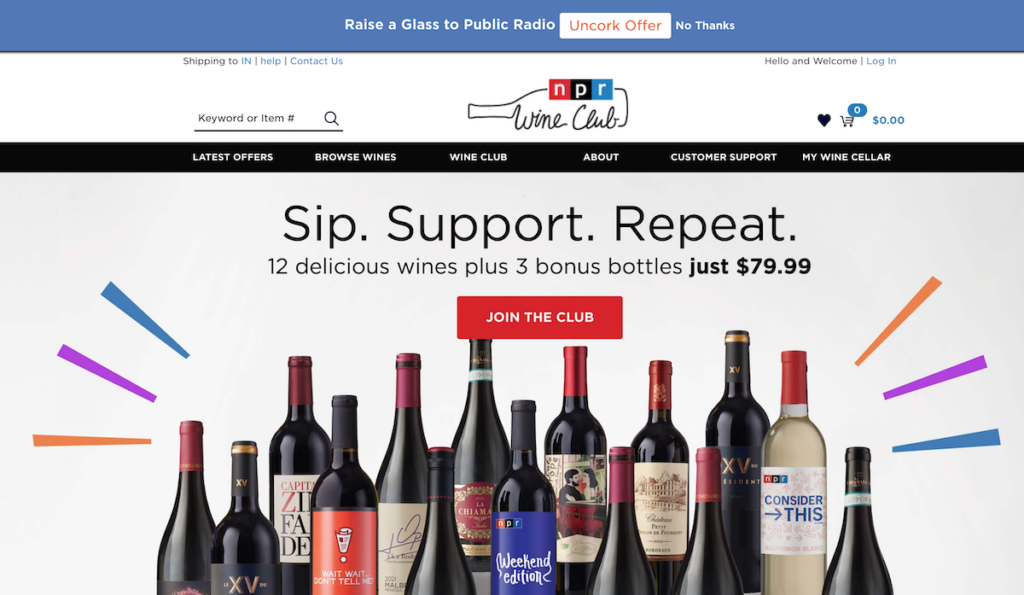 Though the NPR Wine Club is not on Shopify, I thought it deserves a mention since it's an outlier in a way.
NPR club is for the public radio fans out there.
It might not be a "hardcode", "products only" brand here on this list, but it still offers subscriptions as a part of the NPR Wine Club membership. By buying into the membership, you pledge support for public radio's mission while getting around 12 delicious wines (+3 bottles) for a a fee of $79.99 per month.
The wines include Weekend Edition Cabernet, Consider This Sauvigon Blanc, and Wait Wait…Don't Tell ME! Zinfandel.
The membership offers unlimited shipping for the annual fee. Plus, it's easy to dig through curated lists, sort your preferences, and more.
#14: Craft Beer Club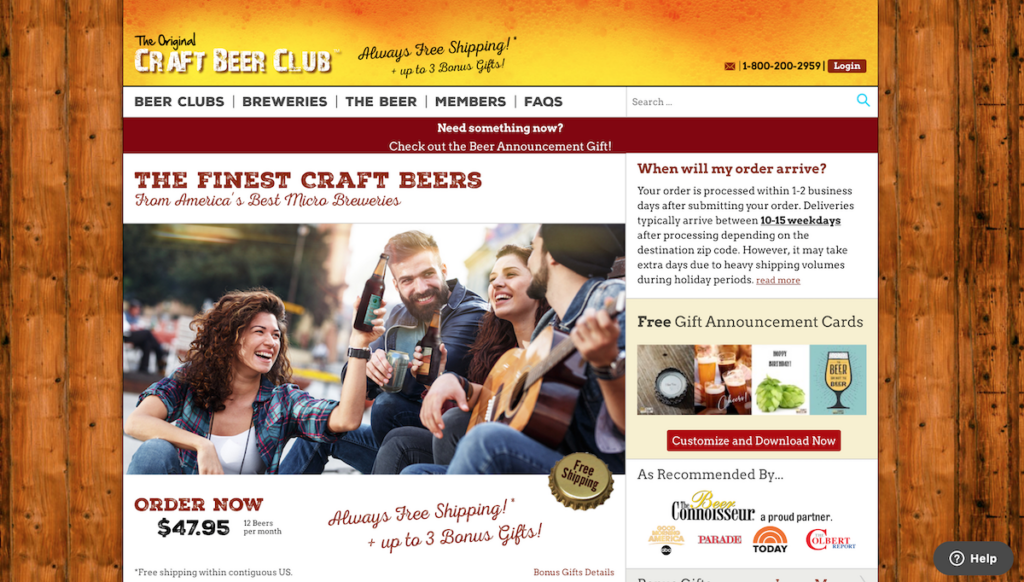 Beer connoisseurs rejoice.
Craft Beer Club curates and delivers exceptional craft beers sourced from all around the world. Their monthly subscription allows for a "direct-to-you" model and sends a collection of craft beer choices, right to your door (or to the doors of people you gift these subscriptions to).
There's also a "Beer of the month" subscription which includes 12 different World-class beers (12 oz, each), 4 different styles of beer (2 from each craft brewery), 3 beer cans, free bonus gifts (in the first shipment), and more.
Craft Beer Club also sends in a subscriber-only newsletter (another great way to use newsletters, if you ask me), freedom of selection of the subscription type, and free shipping (inside United States)
Others, Miscellaneous
There are some businesses, eCommerce brands that just don't fit into a particular industry type. However, they are noteworthy, successful, and are backed by some incredible stories.
#15: Indigenous Box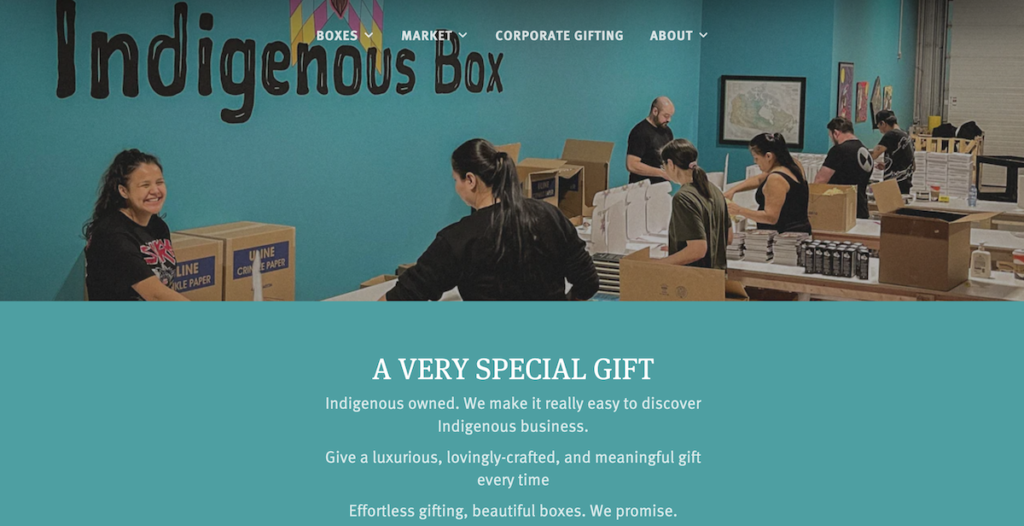 Mallory Yawnghwe is the founder of Indigenous Box — a subscription service featuring boxes curated with products made by indigenous entrepreneurs, businesses, and communities.
On one hand, Indigenous Box makes it easy for others to discover several indigenous businesses. On the other hand, it opens a window for several businesses to sell products and expand reach.
Read:
How This Subscription Box Is Uplifting Indigenous Entrepreneurs
Note: Shopify currently powers over 1,700,000 businesses in approximately 175 countries and is trusted by Indigenous Entrepreneurs such as Manitobah Mukluks, Cheekbone Beauty, Sisters Sage, SheNative, Tania Larsson, and many more.
Shopify also sponsored events for startups, Indigenous and artisan movements, and communities such as Ka Hao Indigenous eCommerce (New Zealand), Rise 2025 (New Zealand) , Animikii (Canada), The Fireweed Fellowship (Canada), Entreprenorth (Canada), and Pow Wow Pitch (Canada).
Want to build an eCommerce subscription yourself? Any other eCommerce subscription examples that you know of? I see nothing better than Shopify (with several subscription apps available) for this.
Interested? Start your subscription Shopify now.
Tell me all about it on Twitter, LinkedIn, or my LinkedIn Brand page.