Doing personal branding with newsletters is one of the best things you'd do — regardless of whatever you do.
But did you know that you can create and make money with newsletters? That's on top of personal branding with newsletters. How sweet is that?
You probably already run these or you might have signed up for these. There are regular newsletters (that you can run with the likes of MailChimp, ConvertKit, and Drip).
Then, there are social media newsletters — free newsletters that you could start and run for free (just like you'd run any newsletter), but you'll also have the extra benefit of the power and reach of the respective social media network your newsletter is on.

You could run a newsletter on Twitter, for instance.
Or you could run a newsletter native to LinkedIn.
Or, forget going "native" and run a newsletter that you'd stay in complete control of, regardless of the platform .

I do both.
Dig some best newsletter best practices.
Why Create Newsletters?

For one, it's a powerful path to personal branding.
Your voice stands out, your writing shines through, and you make an impact: one newsletter at a time.

The best part about newsletters is that they are mostly first-person narratives — written from your desk, to your subscribers.
Newsletters are a playground when it comes to how you create impactful, first-person accounts, and stories to drive the point home (the point depends on what you do for a living, the topics you are passionate about or care about), or the niche that your business focuses on.
Instead of "we", it's all about "You" and "I".
Your newsletter editions are HTML-based microcosms of your life. Dwelling on:
Your personal take (on topics you focus on)
The journey that defined (or taught) you everything you know (and continues to…)
The mistakes you made, the lessons you learned
Write, as you stack on learning more
The ups and downs of your business
The vulnerable side of you
Expanding and taking advantage of the strong side of you.
Newsletters are the face of your business, without your face (or maybe you can add your photo at the end of the newsletter).
How Newsletters Make Money? How Do You Monetize Newsletters?
Newsletters make money too. Don't believe me?

Jake Singer, creator of SwapStack — a newsletter sponsorship marketplace (and I wrote about how to monetize newsletters with newsletter sponsorship marketplaces, do check it out), wrote that more than $100,000 in GMV (Gross Merchandise Value) — simply put the money that changed hands between brands and newsletter creators — on SwapStack alone.
If you have at least 10,000 newsletter subscribers and if you publish consistently (at least once per week), consider joining Convertkit Sponsor Network
Read:
How to Create, Price & Launch Your 1st Paid Newsletter (+ format Ideas)
Note: There are many other newsletter marketplaces for brand sponsorships and this is notwithstanding private deals that newsletter creators themselves make and independent affiliate programs that newsletter creators are usually a part of.
What do newsletters Look like?
Vidya ( @learnwithvidya ) is a young newsletter creator (and is now a newsletter expert herself) — she got there by doing newsletters consistently, learning while on the go, and never stopping.
Her Tweets and threads have great lessons that she shares, of course. Like this one:
Vidya's newsletter focuses on great reads that she curates, productivity tips, tools she loves, and several resources.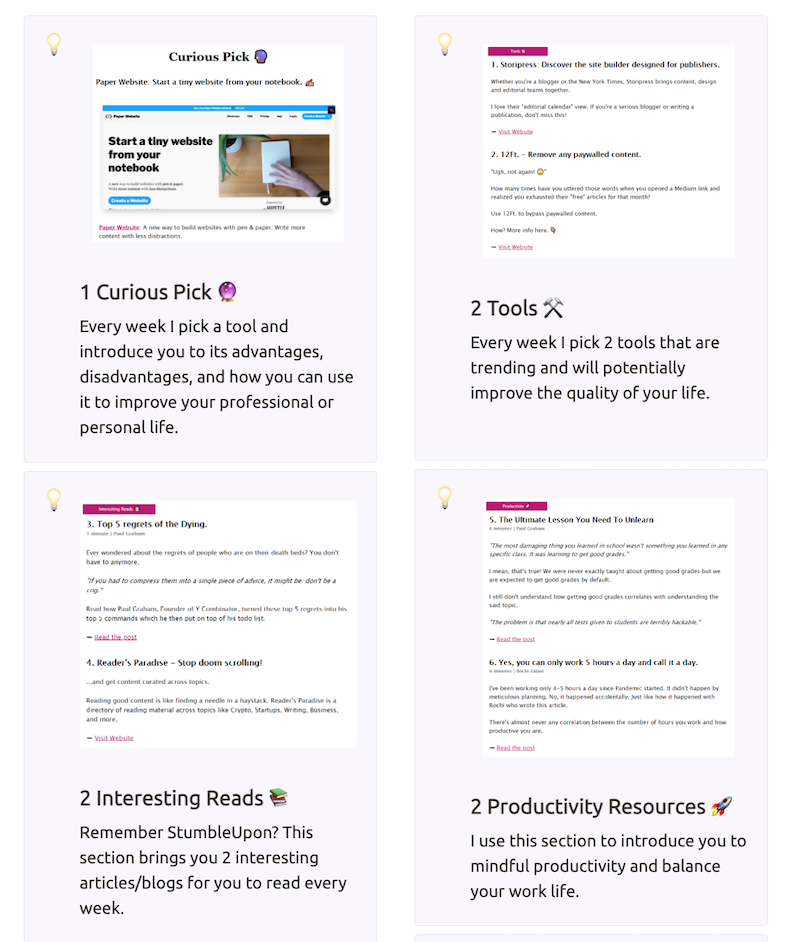 Her newsletter is not only a fantastic read but is also a great example of how you could start newsletters, grow your audience, and make something worthy of it all as a creator.
Here's how my newsletter sign up option looks like (for those who hit or look up my Twitter Profile).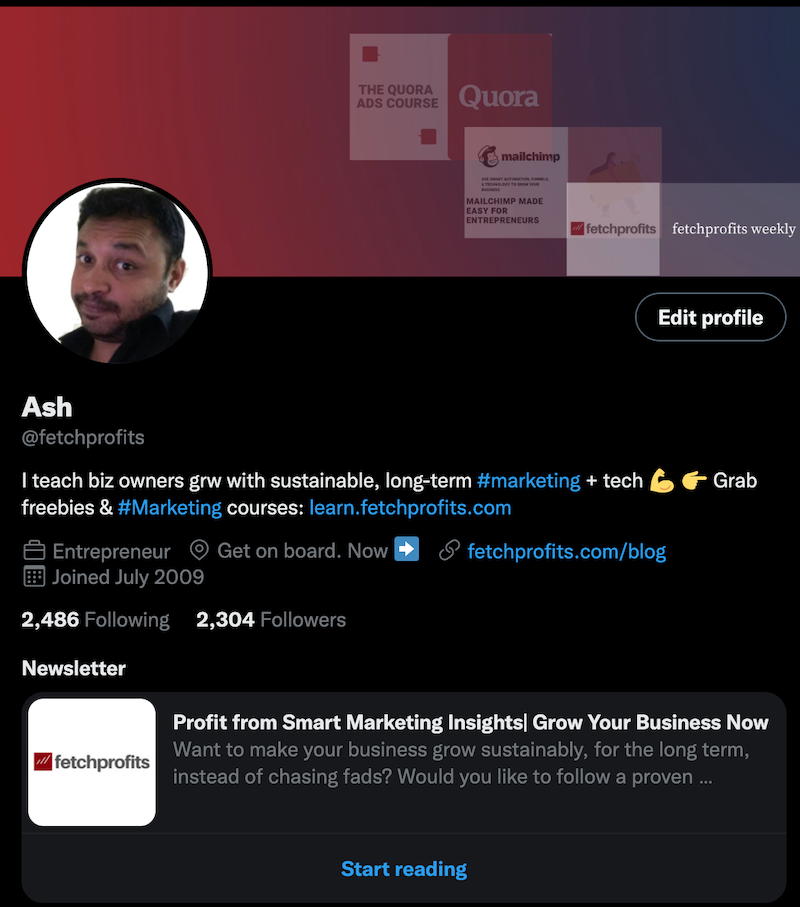 Here's the actual newsletter: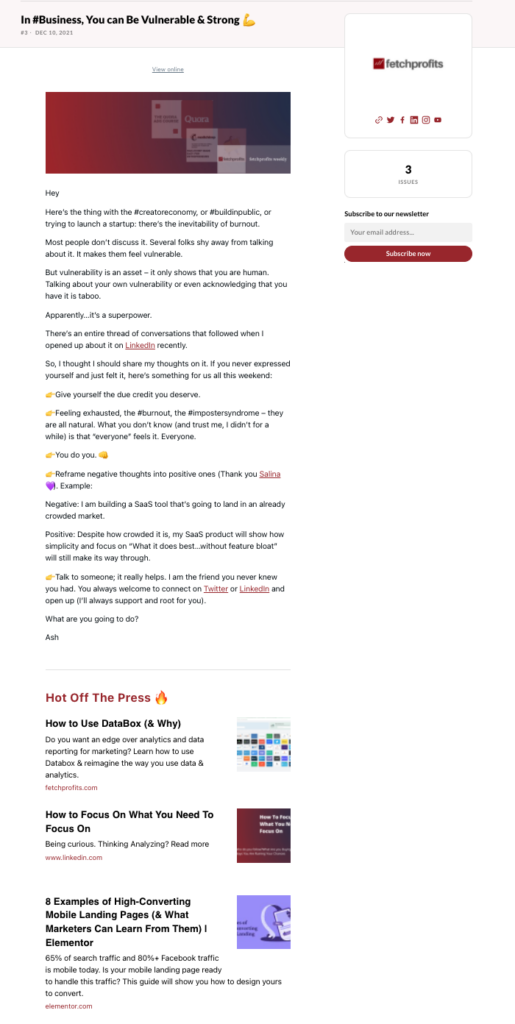 Similarly, here's how my newsletter looks like on LinkedIn, called Marketing Alpha.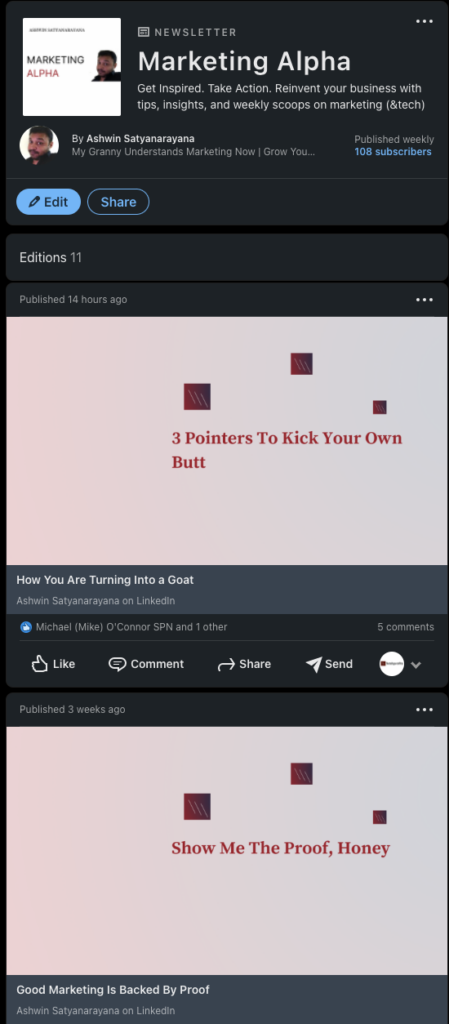 Here's a LinkedIn newsletter example:
How to Create Newsletters For Personal Branding?
If you never did it before, it's easy (and free to start).
There are some easy ways to do this like using Revue. Revue is no longer available. Find out some cool Revue alternatives now. Or start sending out newsletters by using MailerLite, Moosend, Mailchimp, and any other email marketing software provider.
Read:
Email Marketing Platforms: What You Should Look Out For?
Or prepare to win from the start by choosing a platform like Convertkit Commerce that enables to run smart newsletters built to make money from day one.
Grab my freebies, online courses, videos, and more
Do you have a newsletter? Time to show off. Share them with my community on LinkedIn.
Or follow me on Twitter or LinkedIn and share. Checkout my YouTube videos .