The reason why this Unbounce Vs Instapage comparison exists is because you can't choose both the platforms. You'd have to make do with one. For that reason alone, you owe it yourself to read this now.
Unbounce and Instapage are awesome landing page builders that stood the test of time. Both of these landing page builders have been around for a long time now.
Both Unbounce and Instapage have been evolving, changing prices, and adding new features.
Clearly, though, both Unbounce and Instapage have been changing — in terms of positioning, features, pricing, and more.
This is an unbiased opinion based on years of using both the platforms extensively (for my own campaigns and for clients).
Unbounce Vs Instapage Summary
Unbounce and Instapage have some similarities but many differences. Here are a few reasons why marketers often find greater value in using Unbounce.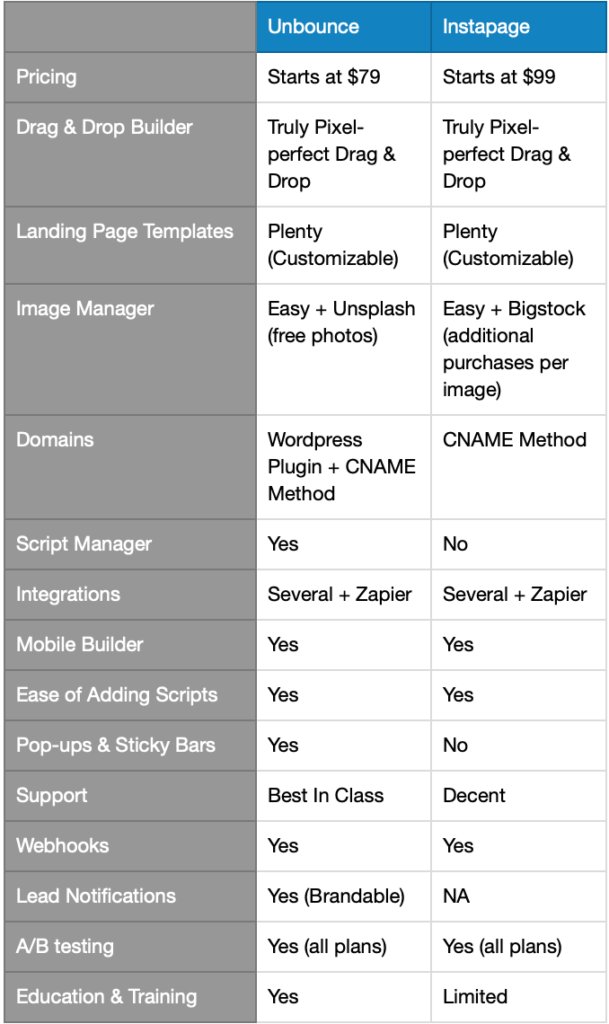 Unbounce
Are you chasing designers and developers to get landing pages developed for you? Do you find it next to impossible to quickly, elegantly, and seamlessly create multiple landing pages for all those ads and campaigns you are running? [Hint: You don't need developers or designers].
Drag-and-drop builders like Unbounce make it easy to build and test custom landing pages, popups, and sticky bars for any campaign, with no coding required.
Unbounce isn't just a landing page builder; it's a lead generation ecosystem.
You can customize every element of your landing pages, popups, and sticky bars, and use tools like Dynamic Text Replacement (DTR) and A/B testing to get even more conversions.
Unbounce is a conversion platform for the most crucial step of the marketing funnel and it provides a suite of tools and integrations designed to help marketers convert more traffic after visitors land on the page.
With Unbounce, you get more results for the same (or less) cost by making it easier to optimize your ads. If you aren't seeing any more gains, landing pages and targeted popups give you an edge. Convert more of your visitors in that critical decision-making moment when they're deciding whether to convert or to leave.
The Unbounce drag-and-drop builder (preview it here, no sign up needed) gives marketers full creative control to design almost any landing page, popup, or sticky bar they can imagine—without any technical skills. More advanced users are free to power-up their work with custom HTML, JavaScript, and CSS.
Instapage
Instapage was terrific value for money (like Unbounce was) until they revised their pricing and shifted focus to mostly enterprise clients. It seems like smaller businesses are not even their priority anymore. 
With that said, Instapage is one of those few landing page builders in the market today that comes with a truly Pixel-perfect drag-and-drop builder like Unbounce. It's also one of those landing page builders with a clear focus on post-click marketing and more. 
Instapage also has other features such as AdMap, Collaboration, Experimentation, Instablocks, and global blocks editing that Unbounce doesn't have. Further, collaboration features within Instapage are its strongest points.
The only thing going against Instapage is its pricing (starting at $199). I don't know what the enterprise plan would cost.
Now, let's dig into some specifics:
Pricing
Unbounce now has performance-based pricing ( the only landing page builder to do so, as on 2020). Pricing starts with the most inexpensive plan at $80 per month (paid monthly) going all the way up to $300 per month. 
I am glad that Unbounce is very clear about its pricing and is now performance-based. 
Unlike Unbounce, however, Instapage starts at $199 per month. 
Instapage pricing is no deal for a small business like mine. I am happier with flexible, monthly pricing with Unbounce.
For my readers, you can get 20-25% off (which you'd normally not get otherwise).
Preview the Unbounce builder or Start your free trial with Unbounce now.
Unbounce Vs Instapage Landing Page Templates
Unbounce comes with several native, responsive, and fantastic-looking templates — categorized into popular use cases such as coming soon pages, click through templates, lead generation templates, industry-specific templates, etc., — that you pick and work with.
Regardless of which template you pick, you can always use the flexible drag-and-drop builder to completely change the look and feel of the template (including layouts, elements, and designs).
Instapage has about 200+ templates — also categorized according to use cases such as lead generation, webinar, click through, etc.,)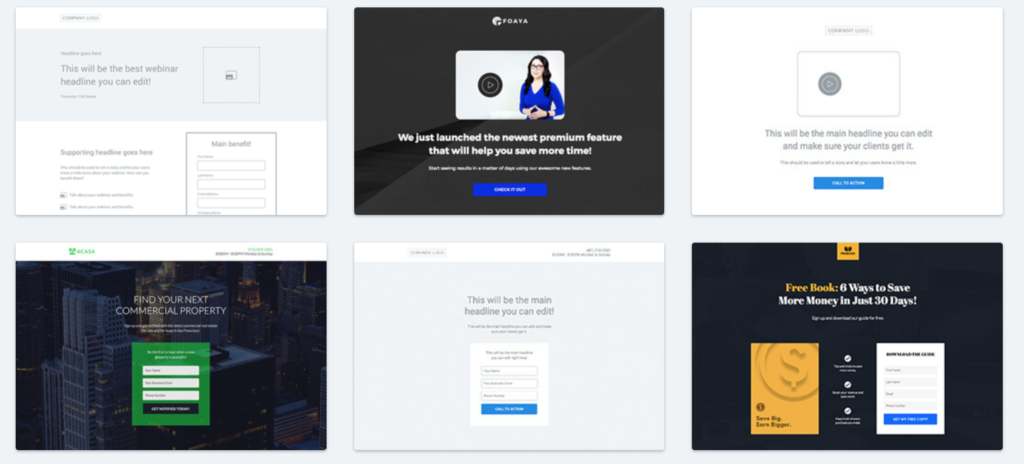 Page Builder Flexibility & Customization
One of the biggest strengths of Unbounce is that everything is customizable. Users can match/mimic any brand scheme using Unbounce's flexible drag-and-drop builder. It's one of those landing page builders that you.
Preview Unbounce Landing Page Builder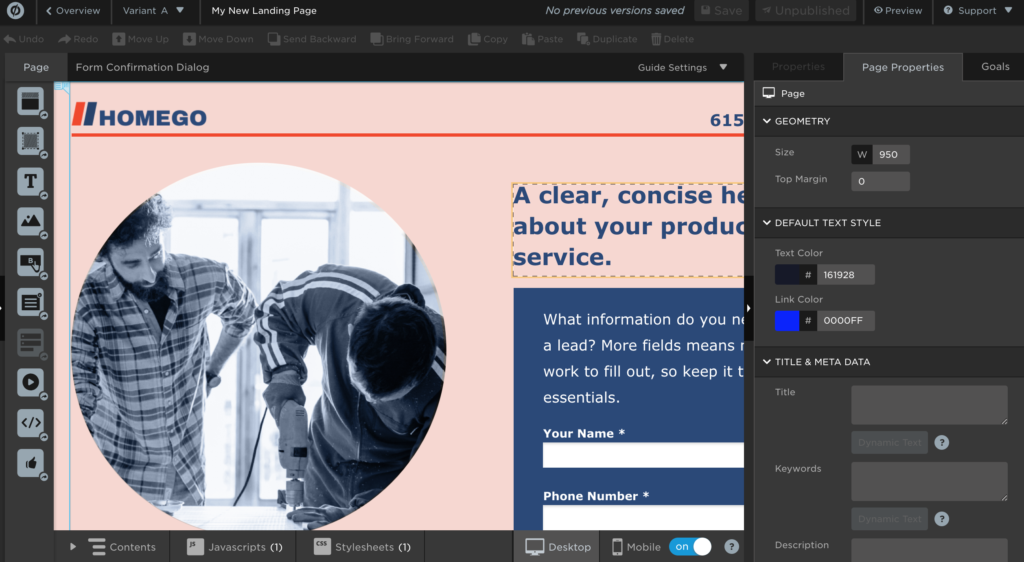 The Instapage drag-and-drop builder is equally good. Just as good as the Unbounce landing page builder.
Both Unbounce and Instapage have the best drag-and-drop landing page builders in the market today. They are both truly Pixel-perfect, Drag-and-Drop (PPDD) unlike others like Wishpond or Clickfunnels which will limit your designs to the rows and columns that are pre-defined.
It's just that they work differently. To drag-and-drop an element, you'll pick the element with your mouse or trackpad and move the element around and place it anywhere on the page you are building.
When it comes to actual editing, I find Unbounce builder's left side panel (which consists of elements you can add to pages) and the right-side panel (with granular controls and editing options for each selected element) more intuitive to use.
Plus, there's a lot of editing and control that's possible with each element, as far as Unbounce is concerned.
With Instapage, the editing isn't as comprehensive although you have all the elements you'd need for making your landing page work.
The Mobile Builder
Unbounce and Instapage both allow you to fully customize the mobile landing page experience, which can be completely different from the desktop experience.
Do note that building a desktop version of your landing page doesn't automatically make it mobile-responsive — applies to both Unbounce and Instapage.
After you design your desktop version, you'd have to activate the mobile view and adjust your elements around a little. Unbounce makes this easy for you by having to click a single button to quickly make your landing page responsive. Likewise for Instapage.
Customer Success and Support
Hands down, The Unbounce support team is the best in the business (84 NPS rating) and offers multi-channel support (phone, chat, email) on every plan. Further, you can get to Unbounce not only through their official support system but also on social media (Twitter, Instagram, you name it).
The Unbounce support team is dedicated to making sure our customers are successful. And it's the only conversion platform to offer you live chat, email, and phone support on every plan, across the world in English, French, German, Portuguese, and Spanish.
Instapage always feels a little far off, mechanical, and it's hard to know if there's anyone on the other side.
Pop-ups & Sticky Bars
Unbounce provides you with not just a landing page builder but also a way to create and use popups and sticky bars on any web page (not just Unbounce pages) and target specific user segments.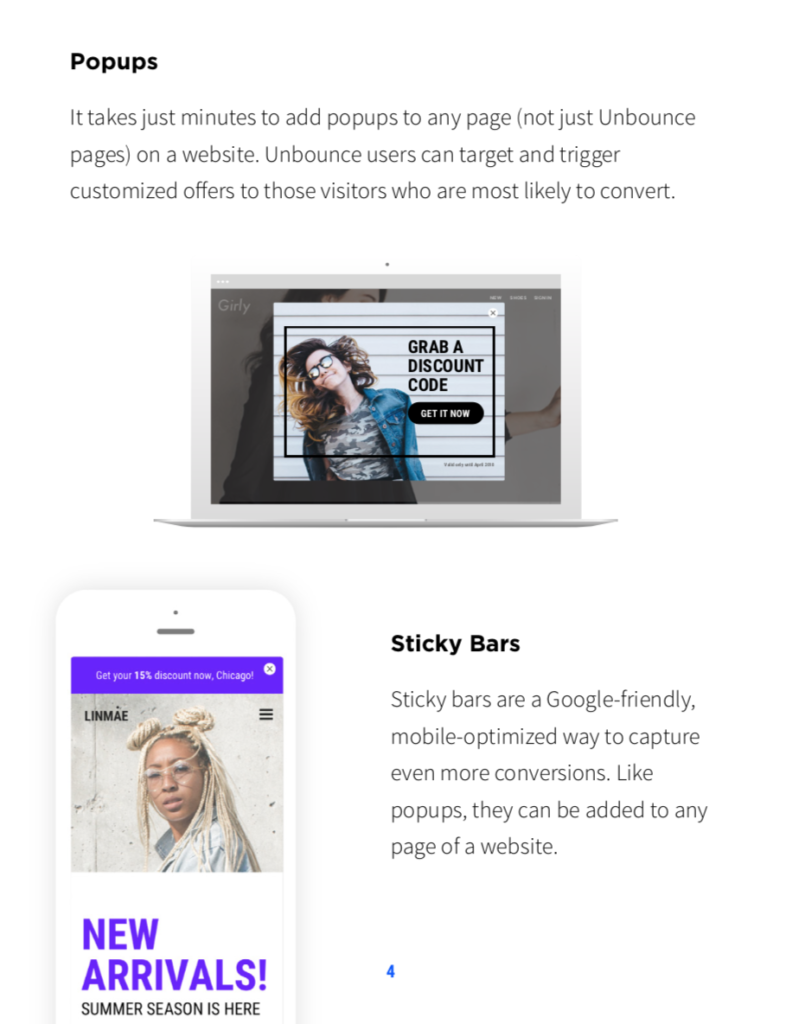 For instance, you could create an exit pop-up with Unbounce and use it on your WordPress site. You'll get an email when Leads are generated through those Pop-ups (and sticky bars). These leads will also start showing up for the specific pop-up in question while integrating with an email marketing automation platform and/or CRM of your choice.
Instapage doesn't have these extra products like Pop-ups and Sticky-bars. With them, it's just about landing pages and nothing else.
A/B Testing & Analytics
Unbounce offers every customer on every plan the ability to use A/B testing and integrate with Google Analytics. Even on their free trials and on their least expensive "essential" plan.
For a long time now, I found Unbounce's A/b testing feature the absolute best in the Industry (only comparable with Leadpages maybe).
One single look at your Landing page statistics dashboard and you'll know what's happening to your landing page testing.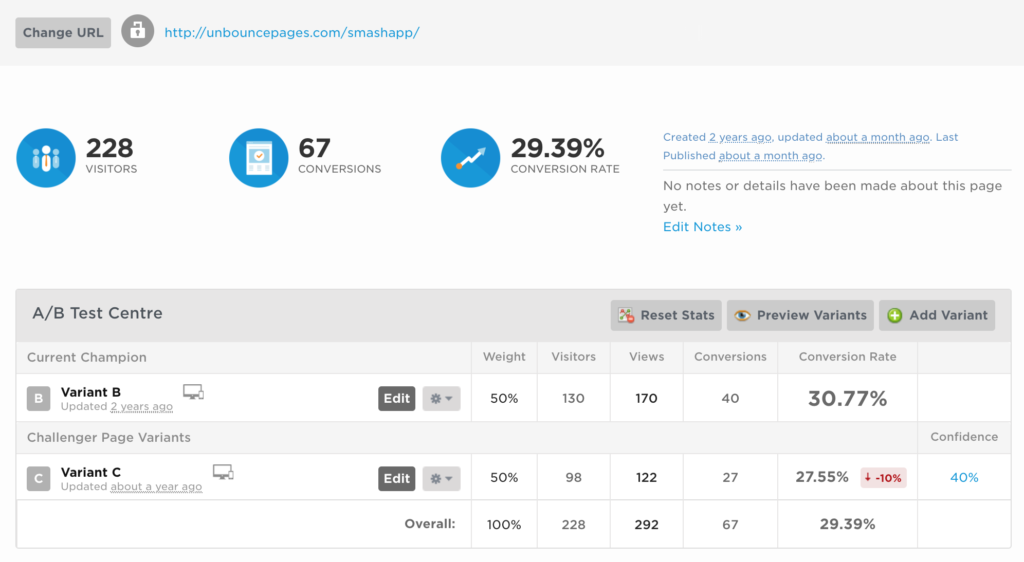 Instapage also provides unlimited A/B testing and easily connects with Google analytics. However, Instapage pricing starts at $99.
The Analytics and A/B testing home for Instapage isn't as pretty-looking as that of Unbounce, but Instapage is trying to do a little too much here in terms of analytics.
Custom Domains & Domain Management
Unbounce easily integrates with WordPress websites (and this integration doesn't cost you anything extra). Create a page name, and Unbounce will ask if it's WordPress. If yes, just go ahead and add the domain (Note: You must upload the Unbounce WordPress plugin for this to work).
If you are not using WordPress, you'd have to use the CNAME method to use custom domains. Depending on your Unbounce plan, you might be charged for every additional brand name domain (or custom domains) you want to add.
Instapage, by default, works with CNAME method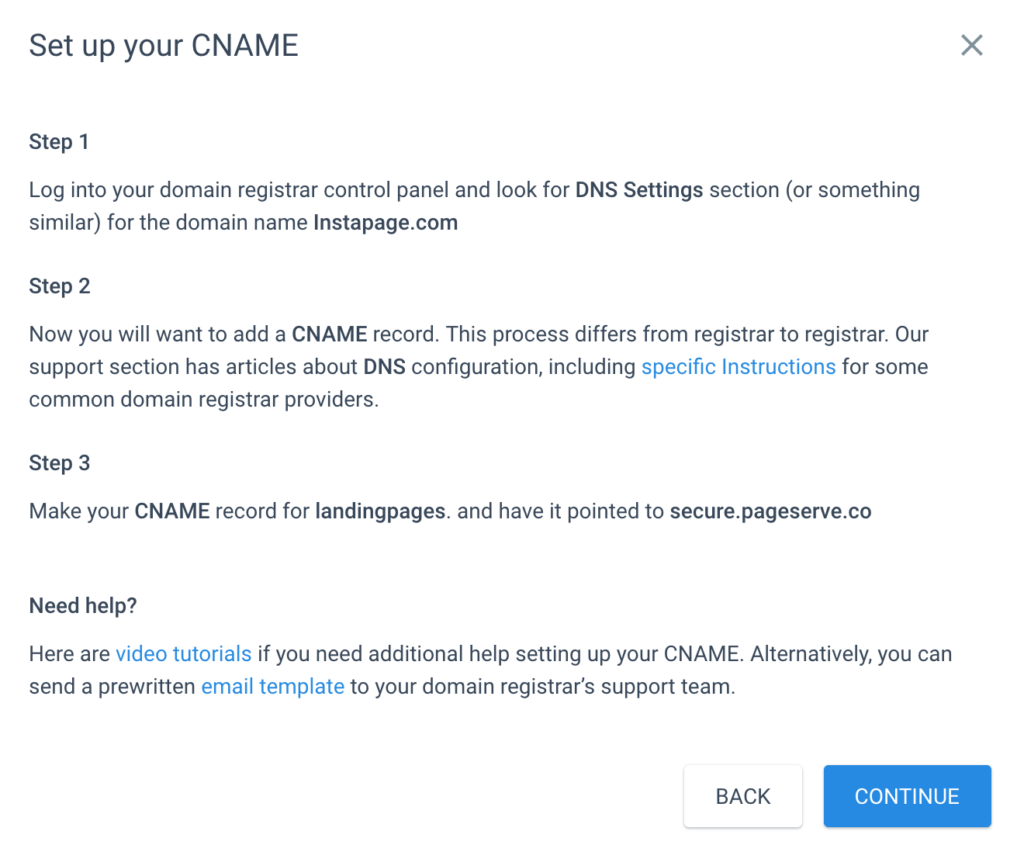 Image Management
Unbounce and Instapage have industry-leading image management features. Clicking on an already existing image or when you drop the "image element" into the builder, fires up the Image management for both the platforms.
You can upload images (such as custom graphics, your own photos, images from your business, etc.) and use them on your landing pages.
As far as the availability of royalty-stock photos for your landing pages go, Unbounce has made Unsplash royalty-free stock photos made available for your use. Image availability and Image management between Unbounce Vs Instapage? Unbounce wins. 
This is completely free to use.
Awesome.
Instapage, meanwhile, has BigStock integrated into the Image management box. However, you'd have to buy each of these images from Bigstock separately.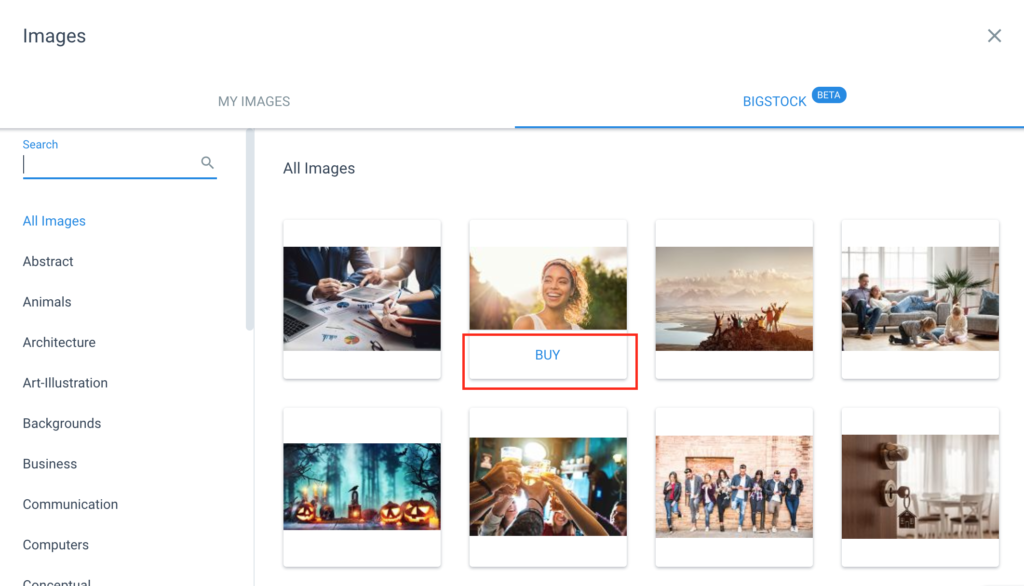 That's a bummer.
Unbounce Vs Instapage: Integrations
Both Unbounce and Instapage come loaded with integrations with several other tools you might be using as a part of your marketing stack. With the new Zapier Integration, the Unbounce Vs Instapage war tips in the favor of Unbounce now. 
You also have API connections and webhooks that'll enable you to link your landing pages with absolutely anything on the Internet.
For anything that doesn't connect, both Unbounce and Instapage allow you to use Zapier to connect with any marketing tool, email marketing platform, CRM, or other tools that aren't already a part of native platform Integrations.
Unbounce and Instapage allow you to also integrate with major marketing automation platform systems such as Hubspot, Marketo, Pardot, etc.
Unbounce & Instapage both let you instantly connect to several apps without leaving Unbounce (or Instapage) — and another 900 more through Zapier!. In the case of Unbounce, you can also quickly connect to Google Analytics or embed tracking pixels and scripts across pages with the Script Manager.
Instapage doesn't cut it for me although I love their templates and their landing page builder. For me, it was and it'll be Unbounce.
Get your exclusive 20% off and Start Your Free Trial