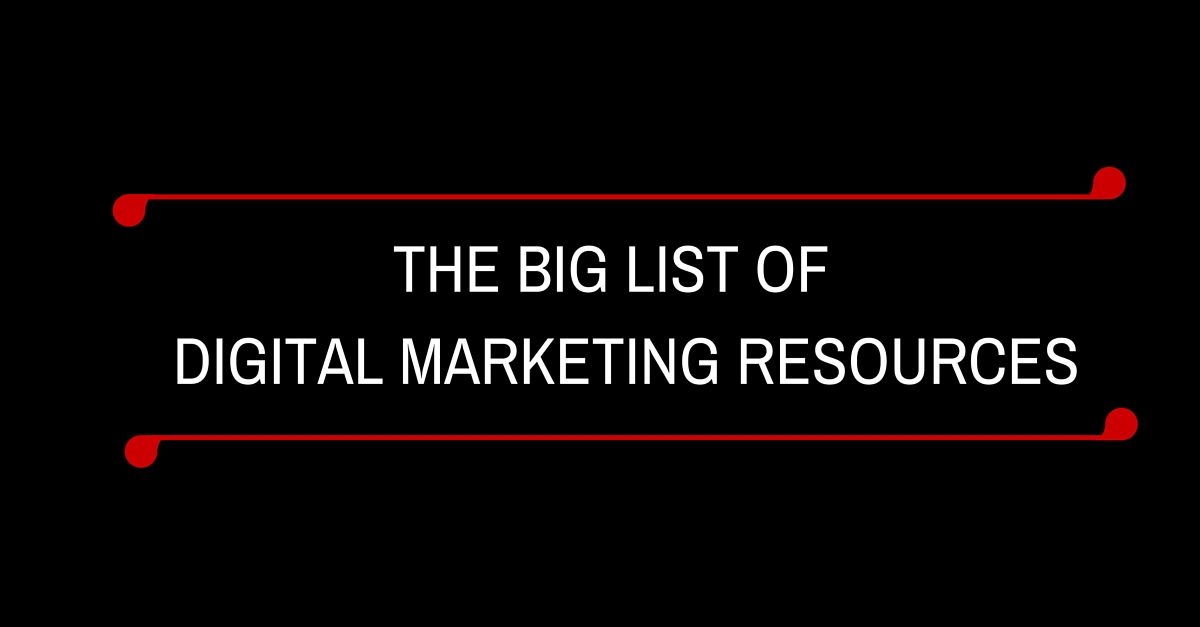 We've spent a lifetime doing what I do. As we go about our daily work, we stumble across tons of tools that small businesses can use. Now, not all tools are built for everyone. You got to pick, and then make decisions.
Of the entire lot, these are the best ever. Here's the big list of digital marketing resources:
Domain Name Registrars
Namecheap: Don't bother with any other registrar.
Managed WordPress Hosting
There are only three best choices in the entire industry (don't bother checking, I did).
Flywheel provides the fastest hosting in the world currently. You can migrate for free and they have a "tiny" plan (which is one of the few differences between this one and WPEngine)
WPEngine is the next best managed wordpress hosting solution and they a notch slower than Flywheel (but speed also depends on the plan you pick and the kind of content on your site).
Both of these are fast, they have awesome customer support, and they migrate your website for free. Flywheel does a manual migration and WPEngine has an automated tool to help you.
Pressidium Enterprise-Grade Hosting is a relatively new entrant and is priced just like the others. Makes for a good alternative for your managed wordpress hosting.Read my Pressidium review here.
Regular Shared Hosting, VPS Hosting, and Dedicated Servers
WordPress Themes, Unbounce Landing Page templates, and More
StudioPress Themes & The Genesis Themework: Neatest, cleanest, fastest, SEO out of the box, and completely bloat-free. Now, it's StudioPress sites — everything you get from StudioPress neatly packaged into a single offering for a low monthly fee.
Themeforest: Do I need to say anything? It's popular. Enough said.
Template Monster : Get everything from WordPress themes to regular themes.
Social Media Management: Build, Amplify, and Connect
HootSuite: We use this internally for our own social networks and for those that we help manage for clients.
Buffer for Business: Another awsome tool for complete social media manageemnt.
IFTTT: A smart way to automate parts of social media. We hear that IFTTT is not just about social media anymore though.
TailWindApp: Make your Pinterest Management easier and save time
Social Monitoring & Reputation Management
Graphic Design
Canva: You need visuals for everything today. There are some obvious cases in point such as banner ads, Facebook Ads, and other advertisements. You also have logos that you'd need.
Then, there are blog post feature images, other blog images, and social media visuals.
Content marketing requires its own dose of graphics such as those constituting Infographics, assets for videos, presentations, slide decks, and more.
In some advanced cases, you'd also need charts, graphs, and embeddable graphic assets.
Nothing comes closer to the sheer versatility of Canva when it comes to create all of those graphics, images, and other assets you'd need for digital marketing.
Start with their free forever plan, of course.
If you want to explore further, here are even more tools for graphic design that you can use.
Website Building Solutions
Tilda: A fantastic new find to help develop classic and very good looking websites.
Mozello: The cheapest responsive website builder out there. Signup and use it now.
Wix: It's a popular choice but you'll be severely limited by their available templates.
SquareSpace: It's a classy website builder. Be warned of the closed ecosystem though.
Duda One: Love the ease of use of this platform. Cannot integrate with other third-party tools and services. At least, none that I know of.
Strikingly: Build websites in a snap. Drag. Drop. done. Sell products and services with Ecommerce options available.
Weebly: It just evolved and grew into a mature platform with "Carbon". Build responsive websites by dragging and dropping. Today, it also has a complete suite of marketing tools built-in.
SmugMug: A complete photo sharing, photo hosting, and ecommerce solution built for photographers.
Ecommerce
Magento
Shopmatic: Making it big already. Sell your products and services easily.  Read a review here that we wrote on them.
DIY Mobile Apps
You don't need developers for building mobile apps (unless you need extreme customization). Pick from any of the following tools and you are good to go.
Content Delivery Networks
CacheFly: Get the power of global servers and nodes with Cachefly. Works with any website.
MaxCDN: It's popular, and it works really well.
CDN Networks get you blazing site speeds for about (or less than) $10 per month.
Best WordPress Plugins
Unbounce: Build landing pages on unbounce and connect your wordpress site with those pages. The result will look like this
Mouseflow: Get a deeper understand on what exactly happens when your visitors browse your site. Get insights work on your conversion optimization like a pro.Read more about it in my Mouseflow Review
WpGuard: WordPress is vulnerable and everyone knows that. But you see? You have a business to run and that means you'd have to use a plugin like WPGuard to help protect your side and manage the nasty, technical side of it all.
Read about more awesome WordPress plugins you should use for your marketing.
DMCA: All that content you produce takes sweat, blood, and tears. You better have a way of protecting your content. DMCA WordPress Plugin helps you with that.
WPS Hide Login: Allows you to hide the login page of your WordPress site. Read on how to use the plugin and boost the security of your wordpress site.
Online Community Building: Going Beyond Forums
WordPress Wonders: Emopowering Your WordPress
Divi Builder: One of the best things that ever happened to WordPress has been the Divi Builder 3.0. You can now build entire websites with it or maybe just customize the theme you are using.
Velocity Page: Irrespective of the WordPress theme you buy, you could literally make changes, live, on your browser with Velocity Pages.
SeedProd: Is your site still in development? Make even that "Launching soon" page count with Seedprod
SumoMe: One of the best tools built for building your email marketing list with notification bar, welcome mat, and many other awesome tools built within the SumoMe Suite.
Web Engagement Tools
Web Engage: Make every page visit count with personalized notifications, surveys, popups, and lead generation tools.
Project Management Tools
Hubstaff: Track Time, Control your project output, see what your team is upto
NutCache: Complete solution for project management, including billing and invoicing.
Asana: Love their new branding. Easy and completely flexible. Free for limited members.
Podio : A good way to organize your projects.
Basecamp : The classic, simplistic, and easy to use project management too.
Trello : Takes a beautiful card-based approach to getting things done.
Email Outreach Tools
Once you set your mind to cold outreach, you are getting into the realm of a hustling marketer or business as against the passive kind. Outreach is what you do when you decide to step out of your boundaries and actually connect with others, as you were meant to be.
Instead of depending on the passivity and anonymity of the online medium, you decide to put your face up for the world to see you.
Tools for Finding Email Addresses
Once you send the right kind of emails out and find the right people, the sky is the limit. Get book contracts, speaking assignments, feature on blog posts, and more. You can also do guest blogging, appear on podcasts as a guest, or start a podcast, or co-author a book, or whatever it is that you want to do.
The key is to find emails of the exact person you want to reach out to, and you'd have to do it fast and efficient. Here are a tools to help you do email outreach like a ninja:
DataAnalyze Insider Chrome Extension
Tools for Sending out emails and Automating Outreach