Disclaimer: This Leadpages review comes in late, almost at a time when there are at least a dozen other landing page builders in the market, and that's for a good reason. I needed to be absolutely sure about what I am writing below. Further, LeadPages has grown over the years and now comes with even more tools and features.
""Do you have what I want? Why should I get it from you?"" writes Tim Ash in his book Landing Page Optimization: The Definitive Guide to Testing and Tuning for Conversions.
That's a question on absolutely every potential customers' mind as they visit your web pages and landing pages. They want to know if they can trust you, like you, and whether or not your products or services can solve their problem.
Landing pages help carry forward the story you started when you wrote that blog post and pointed them to that particular landing page. Or the promise you made on your ad.
Landing pages help complete the story. They help make you an offer. It's on the landing page that a visitor first leaves their information in exchange for what you promised.
Even today, links point to other websites. Ads point to websites. If you are asking your potential customers for something, you should only be asking for simple information like their names and email addresses (which is also getting harder to get now-a-days).
The best way to ask them for that is with a landing page. Then, you'd want to nurture these leads with more valuable information which is done through email marketing automation
However, most businesses still don't use landing pages. If they do, they do it all wrong by depending on their folks in the IT department who'll end up building landing pages as they know it (which is not anywhere like how it should be).
That's where tools like Leadpages help: Leadpages is a DIY landing page builder or landing page software which helps you create virtually unlimited landing pages — depending on your campaigns and offers.
Leadpages also comes with various other features that are a natural extension of the work you put in to create landing pages — such as building complete sales funnels, creating Facebook ads, Lead Nurturing, email marketing automation, and more.
So, what does Leadpages have? Why should you care? How does it help your business? Read on:
Create Landing Pages In a Snap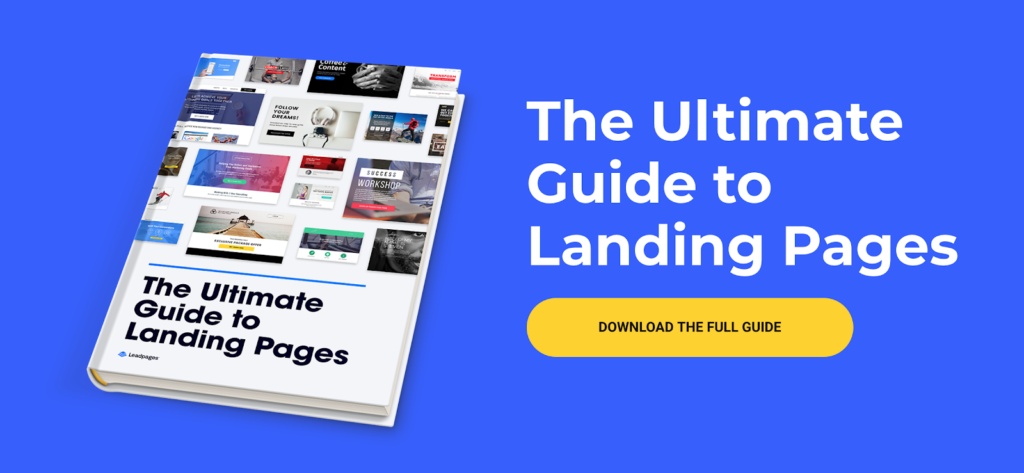 Leadpages — with its drag-and-drop builder — allows you to create landing pages faster than it takes for you to read this blog post.
Pick up a template that's close to the type of campaign you are looking to create, make changes to the template (change typography, fonts, colors, copy, and images), add your own domain to make that landing page your own, and you are done.
Leadpages gives you ready-to-use, mobile-friendly, easily customizable landing page templates to help create landing pages all by yourself.
No Dependence on Web Designers & Developers
Here's a typical scenario when it comes to paid campaigns for a business that has one or more offers to make (which means there is more than one campaign to run): Landing page briefs are sent out to designers or developers (who don't know a thing about landing pages and their marketing importance).
Designers will typically charge you $200 to $500 per landing page and will take about 15 days to a month to deliver that page.
Now, that landing page is not even marketing-centric. Plus, $200 to $500 is a lot of money per page. On top of that, waiting for 15 days to a month or more for a single landing page is disastrous for your business (the opportunity cost is brutal).
There's no way you can test that page that Mr. Designer just delivered.
This is not how marketing is done. Leadpages — with its crisp templates and drag-and-drop builder — makes it as easy as writing an email.
Drag, drop, done.
Pop-up Boxes + Progress Bars
There's something about that line of progress (visually displayed) that prompts us to complete that task at hand (It's also the reason why it's also used in to-do list software and project management software).
Leadpages gives you Leadboxes or pop-up boxes along with progress bars that you can use to boost your conversions, generate more leads, and make it all seem fun for your potential customers.
As the folks at Leadpages put it,
"Use opt-in boxes to deliver key messages and offer a little extra lead love when and where you need it the most."
If your visitors click on a button or a link, a pop-up box will trigger. If they click on a large Call to action button at the centre of your landing page, a pop-up box (or Leadbox) will appear, along with a progress bar that shows just how many steps are left to complete the action.
New Image Manager
In the year 2022, Leadpages worked hard to roll out updates to their "Image manager" — used while building landing pages, Link-In-Bio pages, and more. Uploading and editing images is now much faster and easier. Leadpages Image Manager now allows for:
Intuitive Image search
Infinite scroll while browsing your Image library
Image size filters — save time and separate out and search favicons, logos, brand assets, stock photos, social preview images, and custom images for landing pages.
If you edit Image meta data (like Image names, alt names for images and so on), Leadpages autosaves all this work so that you don't worry anymore.
Built-in Checkout
Would you like to take the lead generation game a little further by bringing in e-commerce goodness? You can do that with Leadpages Built-in Checkout.
You can add a checkout normally anywhere a Call to Action Button can appear.
Or you could use Leadpages Checkout option to upsell or cross-sell seamlessly.
If you build multiple pages ( like a complete funnel), you could have a regular landing page leading to a signup page, which then leads to a thank you page with a Leadpages Checkout enabled Upsell.
You can cut it however you want, but there's a possibility to start selling immediately to boost your sales, revenue, cash flow, and profits.
A/B Testing For Landing pages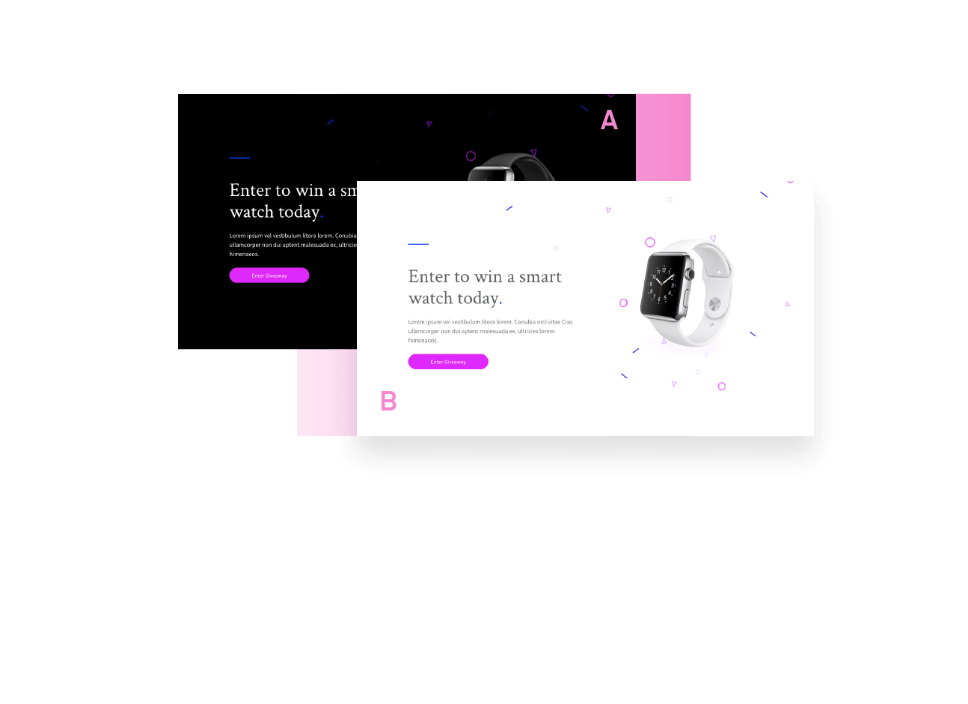 One of the fundamental reasons why I don't like HTML landing pages is because of the sheer inability to run A/B tests unless you don't mind spending on Optimizely or Visual Website Optimizer.
If you are doing marketing, you want the market to tell you whether or not a headline, a sub heading, an image, or a call to action works (or not). You don't want to sit there and let your emotions, preconceived notions, opinions, or thoughts rule.
Leadpages has A/B testing enabled inside as you create your landing pages.
Once you create your main variant (control), you can just duplicate your landing page to create a second variation to test against the main variant.
Facebook Ads made Easy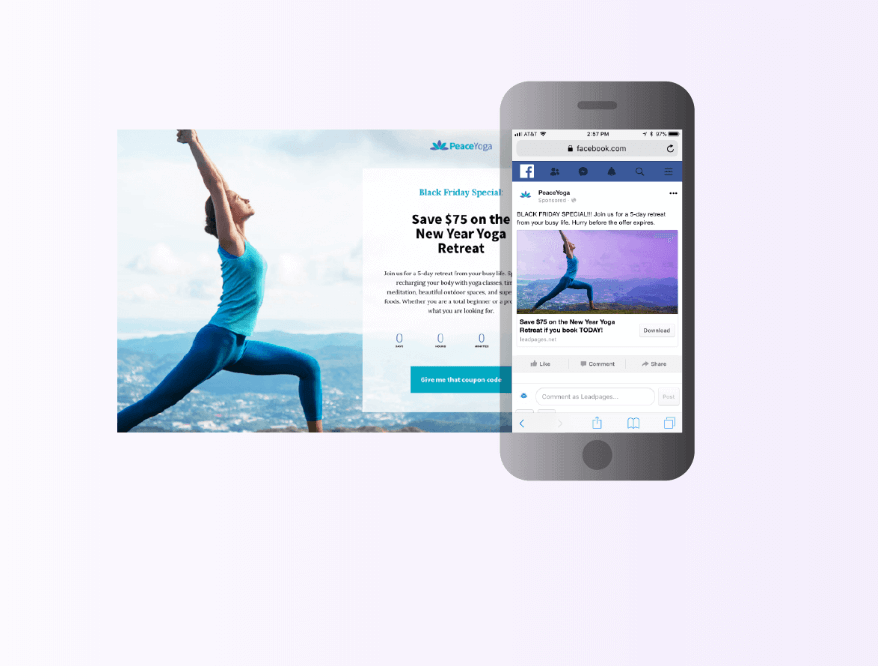 With Leadpages, you don't just get landing page software along with templates, Leadboxes, and A/B testing features. You also get an incredibly easy way to launch your Facebook ad campaigns fast.
Along with easy audience targeting and automated Facebook Pixel integration, Leadpages pulls in the assets (like images and copy) you've used to build the landing page and instantly creates an ad that you can use within a campaign.
For those who've struggled to deal with the complicated Facebook business manager, you'll see that the in-built Facebook ads feature within Leadpages is simple, intuitive, and almost automatic.
Build websites, Not Just Landing Pages
While we can wax eloquent about landing pages as much as we want to, I want to address another issue for most small business owners: The websites they build (or have) or those that you are going to build are not cut out for lead generation.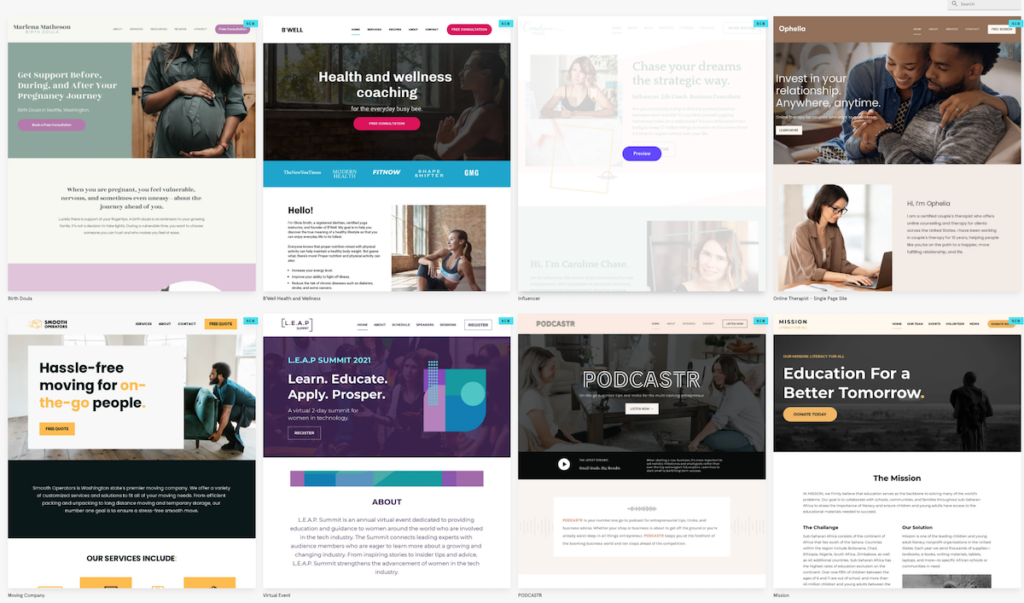 I mean, you have websites but those websites are not likely to get results of any sort.
LeadPages knows that.
That's why it launched a brand new product (as on 2019) called The LeadPages Site Builder which allows you to build a simple website without a piece of code, hosted on fast servers, and allows for code-less integrations (with LeadPages, pop-ups, Alert bars, and several other tools).
See a few Leadpages Site Builder templates (check them out). 
Control and Choices with Fonts
Typography (or fonts) is an important aspect when it comes to design. Leadpages now gets a global fonts update: change fonts, update global font settings (along with colors, size, and more) for the entire set of landing pages or websites you build with Leadpages.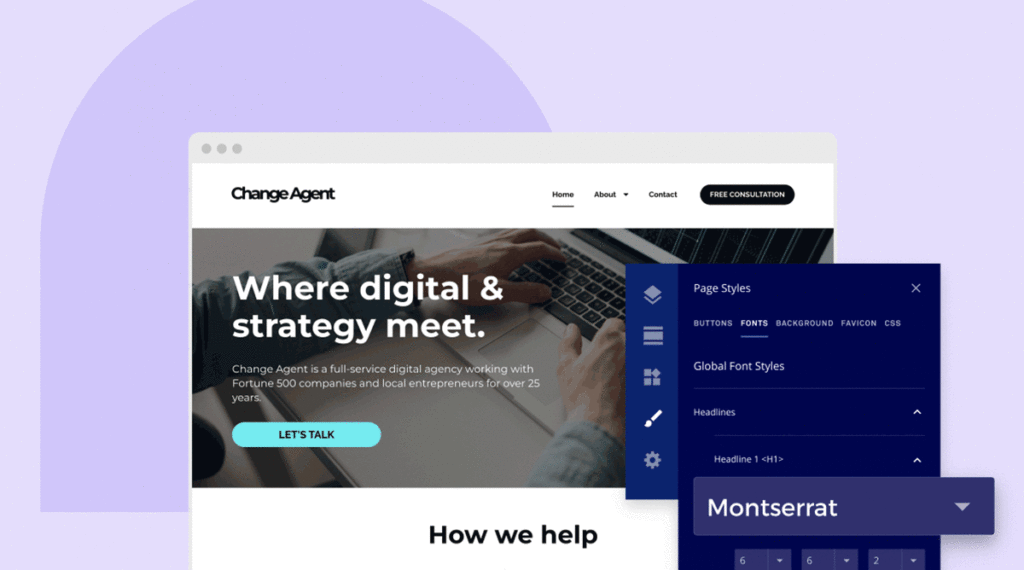 For your Leadpages website, the Leadpages templates you choose to work with, or for any (or all) of your landing pages, make changes to your text fonts with just a few clicks. Or apply custom header and text styles to your h1,h2,h3, and h4 tags.
Tweak your font size, text spacing, margins, and other formatting settings to get the look you want for your Leadpages websites and landing pages.
Pop-ups Do Some Hardwork
The Pop-up product from LeadPages is like your website lead generation thing on steroids.
Instead of just relying passively on visitors taking action on your website or landing pages, the Pop-ups you create with LeadPages will allow you to use time-delays, exit-intent, and trigger events (trigger your pop-up to appear whenever a visitor clicks on an image, button, or hyperlink text.)
If there's nothing else you'd rather do, using Pop-ups and slide-ins can single-handely change how you generate leads.
Alert bars As Lead Generation machines
It's dimunitive, it's harmless, and it's a shy component of lead generation for websites.
The alert bar or status bar or hello bar or lead gen bar (choose to call it whatever you like) is truly underestimated tool for generating leads. They aren't as intrusive as pop-ups are but they still manage to get things done. Use alert bars, designed within your Leadpages account, for sale announcements, nudging your visitors to have them sign up for something, and more.
Marketing Tool Integrations
Leadpages has been around for a while and that's a good thing because it integrates with almost everything. If, for some reason, you don't see a native integration, you still have Zapier which can help you connect Leadpages with a thousand other apps.
Note: There's a natural ecosystem advantage there if you use Drip for your marketing automation.
But even if you don't use Drip, you can make use of its own Integrations or use Zapier to connect Leadpages with all the other tools you use.
Leadpages Resources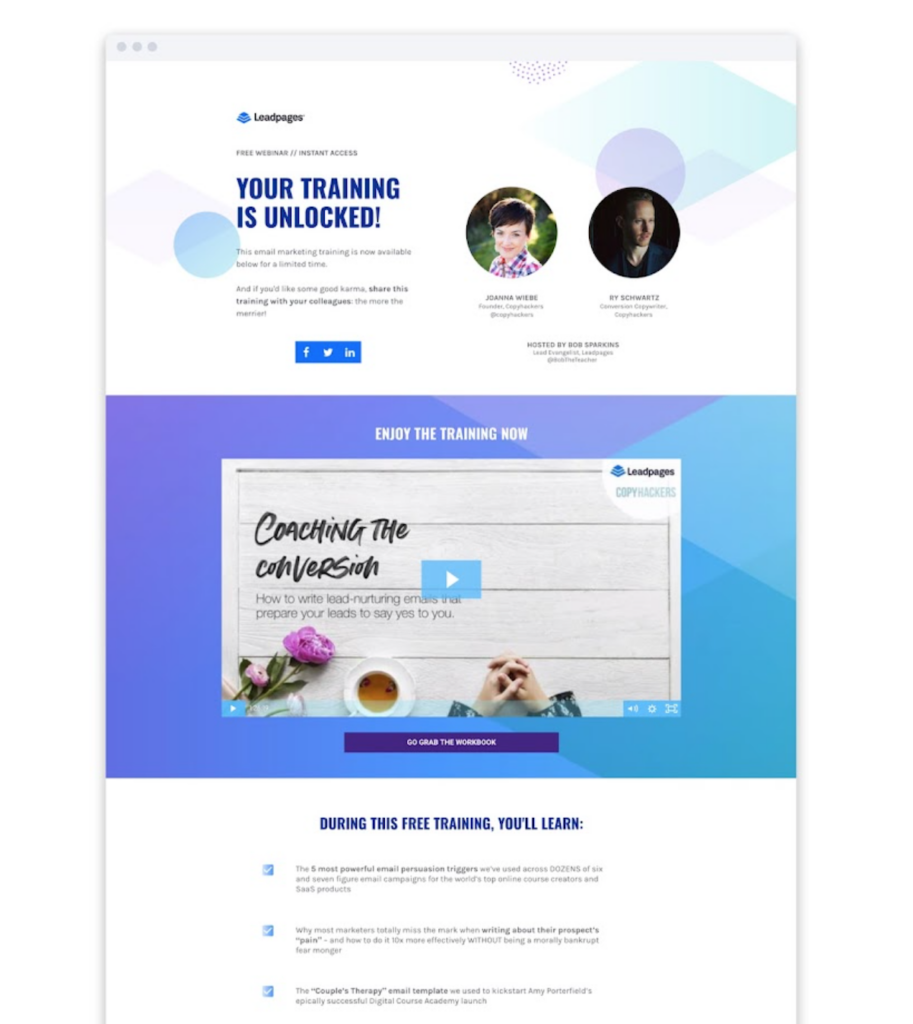 One of the best things about Leadpages as a company is the sheer volume of high-quality content it puts out for everyone to access.
There's the blog, and there's their Online Education portal called ConvertedU.
There are several other on-demand webinars, courses, and case studies of successful entrepreneurs — in addition to many other resources that you can take advantage of ( even without being a Leadpages user, in some cases).
While you are there, you should certainly listen to Leadpages Podcasts featuring the very best of the folks out there such as Rand Fishkin, Ashley Ann Jones, Ruth Soukup, and Rachel Luna.
Learn from:
Marketing Resources
Webinars
Online courses
Free Guide to Landing Pages
Landing Page Tutorial
Podcast (ConversionCast)
Leadpages Pricing
Leadpages is still one of the most competitively priced and pocket-friendly landing page software suites available today.
Clickfunnels is bloated and Kartra never really grew up. Leadpages along with Unbounce and Instapage are still the only three landing page builders I heavily recommend. I used all the three extensively, for long periods of time, and I can vouch for each of those.
Leadpages pricing starts at $37 per month (paid annually) and goes all the way up to $74 per month (paid annually). Monthly pricing is at $49 per month and $99 per month (for the standard and pro plans respectively).
Start With Leadpages, Like a Pro
Signing up with Leadpages to use it isn't going to be dry like it's with many software tools and suites. Leadpages is user-friendly and powerful, yes.
Yet, you don't have to do it on your own. In the year 2022, Leadpages started offering their incredibly valuable live onboarding and coaching when you start with Leadpages free trial.
Get access to 1:1 onboarding calls with one of the team members from Leadpages. Or join a group call with other entrepreneurs, just like you.
Opt for coaching if you are an existing Leadpages customer.
When you sign up and opt for these live coaching sessions, be sure to ask the team about integrations, custom domains (or using complete domains), maximizing the ROI of your Leadpages account, brainstorm solutions to business-specific or marketing issues, validate your marketing plans, and more.
Have you used Leadpages yet? Sign up now