Do you use Meta Business suite? If yes, you should know about ways to benefit from Meta Business Suite.
Let's say your business has something to do with Facebook, Instagram, Facebook Messenger, Whatsapp, Facebook Ads, Instagram Ads, Whatsapp ads (soon to come?), Instagram Stories, Instagram reels, Facebook Stories, and so on.
Can you imagine the sheer amount of work it takes just to manage incoming "comments"? Thanks to the content you put out there, across each of those channels, can you manage the work it takes to keep up?
This isn't even counting the resources and work it takes to create content, share content on social platforms (including all of (or chosen) properties.
Plus, there are other things you could do with Meta: appointment bookings, selling services, showcasing products, do live streams, and so much more.
Read:
Shopify's Guide on How to Use Meta Business Suite
Goes without saying: You need an easier way to use and manage all of these features of Meta Business Suite and find ways to benefit from Meta Business Suite.
Here's how you do it:
1. Learn What's Inside Meta Business Suite
Meta Business Suite is the "right" way to manage your Facebook properties — it's where you'll go in and manage all Facebook (Meta) properties that your business finds value in.
Straight away, this is what you should do:
Create new Facebook Brand Page, Create new Instagram Account, Create new Facebook ad accounts, Create additional pages and/or accounts.
Claim your existing accounts (pages, Instagram accounts), ad accounts, and other business assets.
For agencies, In-house teams, and freelancers: You'll be working with other brands' assets. This is also where you request access to other Facebook pages, Facebook Ad accounts, Instagram Ad accounts, and so on to help create content, run ads, and so on.
Give access to teams and people (includes yourself in addition to in-house team members, freelancers, social media managers, and agencies)
Give Access to apps and tools in your marketing stack that'll require access to your Facebook(Meta)/ Instagram accounts to help you use their features to run, manage, and optimzie ads.
Meta Business Suite gives you a shared Inbox — all incoming comments, messages, replies to your comments in a single place that you have access to.
Run, manage, and optimize ads across Meta properties (Facebook, Instagram, and others). The ads you run from Meta Business suite is "full-featured" — meaning that you get access to many features not available to you when you login to Facebook through your personal account.
Get access to insights — for organic posts, for stories, reels, and for your ads.
2. Tighter Control; Easier Management
"I don't have access to my Facebook or Instagram credentials"

"My social media manager has access; I don't"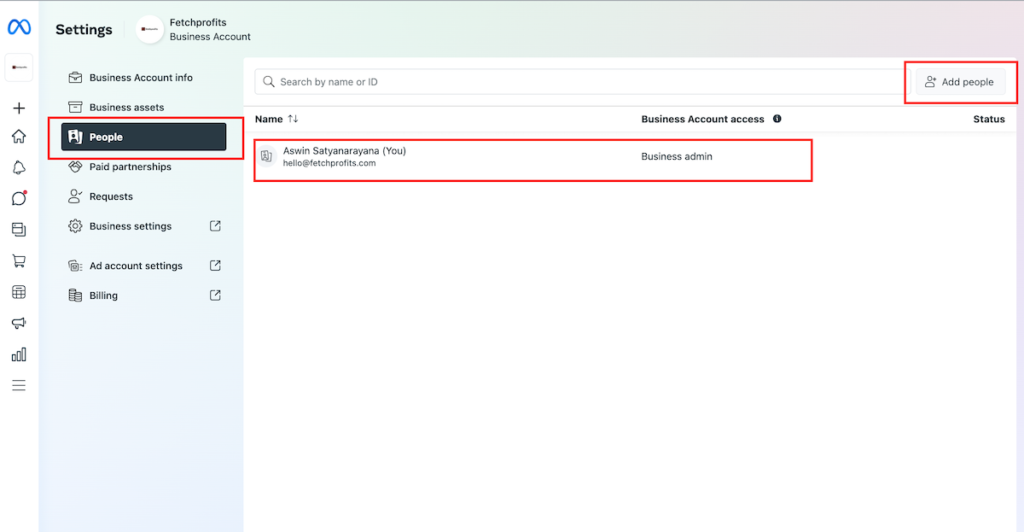 Makes me want to cry when I hear these from clients. Some clients don't even have access to their "Facebook Ad accounts" and "Instagram ad accounts"
Read the bullet point list above and you'll see how and why it's easier to manage all of the work you need to put in from a single dashboard (regardless of how monstrous that dashboard is).
With the Meta Business Suite, you control exactly who has access to what (and to what degree, with specified roles).
Usually, you have one admin: you.
Giving appropriate access to people (using email addresses); claiming your Meta properties (including pages, ads, and access controls; creating and sharing content; running and managing ads; accessing and controlling your eCommerce catalogue; and more.
With additional features such as a single dashboard for managing appointments, managing incoming messages, notifications, post planner, and a way to create content from right inside Meta Business Suite save you considerable time, absolve you from headaches, and help you keep a tight leash over your properties.

GET ACCESS TO MY FREE, 1-PAGE BLOGGING STRATEGY PRIMER
Weekly Newsletter
eBooks, Checklists
Courses, Discounts
3. Create Content & Distribute Content [On The Fly]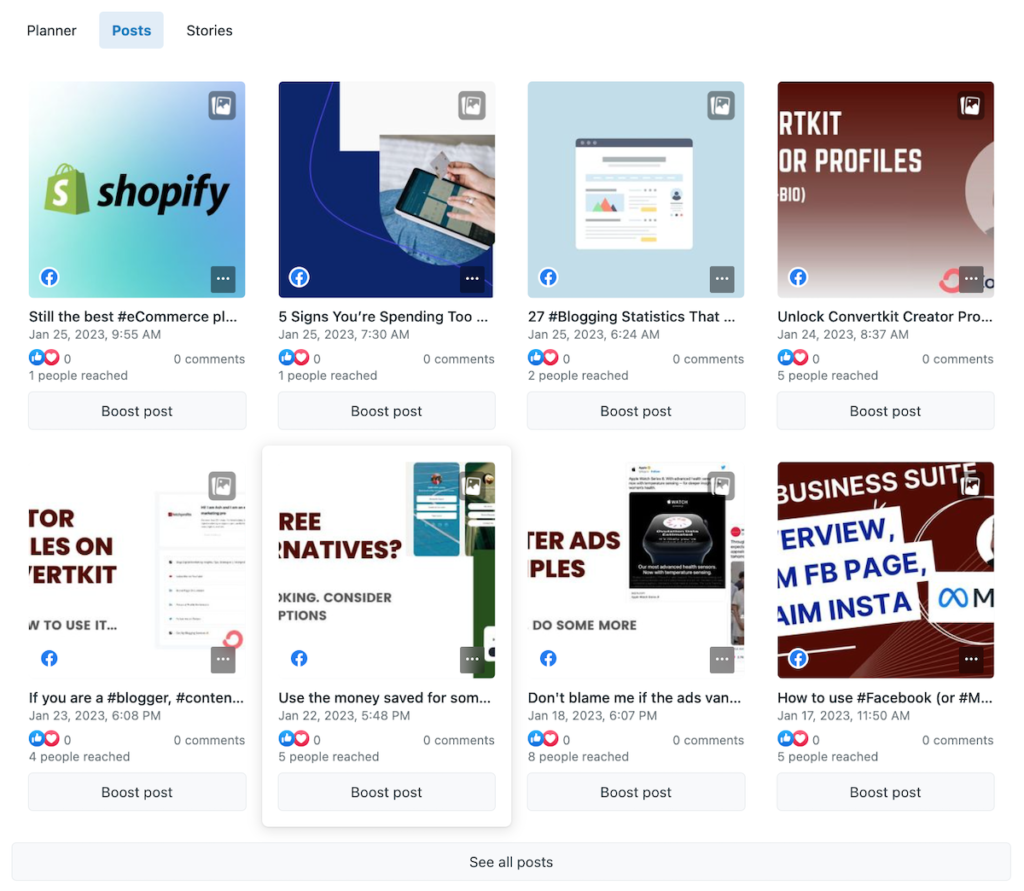 Logging in to Meta. Post #43. Opening a new tab and logging into Instagram [Post #Unknown] — log in. Log out.
Nightmare, if you ask me.
Don't even ask me how ridiculous it gets if you were running ads on Facebook and/or Instagram.
Meta Business Suite gives you access to:
Create Content: Let's say you claimed your Facebook brand Page (or business Page) and you also have access to your Instagram account. You could create content (or share previously created content) from right inside Meta Business Suite (like you do elsewhere, with tools like Buffer or HootSuite). You can also schedule posts. That leads us to…
Post Planner: A calendar-like view of the content you can create and share (do share your blog posts, videos, previous live streams, promos, announcements, and call outs.
Further, you get access to your Facebook and Instagram stories; Instagram reels, and so on.
One dashboard; multiple benefits.
4. Split Testing (A/B testing) for Posts and Stories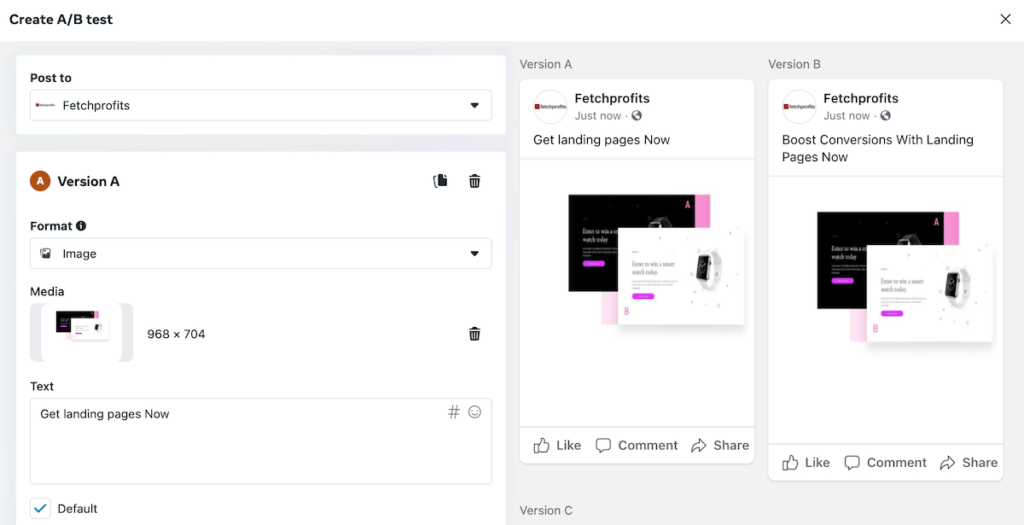 Did you know that you can eliminate guesswork and get to know what kind of content works and what doesn't? What kind of content resonates with your audience and what doesn't?
For something like a simple promotion post (leading to a request for sign-up), how do you know what works?
Launch A/B testing for your content. Know which graphic or photo gets more likes compared to others. Which post leads to more sign-ups than others.
5. Run and Manage Ads, Like a Pro
Compared to logging in to your personal Facebook account (like most folks do) and trying to run ads from there (which you shouldn't, ever), Meta Business Suite is a super-powered monster.
Apart from getting access to "all" the ad campaign types available, you get several other tools. Create, run, and manage Meta Ads like a pro.
Run regular ad campaigns for reach. Or roll out conversion-type campaigns with specific objectives such as to generate traffic or send potential customers to high-converting landing pages (use Unbounce, Leadpages, and Instapage for creating landing pages).
Or, you could run powerful eCommerce campaigns featuring your products and services. Have many products and services? Then, run eCommerce Dynamic ads.
Want to generate leads? Run Facebook Lead Ads.
You get the drift?
6. Manage Appointments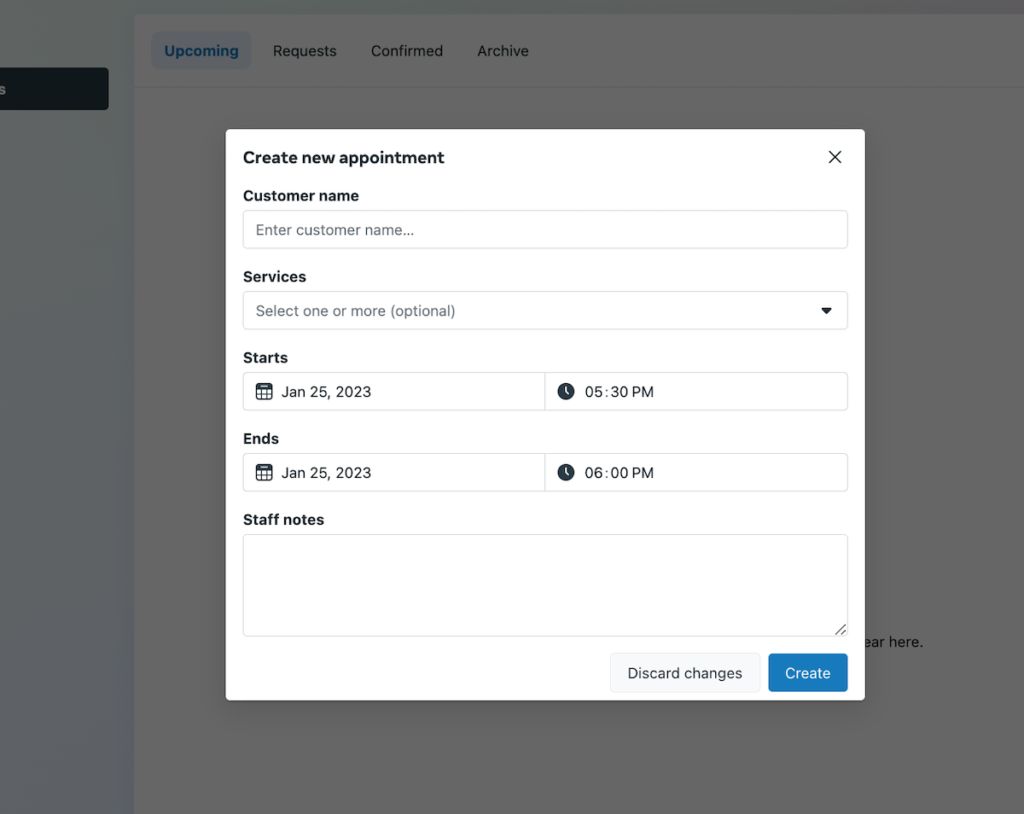 Meta Business Suite has a way for you to accept appointments with a full-fledged appointment booking tool available (new appointments also show up on the dashboard when you log in).
Use the appointment feature to have people book appointments with you (service businesses, consultants, freelancers, content creators, sales professionals who'd like to start talking to potential customers).
From within your Meta Business Suite, you can:
Get a complete calendar view of all your appointments.
Create New Appointments (With customers you already know)
Set availability (along with options to enable manual approval for appointment requests)
Allow customers to see your available appointments (and time slots) and book slots with online booking
Set your time zone, off hours, and holidays
Allow for Double Booking, Advance Booking (Pipeline, anyone?)
Roll out customer reminders
This is as good as any appointment booking app, available for free within Meta Business Suite. Eh?
7. Run Facebook (Meta) Live Events [Free or Paid] + Manage Payout Accounts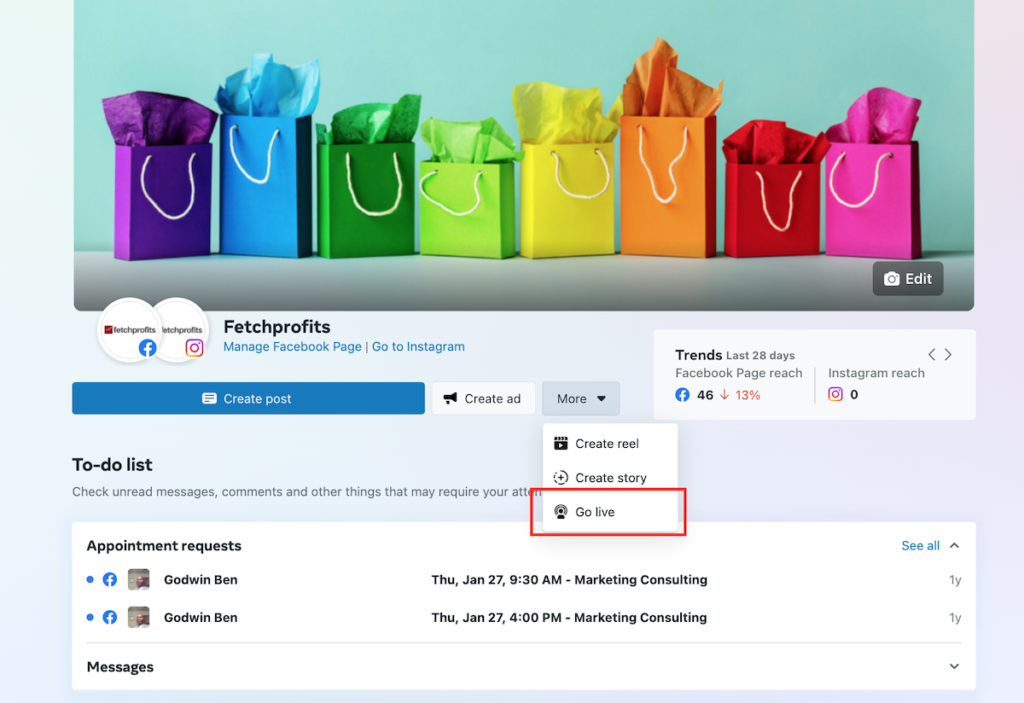 Did you know that you can launch live events from inside Facebook? You could do it from within your personal account or you could do it from within Meta Business Suite.
You also have easy ways to create your Payout account (designate yourself as a solo business owner or choose business type) that you can create and manage.
Benefit from the ability to launch free live events to build audiences that trust you and then to launch paid live events to make income as a content creator or even as a business.
8. Create and Manage Audiences [+ Custom Audiences]
Ideally, create and manage audiences (whether you choose to ever run Facebook or Instagram ads at all). Having access to your audiences keeps you prepared and ready for battle (if and when you choose to).
Trying to grow audiences just before running ads takes time and costs you money (since your ad targeting would be all over the place).
Using the Meta Business Suite, you can create new audiences. Plus, create custom audiences (people visited specific page URLs, specific landing pages, or those who viewed eCommerce product pages or product categories).
Creating base audiences gives you access to Facebook's powerful Lookalike audiences as well.

GET ACCESS TO MY FREE, 1-PAGE BLOGGING STRATEGY PRIMER
Weekly Newsletter
eBooks, Checklists
Courses, Discounts
9. Sell Services On Facebook (Meta)
If you are a consultant or a coach (Like me) or if you have services to sell, you can list your services for display from right inside Facebook (Meta Business Suite).
Make services visible to all or hide certain services (temporarily or permanently).
For each service you create, you can:
Add a photo and provide a service name and description
Set a price (Fixed, Starts at, Variable pricing, Ask for price, free, no price, and custom prices)
Set duration of service ( Fixed duration, approximate duration, duration varies)
Ability for customers to block extra time (value-added Q & A).
10. Sell Products [Facebook and Instagram Shops]
You can sell products directly on Facebook Shops or Instagram Shops. For some cases, you don't need the likes of Shopify, Strikingly, Wix, Simvoly, or WooCommerce or anything else really.
If available in your country or region (not available for me, sadly), set up a shop on Facebook (Meta) and/or Instagram and sell directly.
You can create a catalog of inventory (existing) or create one.
Later, if you wanted to, use this catalog for running Facebook Dynamic Ads (More on this in another post + video)
11. Manage Events, Pixels, Offline Events & More
Meta Business Suite allows you to:
Create and Manage Facebook Pixels
Create or add and manage data sources (CRM, website, eCommerce store, app, Offline data, etc.)
Create custom conversions (optimize ads for specific URLs and for custom events such as button clicks)
Access and manage Partner Integrations (manage access with other tools such as Shopify, Google Tag Manager, AnyTrack, Salesforce, and so on).
12. Run Dynamic Ads & eCommerce Ads
If you run an eCommerce brand, you'll need to look into the sheer power of Dynamic ads and eCommerce-specific ad variants that Facebook provides.
Picking "Sales" as the objective for your ad campaigns, you can roll out these campaigns specifically with the goal of conversions, catalog sales (on Facebook Shop, Instagram Shopping, or Catalog feeds from Shopify), ads leading to Facebook Messenger, and even inbound calls.
If you use eCommerce Catalog, for instance, Facebook now has Advantage+ Catalog which automatically optimizes your ad format, creatives, and destinations for each person allowing you to personalize campaigns on a large scale.
"Product Set" is where you'll create ad sets (and creatives) that pulls in a feed directly from your shopping catalog.
13. Dig Facebook (Meta) Insights
Facebook insights is a handy and helpful tool for you to measure how well you perform with your social activity across the board: Facebook and Instagram, for instance.
You get:
Weekly reviews of content performance. See below for ad performance
Stats for page reach (Facebook and Instagram) — Daily and cumulative
Suggestions to help boost your reach
Median values for post reactions, comments, and engagement
Audience Insights (Age, gender); Instagram followers
Messaging Stats (messages started, new messaging connections)
Earnings and orders from messaging conversations.
With Facebook (Meta) Insights, you also get access to Benchmarking — how do you compare with other businesses like you? How frequently do you post, compared to others, and more?
Additionally, you can also use tools like Databox to manage not just Facebook and Instagram but also LinkedIn, Twitter, and others. Plus, stay on top of important KPIs for your business with Databox.
14. Get Powerful Ad Performance Insights In Meta Business Suite
Launching Facebook Ads? Using multiple creatives? Do you have multiple landing pages?
How do you keep track of it all? How do you not lose sanity while doing it?
Use powerful Ad performance insights from within Meta Business Suite.
After you launch ads, you get access to a "pivot table" style breakdown of everything you use for Facebook and Instagram ads.
View performance in granular detail for:
Account name, campaign name, and ad names
Ad creatives (breakdown your ad performance data by ad creatives)
Age, gender, country, region, platform, placement, day, and month.
Create custom break downs.
View actions on ads and conversions by conversion device and video view type.
See performance for dynamic creative assets.
Get access to metrics critical for your business (frequency of ads shown, purchases, purchases conversion value, CPC, CTR, clicks, amount spent, and more.
Create customized reports (for yourself, for teams, or for clients).

GET ACCESS TO MY FREE, 1-PAGE BLOGGING STRATEGY PRIMER
Weekly Newsletter
eBooks, Checklists
Courses, Discounts
Do you use Meta Business Suite? Find it useful?
Tell me all about it on Twitter, LinkedIn, or my LinkedIn Brand page.