How do Facebook ads work? Do Facebook ads make sense for your small business?
Facebook ads can work great for your business. Only, if you do it right.
Craig Smith of Expanded Ramblings thankfully curated some Facebook Advertising Stats.
There are 4 million advertisers on Facebook, at the time of this writing.
70% of the total number of advertisers come from outside of United States. The number of Facebook Advertisers have grown by 50% between 2015-2016.
With the average clickthrough rate of 0.9% and the average cost per click of $0.64, the social media behemoth still makes for a fantastic platform for marketing.
That was easy enough.
The hard part is to figure out how to do Facebook advertising right. We believe that Facebook advertising is never a "set it and forget it" case.
There are 10 specific, mandated steps you'd need to take for your business to be profitable. Your ROI and Facebook advertising success will depend on it.
Even if you don't believe, like, or care, do follow these steps:
Don't drive Traffic To a Pay Wall
Over the last several weeks, plenty of people approached us for help with Facebook advertising.
I see a trend.
Ads point to landing pages or website pages with a pay wall of some sort. The offer is a direct "purchase" proposition.
I guarantee that if you put up a landing page "without" the need for your incoming traffic to commit to something as "final" as a purchase, you'd do better.
Never drive traffic to a shopping cart page, a product page, or a landing page with a "Buy Now" button on it.
This is not how Facebook Ads work. I am not saying sales won't happen. They just might. It's just that you are sacrificing short-term gains for long-term, perpetual gains.
Drive Traffic to a Value Offering
If you build, they won't come. Facebook ads can reach a lot of people very quickly across the geographic area you target.
The best way to capitalize the incoming traffic from Facebook ads is to give away something of value to your visitors.
You can give any of the following away for free (this isn't an exhaustive list), depending on your business:
1. Checklists
2. Cheat sheets
3. Worksheets
4. Templates of some sort
5. A curated guide
6. Ebooks, reports, and Whitepapers
7. Consultation calls
8. Auditing Offer
9. Exclusive videos, podcasts, or private infographics
10. Lesson samples
11. Chapter samples (for books)
12. Free trials
13. Free access to a membership area
14. Others
If what you give away is valuable enough, this is a low-commitment point of entry for your potential customers to get into the funnel.
As Dharmesh Shah of HubSpot puts it nicely,
"No one wakes up one fine morning hoping to be in your pipeline"
This is the big wide mouth of your funnel.
Make ingress easy.
Keep it that way.
Send Strategic Drip emails, Followed By Offers
As visitors sign up for one of your value offerings, free trials, or whatever it is that you give away, they are now a part of your funnel.
Prepare to nurture your leads. Segment visitors according to their they activity, source of signups, age, date of signup, etc. — this helps you to fine tune your email messages later giving you enough data to personalise and target your customers.
Out of the entire set of emails and autoresponders you plan to send, only 1 out of 5 emails should contain a pitch for making actual sale offers.
For instance, if you had a single list and a single offer to make (and we assume that your transaction is complete for that customer, for life):
This is how it'd look: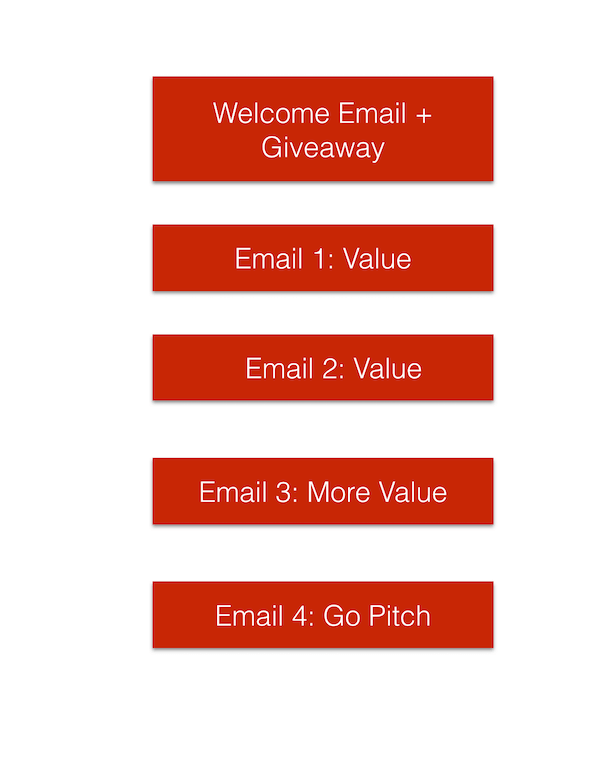 Targeting: Customer persona, Geo, who? Preferences?
Facebook's audience targeting features are extraordinary.
No one else in the industry has got that wealth of information, down to detail. At least, not to the extent that Facebook does.
Your first step, even before you think of campaigns, is to think of your ideal customer ( note that it's "ideal" and not "absolutely anyone will do").
Here's an example of a customer persona we could use for our own Facebook ad campaigns:
John — a male entrepreneur 34 to 48 years old is the founder of a startup in New York, United States. He primary goal is to help grow his bootstrapped startup, to enhance his branding, and to grow his business. He is a devout Christian, attends Sunday church, takes his family out to dine in downtown NY on the weekends.
When John isn't working, he consumes books by the dozen, travels the world backpacking, and is a self-declared foodie, with a special liking for Southeast Asian street food.
When you get down to business on the campaigns set up front, Facebook allows you to target exactly who you want to — down to the detail about John being a foodie who trips over himself for Southeast Asian food.
Miss this crucial aspect of Facebook ad campaign and you'll shoot in the big blue of Facebook's audiences (as against dark).
Build Facebook Retargeting Audiences, In Advance
Ideally, you should start building your Facebook Audiences and Retargeting audiences even before you actually think of Facebook advertising and/or retargeting.
Since 80% of your visitors visit your landing pages or websites or both and leave, never to return again, you'd need to retarget.
When you do it right, retargeting ROI is almost always positive. Reportedly, even cases of 1,284% and even 7,425% ROI is possible.
At this point, it's not about whether or not you want to do retargeting.
Building a targeted audience "primed up" for your retargeting campaigns (when you are ready, of course) is a no-brainer though.
Budget for Campaigns & Duration
"I can do $2500 per month for Facebook, what do I get?"
"We can easily start with $5500 per month"
I've seen some businesses pegging their ad budgets with their "ego".
Facts:
There's no minimum spend on Facebook (or Google Adwords)
You should always, always start small
Starting small is critical because it allows you to run for longer durations, which you need
Small budgets also help you do A/B testing — there are a million things to test, even if we just settle or 10-15 things to do A/B testing on.
Run campaigns long enough for you get enough sample size to make decisions based on the data you acquire.
Start small, play out the campaign for a reasonable period of time, and continue test everything while the campaign is on.
Ads & landing pages
Work hard to create simple, great looking ads. More importantly, build relevant ads. Focus on making an offer (Point 1 above) and that's about it.
Each ad must point to a message matching landing page.
Ad Copy: Get 30% off
Landing page Copy: Get 30% off
Like this: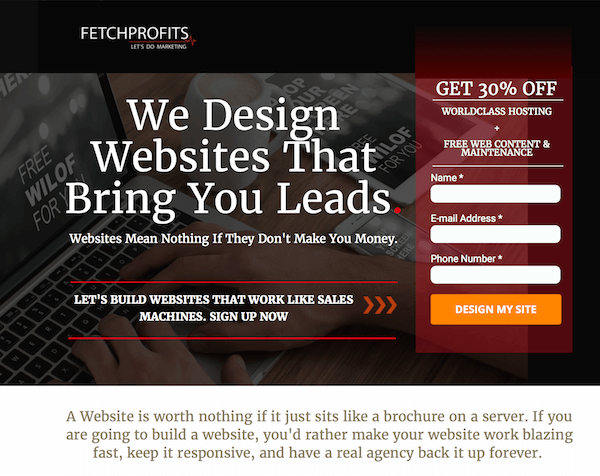 The message on your ad must match what you promise on the landing page. It's the rule of congruency.
For this reason, you'd need a tool that helps you build as many landing pages as you like, and in the shortest time possible.
That's why I always recommend Unbounce (This is the landing page builder we use). You can also work with:
Wishpond
LeadPages
Clickfunnels
No HTML landing pages, ever. I don't care what you think.
Facebook Ads A/B testing, explained
"We don't need A/B testing"
"A/B testing? We don't have budget for that"
Ever heard this? I did. More than my share.
No one cares whether you "like", "believe", or even "understand" what A/B testing is.
You'll, for sure, care about thousands of dollars being spent and you don't even know if you are making a profit out of it.
A/B testing is about splitting websites, ads, landing pages, email subject lines, email copy, buttons, calls to action, and other elements to see which variant wins over another.
A wins over B
Remove B, Focus on A and add another variant C
Repeat
Launch Retargeting: No the same as regular campaigns
Hopefully, you've built up a sizeable audience before (point 3) and you are ready and primed enough to launch campaigns specifically targeted to visitors who visit (or visited) your landing pages or websites or both.
People who visited but didn't convert.
Visitors who just left without signing up for your offer.
You spent money to get those visitors in the first place. You ought to get them back.
Plus, they were interested. Maybe they weren't ready yet.
Retargeting campaigns, however, aren't the same as regular campaigns.
You'd need to put a little more into your retargeting campaigns than you'd normally do for regular campaigns.
Entice them with strong, relevant, and timely offers.
Your "Get 10% OFF" offer (regular campaign) didn't cut it; so do retargeting with a 20% OFF offer.
"7-day free trial" didn't surface enough sign ups? Try a "14-day free trial"
What works and what doesn't?
The answer to that question lies in how well you test out offers.
Conversions, Tracking, Analytics
To make sense of all that effort you are putting into your Facebook ad campaigns and retargeting campaigns, you'd need a thorough setup for conversions, tracking, and analytics.
— Create your Facebook Pixel
— Launch campaigns making sure your setup is complete (you can easily test the setup by signing up for yourself — go through your own funnel).
— Facebook's Pixel tracks events like visits, unique visitors, etc.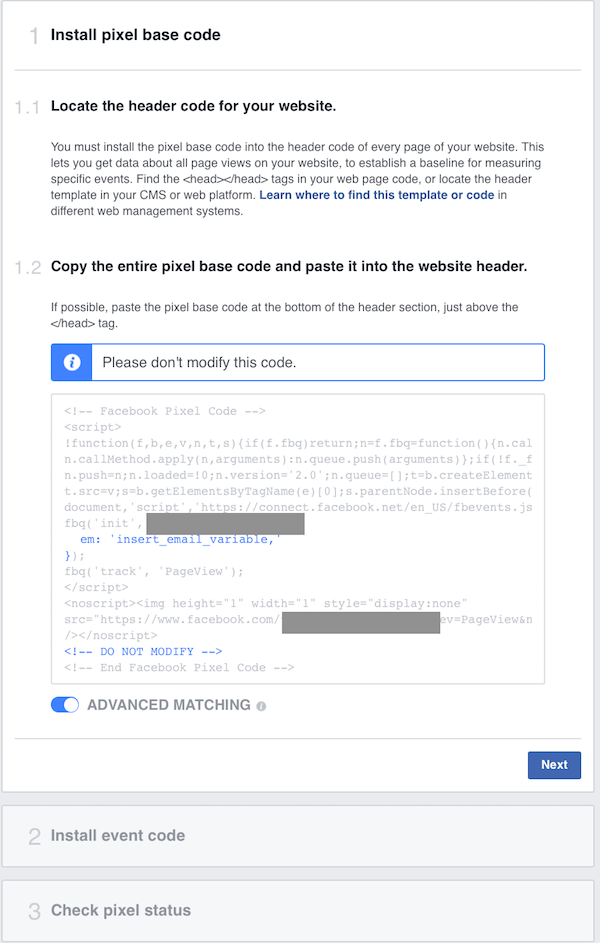 — The "event" element of the code tracks conversions (this is a separate piece of JavaScript code that goes on your "thank you page" or any page your leads see "after" they signup.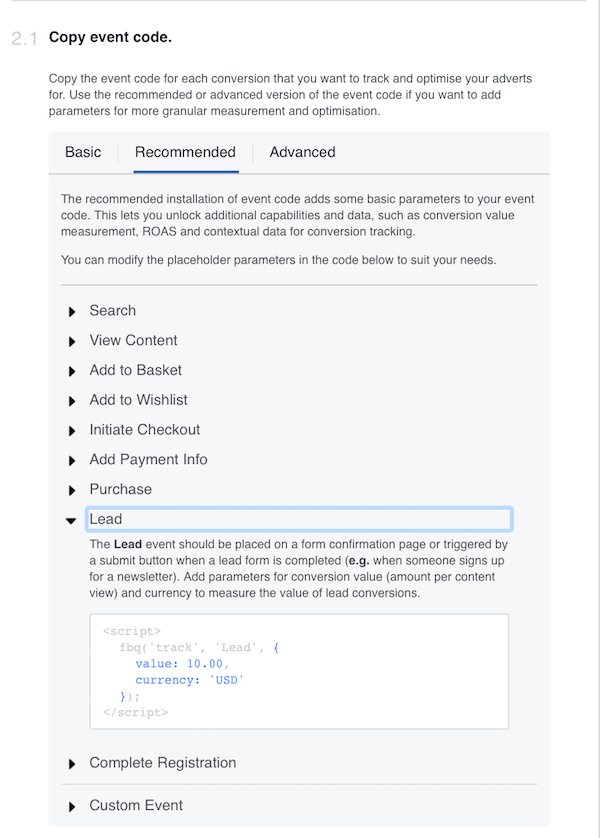 In the example above, I picked "lead signup" as the event that counts as one conversion.
Tracking and conversion pixels must go on every page that's set up in your campaign.
Main landing page:
Facebook Pixel (base code)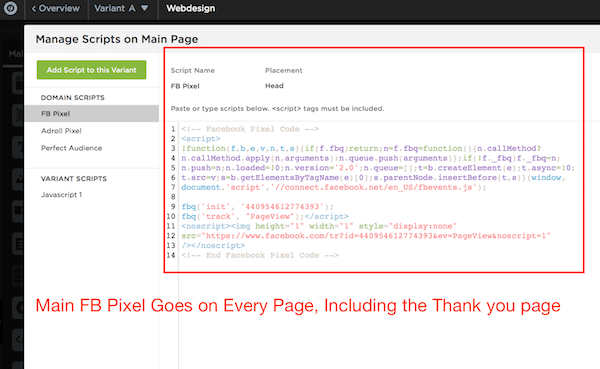 The Thank You page
Or any page that shows up after visitors sign up will have the conversion pixel or the event pixel (the complete code that Facebook provides)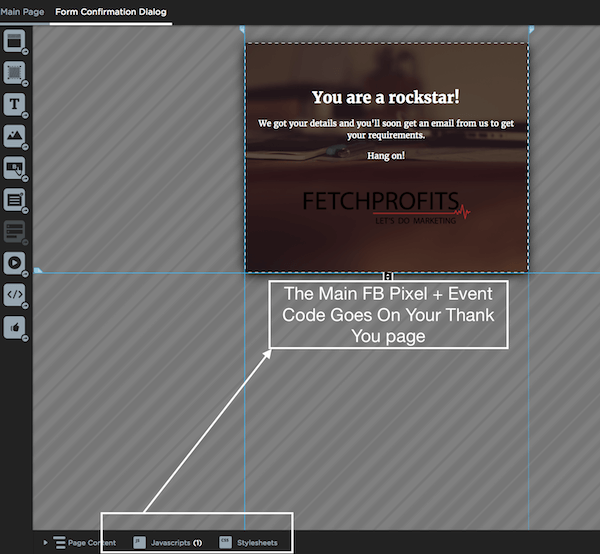 Following these steps in sequence makes sure you are positioned correctly for your Facebook ad campaigns and retargeting campaigns.
Your Facebook campaigns ROI is in your hands.
How are your Facebook campaigns going?
Offer: Fill up this form, tell us a little about your business, and get 2 hours of consulting worth $60 for free.
Let's talk business