Would you like to save time and learn how to eCommerce support? Do you want to build systematic processes, rules, and faster ways to deliver delight (on top of products and services) to your customers?
Last month, I just threw away a plane ticket (meaning I didn't even bother showing up at the airport to fly). It was an Airasia ticket (from Bangkok to Bali).
Let's just say I changed my plans. I didn't want to travel and I just got myself another ticket home. Meanwhile, I am aware that I'd barely get any ticket refund back. However, Airasia does have facilities such as creating a credit shell with a few other parts of the ticket price that'll be refunded: airport departure tax, fuel tax, International User Development fee, airport taxes, and so on.
What do you think happened when I wanted to initiate a refund request? It was a completely automated process resulting in creation of a support ticket, a credit shell, and so on (without human intervention).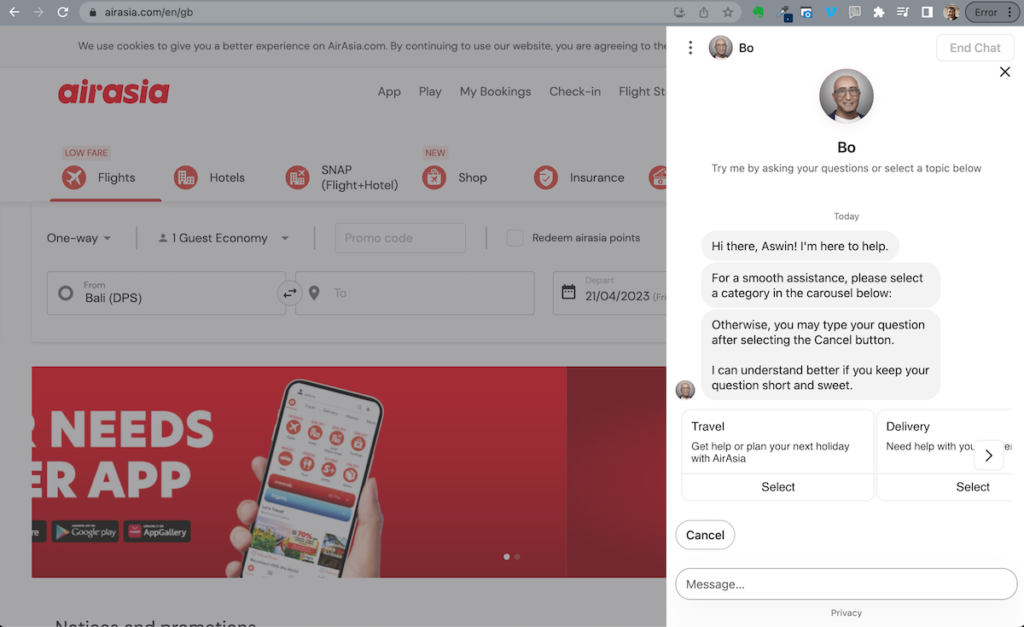 After a brief chat with "Bo" — AirAsia's livechat automation assistant — the input asked was my booking number. Following that input (along with my email address), Airasia validates the request. Then, it creates a case for me so as to be processed.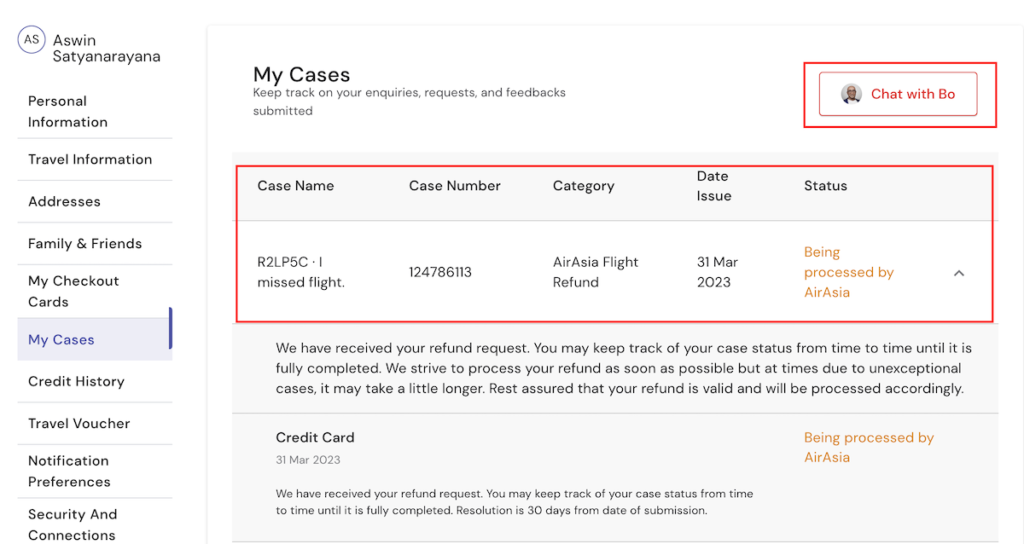 You'd think Live chat is ineffective, lacks the human touch, and so on.
You are partly right.
You are partly wrong as well.
Understand that managing a complete and traditional customer support for your business is expensive (and not even required). For the most part, for lots and lots of use cases, you don't really need to rope in a human agent.
Further, slow response times is lost revenue, lost opportunities, and customers leaving you for your competitors. Period.
Customer support automation is more than enough for several types of inbound queries, requests, questions customers have, and for many cases of help needed.
You'd surprised to know that many customers actually prefer live chat bots, automated live chat, and "self-service" for the most part.
You clearly saw (above) that I actually preferred a live chat agent (instead of a real person) to process my ticket cancellation case.
RevAir — a Gorgias enterprise user — saw a 120% increase in chat engagement since adopting the add-on — all while simultaneously lowering response and resolution times.
With self-service alone, Loop Earplugs boosted revenue by a whopping 43% thanks to quick responses and self-service options by using Gorgias.
Here are some ways to automate customer support:
Make a Commitment
I could throw a bunch of customer support statistics, how customer adds direct revenue to your business, and try to convince you. There are even metrics to measure customer satisfaction (before it's too late).
I won't (I'll just leave those links below).
I'll leave you to ponder about your own customers, and let you use common sense instead. I'd let you think about just how ignoring customers ever makes for a good business sense. I'd ask you how you intend to stay in business without the need to serve your customers at all.
If anything, I'd leave you with this: don't do the mistake of chasing tails, focusing on all sorts of marketing strategies, lose sanity over making mega expansion plans for business, and so on — without the fundamentals in place:
Read:
60+ Customer Support Statistics You Should Know
Customer Support For eCommerce: The Profit Centre You Ignore
9+ Smart eCommerce Customer Support Best Practices
Use Customer Support Tools
I wrote about some of the best customer support tools you could use for your business. Pick one. Run with it.
Most of these customer support tools come with several features that make customer support easier. Some of these features include shared inboxes, complete integration with CRM (Customer Relationship Management) tools, email, social media, Inbound support tickets, live chat, and a lot more.
Gorgias, for instance, gives you a comprehensive toolset that combines email, social media, voice, SMS, Whatsapp, and live chat. Plus, you get customer support automation features including (but not limited to): self-service, sentiment detection, intent, macros, automation add-on, ability to setup help centres, and more.
Read:
Top 7 Customer Support Tools, Like No Other
16 Best Live Chat Tools: Talk to Sell?
Split the Automation Mix
Just because you can automate customer support (or want to learn how to automate customer support), it doesn't mean you don't bring in real humans to serve customers.
Also, you don't ignore human support staff because software can help.
Take a balanced approach to customer support. There are several things customer support automation helps achieve (without humans intervention). Then, there are things that indeed require human intervention.
You can automate certain support workflows, introduce live chat, send automated emails, use chat bots, and enable macros.
None of that will help when you really need to pull up your sleeves and help when needed. While you are at it, do it fast enough.
The best way is to split the mix when it comes to the level of customer support automation for your business. Make it 70% automation and 30% human.
Or, maybe it's the other way around.
You decide.
Outsource Customer Support
As your business grows, your resources get constrained. You'd have to work harder to maintain your profit margins (spend less, earn more).
But then, you can't throw it all out. You can't expect completely different teams (usually businesses or agencies by themselves) to understand your business complete, share your ethos, or adopt your culture.
Yet, you can't handle it all on your own (despite heavy customer support automation).
What do you do? You can outsource customer support (depending).
There's also the right way to do it.
Jon Tucker, CEO at Helpflow, puts it this way:
"…outsourcing customer service can work — with a particular approach. The trick is an in-house/outsourced hybrid model. One that leverages outsourced knowledge and human power without losing sight of your brand's unique business needs, brand voice, and processes. "
Read:
Customer Service Outsourcing: Why, When, and How
How do you do customer service? Any more insights on how to automate customer support?
Tell me all about it on Twitter, LinkedIn, or my LinkedIn Brand page.