Live streaming, at its last count, involved 500 million unique viewers watching 200 billion streams per year with nearly three trillion real-time transactions per day across more than 180 countries.
Not convinced? Let's check out even more live streaming statistics.
These live streaming stats won't include:
How big the video market (generally) is
Growth and video streaming stats of general streaming services, OTT platforms, Netflix subscriptions.
Why, you ask? It's been covered and it's a little irrelevant since this blog focuses on marketing and business.
Cool? Let's go:
Social Media Live streaming Statistics
How Big Is Live Streaming? How Big Is It Going to Be?
#1 Live streaming is going to be worth 184.3 billion (with a B) by 2027 [Source: Restream and Grand View Research]
#2 Live streaming has grown over 266% over the past three years (Source: Conviva)
#3 Live video streaming topped out at 1.1 billion hours in 2019 and 27.9 billion in 2020 ( a 78% increase). [Source: Restream & Streamelements]
#4 Global live streaming increased by 21% YoY between Q3 2020 and Q3 2021. [Source: Conviva]
#5 Taking Live streaming content in its entirety, the total number of hours watched across all streaming platforms is 8.99 billion. [ Source: Restream & Streamlabs]
#6 Only 5% if live streamers said that they'd turn to watch traditional television. More than 50% signalled that they'd rather watch YouTube. [Source: Restream]
#7 Traditional television is declining in popularity. The average time that adults (aged 18yrs and older) collectively decreased television watching time by 13% between 2018 and 2020. [ Source: Restream & Nielsen]
#8 People watch an average of 18 hours of online video per week (that's an increase of 2 hours per week on average, YoY). [ Source: Restream & Wyzowl]
#9 Video will make up for more than 90% of all 5G traffic soon [ Source: Intel]
Social Media Live Streaming Statistics [Platform Specific]
Live streaming destinations [social or otherwise] have surged in live streaming viewership, live streamers themselves, brands doing live streams, and more.
The action is nothing short of fascinating. One giant blob of live streaming action everywhere.
Let's see a few interesting bits of data and live streaming stats on social platforms, specific to live streaming.
Shall we?
Youtube
I don't need to tell you much about YouTube. Let these Youtube live streaming statistics tell you the story:
#10 Passion-driven, personal primetime. More than 60% of consumers who watched something on YouTube in the past 24 hours say it was related to something they're passionate about. [Source: YouTube]
#11 Daily live streams grew by 45% in the first six month of 2020.[Source: YouTube]
#12 The Percentage of YouTube users (country wise) who watched live streams in the last 12 months (2021 to 2022) [ [Source: YouTube]
52% of Korean users
64% of Japanese users
92% of Mexican Youtube Users
89% of Brazilian YouTube users
42% of French YouTube Users
76% of German YouTube Users
78% of British YouTube Users
#13 More than 53% of livestream viewers say watching livestreams helps them feel connected to something larger than themselves. [Source: HootSuite]
#14 More than 56% of people say watching livestreams can be as good as being at an event in person. [Source: HootSuite]
#15 YouTube Gaming had an average of 599,000 concurrent viewers, down from the all-time high of 871,000 [ Source: Statista]
#16 At least 53% of YouTube users agree that watching creators/artists/brands do live streams helps them feel connected [ Source: YouTube]
#17 82% of YouTube users watch videos and live streams that help them learn how to do something (once a month at least or more) [Source: YouTube, Ipsos MORI ]
#18 Out of the hundred most popular live streams on YouTube, the maximum number of concurrent viewers happened in the last 2 years alone. [Source: ThinkWithGoogle]
#19 In the same last two years, more than 1000 years (in watch time) was spent on "Shopping Spree videos" [What's that? Who knew Mindless consumerism was "entertaining"?] [Source: ThinkWithGoogle]
#20 More than 50 Billion minutes of gaming content was watched on YouTube alone in the last 12 months [Source: ThinkWithGoogle]
Twitch
Twitch is the biggest, baddest, meanest live stream platform ever. Don't believe me? See for yourself:
#21 As on Feb 14th, 2022, the average number of users on Twitch are 3,037,328 (7-day rolling average), 104,673 channels, and a total of 8.56 million live streaming broadcasters (or live streamers) [ Source: Twitch Tracker]
#22 Twitch has an average of 2.95 million average concurrent viewers of live streams in 2022 (so far). In all of 2021, the average concurrent viewers on Twitch were just 2.78 million. [ Source: Twitch Tracker]
#23 In 2021, 1460 billion minutes of live streams were watched in total. In 2022, there were 186 billion minutes of live streams watched in total so far in 2022.[ Source: Twitch Tracker]
#24 In 2021, more than 8.5 million channels were live streaming monthly [ Source: Twitch Tracker]
#25 "Just Chatting" category on Twitch happens to be among the most popular channel categories (on Twitch), followed by gaming categories (particularly GTA V, League of Legends, Fortnite, Valorant, and others [Source: StreamCharts]
#26 English, Spanish, German, Russian, and French make up for the majority of the languages on Twitch. Followed by Portugese, Korean, Japanese, Italian, and Chinese [ Source: Twitch Tracker]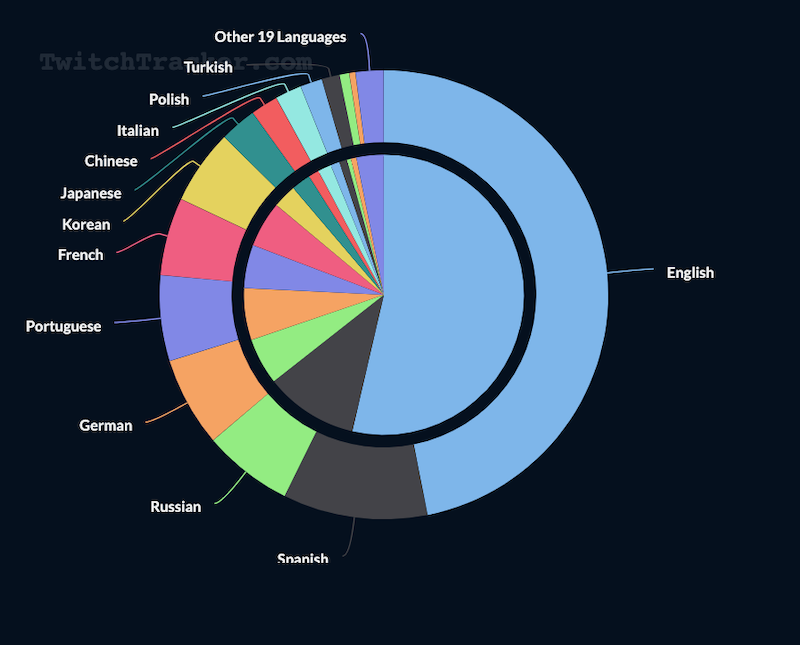 LinkedIn
LinkedIn is growing fast, and it's all about business. You can build your personal brand, your business brand, and more. And why not?
#27 With more than 810+ million users, LinkedIn is huge (and focused on value). It means business. More than 57 million businesses listed, LinkedIn itself has been raking in 37% YoY revenue (as on Feb 2022) and a US$ 1 Billion (12-month trailing revenue). [Source: LinkedIn]
#28 LinkedIn live streams increased by 437% since October 2020 (YoY calculation) [ Source: LinkedIn]
#29 LinkedIn live videos get 7 times more reactions and 24 times more comments than native video [ Source: HubSpot & LinkedIn]
#30 There are more than 65 million+ decision-makers on LinkedIn. More than 75% of users are outside of the United States [ Source: Linkedin]
#31 LinkedIn users are most likely to share a "video" than anything else. [Source: LinkedIn]
Read more:
How To Use LinkedIn Live [+ 8 Hot Ideas]
Why Live Streams are Better than Regular Video?
Twitter
#32 The total number of users on Twitter (as of 2020) is 353 million. Out of these, Twitter has a total of 187 million "monetizable" users (a 29% increase, YoY). [Source: HootSuite & Twitter]
#33 There are more than 1.2 billion video views on Twitter per day [Source: Social Media Today & Twitter]
#34 Videos views increased by 95% in the last 18 months alone [ Source: Twitter]
#35 There's been a 84% increase in video watch time on Twitter [YoY] [Source: Twitter]
#36 Tweets with video get 10x more engagement (than without) [Source: Social Media Today & Twitter]
#37 Twitter ads with video (not applicable to actual live streams though) can save 50% on cost-per-engagement. [Source: Social Media Today & Twitter]
#38 More than 50% of Twitter's live video viewers are younger than 25 (and others are rolling in) [Source: Adweek]
Read more:
The Ultimate Guide to Live Streaming on Twitter
Facebook or Meta Live
#39 Facebook or Meta Live had 2 billion+ viewers in 2020 alone. [Source: Meta]
#40 Facebook or Meta's daily active users (DAU) were 1.84 billion on average (an increase of 11% YoY). [Source: Meta]
#41 Facebook or Meta users comment 10 times more on Facebook Live videos than on regular videos [Source: Meta]
#42 Facebook reportedly forked out $50 million to publishers and celebrities to use Facebook Live [Source: WSJ]
#43 The key phrase "Facebook live stream" alone saw an increase of 330% in searches (last known until 2018) [Source: MediaKix]
Live Streaming for eCommerce
You did hear that people buy from people? But you ain't seen nothing like this before. Imagine billions of transactions happening just based on that alone.
Say hello to the live streaming driven eCommerce revolution (already happening, as you read this).
#44 Live streaming blends relatability, influencer-driven push for commerce, trust, and more (along with engagement and entertainment) to drive sales for retail brands and eCommerce stores.
#45 For the year ending march 2021, the GMV (total volume of goods sold) in China alone, through live eCommerce, reached 500 billion yuan. [Source: CNBC]
#46 In the 12 months ended September 2020, Taobao live GMV averaged 87.5 million yuan a quarter. [Source: CNBC]
#47 … This means that the quarterly average rose by more than 40% in less than two years [Source: CNBC & Alibaba]
#48 In a 2020 survey, 33% of Chinese consumers said they had bought products via livestream in the past year.
#49 China's live commerce reached an estimated value of $171 billion in the year 2020. [Source: McKinsey]
#50 China's growth (above) happened over a course of 5 years, leading to a penetration of 10% [Source: McKinsey]
#51 If China's Live streaming and live streaming led eCommerce trends are anything to go by, live-commerce-initiated sales could account for as much as 10 to 20 percent of all e-commerce by 2026. [Source: McKinsey]
#52 Amazon Live launched in 2016. Since then, the number of live streamers on Amazon Live only increased. By 2020, were over 1,200 live stream shows during Prime Day 2020 alone. [Source: Digiday]
#53 In a survey, almost a quarter of adults outside China would like to discover new products via a livestream featuring an influencer or brand representative. [Source: McKinsey]
#54 In fashion, beauty, and luxury goods, for instance, millennials (driven through live streaming and live commerce) are the top-spending cohort, with 31 percent of the US market. [Source: McKinsey US Sentiment Survey]
#55 As far as live commerce is concerned, Boomers come in second, with 25 percent, followed by Gen X at 24 percent and Gen Z at 20 percent. [Source: McKinsey US Sentiment Survey]
#56 Generation Z spends more on luxury apparel and accessories than millennials do, for instance (averaging $926 and $789, respectively). [Source: McKinsey US Sentiment Survey]
#57 Over 75% of Adults in Gen Z are influenced by social media, online content, and celebrities; millennials are a bit behind, at 63%, followed by Gen Z under-18s at 53% and Gen X at 49% [Source: McKinsey Digital]
#58 E-commerce streaming on social media is making live shopping more relevant, personable, and influencer-driven — especially on social media. 81% of shoppers were using social media to discover new brands and research products. [Source: HootSuite]
#59 Social commerce will be an $80 billion industry by 2025, and with 46% of marketers using live video as a social media tactic, live shopping is sure to keep growing. [Source: HootSuite & HubSpot]
Live Streaming for Marketing
#60 Out of 1,500 marketers who participated in a survey, 46% said they use live streaming as a social media tactic. [Source: Restream & HubSpot]
#61 At least 59% of executives would rather watch video than read text. [Source: Restream & WordStream]
#62 More than 81% of businesses use live streaming as a marketing tool. [Source: Restream & HubSpot]
#63 Post-COVID, 36% of enterprise streamers say their revenue has increased since they started live streaming their corporate events, and 53% said their event attendance went up after going virtual. [Source: Restream]
#64 At least 91% of business live streamers plan to keep streaming after COVID, and 81% say it will be a social media priority in 2022. [Source: Restream]
#65 More than 81% of the top 500 Facebook posts in 2018 were videos. [ Source: Buffer]
Read:
How to Use Livestreams and Live Video Marketing To Achieve Business Goals
Simple Tips for Live Streaming