This is the age of nocode. Thanks to nocode app development, you can build apps without code, and you should know — whether you are directly involved with building apps without code (or with code).
I'll harp about this until I can't.
There's already a blog post dedicated to nocode website builders that you should take a look at if you'd just like to create websites without code.
This post is all about the possibility of building apps without code. Here are some nocode app building tools for nocode app development you should know about:
Let's go:
Bubble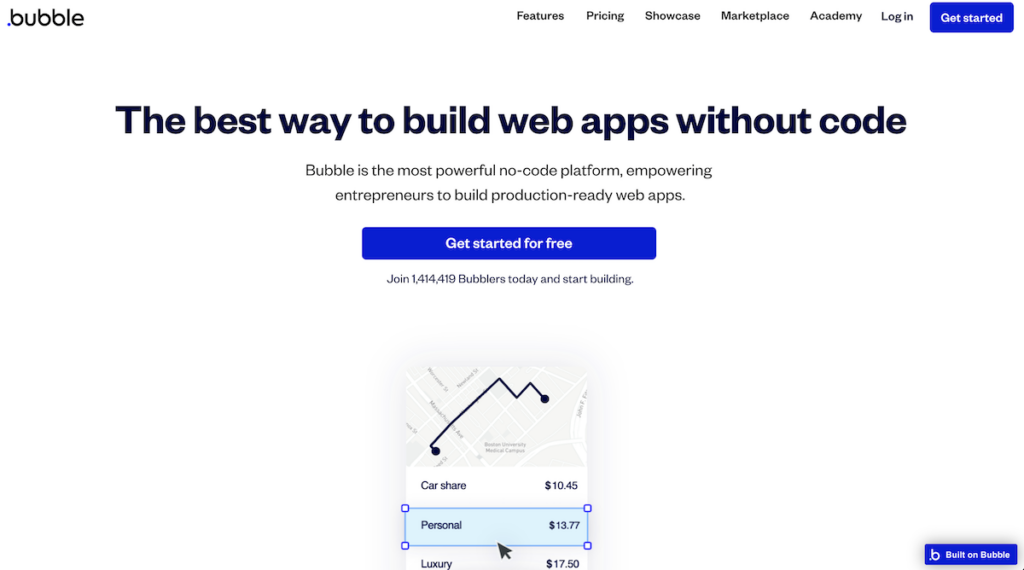 Bubble has been around for a while, and recently they overhauled their responsive engine that let out a flutter of excitement on Twitter and elsewhere.
Bubble works like this: have an idea? Build it with bubble with zero code (like the rest of the nocode app building tools here). Bubble comes with a drag-and-drop builder with enough design control and data connections that'll enable you to build the next Facebook (if you can). You can also track app usage, grow your audience,
Bubble also comes with enough meat under the hood to help you with server maintenance, infrastructure, or operations. It also securely handles deployment and hosting for you. Also get version backups, security, and privacy that you need.
Build apps complete with the ability to accept payments with Braintree and Stripe. You also get native integrations with MailChimp, Google Apps, Zapier, and many more.
Note: There are no hard limits on the number of users, volume of traffic, or data storage.
WeWeb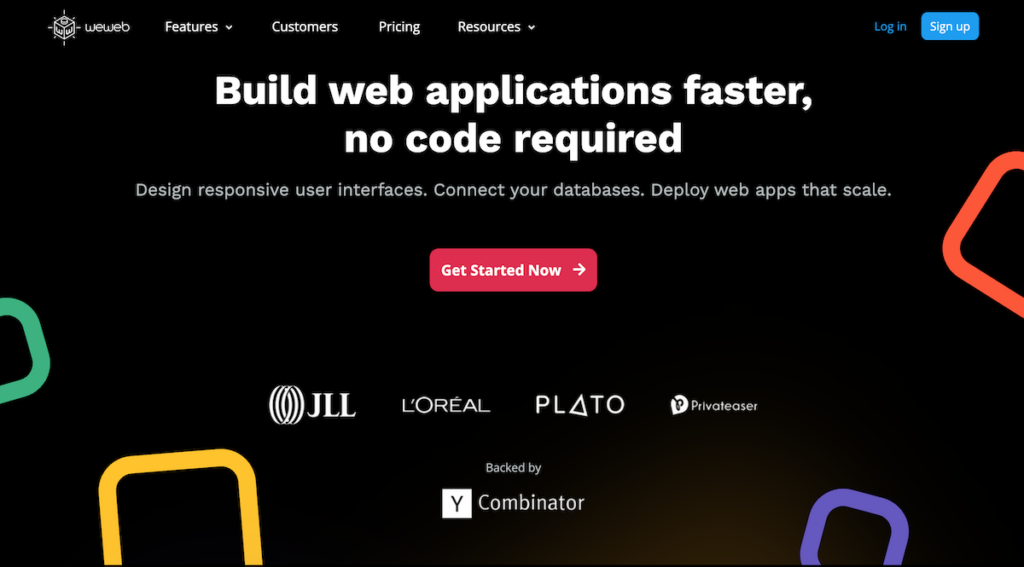 If you'd like to build a dreamline front facing interface, connected to databases giving your new web app idea a new life, consider WeWeb. WebWeb is a nocode front-end builder — backed by YCombinator — that can fetch data from Airtable, your API or any headless system.
Connect these databases (depending on how you need it to work, create your front-end with it, and you have your functioning web app ready.
A few of the things you could build with WeWeb are front-facing custom customer portals, update pages automatically with webhooks, accept payments for your app with WeWeb's built-in Stripe Integration, and more.
You could build internal dashboards (or customer facing dashboards), create membership sites built on top of an existing database (like Airtable, RestAPIs), and more.
Adalo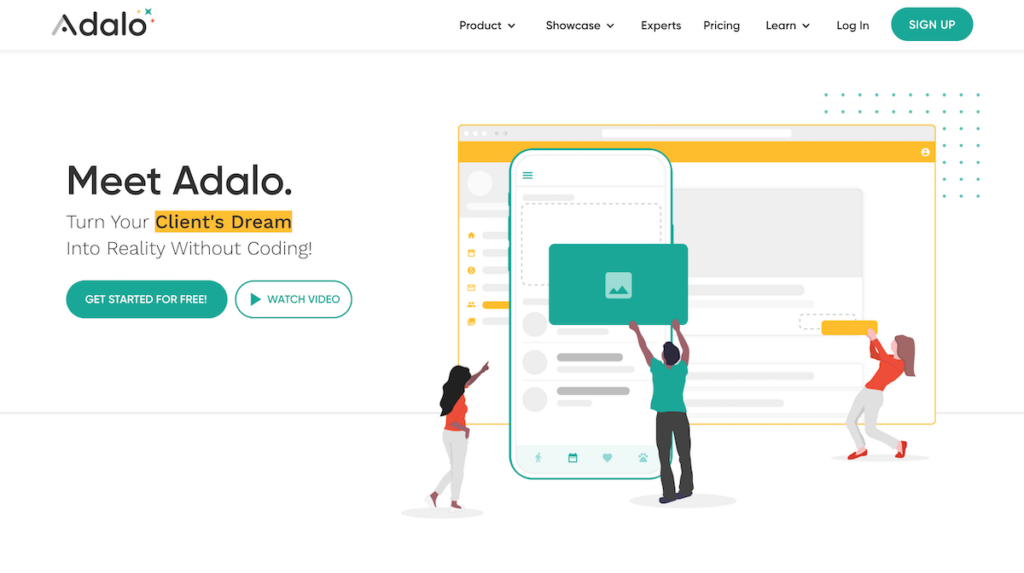 I first came to know about Adalo from an online event hosted by Webflow (and yes, it's all about the nocode revolution). Adalo just announced a massive $8 million series A round (which only means it's here to stay).
Adalo makes building apps without code as easy as making Keynote Slides. Or Powerpoint slides (whatever tickles your bone).
With a complete control on your design, you can just drag-and-drop components to build the app you want. Further, you can automatically add interactions and enable database configurations without any code… or if you've already got your API, Adalo can integrate with that as well.
Finally, you can also launch your app to both iOS and Android stores with a single click.
Stacker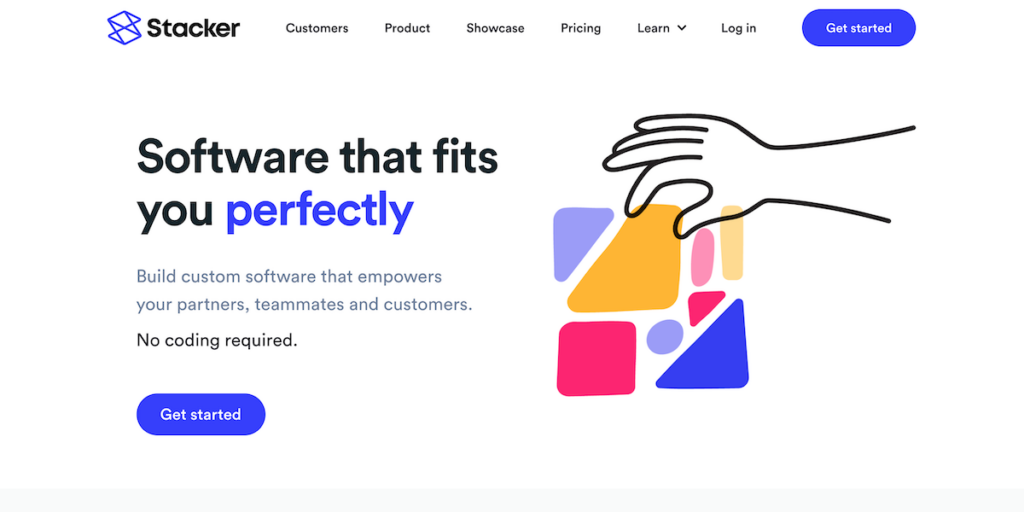 If you'd like to power up an app with Google Spreadsheets, Airtable, and even Salesforce by using a nocode app building tool, consider Stacker.
With Stacker, you can builder client portals or customer portals, internal tools for businesses, custom CRM systems, and more.
If you work with vendors or partners as a part of your business, you can also use Stacker to build custom partner apps (with secure logins and content management workflows).
According to Stacker, you can gain unprecedented access control over who can view and edit your data, with customizability that scales with your business.
Build apps fast, with low costs. That's the promise.
Builder.ai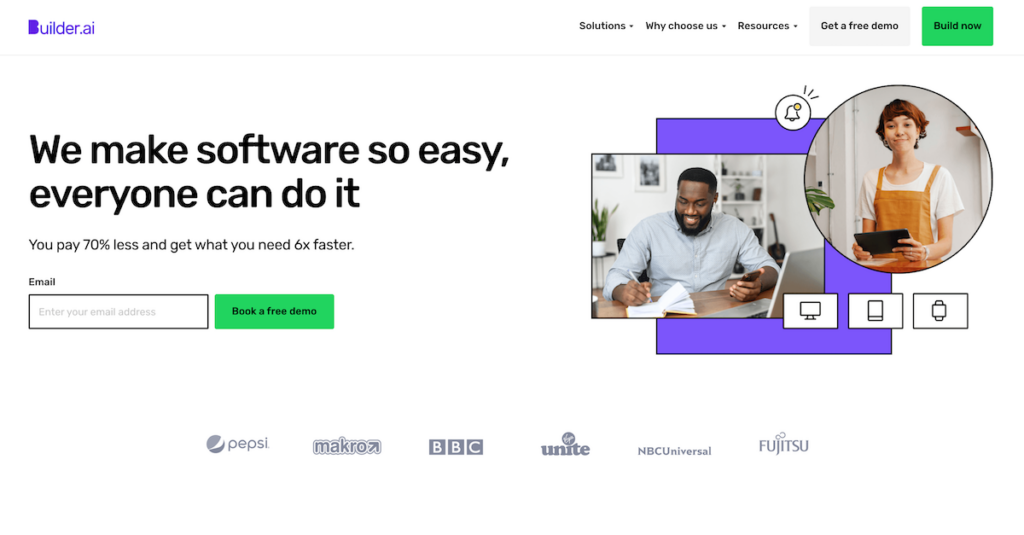 Builder.ai comes with an artificial intelligence backed nocode app building platform. So, not only do you get to build apps without code, but you also get the power of AI to work in your favor. This means faster app deployment with much lower costs.
If you are an entrepreneur with a burning idea in your head or if you are a business looking to bring a functioning app to life, builder.ai makes it easy for you.
They call their AI "Natasha" 😁
So, whether you are looking to build a mobile app, an enterprise-level software, or even a wearable app, Natasha stacks what you need together (like "lego" — as the folks at Builder.ai call it) and you have your app ready.
Try it. Let me know what you think.
ProtoPie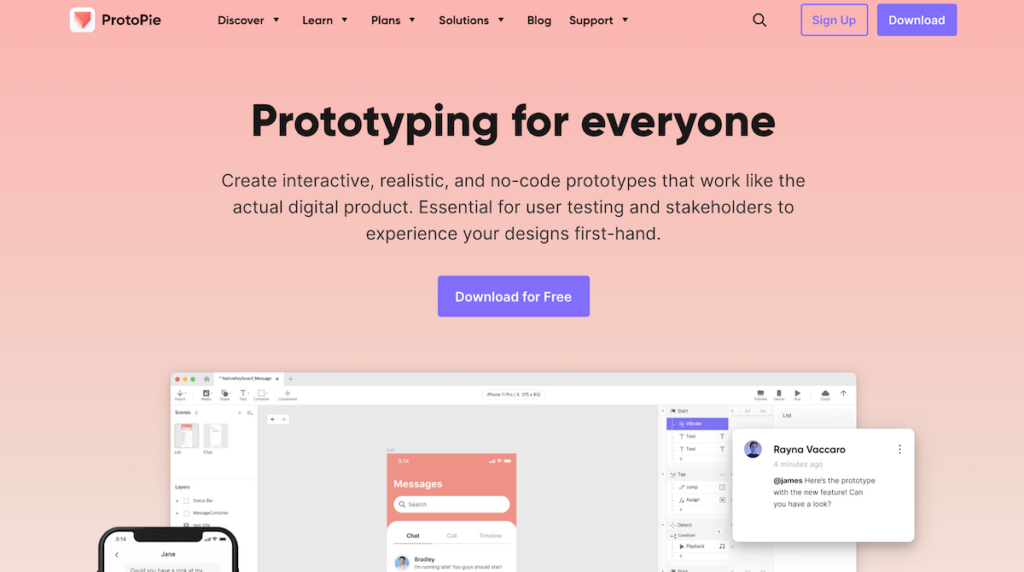 Want to build an Instagram lookalike? A local restaurant searching and listing app? ProtoPie looks like it can do a lot.
From a fragile idea to an MVP or even a full-fledged web app, ProtoPie allows you to build what you want. Also integrates with Figma, Sketch, Adobe XD, and several others.
If you are new, they also have a school to get you started.
Google AppSheet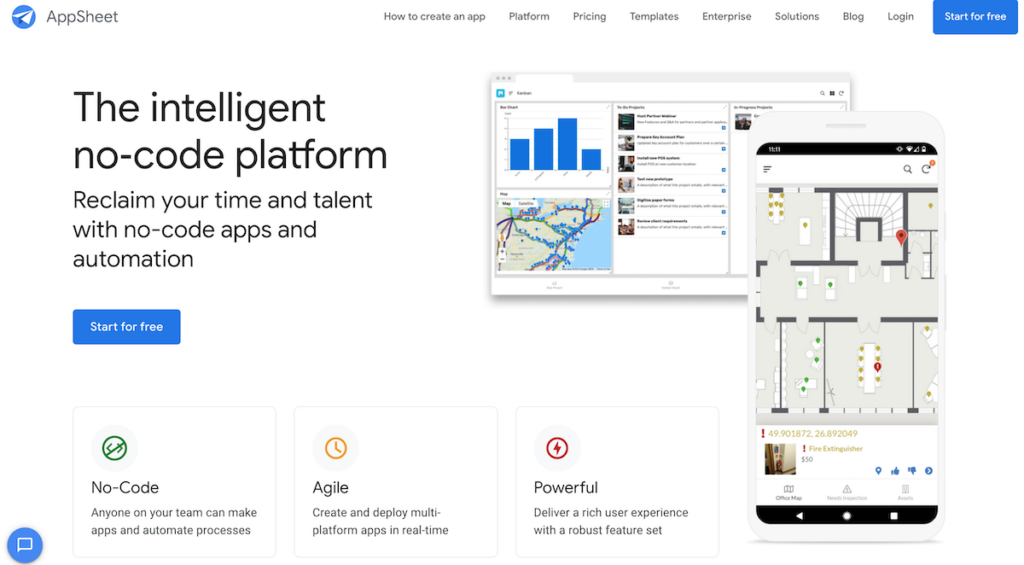 Did you know that our very own uncle Google has this product called Google App Sheet ? Loaded with a way to connect multiple databases and sources, offline syncing, rich data collection, and a way to leverage Google's own AI and ML engines, it does look like a promising nocode app builder.
With Google App Sheet, you'll be building on the Google Cloud ecosystem and hence, you also get to start building on Google Cloud with $300 in free credits and 20+ always free products.
Stage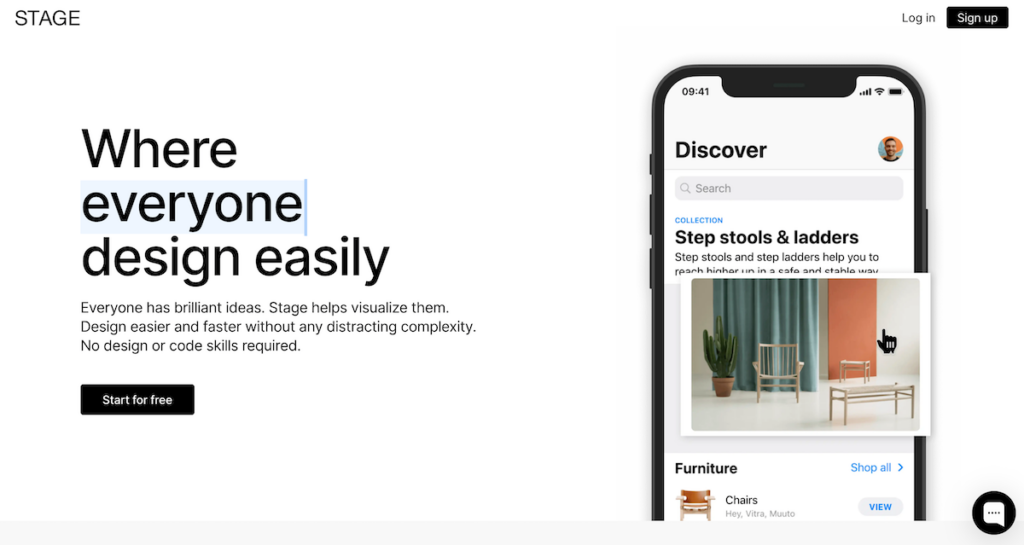 Stage helps you visualize and design your app without code or any technical skills.
Start your app building process with screens (in minutes) or pick from ready-made app screens they provide.
You can design, wireframe, create prototypes without code, test your project out (user testing), and make use of their component library to use existing pre-made components to speed up your app design.
Even the content editing on Stage is much like using Word documents. Intuitive and easy.
Glide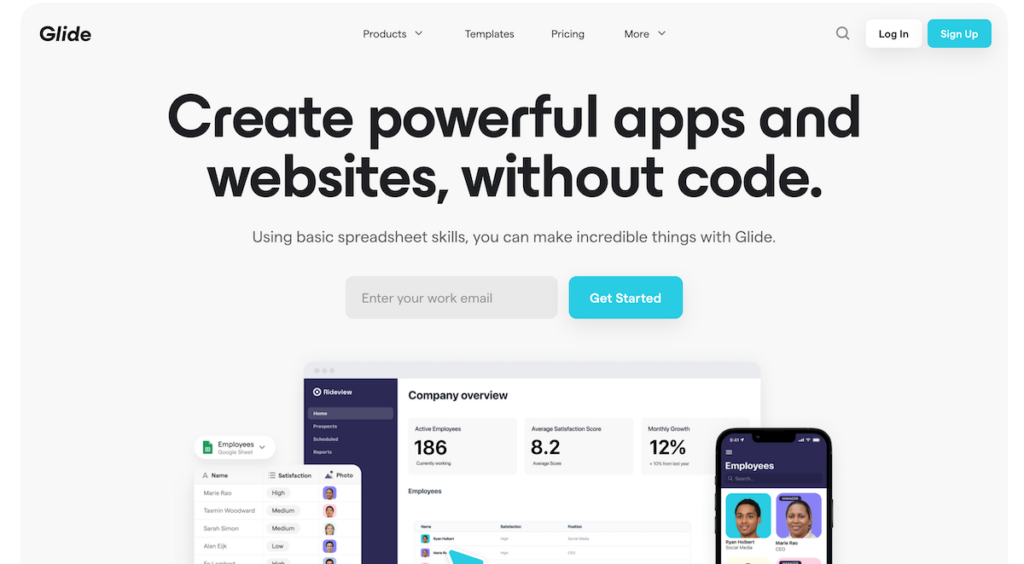 Using nothing more than basic spreadsheet skills, you can build apps without code with Glide. Yes, that's how easy it is.
Glide enables you to connect your spreadsheet with Glide and turn that into software. Build completely new software tools (based off of your idea), build internal apps for your business, or put your crazy ideas to life.
Glide, in fact, picks on up a spreadsheet you provide and turns into an app instantly. Think about what you can do with your workflows or the kind of ideas you can pour life into.
After connecting your data, you can add rich visual components to display your data and make it interactive.
So, that's it. Connect your data (Excel or Google Sheets, or others). Customize. Go live.
Fliplet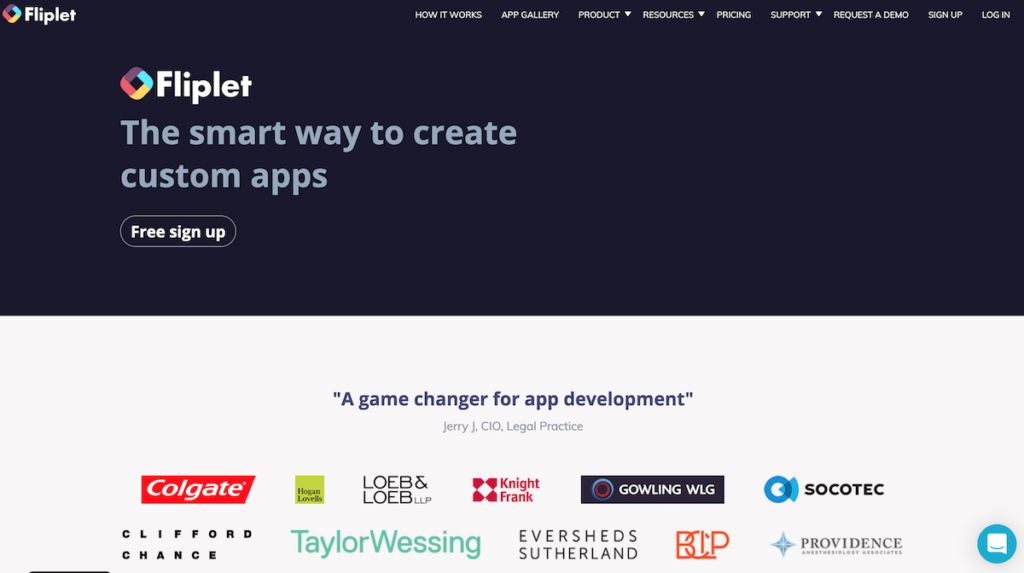 Fliplet is a custom app developer (again a nocode app builder) that helps you create apps quickly based on pre-built component library.
You can also load your app with dynamic content, connected to your app through spreadsheets, CSV files or integrate with existing datasources via an API.
With each Fliplet app you create, you can track usage metrics for the app, and keep your app secure with enterprise-ready security features built-in.
Create as many apps as you like, customize your apps as you see fit, keep the content flowing with built-in content manager, publish your app anywhere (iOS, Android, web app, or even a downloadable).
Backendless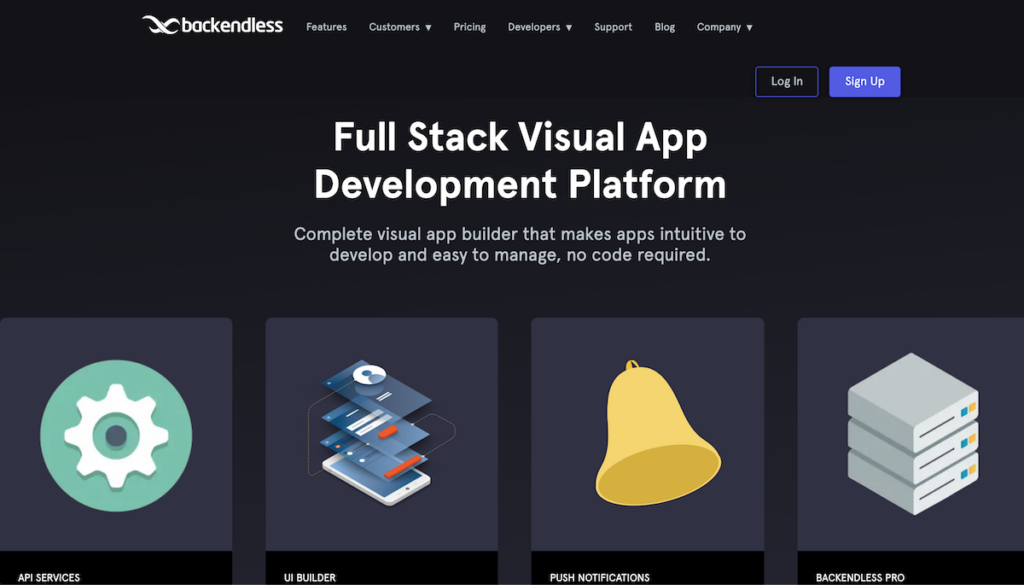 Backendless allows yo to use existing UI themes and also jump-start your development with pre-built templates for Android, iOS, Java, and JavaScript. or you can create your own template and build apps without code.
Is it fully drag-and-drop (like some nocode app building tools here)? Not so sure.
For hardcore coders and professional app builders, however, there are features thrown in for good measure as well such as API management, backend management, data management, and more.
On this list, it fits with with a twist: I have a feeling that it's a 'low-code tool to help build apps'.
I'll wait to stand corrected.
GoodBarber
Built primarily to help you create eCommerce apps (on top of classic apps), GoodBarber is all about helping you tap into the ever-increasing demand for eCommerce.
GoodBarber is a Native apps and Progressive Web App builder for eCommerce and Content Management primarily. It does what it set out to do very well.
Create eCommerce-ready mobile shopping apps for your business (or for your clients, if you are on that side of the business).
With GoodBarber, you can develop apps for iOS, Android, and progressive web apps as well.
BettyBlocks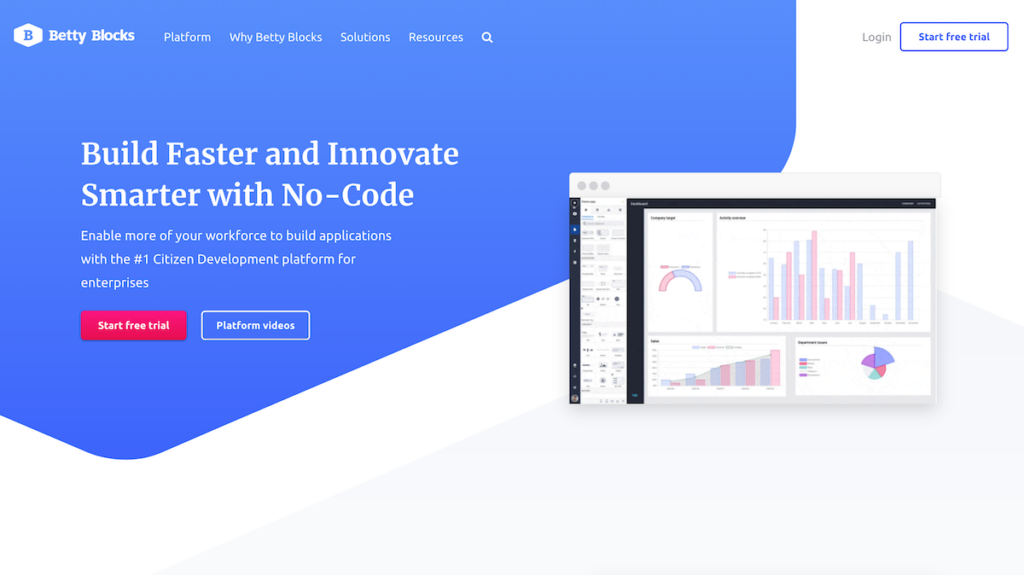 BettyBlocks can help you build apps without code (hello nocode) right from within your browser. No complicated tech. No design skills. No coding necessary.
BettyBlocks is completely cloud-based with built-in security. You can use and install pre-configured blocks of Webservices and UI Components with one click (based on an architecture of micro-apps).
While it has complex security systems built-in, absolutely anyone can built apps without code using BettyBlocks.
However, BettyBlocks seems like it targets mid and large size businesses while giving users the freedom to develop apps for their respective businesses (I am not the expert here).
AppMachine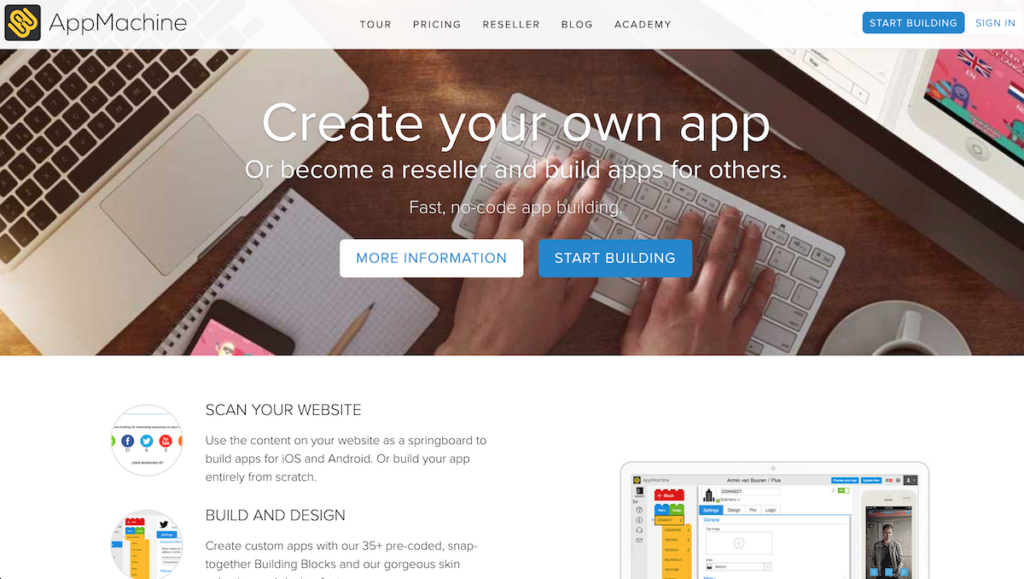 I remember toying with AppMachine many years ago (even before nocode app building was a thing). AppMachine helps you create apps without code.
I mean, AppMachine practically just scans your website, brings assets together, and creates an app by itself (if you let it). However, you'll want to tweak and customize, so you will.
Use any of their 35+ pre-coded, snap-together Building Blocks and our gorgeous skin selection and design features.
Then, publish apps anyway.
Which of those nocode app building tools do you like? Tweet and let me know. Or talk to me on LinkedIn.