This nocode website builders list will be updated as I find more of these crazy ones. You'll be spoilt for choice, and you've been warned.
Nocode website builders help you from shifting focus from "building websites" to "marketing".
Marketing should have taken the importance a long time ago if it weren't for the sheer madness and undue importance "website creation" takes up.
Websites have come a long way from the days of dreamweaver. This is the "no code" era and it's all the rage now given just how quick, easy, and affordable it's become to set up a website.
Nocode website builders make use of easy, drag-and-drop interfaces on the front end. For businesses owners strapped for time, cash, resources, and the patience nocode website builders are a dream come true.
Want to download and keep it for reference? Grab the PDF version of this list of 23+ Nocode Website Builders: Focus on Marketing; not on Design

So, try these on for size (most of these are free for you to start with):
Webflow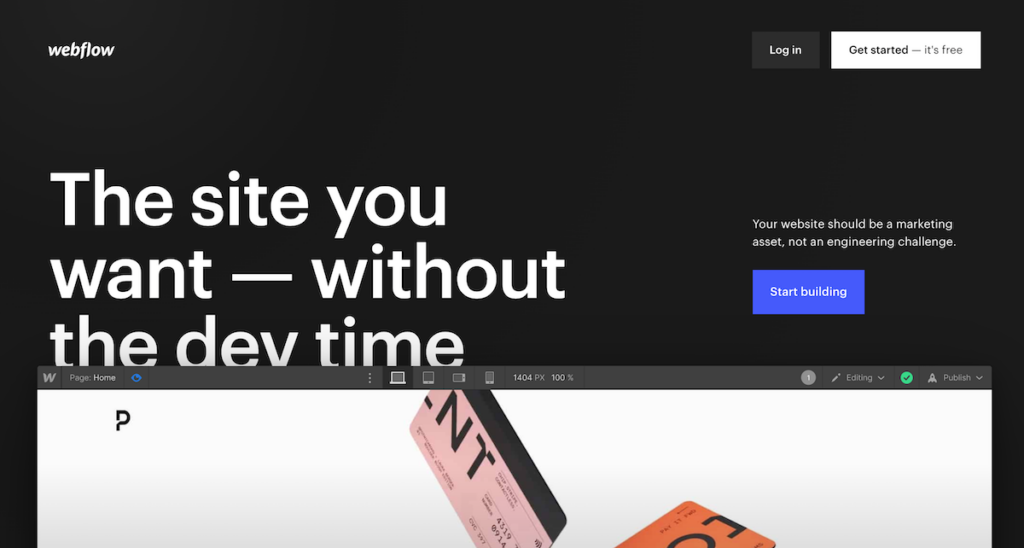 Nothing gets more love on the Interwebs these days as much as Webflow gets. Poised as a true alternative to WordPress, Webflow is a nocode website building platform which is more than what you think it is.

Featuring a full-fledged (& fast) CMS, equipped with hosting boasting of blazing speeds, Webflow eCommerce, memberships (launching soon), several different (breezy and beautiful webflow Templates), and an ever growing community of webflow enthusiasts, it's something to consider.
Beautiful web presence matched with sheer speed, SEO-readiness, and more. Start with Webflow for free.

LeadPages Site Builder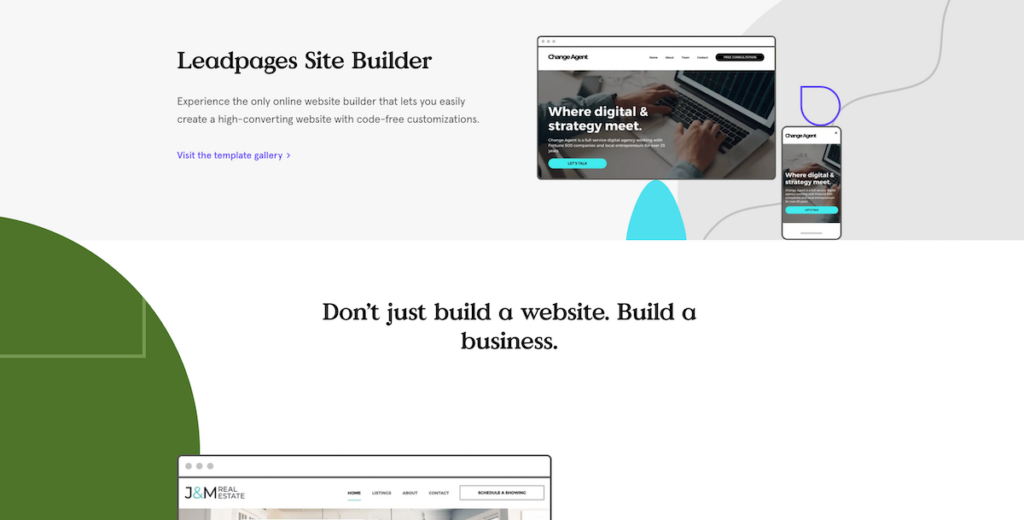 LeadPages has long been one of the best landing page builders in town. They recently launched the Leadpages site builder — a conversion-focused, no-nonsense, easy, drag-and-drop (or start with LeadPages website templates) website builder.

With the Leadpages website builder, you don't tinker, experiment, and play. Instead, you get right down to business: generating leads, making sales.
Of course, you also get access to the robust LeadPages landing page builder, leadpages lead generation tools, lead pages integrations, and more.
Siter.co by DesignModo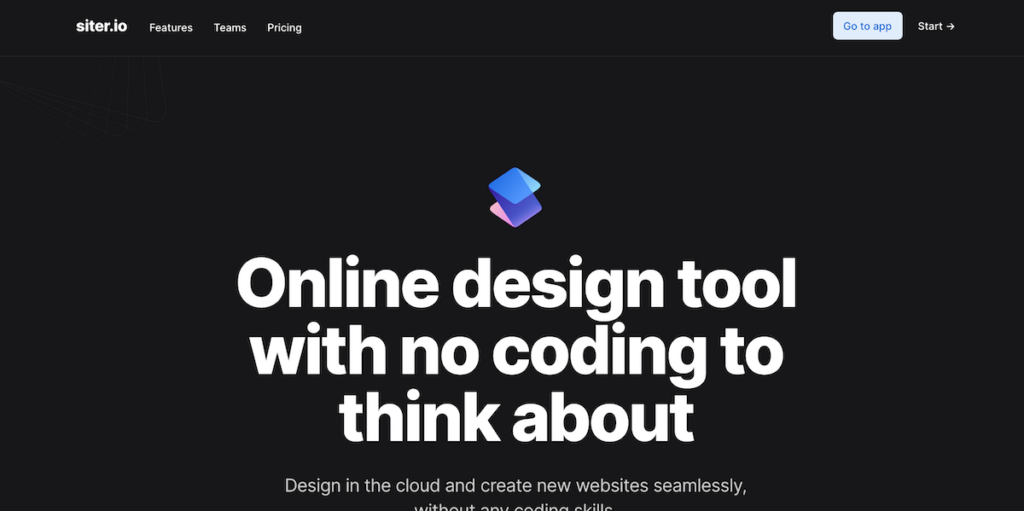 The folks at DesignModo know a thing or two about design (goes with the name). They've had some amazing products such as Slider and Startup (see below). Now, they launched a new project called Siter.
Siter allows you to build websites like you write two lines of text (or three maybe?).
Absolutely no code, no tinkering with HTML/CSS, and no struggling ever. Just go there and design in the cloud. Siter boasts of a "free hand editor" helping you Save time and budget by skipping the coding part. Design the same layout your visitors will see. Build what you want and organize website assets in groups and layers.
You also get thousands of icons for free, a free domain (or use your own domain), integration with Unsplash for several royalty-free images, forms, a collection of apps, and even the ability to import directly from Figma.
Mozello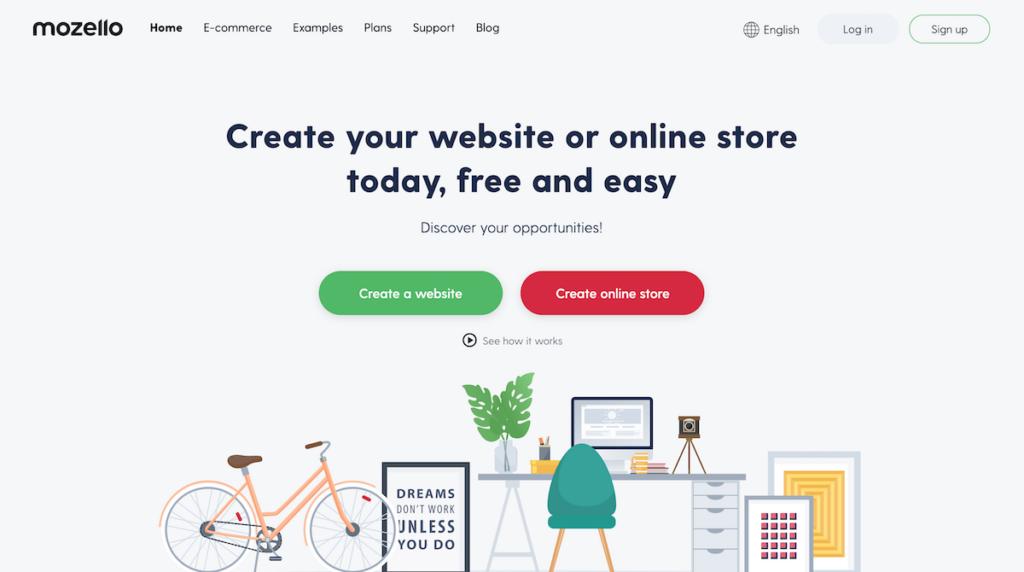 Mozello is made with simplicity as the focus while you create websites. Of course, it's a nocode website builder.
You can build regular websites or eCommerce websites just as easily. The sites you build are SEO-ready, multilingual, look great on desktop and mobile, and more.

You can start with some easy to use templates. Click, drag, drop, and you are done.

How much more simple do you think it can get?
Simvoly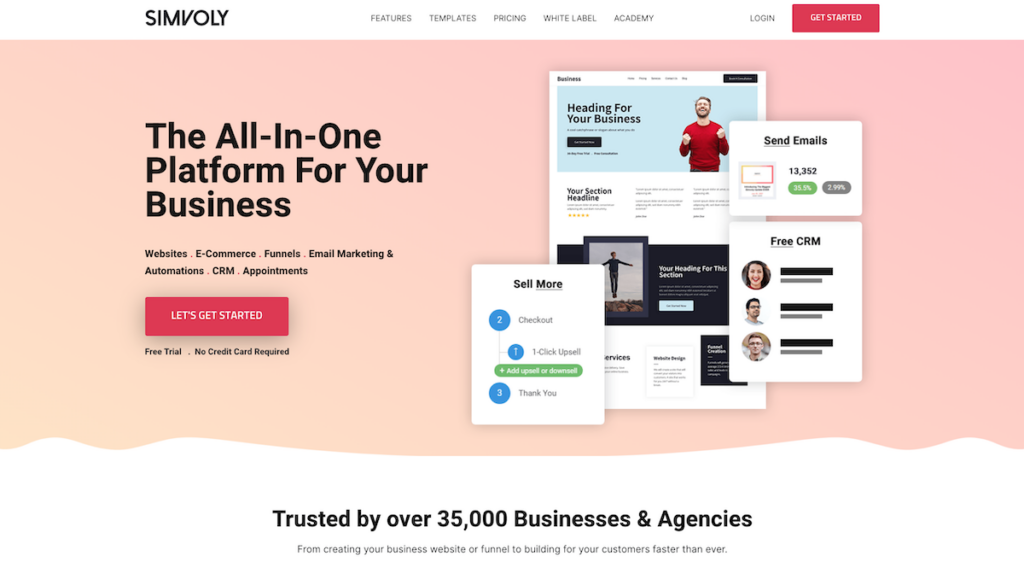 Simvoly did start off as one of those earlier nocode website builders but it has a lot in store for you now.
Along with the ability to create nocode websites, you can also create full-fledged sales funnels, sell products with a complete eCommerce store build, and even start your own website design business (thanks to their white label program).
Simvoly is an all-in-one application now giving you not just a website builder but also custom checkouts, upsells, complete email marketing automation workflows, a CRM, sales funnels, membership sites, and also the ability to handle bookings or appointments.
TypeDream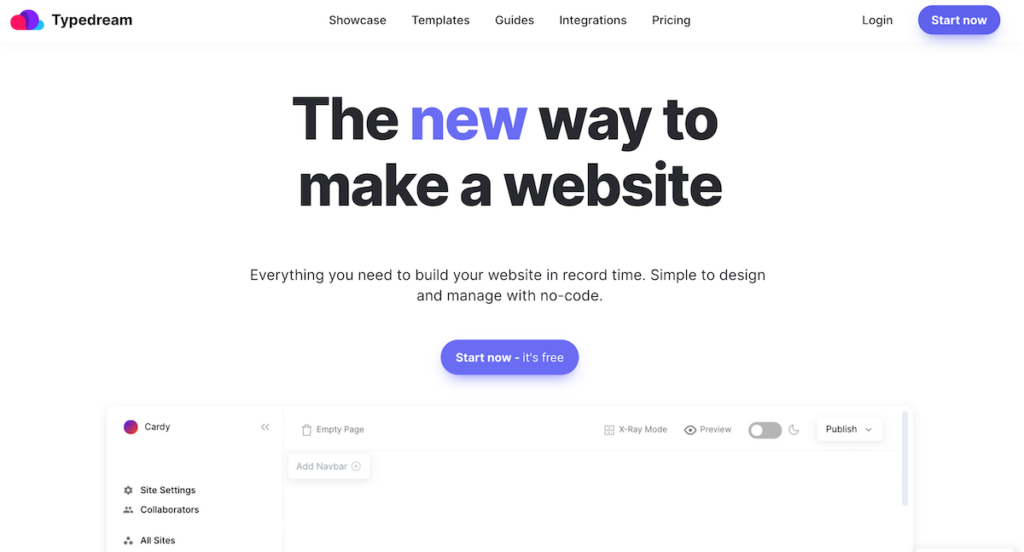 A recent find and hugely popular already, TypeDream makes it easy to create some terrific looking websites. Sharthok Charkraborty — co-founder of Klaar — introduced me to it, and their site looks incredibly hot (if you ask me). I have a thing for well designed websites, it's just a weakness.
TypeDream not only makes it easy to create good looking websites, but also integrates with several different apps and tools such as Gumroad, Waitlist, Stripe, and many more (and they are constantly adding new integrations).
That's rare, especially for relatively newer nocode website builders.
Popsy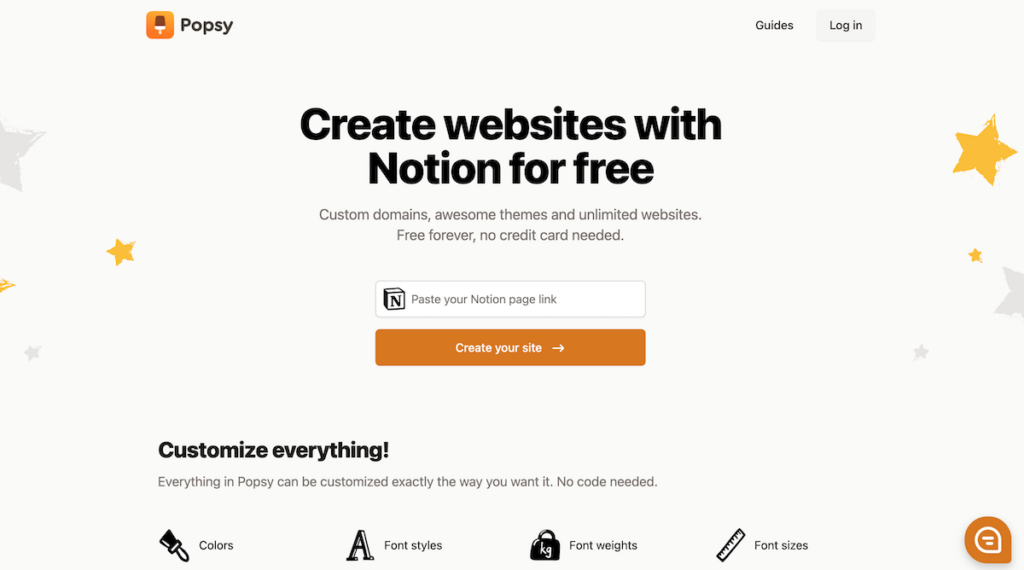 Popsy also gives you SEO-friendly websites, domains, SSL certificates, lightning fast speeds, and automatic sync with Notion (obvious, this one).
As with most nocode website builders, Popsy also gives you a dead-simple drag-and-drop website creation canvas with clickable images (with links), colors, buttons, navigation bars, and more.
Mmm page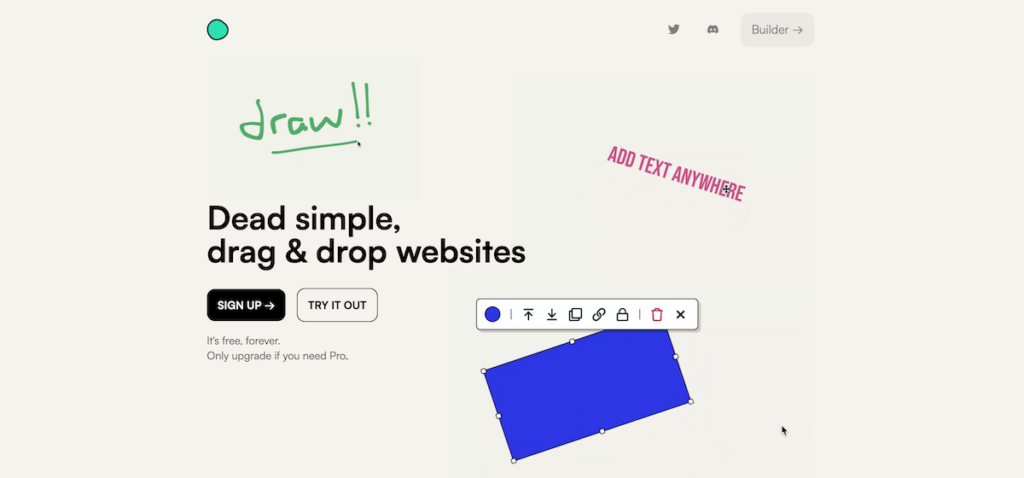 Yes, that's the name (but who cares). Mmm.page is a dreamy, ridiculously easy to use nocode website builder that makes website building as easy as reading this.
In fact, I have a feeling that my 7-yr old niece can set one up (I dare not tell her).

With mmm.page, you'll be reminded of how easy it was when it was just a pen and paper. But it's still a complete nocode platform, of course. You can add text, images, GIFs, shapes, links, YouTube videos, embed Spotify or SoundCloud, etc., and anything else really.
Get custom domains, SSL certificates, fast loading sites, Google analytics integration (connect with Databox for more visual delight).
Note: A huge Shoutout and thanks to Quentin Villard on Twitter — Growth & Nocode maker, creator of GetTims (for even more crazy nocode tools, platforms, and applications for you to go nuts with) — for introducing me to Popsy and mmm.page (along with several other nocode tools you can take a look at in the awesome Twitter thread he created
Slides by DesignModo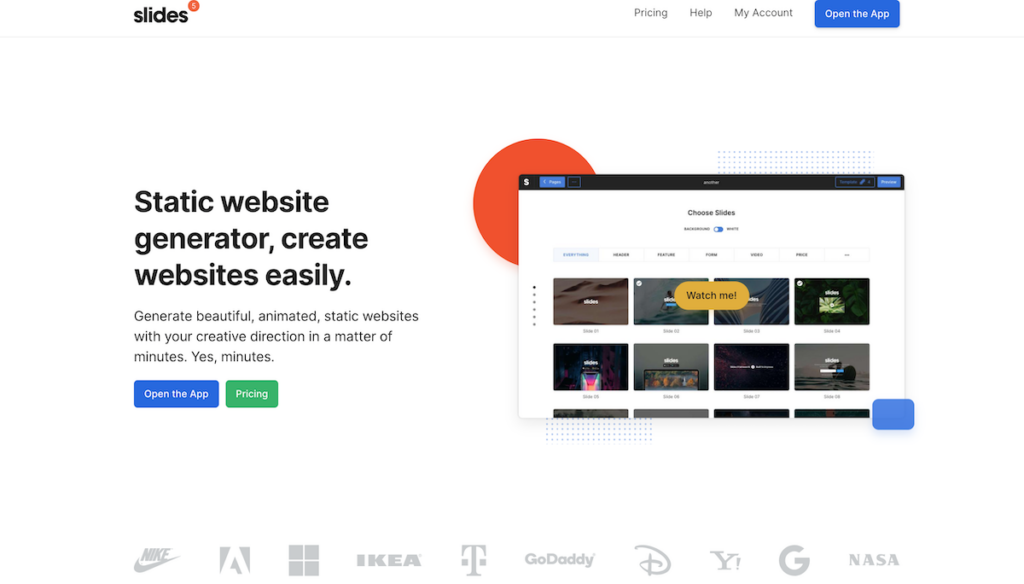 Slides By DesignModo is one of those apps that makes gorgeous, slick, and totally breathtaking websites (which look much like web-based presentations but not to take that lightly).
No, you don't need to code. Featuring a web-based drag-and-drop builder, you just drop your "sections" one below the other (stacking) and make site-wide or element-specific edits (with the options you'll find when you click on what you click on).

Create websites. Export code. Host. You are done. Thank me later.
Startup Bootstrap Builder by DesignModo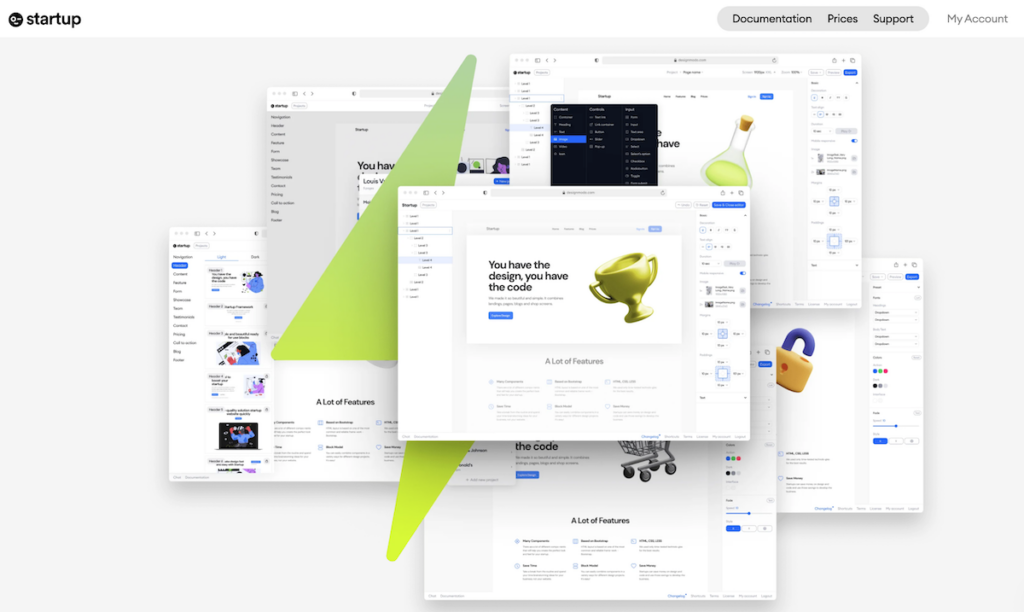 DesignModo is on a mission to change how you create websites. I am on a mission to write about those.
Startup Bootstrap builder has been around for a while and is a huge favourite. Simple, static websites that look like God stopped to try website design for a while.
Incredibly easy to use (despite the word Bootsrap being thrown around), Startup Bootstrap builder works just like Slides does, except the Startup website builder is for a lot more "Un slides" like websites.
Featuring everything from colors to fonts, navigation elements to footers (and headers), it works the same way Slide does: drag and drop sections, make changes, export.

For serious developers, you can also edit code (I am not going there).
Static App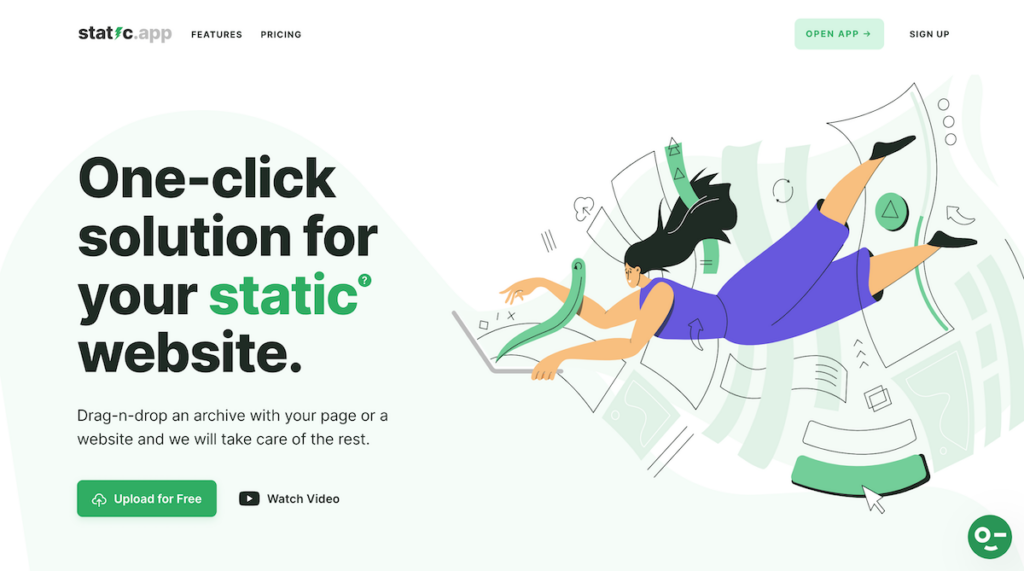 Think of Static App as a weird triple marriage between DesignModo's thing for simplicity, a shredded to bits cPanel-type environment which is now dressed up for a party, and pure functionality.
To use Static App, you'd have to have images, or code (files) ready. Upload them, rearrange them, and your website is functional and ready. You can assign domains (or sub domains), add forms, and more.

Told you: Slightly different. But it's there.
Dorik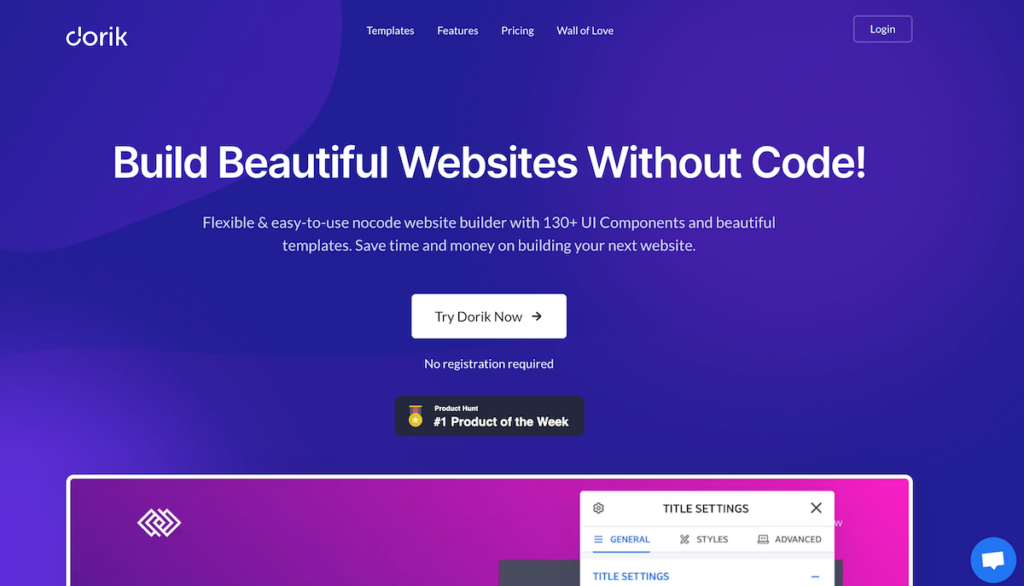 Featuring more than 130+ UI components and beautiful templates, Dorik is a smashing-looking kid in town. Dorik is a nocode website builder which also features a way to create landing pages, a functioning CMS, and of course, websites.
Dorik Integrates with Zapier (which integrates with an insane amount of apps — because you should). It also integrates with MailChimp, Stripe, Intercom, PayPal, and more.

Apart from payment integrations, Dorik also comes loaded with goodies: fast hosting, CMS (as mentioned), custom domains, custom forms, SSL certificates, and custom forms as well.
Unicorn Platform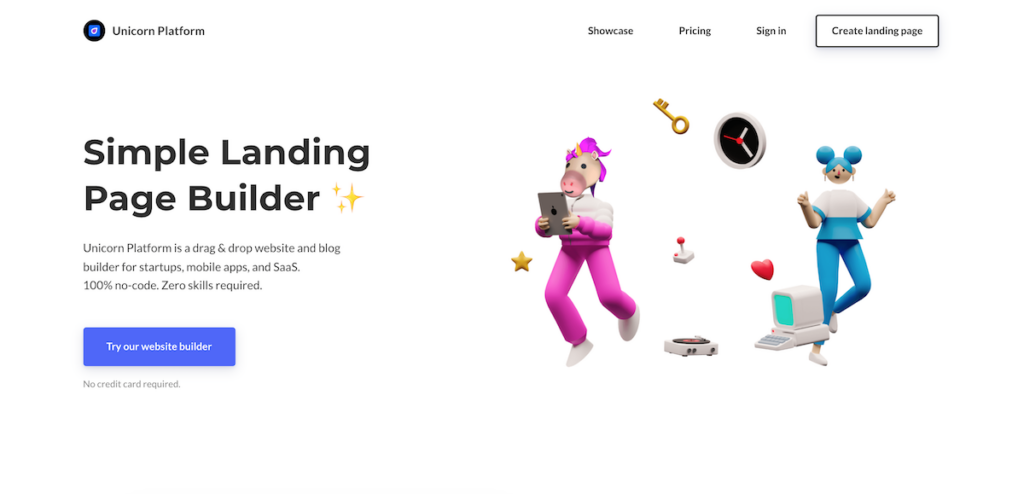 I remember using Unicorn when I was trying to help out a client once. At the time, it was just a way to build some functional and quick websites (without much noise).

Today, Unicorn has grown up. Unicorn still helps you create landing pages, of course. But there's also a full-fledged nocode website builder in there. So, build a landing page, a website that looks like a bunch of landing pages, or a complete website — your call.
With Unicorn, you just add components (stacking one, on top of the other). That's it. No code.
No hot mess.
I remember Unicorn also adding a "blog" feature to complete the party for you.
Aspect
Aspect claims to be among the fastest nocode website builders (and I have no reason to challenge that). With Aspect, nocode website building is going to feel like you were editing a Keynote or Powerpoint presentation.
You can edit elements and components using familiar controls (the type you'll find in Powerpoint or Keynote).
You can publish sites on your own domains, export code to host somewhere else (if you like), and start with any of the layouts they have (templates).

Versoly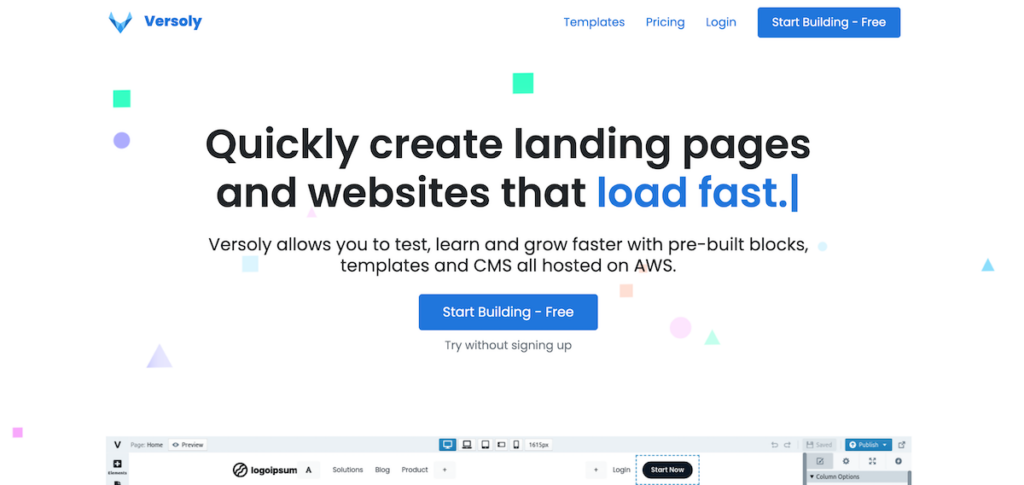 Versoly brings pre-built components, UI elements, templates, and a working CMS — all hosted on Amazon Web Services (AWS).
It's fast. It looks promising. It also boasts of a fast CMS that helps you get to the blog content strategy part and generate leads from your blogging efforts.
SEO and social media are built in along with a way for you to collect email addresses and build an email list (and then connect to MailChimp or ConvertKit .
Or go nuts with Zapier.
Tilda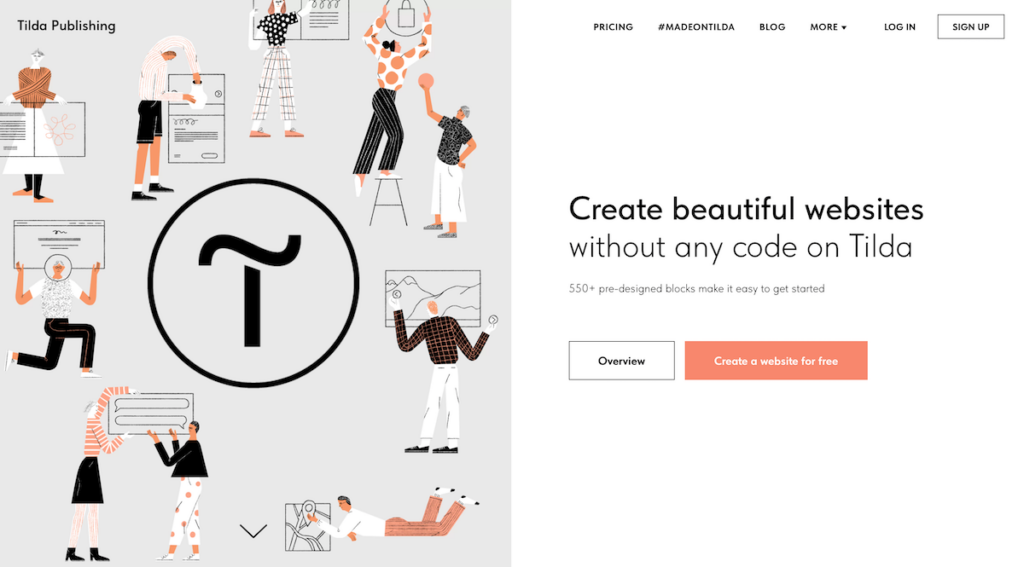 Would you like to work on a nocode website builder which is fun, and almost feels like a game? Try Tilda.
It's a simple, intuitive website builder. With pre-made blocks, you can build an online store, an eCommerce website, a landing page, or even start and manage a blog.
The 550+ pre-made blocks — in a library — consists of everything you need including buttons, forms, videos, photo galleries, and more. There's also a "Zero Block" for you to create custom blocks of your own.

Tilda's focus is on keeping things simple with an emphasis on visual elements and typography.
Strikingly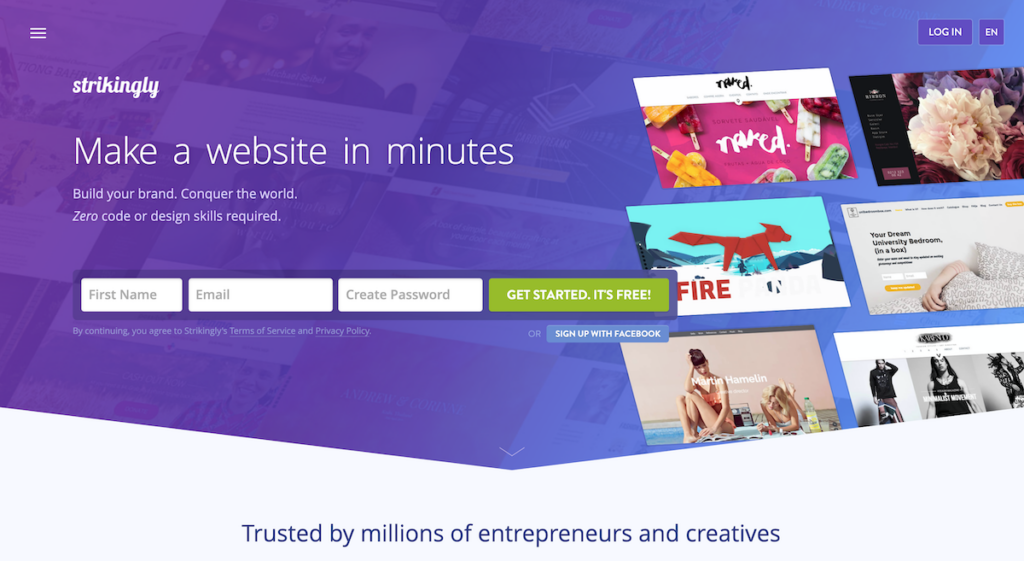 From start to finish, creating a website on Strikingly shouldn't take more than an hour (as long as you have content assets, images, your logo, and an idea). Strikingly is a website builder with one of the most intuitive and easy website building interfaces. 
Just click, type, drag. Make any changes you want on the canvas itself. With the options panel on the left, you can make edits as you go.

Strikingly now also has eCommerce built-in. So adding products, integrating with your payment processors is a breeze. 
Then, add shipping, coupons, membership log-ins, and more. Whether you're selling a single product or a hundred, it's possible with Strikingly.
It doesn't end here: you can also create & manage signups for email marketing, create forms, engage with your potential customers with live chat, and launch newsletters all in one place.
Want memberships? That's possible too. 
Strikingly — apart from releasing new features and templates all the time — also has competitive pricing, an easy to use interface, and makes it dead simple to create websites fast.
ReadyMag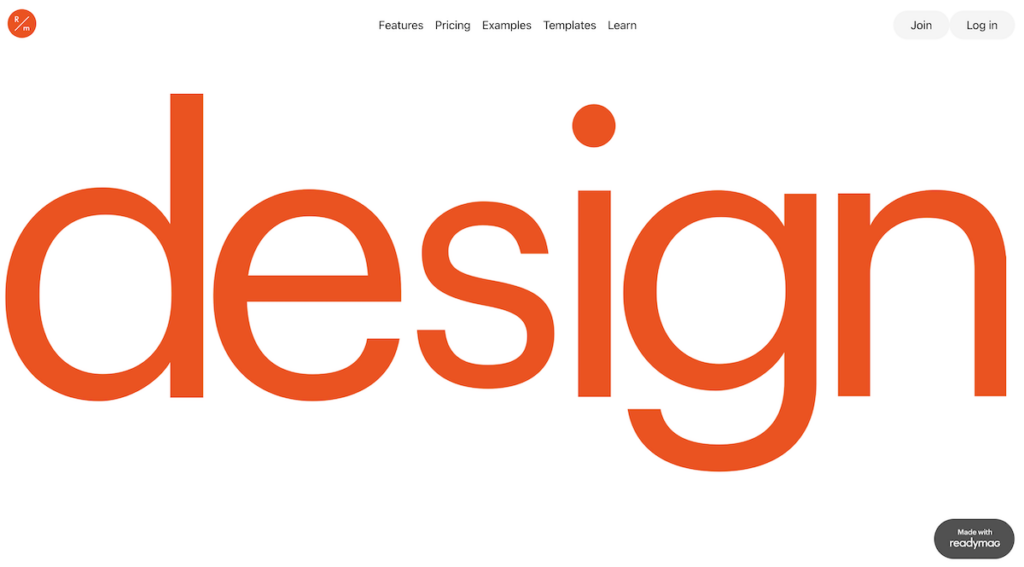 If you are looking to create a striking, visually-rich, portfolio-style website, ReadyMag is the nocode website builder you should consider.
ReadMag's focus is on design — regardless of the type of website you'd like to build: be it a blog, a landing page, a full-blown website, an editorial magazine, portfolio site, or an eCommerce site.
With ReadyMag, you get access to a customizable grid, 3000+ fonts, more than 2000,000 photos and icons (thanks to the Noun Project), interactivity, forms, custom domains, animations, analytics, ability to embed code, and export site code as well.
Canva Websites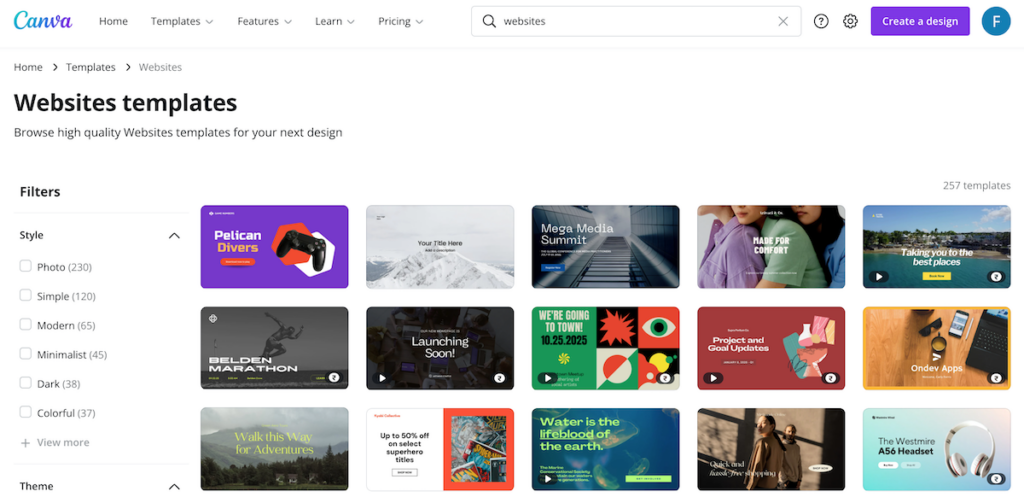 Did you know that Canva has a website builder too? They didn't announce it out loud, but they do. Along with the familiar interface you might already be used to, creating a website is just as easy as creating a social media graphic.

Canva has more than 257+ fully-customizable website templates that you could pick from, make changes, and publish live.

As with everything in Canva, you get access to graphics, icons, and photographs. If you are on Canva Pro, you get full access to millions of these design assets to create the website the way you want it to be (along with a brand kit, content planner, resizeable graphics, and more).
Universe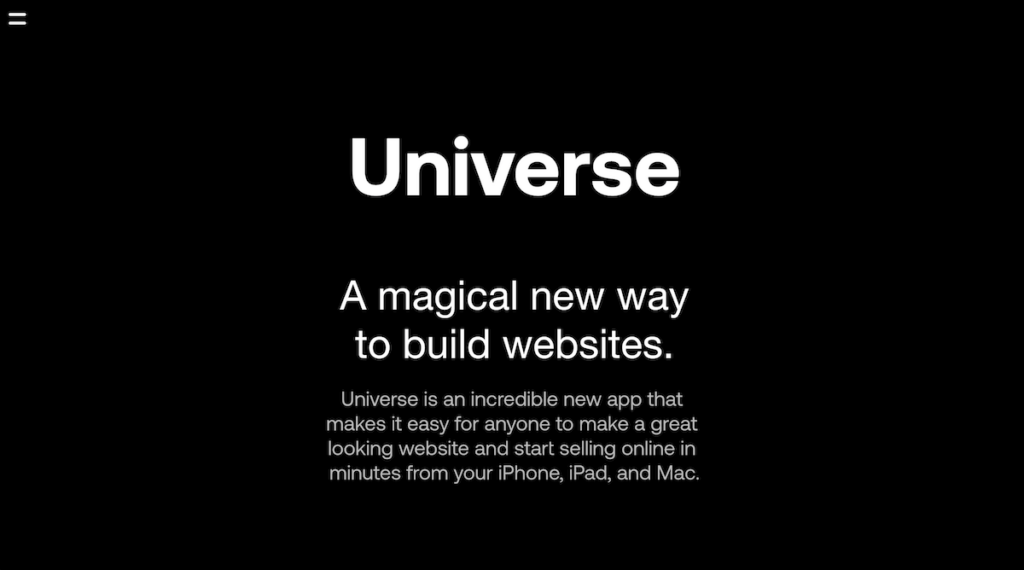 Have an iPhone, mac, or an iPad? You can create a website from one of those devices with Universe.
Using simple blocks, you can tap and click your way to creating the website you want, straight from any of those devices above.
You can also sell (eCommerce) off of your website (Apple Pay and other payments are integrated).
Universe includes site analytics, custom domain and email support, mailing list features, and so much more to help you grow online.
Unstack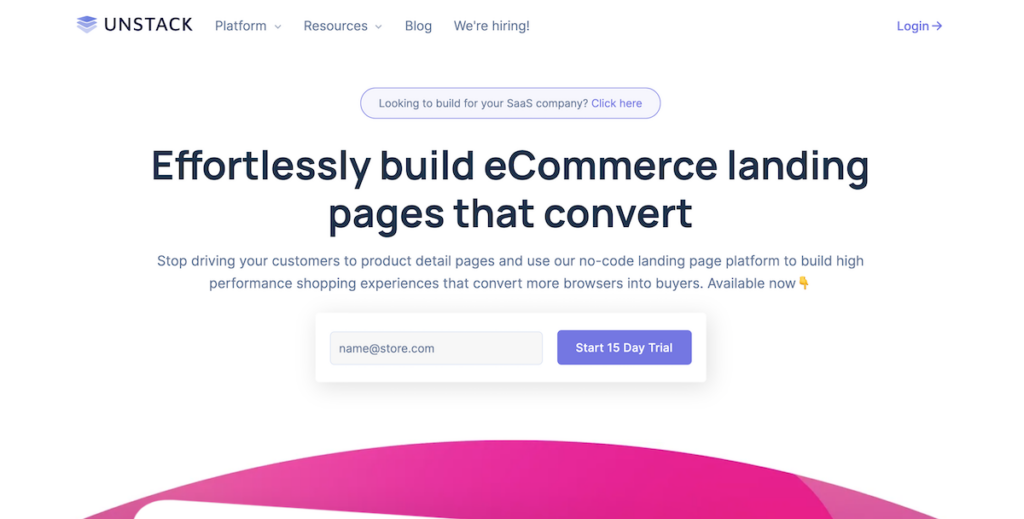 Build for marketing teams who care about performance and results, Unstack is welcome news.
Again, using pre-built, customizable blocks, you can create high-conversion landing pages or websites with control over design elements, product pages, forms, storefronts, and blogs.
You can also create A/B tests (to see what kind of product pages work, and what doesn't), personalize storefronts, and get clear revenue analytics to let you know how your store performs.

Unstack isn't just limited to eCommerce. You can build websites of all types, including for SaaS businesses.
Unstack makes use of the headless content cloud which delivers your content to your customers insanely fast across every device. Blazing fast speeds, and delightful experiences.

Yes, no code or configuration required.
Pixpa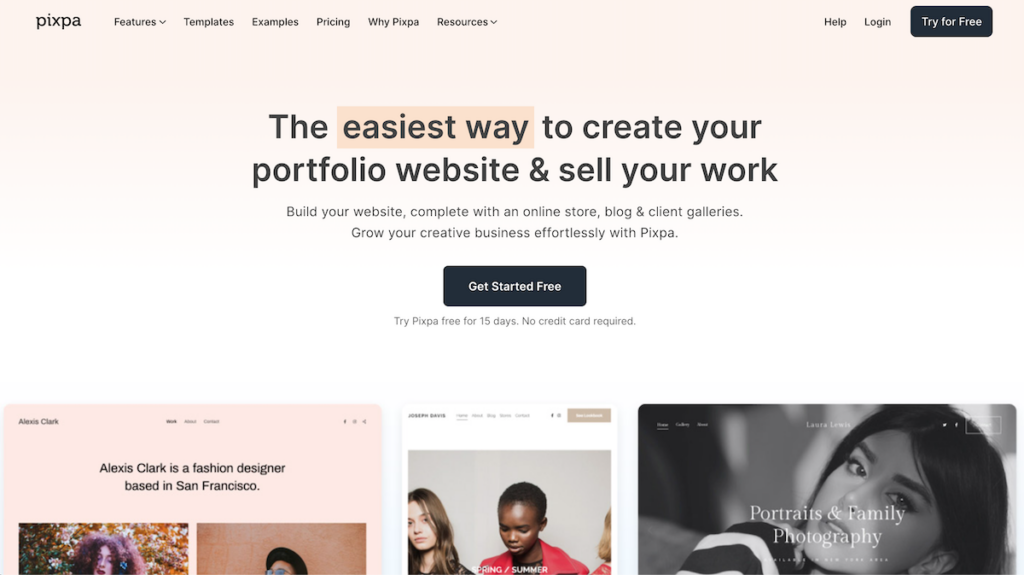 Built for content creators, artists, and photographers (not that others can't use it, because they can). Pixpa helps you create websites effortlessly for your business. Be it eCommerce sites, blogs, portfolio sites, business websites, and more.
Pixpa includes blogging (great for your blog content strategy), mobile-responsive design with an easy-to-use designer, ability to collect payments, galleries (on mobile and also for clients), announcement bar, customizable forms, marketing pop-ups, integrated social media tools, and more.
Berta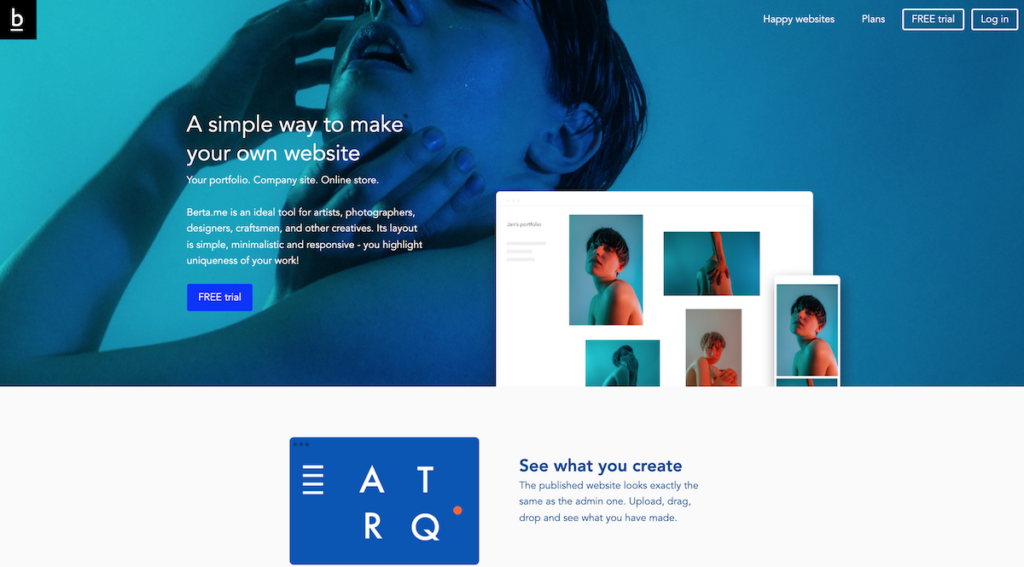 Berta is a What-you-see-is-what-you-get nocode website builder to allow you make classy, mobile-friendly websites.

With Berta, you get more than 500+ Google Fonts, secure hosting, and you also get to make complete eCommerce websites.
Berta also provides your site with auto backups, custom domains, Google Analytics, and more.
Which of these nocode website builder tools catches your fancy? Which of these are you already using? Connect or reach out to me on Twitter or LinkedIn and let me know.