How do you build landing pages?
Over the years, I'd have worked on hundreds of landing pages, built several sales funnels, and helped clients setup the all too important gateway to get leads that eventually lead to sales.
Most people forget the importance of landing pages, why they should be used, the importance of A/B testing landing pages and then take decisions (and then make tweaks) to different elements of their marketing funnels.
But then, there are a few clients who already know the importance of landing pages. They invest in landing page tools to do marketing smarter and to obviate themselves from the need to find developers or designers every time they need a specific landing page.
I've had clients who'd insist on using their developers for landing pages but I'd flatly refuse to work with them.
I've got nothing against designers or developers. It's just that it's virtually impossible (or expensive or time-consuming) if you depend on developers to build landing pages for every offer, every Ad Group in Google Ads, every campaign on Facebook, and then all those campaigns you'd launch organically (through your blog posts or on social media).
To avoid the need for developers and entire IT departments (in some cases), there are landing page builder tools that are incredible value for money.
Say hello to Unbounce.
As with any tool today, it's up to users, individuals, and businesses to figure out which tool works best for them. But let's rip Unbounce apart and see what's inside.
Unbounce: Digging Under the Hood
Unbounce has been around for a long time now and I am a huge fan. Compared to LeadPages and Wishpond, Unbounce is the only one with an advanced and truly "drag and drop" editor. See a preview for yourself (no opt-in needed. Just play with it.
Let me explain: of the three biggest landing page builders, Unbounce literally lets you drag elements (such as text blocks, images, or whatever else goes on your landing page) across the page you are building.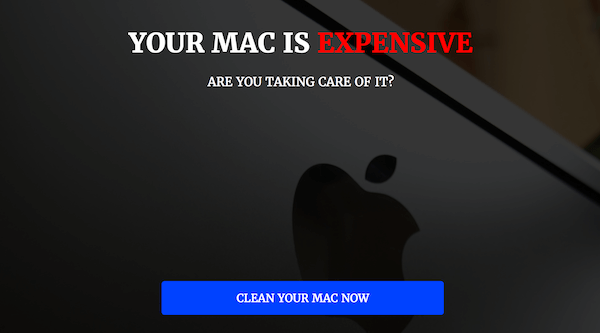 LeadPages and Wishpond, meanwhile, work off of sections and rows. Individual elements such as text, images, video, timer, spacers, and buttons have to sit in those sections and rows.
Note: there's nothing wrong with using sections and rows. In fact, going down that path actually ensures clean and spaced out designs that help with conversions.
Unbounce automatically integrates with popular email service providers and full-fledged marketing automation tools.
For instance, with a few clicks, you can integrate Unbounce landing pages with Mailchimp, Campaign Monitor, Aweber, Constant Contact, or Active Campaign. Or you can also integrate with Marketo, SalesForce, Speak2Leads, HubSpot, and InfusionSoft.
If your marketing workflow has any of those tools, Unbounce is a natural fit as you can see.
Unbounce also has the option of letting you (or your clients or your boss) receive emails when you get leads. You always get notifications when leads sign up on any of your landing pages (you also get to brand your emails, if you are working with clients).
If you don't see any of your marketing tools in the list above, you also get the possibility of working with Webhooks or using Zapier to integrate Unbounce with the tool of your choice.
Unbounce also allows you to build "convertibles" — pop-ups and overlays — that you can use to power up your lead generation efforts. These convertibles can be linked to any of those marketing tools above just like you'd do with regular pages. Think of convertibles are your lead generation tools on steroids.
At the end of it all, your leads sit there for you to process them. Connect your CRM to Unbounce and process leads or take a closer look at your lead details to the right side of every page.
Adding Custom Domains
I've worked with Clickfunnels, Wishpond, LeadPages, and many more tools and adding a custom domain is a tricky one (or not, depending on who's doing it).
Unbounce has a plugin for WordPress that lets you connect your Unbounce pages with your domain in an instant. If you'd like to go the traditional route, you can do what you normally do: add a CNAME for Unbouncepages.com using your DNS editor (or DNS zone editor).
In-Built A/B Testing
If you ever needed a single reason to make a choice between landing page builders, just heed my advice and look at the A/b Testing features available inside of those tools.
Clickfunnels, LeadPages, InstaPage, and Wishpond — all these tools provide you with A/B testing features. Often, I see that you'd need to upgrade to higher plan to enable A/B testing.
Not so with Unbounce. You can spin up two versions of the same landing page that works off a single URL and you are ready to do A/B testing. You can also apportion the volume of traffic each page should get when you launch campaigns.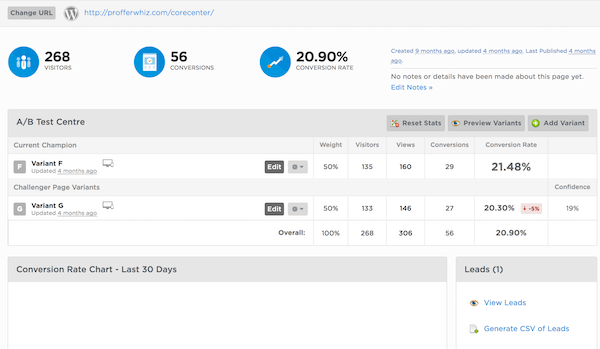 The A/B testing feature isn't something that you'd have to click and activate. The analytics part of your A/B testing starts showing up soon after you create and publish a page.
For each page, you'd be able to take a decision as to which page performs better with the little "confidence" statistic that you'll see after you gather enough data.
Where Unbounce Might Hold You back?
Earlier, building mobile-responsive versions of your landing pages is never a straight-forward affair with Unbounce. You'd first work on the desktop version. Then, you'd switch to the mobile version and then do an endless set of changes just to make the mobile responsive version look right.
When I first started using Unbounce, let's just say it was a nightmare to use. Make tweaks to the mobile version and everything on the desktop would change. Change the desktop version and elements would spill over the page.
After several years, Unbounce released a new version of their editor with a somewhat streamlined workflow. Today, it's much better.
Unbounce also had limits on the number of visitors you could have on all your landing pages combined (including those of your clients). The free plan accommodated only 200 visitors and the starter plan accommodated 5000 visitors per month. I was never a fan of limiting visitors, though.
Unbounce revised their plans recently and the new plans now have a generous bandwidth, about 500,000 visitors or more per month but they now limit the number of landing pages.
The missing Marketing Elements
There are many workarounds available in the helpful Unbounce community for doing a lot of things with Unbounce such as to add countdown timers to Unbounce pages, reformatting forms just the way you want them to.
Some of those elements might seem necessary for marketing purposes such as adding countdown timers. This feature is still not available on Unbounce (unless you do a workaround).
I believe that making a few of these marketing elements available really amps up the appeal that Unbounce already has. I believe it's in the making but I am never too sure.
Customer Support
When you work with a tool as much as I do with Unbounce, customer support really becomes critical. From technical questions to billing, and from asking for simple tweaks to figuring out your marketing Workflow, you'll often need help.
Unbounce's customer support is top-notch. They miraculously answer every email in less than 12 hours. As if that wasn't enough, there's also a very active Unbounce Community that's run and managed by the company. This community is also where you get to meet other Unbounce users, interact with staff, and also get all the juice on Unbounce hacks.
Using Unbounce, you can literally spin up landing pages within minutes (as against days, weeks, or months that developers would take, notwithstanding the cost) for all your campaigns. It has everything going for it: a great product, helpful community, active staff, plenty of education on their popular blog.
I am a fan.
What about you? Do you use Unbounce or any other Landing page builder? What are your favorites?
Start a free trial with Unbounce. See how your business changes with it.