How do you build landing pages?
Over the years, I'd have worked on hundreds of landing pages, built several sales funnels, and helped clients setup the all too important gateway to get leads that eventually lead to sales.
Most people forget the importance of landing pages, why they should be used, the importance of A/B testing landing pages and then take decisions (and then make tweaks) to different elements of their marketing funnels.
But then, there are a few clients who already know the importance of landing pages. They invest in landing page tools to do marketing smarter and to obviate themselves from the need to find developers or designers every time they need a specific landing page.
I've had clients who'd insist on using their developers for landing pages but I'd flatly refuse to work with them.
I've got nothing against designers or developers.
It's just that it's virtually impossible (or expensive or time-consuming) if you depend on developers to build landing pages for every offer, every Ad Group in Google Ads, every campaign on Facebook, and then all those campaigns you'd launch organically (through your blog posts or on social media).
How You Are Hurting Without Landing Pages
Unbounce: Digging Under the Hood
How to Manage Leads in Unbounce
Unbounce Popups and Sticky Bars
How to Add Custom Domains With Unbounce
Create Mobile-ready Landing Pages With Unbounce
Unbounce Hacks: Of these, there are plenty
How You Are Hurting Without Landing Pages
There are two types of businesses, as far as landing pages are concerned:
Businesses that are completely unaware of the importance of landing pages, what landing pages are, how they work, how landing pages help drive explosive results for business, and more.
Businesses that are aware of landing pages but go about doing it the wrong way: choosing the wrong workflow to setup landing pages, to create marketing workflows, and to build sales funnels to get results.
Both of the scenarios above hurt your potential as a business. Without landing pages, you lose the incredibly opportunity to enjoy conversions as high as 20-30% (if done right).
Businesses with more landing pages overall generate more leads, sell more products, and enjoy much lower costs of acquisition (especially if you use landing pages for PPC campaigns).
How Unbounce Helps?
To avoid the need for developers and entire IT departments (in some cases), there are landing page builder tools that are incredible value for money.
Say hello to Unbounce.
As with any tool today, it's up to users, individuals, and businesses to figure out which tool works best for them.
Let's rip Unbounce apart and see what's inside.
Unbounce: Digging Under the Hood
Unbounce has been around for a long time now and I am a huge fan.
Unbounce is one of the few landing page builders out there that stood the test of time with an advanced and truly "drag and drop" editor. See a preview for yourself (no opt-in needed. Just play with it.)
Let me explain: of the three biggest landing page builders, Unbounce literally lets you drag elements (such as text blocks, images, or whatever else goes on your landing page) across the page you are building.
Here's how a typical landing page looks like after you create it on Unbounce:

Unbounce Integrations
Unbounce automatically integrates with popular email service providers and full-fledged marketing automation tools.
For instance, with a few clicks, you can integrate Unbounce landing pages with Mailchimp, ConvertKit, Campaign Monitor, Aweber, Constant Contact, or Active Campaign. Or you can also integrate with Marketo, SalesForce, Speak2Leads, HubSpot, and InfusionSoft.
If your marketing workflow has any of those tools, Unbounce is a natural fit as you can see.
If you don't see the particular marketing tool or CRM on the list, you can also use Zapier and/or connect with several thousand tools out there by using webhooks.
Unbounce Apps
We now have Unbounce Apps — which now become a part of the Unbounce Conversion Intelligence™ Platform — help you use other apps to work along with your main Unbounce landing pages (or Unbounce popups and stickybars).
To start with, there are apps that already help you do magic with landing pages and campaigns:
Typeform: Use it to collect leads (with quizzes, anyone?), conduct research, ask questions, use polls, gather product feedback or campaign feedback, and easily add interactive and multi-step forms for your campaigns.
Unsplash: You already know Unsplash and love it. Unsplash was already integrated with Unbounce (earlier, but in a different way — built into its image management). Now, Unsplash is available as an app which allows you to dig into its massive database to use appropriate images for your campaigns.
Stripe: Earlier, I wrote on how you can use Stripe to sell products and services generally. While I don't necessary like using landing pages to directly "sell sell", you can still do it with a direct integration now with Unbounce + Stripe.
Launch sales campaigns, create high-converting landing pages that are payment-enabled.
You can now showcase your products, services, and subscriptions.
When you add the Stripe app to your Unbounce landing page, you create a smooth checkout experience and can earn/generate more sales.
Read more:
Unbounce Apps: A Growing Library of tools to grow your business & how they help
How to Manage Leads In Unbounce
Unbounce also has the option of letting you (or your clients or your boss) receive emails when you get leads. You always get notifications when leads sign up on any of your landing pages (you also get to brand your emails, if you are working with clients).
On top of the emails you receive and any automated integrations with CRM tools or email marketing software you use, there's also a convenient lead management tab inside Unbounce for you to keep a tab on all the leads generated (with pertinent information about your leads)
At the end of it all, your leads sit there for you to process them. Connect your CRM to Unbounce and process leads or take a closer look at your lead details to the right side of every page.
Unbounce Popups & Sticky Bars
Unbounce also allows you to build "convertibles" — popups, sticky bars, and overlays — that you can use to power up your lead generation efforts.
These convertibles can be linked to any of those marketing tools above just like you'd do with regular pages. Think of convertibles are your lead generation tools on steroids.
Unbounce Popups, for instance, come with a lot of controls to allow you to show pop-ups at the right time, with the right message.
For instance, you can have your popups trigger on click, on exit (with Exit-Intent technology), or after a delay (specific time period). In effect, here's what you can achieve with Unbounce Popups alone:
Launch popups and sticky bars when visitors arrive on a page, abandon a page, click an element, scroll down, or whenever you want.
Target your popups by full URL, URL "contains" rules, or even UTM codes.
Choose how often visitors will see a popup or sticky bar (like once per visitor, every second visit, return visits only, or whenever you want).
Running seasonal offers, time-based discounts, or likewise? Schedule sticky bars or popups to start and stop according to your seasonal campaign plan or promotions.
Go local (and target local) by creating popups and sticky bars targeted at specific countries, regions, or cities.
Give something special for visitors based on their traffic source like Facebook, Google Ads, or organic search.
Use visitors' browsing history, conversion status, previous actions, and more and trigger popups based on that.
Get your special offer I managed to snag for you.
Note: The pop-ups and sticky bars can be used incrementally to aid your campaigns (such as to make the best of traffic you already receive on your website). These popups and sticky bars are also one of the best lead generation tools you can get your hands on.
You can also use these pop-ups and sticky bars as standalone campaigns (thereby avoiding the need to purchase another marketing software to do pop-ups and sticky bars for lead generation).
How to Add Custom Domains On Unbounce
I've worked with Clickfunnels, Wishpond, and many more tools and adding a custom domain is a tricky one (or not, depending on who's doing it).
Apart from Unbounce, Only two other landing page builders Leadpages and Instapage make it easy when it comes to custom domains.
Unbounce has a plugin for WordPress that lets you connect your Unbounce pages with your domain in an instant.
If you'd like to go the traditional route, you can do what you normally do: add a CNAME for Unbouncepages.com using your DNS editor (or DNS zone editor).
Unbounce A/B Testing
If you ever needed a single reason to make a choice between landing page builders, just heed my advice and look at the A/B Testing features available inside of those tools.
Clickfunnels, Leadpages, Instapage, and Wishpond — all these tools provide you with A/B testing features. Often, I see that you'd need to upgrade to higher plan to enable A/B testing.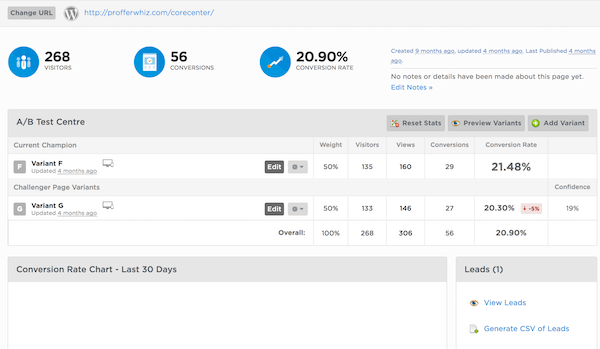 Not so with Unbounce.
You can spin up two versions of the same landing page that works off a single URL and you are ready to do A/B testing. You can also apportion the volume of traffic each page should get when you launch campaigns.

The A/B testing feature isn't something that you'd have to click and activate. The analytics part of your A/B testing starts showing up soon after you create and publish a page.
For each page, you'd be able to take a decision as to which page performs better with the little "confidence" statistic that you'll see after you gather enough data.
Now, with Smart Traffic™, you also have the power of artificial intelligence working to your advantage. With powerful "conversion intelligence", Unbounce makes use of machine learning and artificial intelligence and automagically looks at your visitors' attributes and sends them to the variant that's most relevant.
Unbounce Smart Traffic ™ starts working with as little as 50 total conversions on your landing pages (and just using this feature alone gets you a massive lift of 30% without you lifting a finger).
This helps you unleash the power of AI and enhance your campaigns, get business results even faster, and powers up your conversion intelligence further.
Get your special offer I managed to snag for you.
Create Mobile-ready Landing Pages With Unbounce
With Unbounce, you'd first work on the desktop version. Then, you'd switch to the mobile version and then make the mobile responsive version look right. By clicking a button, you can adjust your mobile landing pages, make some tweaks, and you are ready to go.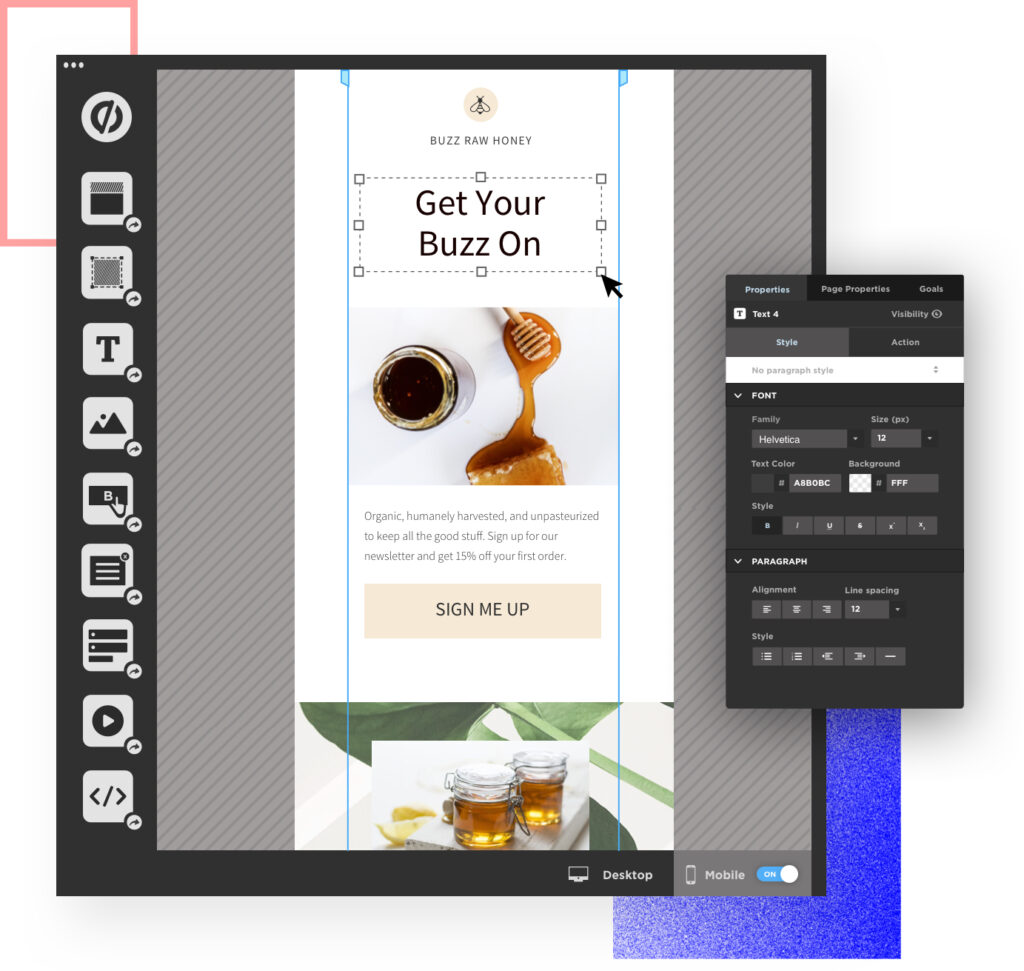 Even better, Unbounce released a new version of their editor with a somewhat streamlined workflow. Today, it's much better.
Unbounce also had limits on the number of visitors you could have on all your landing pages combined (including those of your clients).
The free plan accommodated only 200 visitors and the starter plan accommodated 5000 visitors per month. I was never a fan of limiting visitors, though.
Unbounce revised their plans recently and the new plans now have a generous bandwidth, about 500,000 visitors or more per month but they now limit the number of landing pages.
Going Fancy: Unbounce Hacks are Plenty
There are many workarounds available in the helpful Unbounce community for doing a lot of things with Unbounce such as to add countdown timers to Unbounce pages, reformatting forms just the way you want them to.
Some of those elements might seem necessary for marketing purposes such as adding countdown timers. This feature is still not available on Unbounce (unless you do a workaround).
I believe that making a few of these marketing elements available really amps up the appeal that Unbounce already has. There's a lot you can achieve by using some JavaScript on Unbounce.
For instance, here's a video on how on to Add a Countdown Timer to Unbounce:
Need another example?
Here's how you can add a favicon to your Unbounce landing pages:
Unbounce Product Security
Your business depends on landing pages. Without the right infrastructure and the backbone for security, it's disastrous for your business.
That's why Unbounce has features such as:
SSO (Single Sign On)
Two-factor Authentication
Data privacy by design. Unbounce complies with worldwide data privacy and security standards including CASL and PCI-DSS
Domain protection
Auto-session timeouts
Audit logs
User permissions, and
Version control
You also get GDPR compliance, SSL certificates (or support for it if you have it on your site domain), and an enterprise-level security for your page with an uptime guarantee of 99.96%
Learn more about the security features baked right into Unbounce
Unbounce Customer Support
When you work with a tool as much as I do with Unbounce, customer support really becomes critical. From technical questions to billing, and from asking for simple tweaks to figuring out your marketing Workflow, you'll often need help.
Unbounce's customer support is top-notch. They miraculously answer every email in less than 12 hours.
As if that wasn't enough, there's also a very active Unbounce Community that's run and managed by the company. This community is also where you get to meet other Unbounce users, interact with staff, and also get all the juice on Unbounce hacks.
Using Unbounce, you can literally spin up landing pages within minutes (as against days, weeks, or months that developers would take, notwithstanding the cost) for all your campaigns. It has everything going for it: a great product, helpful community, active staff, plenty of education on their popular blog.
I am a fan. I am sure you'll not only love it but also profit from it.
Get your special offer I managed to snag for you. See how your business changes with it.