Have you heard of Shopcodes — Shopify's own QR code system which enables mobile eCommerce? It's time to get a box of crackers and sit down to "do that little thing" to help grow your eCommerce business or your Shopify store.
When the Japanese Company Denso Wave first created QR codes (in 1994) to track automotive supplies, little did it know that it'd pave path to help create one of the most terrific bridges that connects the physical and traditional world of commerce with the contemporary eCommerce and mobile eCommerce that we are so used to today.
QR codes are used for marketing, education, sales, events, and to make information (about practically anything you can slap a sticker on) available instantly.
Where I am from (India) and other countries such as China, Thailand, and several others), QR codes are also the foundation of modern-day payment and transaction systems such as UPI, UPI Lite, WePay, and others.
What Are Shopcodes (Or Shopify QR Codes)?
Shopcodes are unique Shopify QR codes that can be generated only within Shopify stores (and for Shopify stores) built exclusively to enable shopping. Each generated Shopcode is unique and trackable (always know how your efforts pay off).
If you were to use Shopcodes in multiple ways that it can be used (more below), you'll be able to track how those campaigns are working, traffic generated, sales made, and more (all within your Shopify Analytics dashboard).
Note: There's a distinct Shopcodes App on the Shopify App Store that you'd need to install and use to create Shopcodes. Once you create these, share it with your potential and existing customers to enable them to view specific product pages or maybe even head to checkout directly.
Shopcodes, when created are available as a .PNG or a .SVG file that you can download and print. Printed Shopcodes can be used on a variety of physical marketing materials as well.
How to Use Shopify QR Codes [ & Where]
Sharing Shopcodes (or Shopify QR codes) online is straight-forward. Use the image (unique Shopcodes) on social media, within your eCommerce blog posts, within your ad campaigns, on landing pages, within your email marketing campaigns, and more.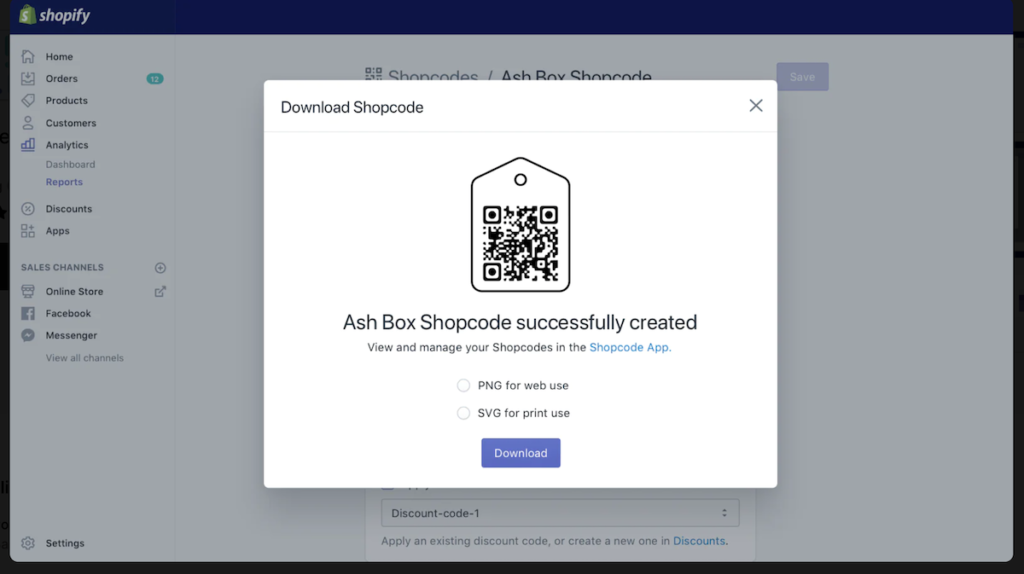 Primarily though, QR codes truly come alive when you link all other marketing channels with your online marketing campaigns — with data collecting together (clearly marked as such within Shopify Analytics).
Product Exterior Packing
It's easier to scan QR codes than it is to "Unbox". If your customers are curious about the products they just received, you could create Shopcodes and stick to the product packaging and learn more about products.
Even better? Create Shopcodes to enable customers to instantly buy related products, product add-ons, and other products that work well with the product(s) they just purchased.
This way, scanning Shopcode sends them directly to checkout. Customers can use Apple Pay, Credit Cards, Shopify Pay, and other payment modes (including Buy Now, Pay Later) to complete their transactions on your Shopify store.
Make Invoices Work
Normally, Invoices are wasted real estate especially for online shopping and eCommerce (the ones that are shipped and delivered). Customers don't bother checking these and they go straight to the bin.
You could change that for your eCommerce brand. Drive more conversions — by using Shopify QR codes or Shopcodes instead. Print invoices with Shopcodes with an instant discount for the next product they might want to purchase. Or have customers visit your online store and create an account.
Maybe invite customers (who only purchased one product one time) to get a subscription or join a membership.
Product Flyers & Package Inserts
Just like the invoices above (usually boring white and black pieces of paper), product flyers and package inserts are a lot more colorful and have some character.
Just as you'd make your invoices work for you, extend the opportunity even more with smart product flyers and product package inserts.
Take advantage of graphics, copywriting, and the complete real estate available on flyers and inserts to tell stories abut your brand, to promote new products, for upsells and for cross-selling.
Everything leads back (depending on each call-to-action and prompt) to specific pages of your eCommerce store or directly to checkout.
Visiting Cards, Posters, and Others
All other related marketing collateral (including visiting cards) should at last have Shopcodes leading back to your store (in general) or specific landing pages for products or other campaigns you already deployed online.
Remember to add specific calls-to-action to each set of offline marketing materials. Offers on visiting cards, varying offers on different posters, and so on.
Shopcodes can also be added to table-tops, brochures, and more.
Read:
12+ Proven Marketing Strategies to Try [ Examples & Tips]
Kiosks, Events, and Pop-up Shops
Don't miss the opportunity to have plenty of ways for customers who browse, brood, think, touch, feel, ask, or are just curious when you have pop-up stores or kiosks set up any physical location (anywhere).
Some customers just need more information (and they love it if they can scan and learn). Others will talk to you, and then scan and learn some more.
Because there's the physical investment (of browsing, asking around), the chances that they'd sign up as an email subscriber or as a potential lead is high.
Kiosks, pop-up shops, and events are high-engagement avenues for your eCommerce brand and Shopcodes are perfect for engagements such as these. Don't just let prospective customers come in and walk out, with nothing to show for it all.
Read:
What is Pop-up Store and How to Set One Up?
Your Physical Retail Store
Consumer behaviour leans towards online shopping, even if customers walk down the aisles of your retail store. Picking up more information, digging in, and looking for more data is just the low-action action customers take.
Placing orders online while still at your retail store is thing now. It's for this reason that Shopify POS also as features that enable customers to place orders and pick at store or place orders and collect at retail store billing area, or place orders to have them delivered at home.
Display QR codes near product shelves, near products themselves, on your store windows, and even on closed doors (available to scan, when you close them).
At kiosks and pop-up stores, customers can place orders directly using Shopcodes whether or not you have products available (including those that are currently out-of-stock).
Accept pre-orders (or bookings) for products that are about to be launched.
Do you see how you'll never be able to disappoint and drive away potential customers?
Offline Marketing Campaigns (Especially Print Ads & Direct Mail)
Offline print ads (magazines, newspapers) are expensive. So is direct mail marketing (nah, it's not done or dead yet).
It only makes sense that you have a way to track performance of these campaigns and see how you meet your marketing objectives and drive up product sales performance (which you can see in Shopify Analytics and Sales Dashboards).
Adding Shopcodes to print ads is not optional (unlike everything above). Without QR codes or Shopcodes, it's almost impossible to know if your print ads are working for you or not.
Creating Shopcodes leading just to your online store is just as worse (you only get traffic, possibly). Launch offline print ads like you'd launch smart onlinne campaigns.
Create targeted ads with a distinct call-to-action. Then, track the action potential visitors take (such as downloading a PDF checklist, a coupon code, or a product brochure).
Read:
Complete Guide to Direct Mail Marketing (Advantages and costs)
Have you used QR codes for eCommerce before? If yes, how is it working for you? If not, why not?
Tell me all about it on Twitter, LinkedIn, or my LinkedIn Brand page.
Do you use Shopify for your business? If not, get started now.