SMS marketing for Shopify stores (or eCommerce and businesses in general) is the low hanging fruit everyone ignores.
Did you know that Americans check their incoming SMS messages around 47 times per day? The age group between 18-24 checks their phones for messages at least 86 times per day.
There are a lot more interesting SMS marketing stats you could bury your head into, thanks to this compilation by 99firms.
The native SMS app that people use on their phones — as against messaging apps, Facebook Messenger, Instagram, and others — is also a preferred medium due to the simplicity in design, privacy concerns (with other third-party apps), and also because SMS is a trusted medium (until marketers who do terrible marketing take over).
More than 5 billion people use SMS messages (that's around 65% of the entire global population). This number is expected to rise to 5.9 billion by 2025, according to SlickText
Here are some of the best SMS marketing Apps for Shopify:
Postscript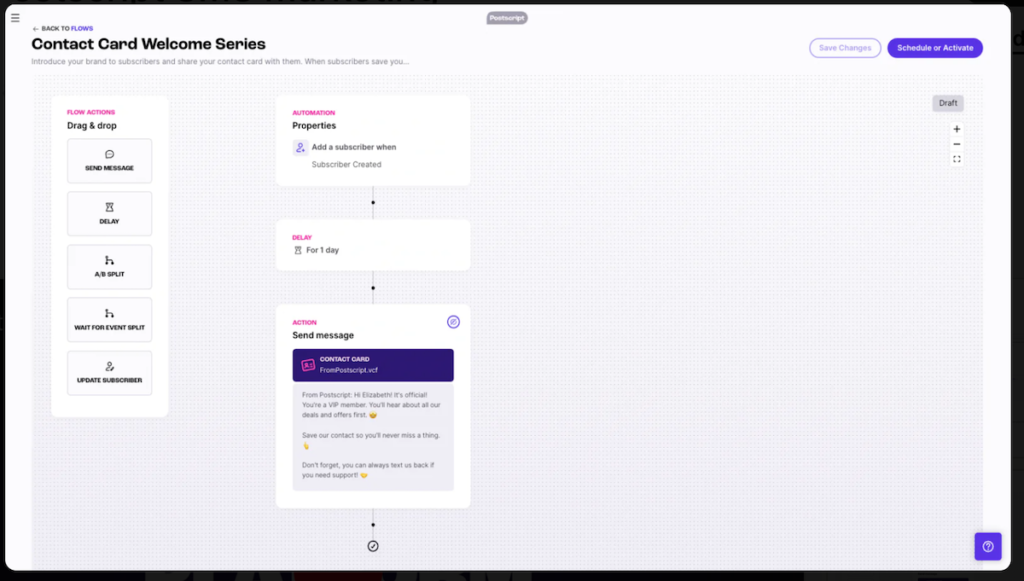 You could do all the magic of email marketing with SMS marketing as well, and Postscript is one of those apps that can help.
Drive traffic, engage with customers (potential and existing), boost conversion rates, retain customers, and boost revenue with SMS campaigns and automation flows. Start and manage text-based conversions (with GIFs and images, of course) to bring in more impact.
Postscript is a premium SMS marketing app that offers advanced features like automated flows and segmentation tools. It also integrates with Shopify (works directly from within Shopify Admin) to sync your customer data and track your campaigns in real-time.
Postscript also allows for personalization thanks to its direct integration with Shopify (and hence historical data of customers within Shopify).
Attentive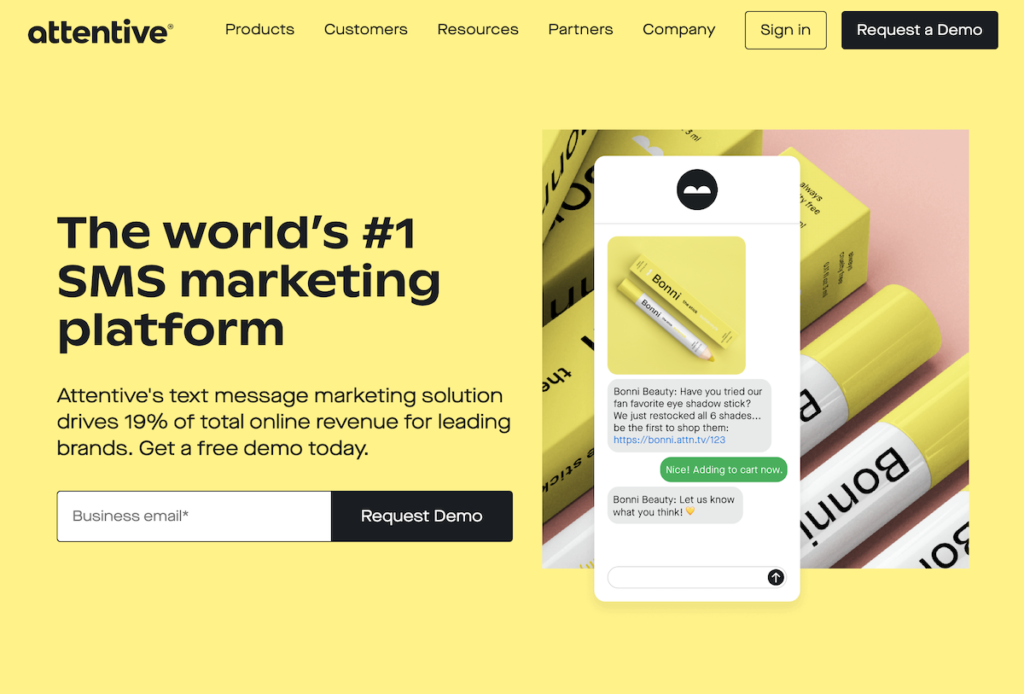 Attentive is a top-rated SMS marketing app that helps you engage with your customers through personalized messages. It offers a user-friendly dashboard that allows you to track your campaigns in real-time and optimize your messaging strategy.
Attentive is a relatively new among SMS marketing apps for Shopify.
Refine your eCommerce SMS marketing strategy by launching creative SMS campaigns — along with segmentation, personalization, and their patented "two-tap technology" to help grow your SMS list faster. Achieve high CTR throughout a customers' lifecycle, launch personalized messages (thanks to integrated data with Shopify), launch campaigns with templates, and more.
Attentive also comes with an exceptional white glove service with professional, knowledgable, and quick-response staff to help you with technical aspects or campaigns, if you need to.
SMSBump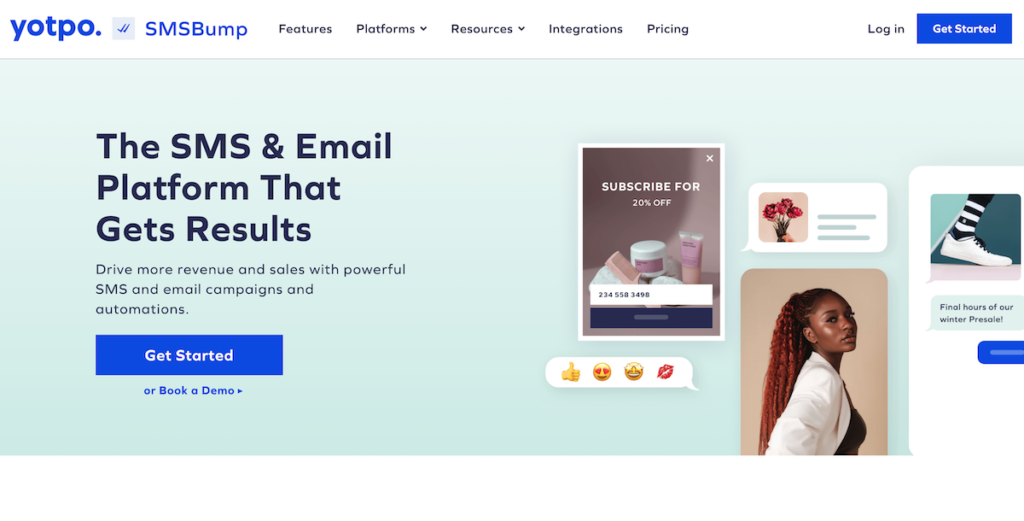 SMSBump by Yotpo is a popular SMS marketing app that allows you to send targeted messages to your customers.
It integrates with Shopify, of course, but also allows for "Pay-as-you-grow" SMS and email pricing plans (instead of locking you up on a monthly price). Run targeted SMS campaigns, engage with your subscribers, track real-time events, set-up trigger-based custom conditions, and also A/B test your SMS campaigns.
SMSBump comes with audience segmentation, support, automated messages, campaign builder, and a campaign planner.
You can also fine-tune your campaigns with timezone-based messaging, opt-in keywords for SMS, and more.
Just Uno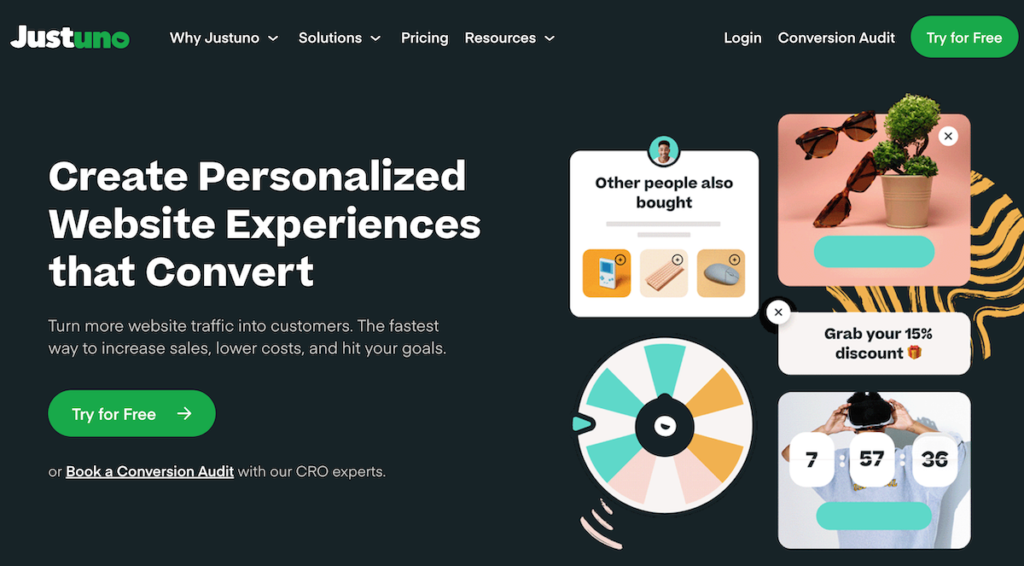 Just Uno isn't just an SMS marketing app and/or an email marketing app — it's a complete eCommerce conversion and analytics platform (Including AI-driven product elements within).
Boasting of features to help target new visitors, grow your email list (or SMS list), capture leads, recover abandoned carts, use exit offers (and opt-ins) to reduce your bounce rate, and more.
Just Uno also features a complete "commerce AI" platform to help improve your average order value, provide intelligent product recommendations, and for offering personalized onsite experiences to engage visitors (the smart way!).
Audience Sync is another feature shipped with Just Uno that helps improve eCommerce ROAS (Return on Ad Spend) by connecting your existing email or SMS lists with Google and Facebook Ads (for instance).
Emotive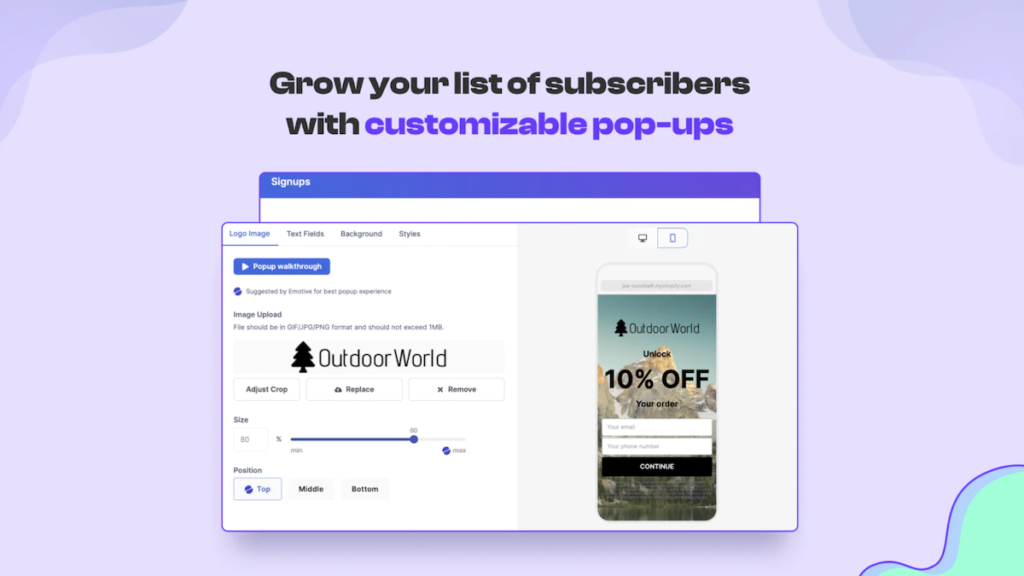 Tap into the power of conversational marketing and conversational texting with Emotive — a speed-tested app, built for Shopify. More than 1000+ brands depend on Emotive to help deliver performance for eCommerce stores.
Emotive helps with an average of 27X ROI by engaging your customers with automated two-way text conversations or SMS messages. Take advantage of the dedicated strategy, support, copywriting resources, and DIY options.
Build your SMS audience (with strategy and compliance bolted in), launch eCommerce checkout flows, boost conversions, create 2-way SMS campaigns (with 600+ pre-tested template), segment your customers, automate abandoned cart messages, launch promotions, and more.
Atomizely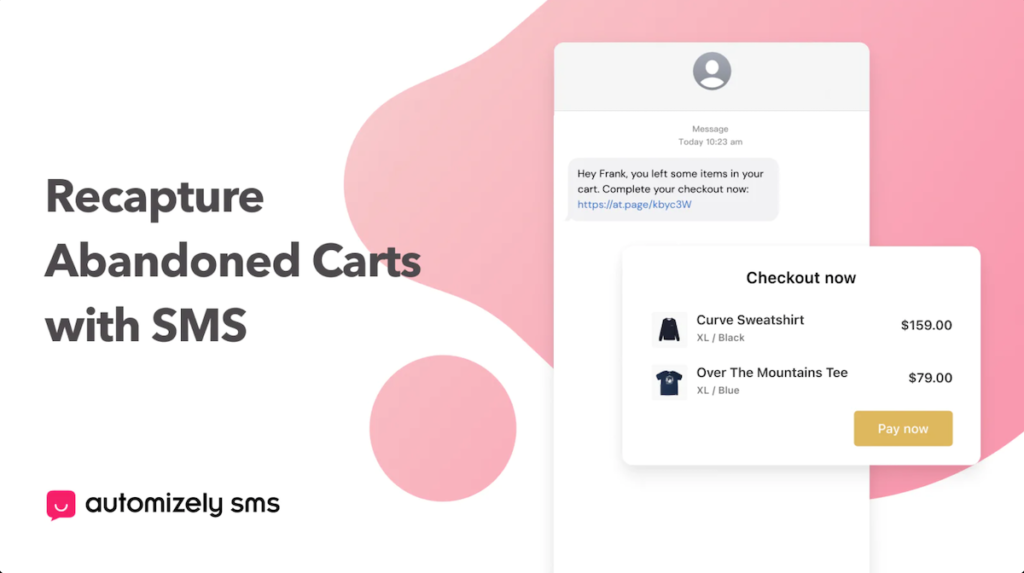 If you are sold on retargeting as a campaign type, you'll love what Atomizely can do for your marketing campaigns (and your revenue).
Atomizely is one of those one-stop SMS marketing Apps for Shopify that you can't get enough of. Starting with an easy, no-code installation, you not only send regular SMS campaigns with Atomizely but also help recover abandoned carts with text messages or SMS Messages (in addition to other email-based retargeting).
For instance, you can create quick shopping cart abandonment campaigns with pre-built SMS templates (including a cart recovery link).
Take advantage of automatic SMS trigger rules to send just the right SMS message at the right time.
Use detailed reports on sent and delivery rates to optimize your campaigns, and make it frictionless for your customers with auto-filled checkout fields for customers to quickly complete their purchases.
Tobi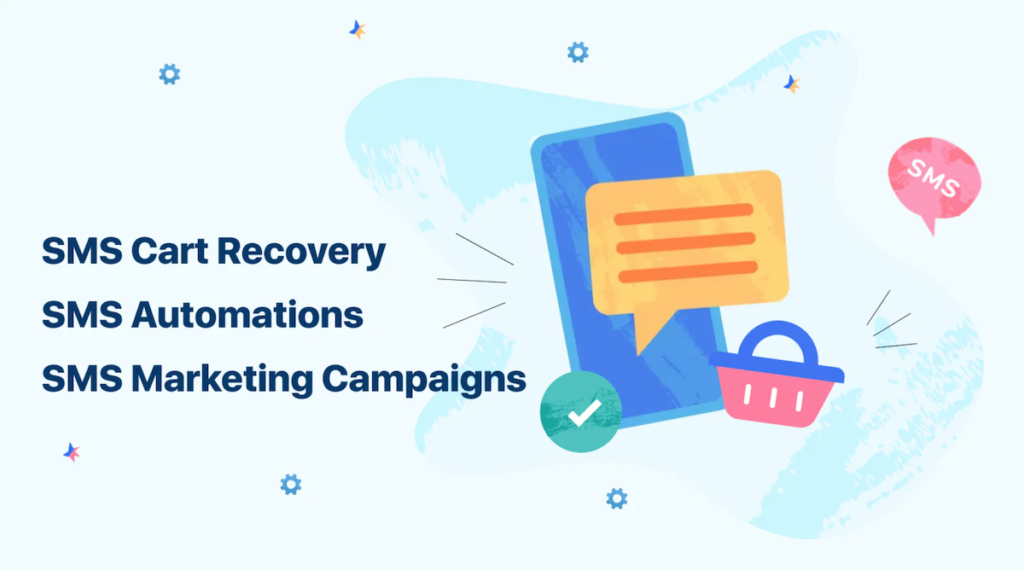 Tobi is one of the leading SMS marketing apps for Shopify to help you with SMS marketing. Send customers promotional offers, drive up orders, sync order updates, and push abandoned cart reminders.
Tobi features an abandonment protector to help you win back would-be shoppers by sending them abandoned cart recovery texts.
Tobi allows you to create a range of SMS automations to reward new customers with a discount, win-back existing customers with automated abandoned cart recovery via SMS, generate sales with SMS automations, retarget with SMS for existing customers or site visitors, or send text message with birthday greetings and discount code.
Flowio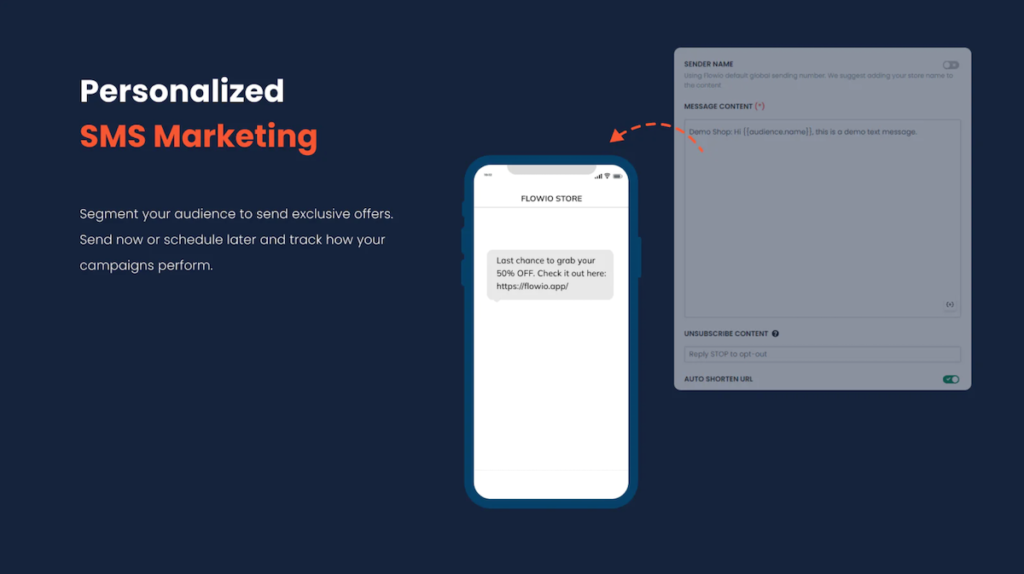 Flowio is an all-in-one solution for SMS and email marketing. Edging you towards the power of omnichannel marketing (without too much of an effort), Flowio makes several different marketing tools available to your eCommerce business.
How about SMS, Pop-ups, email marketing, live chat, and more? Combine several different marketing channels and directed pathways to automatically give your customers a seamless experience (on brand).
Note on Pop-ups: Regardless of what the world thinks, I love popups. I also believe that businesses should use popups for what they are used for instead of stopping themselves short just because many folks think otherwise.
There's even a right way to use popups, just in case you want to behave.
Recart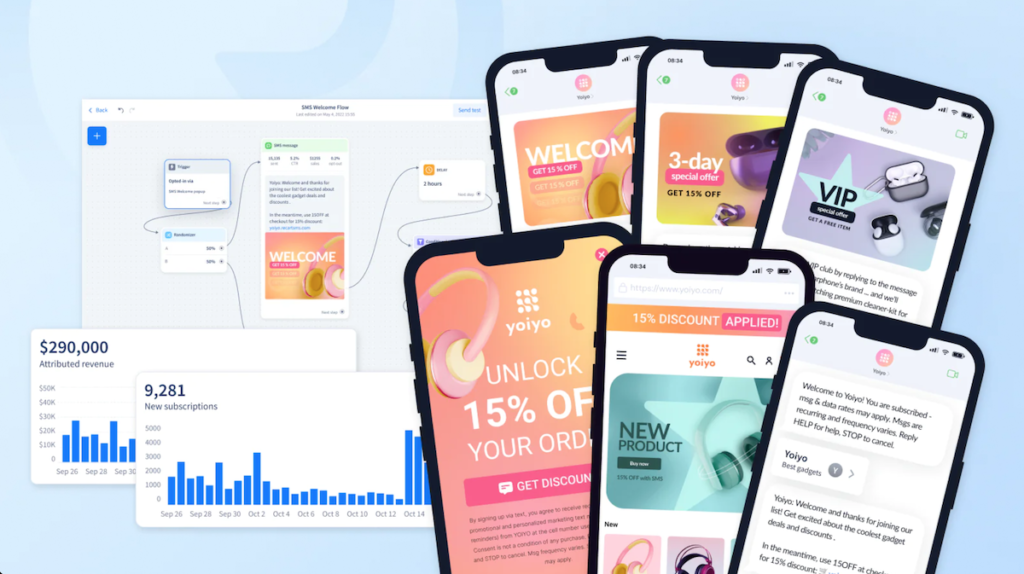 Love SMS marketing, but don't have the time to do it yourself? SMS marketing fully-managed services are here with Recart. Launch SMS campaigns, text campaigns, rich-text messages, SMS automations, recover abandoned carts, and grow your potential list of customers with Recart.
With more than 13,000+ Shopify stores powered by Recart, the SMS marketing app for Shopify boasts an average of 36.8X lift in average ROI and a stunning 14-33% additional revenue to boot.
Recart comes with pop-ups, automations, welcome flows, abandoned cart campaigns, other tactical SMS campaigns, and reporting/analytics built in.
You can do it yourself. Or you could opt for the fully-managed service to grow your business with SMS marketing. Recart offers automations to welcome new subscribers, abandoned cart rescue, reorders, campaign templates, regular SMS promotions, two-tap capture to increase conversions, and real-time analytics.
Which of these is the "go-to" SMS marketing apps for Shopify that you love?
Any other apps I must have missed?
Tell me all about it on Twitter, LinkedIn, or my LinkedIn Brand page.