Why worry about Mobile eCommerce Checkout? What else would you worry about? Why GroPro? Why not learn from one of the best out there?
Take a good look at GroPro Brand Stats and one thing is for sure: They are doing great. Clocking around US $391 billion (latest 2022 Q4 results, at the time of writing this) and boasting of a subscriber count leading to 1.6 million, there's a lot to learn from the award-winning brand.
Little camera. Got lots to teach.
Like a little thing or two Nike can teach you about branding and email marketing.
You thought mobile eCommerce was a "thing", a "fad", or something that'll walk into the sunset by the time the holiday season ends?
It's not. Mobile eCommerce was the past, is the present, and is certainly going to be the future. Everything happens on the phone now (at least for now). Think of anything (like browsing, sign ups, sales) happening on the desktop is an additional bonus.
From search to content consumption, mobile is the way. Your potential customers will want to:
Read more while trying to find solutions to their problems (clickthrough search results and social media networks)
Learn about specific answers to their questions
Get insights about your brand
Find out more about why you do what you do
Try to figure out your brand's big "why"
…and understand about your products themselves.
This is also the reason why eCommerce blogging is critical.
For some brands, they go beyond blog posts. In GoPro's case, it's all about stunning visuals: images, videos, user-generated content, and more (somewhat similar with DJI's case, but that's for another day).
You see, it's not enough if GoPro launches the Hero 11 Black. I'd want to know what's new, how it's different (and improved) compared to Hero 10 Black.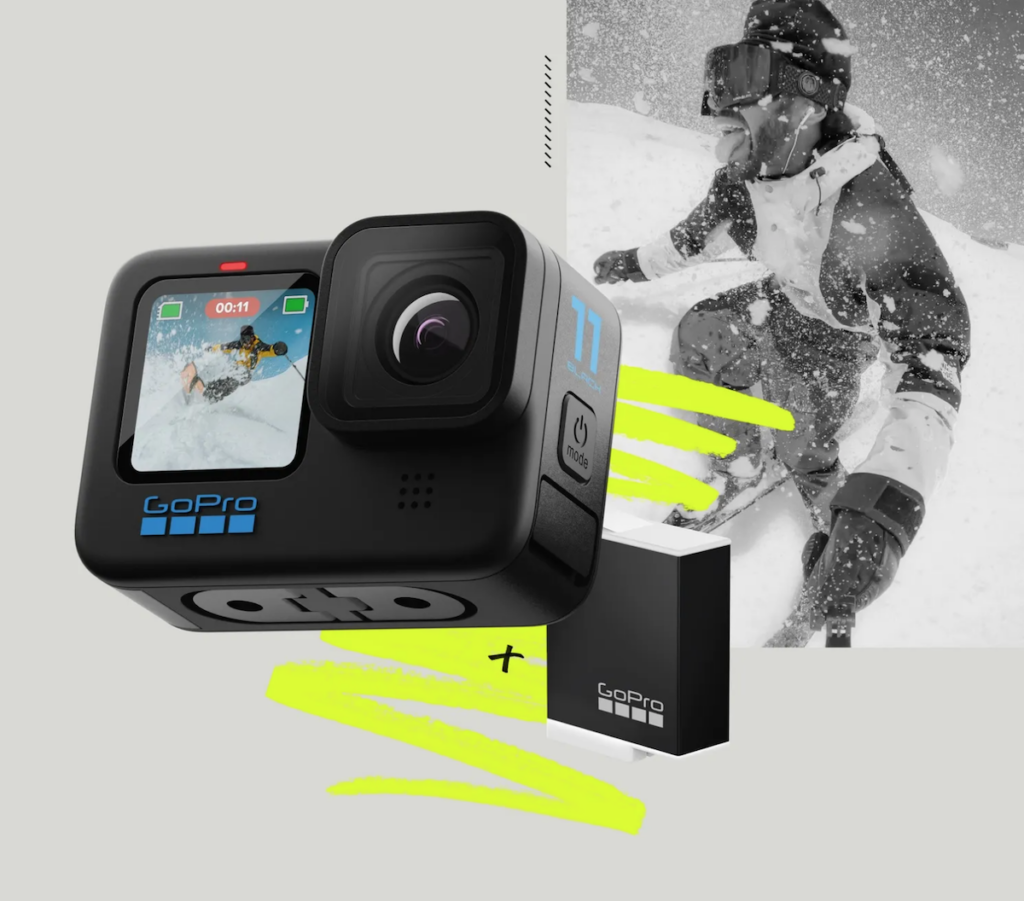 I might also want to see what others are doing with the GoPro — leading me down the path of "arm chair adventures" with mountain biking, snorkelling, hiking, camping, swimming, skiing, snowboarding, and more.
If I am an adrenaline freak and I enjoy outdoor activities, I'd want to see how GoPro "connects" with what I want to do.
More than 56% of respondents in a survey mentioned that "easy of shopping" is the primary reason why consumers shop online.
Meanwhile, the average eCommerce Mobile Checkout Order Value is around $112 for Q2 2022.
The key is this: More people want to shop online. While they are at it, they want the whole experience to be as simple, seamless, clutter-free, smooth, and intuitive as possible.
The fact is that most eCommerce stores (let alone regular businesses with eCommerce features thrown in as an after thought) don't make the mark.
Understanding The Mobile Checkout Experience
Let's take the example of GoPro's Mobile Checkout Experience for GoPro Hero 11 Black (I take this example because lot of people know about the brand. I have no affiliation with the brand)
Visit GoPro pages on mobile, and the eCommerce brand is ready to serve the same dazzling checkout experience on mobile.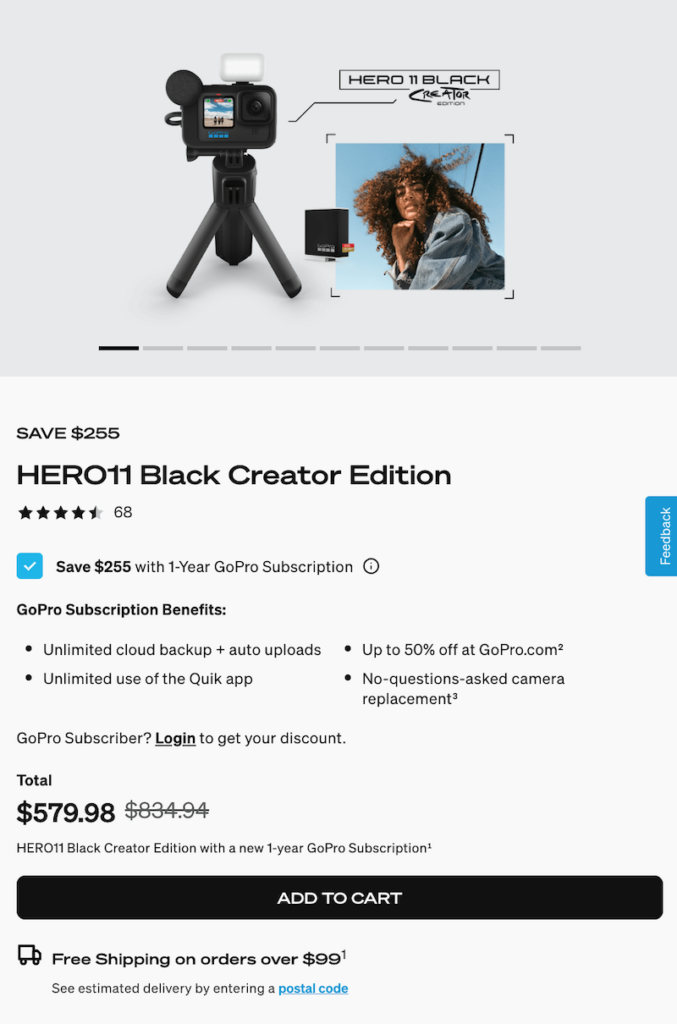 Notice how GoPro maximizes their mobile checkout experience by practicing many of the best practices for optimized checkout process for eCommerce — including:
Short snippets of "what you get" thanks to the subscriptions you purchase
"Free shipping" for orders over $99 offer thrown in
An easy "estimated delivery charges calculator" right underneath the "add to cart button".
Mobile eCommerce Checkout
Click on "Add to Cart" and you'll see another layer of eCommerce best practices followed (to the dot, without making a fuss about it).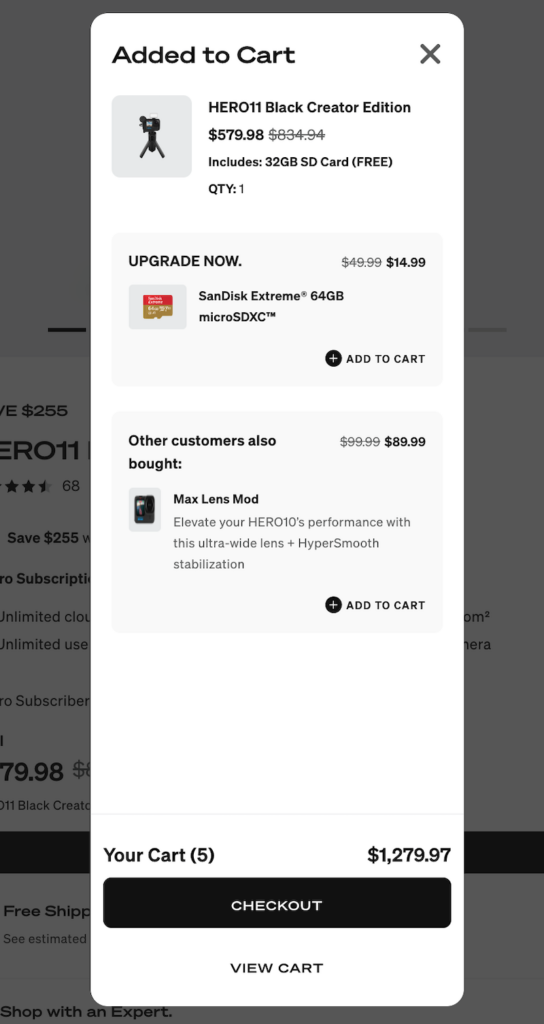 Notice the following:
Price shown already includes a price cut or discount coupon applied (I want bargains. I always want a bargain).
Mobile responsive checkout, fits nice and easy (no extra scrolling needed) on your mobile phone.
Array of upgrades and upselling before you checkout — The SanDisk Extreme® 64GB microSDXC™, and the Max Lens Mod (for stabilization and ultra-wide lens options for GoPro). Upselling items that are perfect (almost necessary) add-ons for GoPro, if you think about it.
Read:
How to Optimize Checkout Pages: 10 UX/UI Design Tips
Managing Shopping Cart Abandonment On Mobile Devices
In case you were to leave without doing anything on the Shopping cart, GoPro fires up a Popup giving you a 10% discount.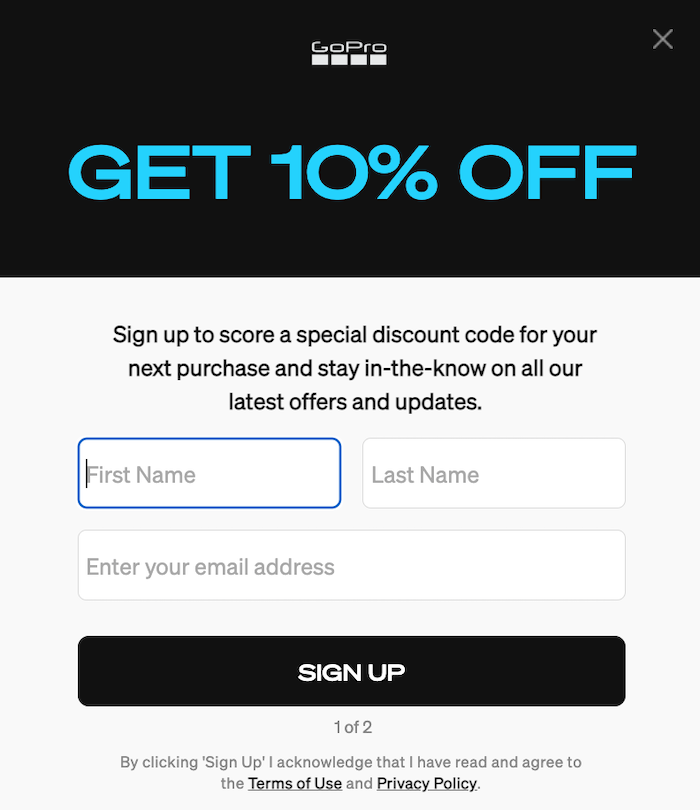 Learn all about Shopping Cart Abandonment and how to manage the potential bleeding your eCommerce store suffers.
If you use Shopify, there are Shopping Cart Abandonment Apps to help.
Use the following apps or tools to create triggered popups (such as the one GoPro uses):
Unbounce Popups (Learn how to create Unbounce Popups or Convertibles as they are called)
Convert Pro [By the folks at WPAstra]
In a nutshell, GoPro makes it easy for you to get lost in a sea of content (primarily real, user-submitted videos) to understand what the brand is all about and specifically what GoPro cameras are capable of.
The mobile checkout experience is optimized, ahem, for mobile, of course. It just works.
eCommerce buyer psychology is changing. They know it. We know it. We can learn from it.
Include a well-designed mobile browsing and mobile checkout experience, add upsells, do cross-selling, and make it easy for your customers.
With platforms like Shopify giving you robust, tested, and capable checkout experiences along with accelerated checkout on mobile with Shop Pay, There's no excuse left in this planet or another (if you know of one) where you can skip this part.
Read:
11 eCommerce Checkout Tips: How to Increase Conversions at Checkout
Your eCommerce business needs more than just an online store.
Period.
What do you think?
Tell me all about it on Twitter, LinkedIn, or my LinkedIn Brand page.