Upselling in eCommerce is huge. eCommerce upselling is underrated, not often thought of as much, and even comes with a "dirty" vibe to it (for no reason really, just like money is thought of as "dirty" by some people — go figure).
Yet, it's the staple for several businesses. Almost every business does it. If you don't, you lose out.
Alex Turnbill — CEO and founder of Groove — wrote a fantastic blog post on How to Use Upselling to Increase Customer Happiness, Retention, and Revenue.
Alex writes:
…when used properly, upselling can bring you closer to your customers, while bringing you more revenue, better retention, and lower churn.
In the book Marketing Metrics: The Definitive Guide To Measuring Marketing Performance, the authors talk about the importance of using:
Understanding the full spectrum of marketing metrics
Quantifying the profitability of products, customers, channels, and marketing initiatives.
Measuring everything (from bounce rates to landing page conversion rates)
Understanding the true return on marketing investment (and then strive to enhance it)
The authors Neil Bendle, Phillip Pfeifer, and David Reibstein also point out something crucial to understanding the importance of understanding upselling in eCommerce:
"The probability of selling to a new prospect is 5-20%. The probability of selling to an existing customer is 60-70%."

Read:
15+ Upselling Tips & Examples Proven to Boost Average Order Value
How to Upsell & Bank on the Sheer Profitability it Brings
In eCommerce, revenue and profits are the ultimate goal (not how pretty your store looks or what you think about your eCommerce business).
Learning to do upselling in marketing is the single most profitable thing you'd do. It's one of the smartest decisions you'd make with a direct impact on the balance sheets.
Here are several ways to do upselling in eCommerce — depending on the platforms (Such as Shopify, WooCommerce, or Volusion) and on the marketing strategies you deploy.
#1: Use Product Recommendations
For marketers and eCommerce business owners who'll not want to be too "in your face", product recommendations is a simple, non-intrusive way to do upselling in eCommerce.
Just because it's non-intrusive doesn't mean that works any less better. According to Forrester Research By Sucharita Kodali, product recommendations alone can be responsible from 10% to 30% of eCommerce revenues.
Product recommendations is the easiest thing you could do.
If you are a Shopify Merchant, here are some popular product recommendation apps you could use:
Product Recommendation Quiz by RevenueHunt
Also Bought (related products) by Code Black Belt
LimeSpot Upsell & Cross sell by LimeSpot
Related, Product Recommendations by KaktusApps
Frequently Bought Together by Code Black Belt
If you are using Shopify POS, you can also add product recommendations to the offline experience by using Shopify Smart Grid or "View recommended products". (or if you have access to help.
You can also make modifications to your theme and provide product recommendations using Liquid).
Likewise, WooCommerce also has its own product recommendations plugin called "Product recommendations" that you could use.
#2: Talk To Sell (With Live Chat or Comprehensive Customer Support Tech)
By using live chat, customer support tickets, social media apps (tied in with a comprehensive customer service technology back-end), you can do things that don't scale.
Upselling with live chat is a truly underrated opportunity.
Shopify Live Chat (along with the powerful real time reports — lets you know who's on your store at any given time) helps you generate sales actively.
Ashley Kimler of Gorgias wrote a handy post on three examples of Shopify Stores that increased sales with Live Chat alone.
MNML is an online-only clothing store offering casual men's denim and other fashion clothing (+ accessories).
With more than 650k+ followers on Instagram, the brand wanted to bring in a unified way to manage their audiences, and streamline their social media and live chat efforts.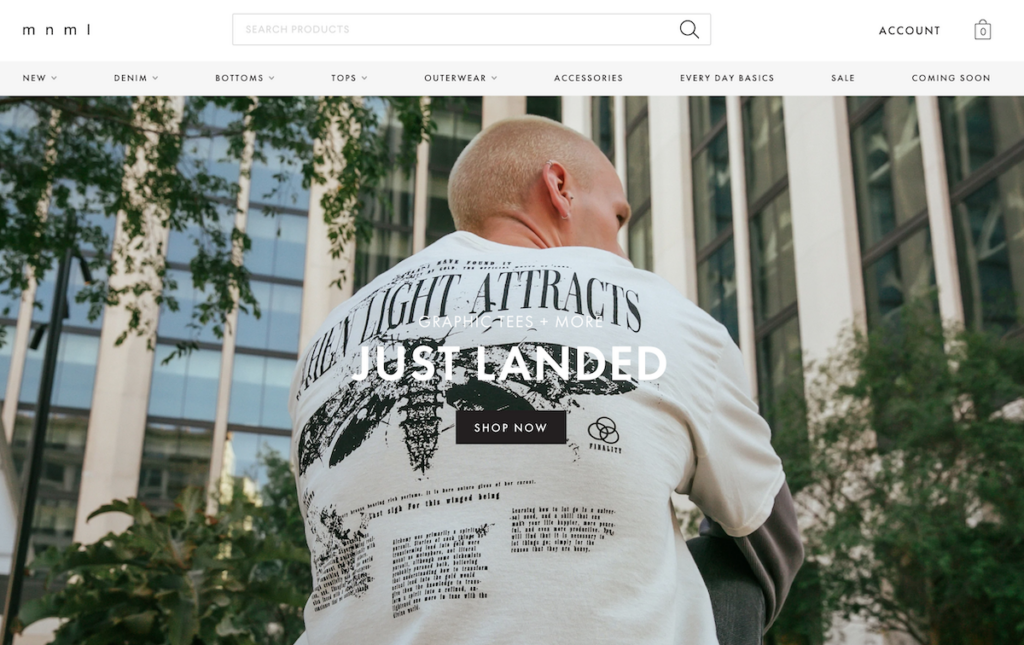 Specifically, MNML wanted to retarget custom social media messages to shoppers who added items to their shopping cart and then abandoned it.
Using ShopMessage and Gorgias, they were able to provide a universal and consistent experience to shoppers. MNML managed to receive "abandoned cart notifications" across all channels (thereby building a specific audience to retarget to).
With one dashboard to monitor, three support agents processed more than 5000+ support tickets.
These full-featured macros, live chat, social media integrations, a comprehensive customer service tech dashboard — together helped them boost profits and put them on a growth path.
Similarly, take the example of Campus Protein — the branded started in a dorm room in 2010 and sells protein supplements, amino acids, fat burners, and more.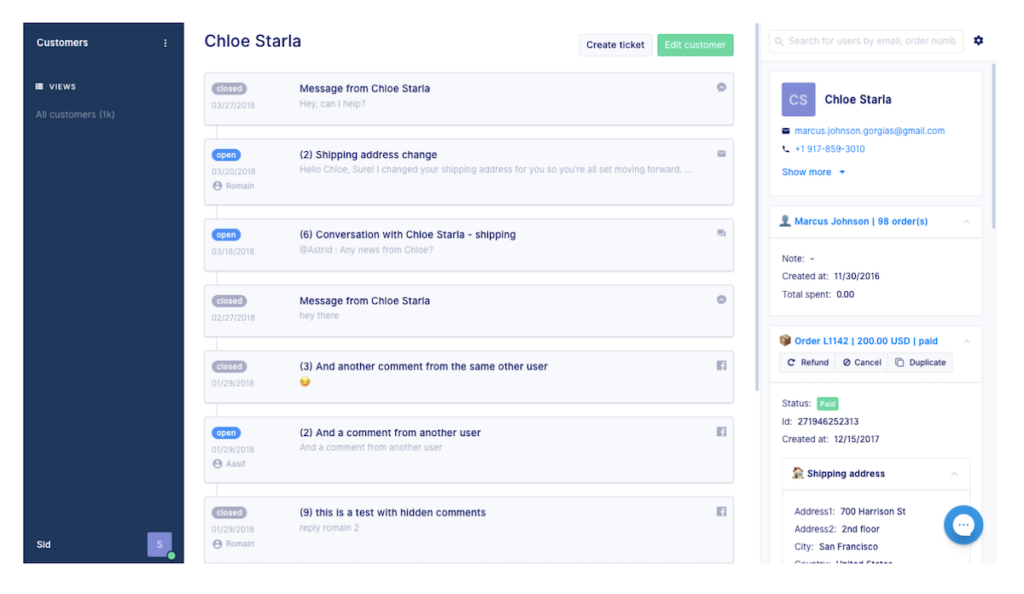 The Campus Protein team uses customer service tech, organized workflows, and a direct connection with Shopify to do some magic.
The team can quickly gather customer details (from Shopify — along with order history) and respond directly if customers have questions.
#3: Upsell During Before & During Checkout
Upselling during checkout — just like product recommendations — is an intuitive, timely, and non-intrusive way to upsell in eCommerce.
Take an example of The Sill — an eCommerce store that sells potting mixes, plants, plant care products, bouquets, and home decor products.
The folks at The Sill do two things right when it comes to upselling — product recommendations before customers checkout (while viewing a product) and also recommending other relevant products during checkout.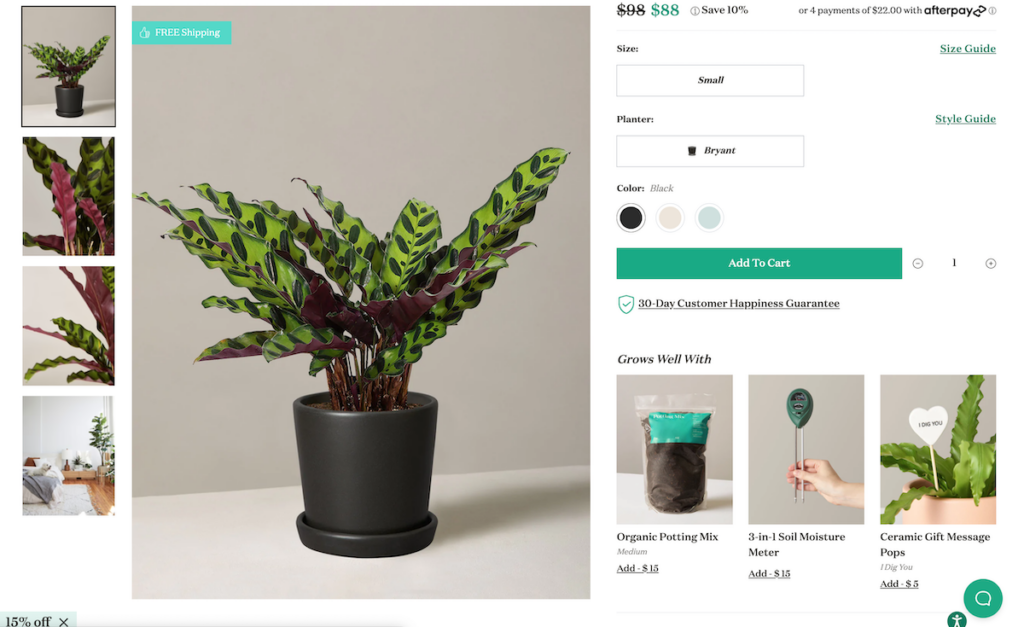 By using "Grows well with", The Sill recommends other products that could be a good fit for the customers (also called as cross selling).
Read:
Difference Between Upselling and Cross selling
Then, during checkout, they offer more products by recommending products with "Don't Forget These".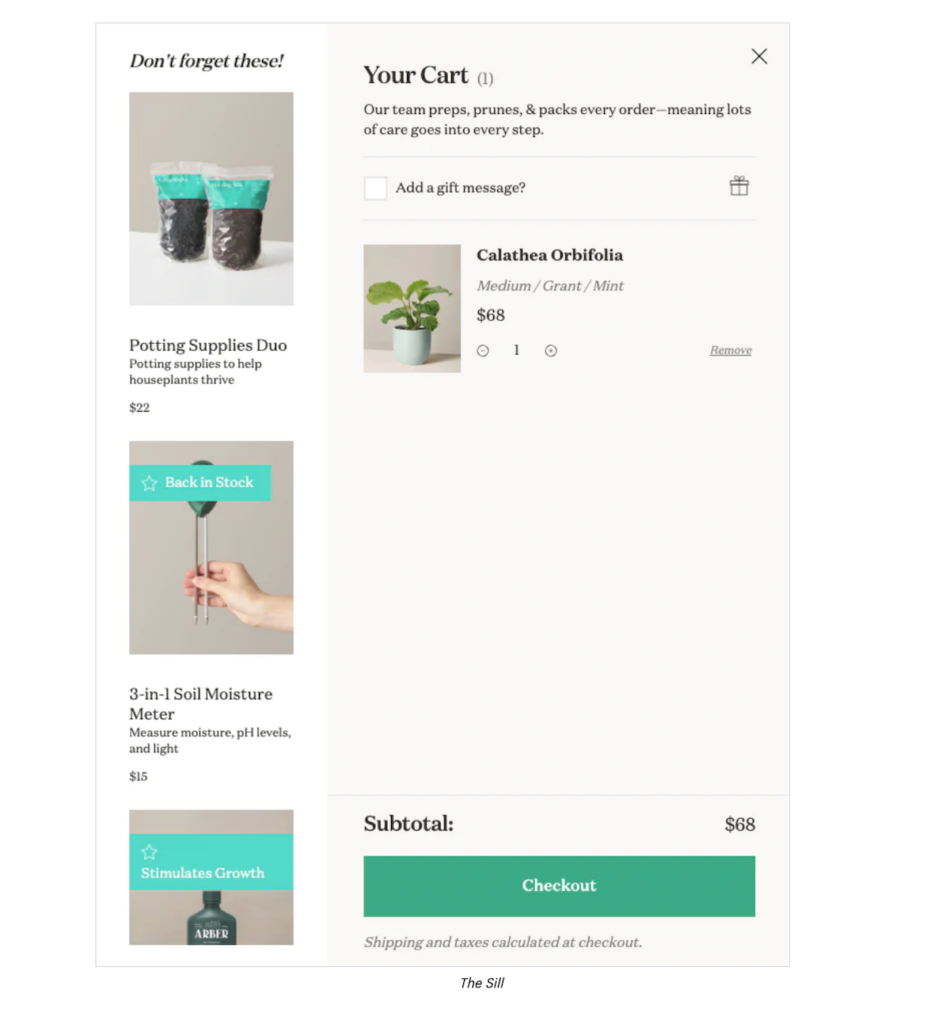 This is on top of all the other eCommerce marketing tactics such as staying on brand throughout, "free shipping", showing total prices, adding little blurbs to enhance product display, and more.
Read More:
How to Upsell and Cross Sell on Your eCommerce Store
How to Boost eCommerce Sales By Upselling, CXL Blog
#4: Upsell with Bundled Products
Nothing beats Amazon when it comes to upselling with bundles (you probably already got yourself a few other related items, presented as bundles to you).
For some products (when it makes sense), Amazon displays a bundle by bringing in and displaying other relevant products. You'd know it when you see "Frequently brought together" or "Buy It With"showing up with two or three other products that go well with the product that you are looking at.
For instance, let's say I was looking at the Elgato Facecam (been on my mind for a while).
Apart from the other option of buying the Elgato Pro Bundle, Amazon immediately shows The Elgato StreamDeck and the Elgato Ring Light as well (Perfect. Just what I wanted).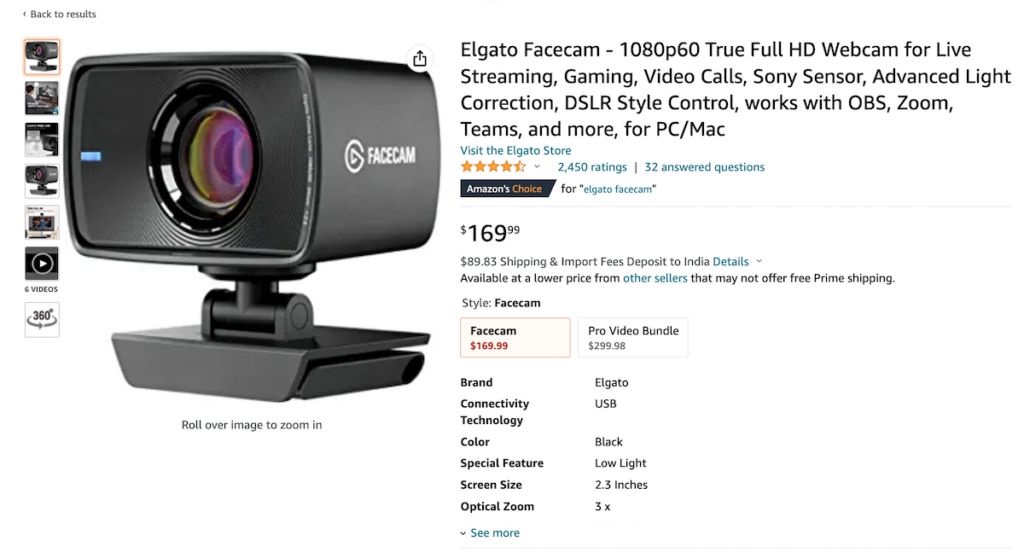 See what's happening there?
#5: Post Purchase Upsells [Email Automations + SMS Marketing]
Post purchase upsells — whether you use email marketing or SMS marketing — helps you not only automate upselling (or cross selling) but also helps you increase customer lifetime value (CLV), boost profits, and more. Just cross selling alone can increase profits by upto 30%.
Using variations of "Complete your kit", "Build your collection", "Stack your lovelies", or "complete the outfit", you can launch email automations or send out SMS marketing messages to upsell relevant products after customers already purchased something on your eCommerce store.
Here's an example, thanks to the folks at Drip:
The eCommerce store Ten Thousand recommends and invites customers to "complete their kit".
Using a simple shipping confirmation email, they use the opportunity to cross sell more products. Timely, relevant, instant, and profitable.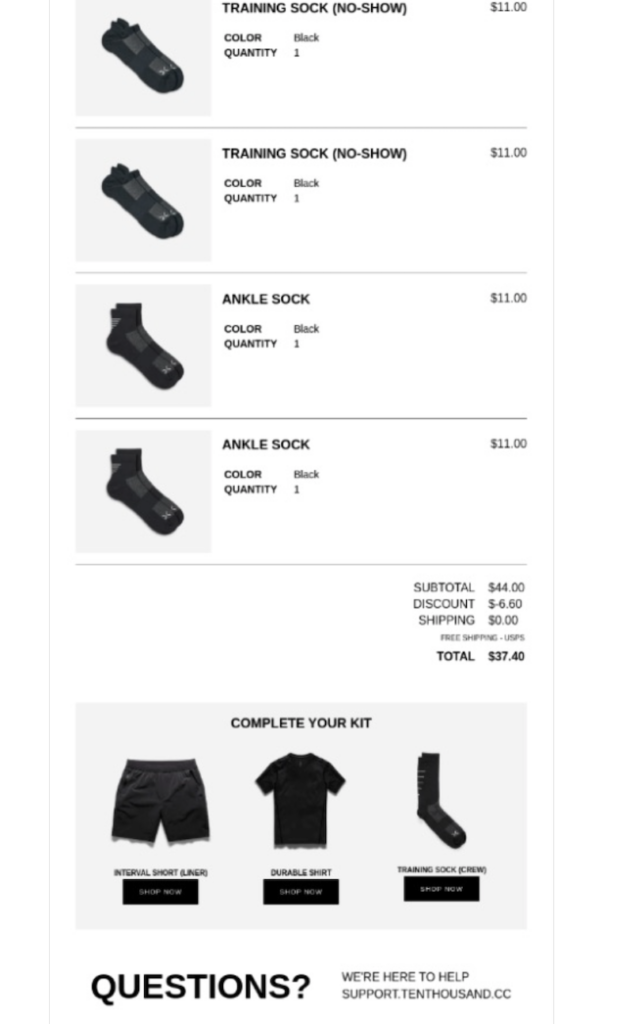 Read:
7 Post Purchase Emails to Inspire Your Own
Likewise, you can orchestrate SMS marketing messages with links back to your eCommerce store to boost sales with Upsells as well.