This WordPress eCommerce guide doesn't get into things like "How to Build eCommerce sites" — a lot of that has been covered. Take a more holistic look at how to grow your eCommerce business with this post.
According to Lisa Gennaro at WPforms, there are up to 24 million eCommerce sites across the entire globe (and more and more being created every single day).
eCommerce growth is mind-numbing, to say the least.
Along with that, you have that WordPress eCommerce ride that you'll witness. According to Nasdaq, 95% of all purchases will be online, thanks to eCommerce.

If you've been thinking of starting a WordPress eCommerce business, the time is ripe.
According to BigCommerce, the eCommerce industry is growing 23% year-over-year, yet 46% of American small businesses still don't have a website.

However, of the businesses that do own a website (or an eCommerce store), less than a million of these eCommerce sites make only $1,000/year.
Now that's something we need to address. You can't let your dreams be crushed just because you didn't know better. Right?

This post doesn't come from a "How to Build an eCommerce site" perspective. I am not a developer, so I won't go there. However, this post is about getting the basics right so you have a chance to grow your eCommerce store.
WordPress eCommerce: Why Bother With WordPress for eCommerce?

WordPress is big. It's almost ubiquitous. Just how big is WordPress when compared to other platforms? How many WordPress users are there worldwide? Check out these mind-blowing WordPress Stats
You already know that "WooCommerce" runs on WooCommerce, right? Visakan Veeraswamy of ReferralCandy helpfully points that there are a lot more businesses that are on WooCommerce such as:
Porter and York
Underwear Expert
Barefoot Buttons
The GoodBatch
Untold Wish
Root Science
Bluestar Coffee Roasters
Sodashi
Henry J. Socks
Want more? Who uses WooCommerce? According to BuiltWith:
Entrepreneur BookStore (Entrepreneur.com's extension shop for books, for entrepreneurs)
AllCrafts Partners Store
The Internet Archive Store
London Evening Standard
CounterPunch
Keurig
CDW
TotalWar
Deliciously Organic
Rough Guides
Why WordPress eCommerce Is a Popular Option?
This list of sites running on WooCommerce probably never ends. The point I am making is this: WordPress eCommerce is popular for a reason.
It's easy to get started with free WordPress eCommerce starter themes for WordPress. Or you can choose to go premium with several fast-loading, lightweight, and popular eCommerce themes for WordPress from the likes of Divi by Elegant Themes, Crocoblock (for Elementor) and GeneratePress (for all WordPress sites).
If you love drag-and-drop-and-build WordPress builders, you get the likes of Divi, Elementor, Beaver Builder. 
Want to take the Gutenberg Builder route and not choose the WordPress builders above? You have options like Stackable, Qubely, GenerateBlocks (by GeneratePress), and more. 
There's a lot of support available for you (if you need any). 
The list of eCommerce WordPress plugins you can use (for various things) is endless (don't even get me started here). 
The path to doing launches, promotions, lead generation, and marketing your WooCommerce site is absolutely clear (see below). 
Empowered Customer support is possible with WordPress and you are never limited to a few tools, customer support processes, or workflows that. Instead of using 3-6 different software tools to manage eCommerce customer support, you could just use Gorgias.
Integrations: The vast universe of integrations demands at least 140 different other blog posts, but WordPress practically integrates with everything (and you don't need to know how to code).
WordPress eCommerce: The Disadvantages
It's not fair that I write about all the "hoo haa" about WordPress eCommerce or why use WordPress at all and not talk about the few disadvantages it does have against its main rivals such as Shopify and Webflow.
Against each of the disadvantages, you'll have to actively manage your WordPress eCommerce setup. It's not a "set-it-forget-it" affair with WordPress, ever.
The usual problems with WordPress eCommerce setup comes from themes, plugins, and the fact that you don't maintain WordPress actively and safely enough.
Your choices (and whether or not you manage your store like you mean business) are the reason why WordPress works (or not) for you.
Basic Foundational Steps for WordPress eCommerce
Choose the right WordPress eCommerce Themes: Not all WordPress eCommerce themes are built equal. Some eCommerce themes for WordPress try to do too much (or have bloated code). Choose eCommerce themes (see below) for WordPress that have established themselves for speed, light code (no bloat), security, and just enough options for you to customize your eCommerce store. 
Don't Pollute your WordPress eCommerce store with too many plugins: If you start with the right WordPress eCommerce theme, you won't need too many plugins (to do this and that). If you start with managed WordPress hosting, you won't need extra plugins for site speed optimization, to minify CSS, or to compress GZIP files. See what I mean? 
WordPress eCommerce stores don't make money by themselves: Way too many entrepreneurs forget that marketing is key to success. Without doing what you need to do for digital marketing, your store has no chance.
If your eCommerce store isn't working, it's probably because you don't manage it well enough and you don't market (or promote) it well enough.
Best WordPress eCommerce Themes
Your starting point with WordPress eCommerce is an eCommerce theme. Remember that not all themes are built equal. Stop looking at themes, falling for the looks, and deciding on your WordPress themes.
Here are a few established eCommerce ready themes to help you get started:
StudioPress themes (free with WPEngine or Flywheel)
Want more?
14 eCommerce WordPress themes for your online store
36 Best WooCommerce Themes to Dress Up Your eCommerce Site

WordPress eCommerce Setup: Your Options
With WordPress, there are several ways to get started.
How you go about it, the options you choose, and how you get started with WordPress eCommerce is really your call and it's a function of your skills, resources, time, and your mindset.
Out of the box, here are a few options available to you:
WooCommerce
WooCommerce itself is larger than what it might seem to be — it's a complete, out-of-the-box solution to help you get started with your WordPress eCommerce business journey.
You'll still need a robust, secure, and dependable (albeit powerful) hosting solution like Kinsta, WPEngine, Pressidium, or others. 
It's open source, it's free (up to a certain point). 
WooCommerce comes with a few themes (you can purchase others, if you like) and everything you need for basic eCommerce (WooCommerce extensions can help you do a lot more — such as to sell subscriptions and build WordPress membership sites. Most of these extensions cost extra. 
It's open source, it's free (up to a certain point). 
WooCommerce comes with a few themes (you can purchase others, if you like) and everything you need for basic eCommerce (WooCommerce extensions can help you do a lot more — such as to sell subscriptions and build WordPress membership sites. Most of these extensions cost extra.
As for page speed (which is critical), here are at least 17+ different ways to speed up your eCommerce site on WordPress.
WPEngine eCommerce Solutions
WPEngine eCommerce solutions give you a rock-solid foundation for your WordPress eCommerce business.
You can effortlessly build an eCommerce website with a free WooCommerce starter template. Plus, you get the following:
Start with a one-click, pre-built, and optimized eCommerce store with a quick setup wizard, ready-to-use store eCommerce themes, and drag-and-drop tools that let you add content and products to your site in seconds.No coding required. 
At least 3% of shoppers use search and they're twice as likely to buy. Plus, in-store search is known to give an 18% lift in conversion rates with Instant Store Search. When users search on your eCommerce store, showcase the most valuable & relevant products. Impress your shoppers (and increase conversion rates) with features like autocomplete & "did you mean?" Build a better shopping experience at a fraction of the cost of other platforms.
Did you know that you grow 6X times (sometimes more) when you combine your eCommerce store with a helpful, impactful, and resourceful blog? Get three more sites (or host sites on subdomains) to combine content and commerce. 
If you have an existing eCommerce store, you can migrate to WPEngine easily with their free migration plugin. You also get help from their support if needed.
Unlike Shopify and Squarespace, your data (including users, content, products, pages, posts, and everything else) stays with you. Never let other companies hijack your data or content, ever. 
Divi Theme
A popular way to get started with eCommerce on WordPress is to go with Divi for eCommerce to get access to their flagship all-purpose Divi theme or the Divi Plugin with the Divi Visual Builder.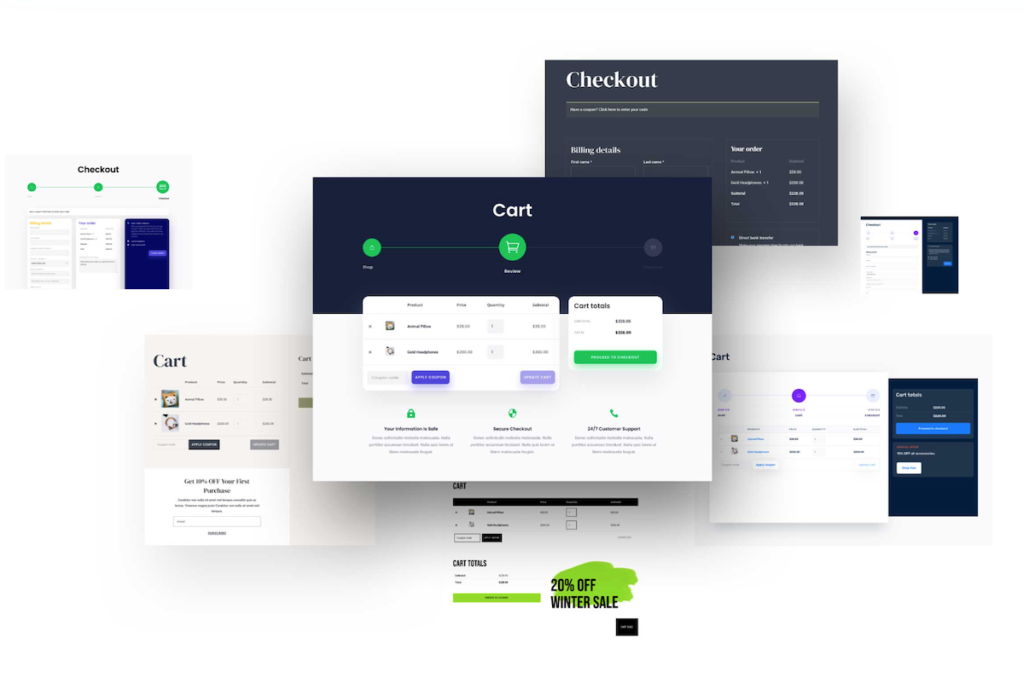 Divi gives you complete control over how your eCommerce store on WordPress looks like. You can go down deep into pixels to design your store, the way you want to. You really don't even need any help from others. 
Countless other vendors provide more goodies related to Divi (or compatible with Divi).
If you want more than the capable Divi theme, you can choose to work with several other popular WordPress eCommerce themes such as Astra, GeneratePress, and more. 
Divi also gives you a way to create unlimited landing pages and pop-ups that you could use for marketing your WordPress-based eCommerce store. 
Divi integrates with several other marketing tools, analytics solutions, and more. 
You have way too many expenses as it is. Divi has a mouth-watering lifetime license (buy it once and use it forever) for you to pick. 
Divi's All-in-One Theme — and the accompanying WordPress page builder and WordPress theme builder —  has everything you need to build your eCommerce store. If you want a quick start, there are several hundreds of Divi Layout packs (just select pages or complete layout packs) and make the changes you need. 
The Divi Marketplace gives you a lot more juice with several WordPress modules, WordPress plugins, themes, and child themes to suit any particular purpose.
WordPress eCommerce SEO: What No One's Telling You
Talk to freelancers and agencies, and they'll tell you that you need SEO for your eCommerce store.
No doubt. You do need SEO.
More than 93% of the world's users (definitely your customers) start with Google search.
Here are a few more eCommerce SEO Stats you should know, according to SerpWatch:
57% of business-to-business (B2B) marketers believe that SEO is capable of generating more leads than other marketing strategies or initiatives.
Google is the leader at global desktop traffic search, getting 79% of the market under its name.
47% of users online tend to view 3 to 5 pieces of content by a company before it approaches a person from the same brand.
Search engine optimization stats suggest that 39% of global e-commerce traffic comes from search.
Let's just assume that you are all convinced that eCommerce SEO is important to help grow your eCommerce business.
Here's precisely what you should do:
Basic Steps for WordPress eCommerce SEO
If you don't have any content at all, start with some strong copywriting (please, be personable and write for one person) for all your pages (including product category pages, service pages, contact page), and more. 
Have some content on your page? Start with the On-Page SEO Checker from SEMrush. 
Just writing static content for a few pages of your site (or getting SEO-specific content written by someone else) won't help at all. You'll need a complete digital marketing strategy (including social media) and regular blogging (publish X times per week, until earth no longer exists). 
Once you strike points 1 and 2 off this list, sign up for a free account with SEMrush and do an SEO Audit. The SEMrush Audit tool gives you lots of information, starting with a domain overview, keywords you rank for (and don't), how well you show up on search, ideas for your content, and more. You can also do a thorough competitor analysis with SEMRush, of course. 
Using SEMrush again, do a thorough Backlink Audit. It's not necessary to spend a lifetime trying to build backlinks but it's healthy to remove toxic backlinks at least. 
Start with the Keyword Magic Tool from SEMRush and access 18.9 billion keyword opportunities to rank your eCommerce store (with product descriptions, media, and content). 
Of course, you can do a lot with SEMrush.
That's not the point, however. Your SEO efforts mean nothing (trust me, nothing) without a proper content strategy, regular blogging, and social media efforts. 

So, before anything, start with your content. Anything else you try with WordPress eCommerce SEO is going to fall flat on your face (notwithstanding the huge costs you'll incur trying to do "stuff". 
Generating Leads for Your WordPress-based eCommerce Store
With all of the above, you are all set to receive traffic to your eCommerce site.
Guess what? Many eCommerce sites don't do what's necessary from this point on. One of the first things to do once you start receiving traffic is to generate leads for your eCommerce store.
Sadly, many sites don't do that. The average joe just creates an eCommerce site on WordPress and leaves it to rot.
People visit, but they don't buy anything.
If they don't buy anything and leave, there's nothing that Joe does (he only sits there praying that better days will come).
Don't be an average joe.
eCommerce Lead Generation Strategy
While it sounds fancy, your eCommerce lead generation strategy is as simple as it can get.
Here's the exact strategy, tools, and a plan to start generating leads for your eCommerce store:
Collect leads by making an offer.
Collect leads by using pop-ups, slide-ins, quizzes, landing pages, or whatever works for you.
Send automated emails to nurture your leads (or subscribers).
OptinMonster
OptinMonster has a whole suite of features and tools for eCommerce lead generation and eCommerce Conversion optimization.
OptinMonster's behavior optimization platform allows you to generate leads, maximize revenue, and grow your eCommerce business. While OptinMonster has a lot of juice packed in, let's just focus on the basics for now.
Give away an offer (a discount coupon code, a free trial, a free sample, a checklist, a full-fledged eBook, a lookbook, or anything else that makes sense for your business).
To make that offer, create pop-ups, floating bars, slide-ins, full-page welcome mats, gaming wheels, and more with OptinMonster. 
Integrate your OptinMonster account with an email marketing tool of your choice. Integrations are available with several popular email marketing service providers and that includes the likes of MailerLite, Moosend, ConvertKit, ActiveCampaign, and more. 
Subsequently, send out a series of emails (or autoresponders as they are called) automatically the moment someone signs up for your offer. The first email contains a "warm hello" with whatever you promised. The rest of the emails can be follow-ups after the first offer, nurturing email sequences, and more.
That's all that you need to do to get going. Trust me: a lot of businesses don't do this at all.
Unbounce Pop-ups & Sticky Bars
While Unbounce is a popular landing page builder, they also have pop-ups and sticky bars that you could use for lead generation on your eCommerce website.
With the Unbounce Pop-up builder and sticky bars feature, you can drag-and-drop elements into place, add your form, write your copy, and you are good to go.
This is in addition to the landing pages you can create (and assign to the same campaign, if you wish).
Similar to OptinMonster, use Unbounce built-in Integrations (with MailChimp, Drip, ActiveCampaign, ConvertKit) or use Zapier (to connect with possibly any marketing tool you can imagine) and keep your marketing flow ready.
Create full-fledged landing pages (use templates or drag-and-drop to create landing pages), targeted pop-ups (includes exit-intent, and even dynamic text replacement based on visitor parameters), and floating sticky bars to create offers (like a discount coupon code, for instance). 
Integrate Unbounce with ConvertKit, MailerLite, Moosend, or any other marketing tool and send out an autoresponder (the first email) to deliver that offer you promised. 
Then, follow-up with a sequence of automated (but targeted and well-written) emails.
You can see that the eCommerce lead generation strategy itself doesn't change much.
Only the eCommerce lead generation tools, the actual offers, the design of your marketing elements, and the copy are all bound to change.
Social Media for eCommerce Store : How (&Why) It's Critical
Most eCommerce store owners forget about social media completely, use it the wrong way, or use social media sparingly.
There's a way to make social media the right way — it sends you traffic, helps build a community around your brand, allows users to mention (and discuss your brand), and even gets you direct revenue.
With an eCommerce business, you are bound to be on social media on a constant basis.
This is how you should be using social media (choose platforms, depending on the business itself, the target audience, and other factors).
Your social media strategy for eCommerce involves three different (but related) aspects, and falls into two major parts (organic and inorganic social strategy):
Content sharing & content distribution
Self-promotions (While it can be organic, it also includes paid social media strategies)
Good, ol' networking (small talk, conversations, discussions, social media threads, chats, and more). Just how many people can you touch base with (and make friends or acquaintances with on a one-to-one basis?
Social media Organic strategy: It's Your Bread-and-Butter
First things first: If you have products, product collections, and new launches, share them on social media.
See how Olive Clothing – a leading e-retailer in the UK — shares Twitter tweets about their products:
No, social media is not just limited to just product-based companies. You could showcase your services, your online courses, your membership products, and practically anything else that you sell (all of that is eCommerce as well).
But just sharing your own stuff, makes you a bad boy (or girl). Sometimes, you'd have to be generous and share other people's content as well.
When you do share other people's content, make it a point to mention others (using @, hashtags, or names — depending on platforms).
Here's an example of a Tweet that mentions Pressidium:
If you are not using #livechat on your website, it's like hiding every time someone walks into your office or store. Stop doing that. Use the humble #livechat and start talking to your visitors. Now. https://t.co/afruBoO4gP #digitalmarketing #smallbusiness by @Pressidium pic.twitter.com/5V9Ay4w4VM

— Ash (@fetchprofits) April 11, 2021
As a part of organic social media strategy, you can also:
Create a Facebook page, start a Facebook Shop, and start interacting with Facebook Groups.
Use YouTube Videos (to establish thought leadership by video, showcase products, and more)
Ride the Instagram Stories, Instagram Reels, and IGTV bandwagon on top of regular Instagram updates (with captions and hashtags).
Create Product pages on LinkedIn (if it makes sense for your business)
Run, manage, and promote Pinterest boards, Pinterest Pins, and more.
Try out new platforms such as SnapChat, TikTok, and others.
Organic is all about how it sounds like — slow, but powerful growth. Grow your network slowly, but surely. Real-time conversations. Real relationships.
Paid Social media Strategy
One each of the social media networks, you can launch paid advertisements as well. Twitter Advertising, Facebook Advertising, LinkedIn Advertising, Pinterest Ads, and even Quora Ads.
When running Paid social ads, it's critical to pay attention to the following:
Pay attention to ads (copy and images), creatives, angles, and the offers you are making. It's all that matters.
Ads lead to landing pages (with an offer). Collect leads on landing pages and send them automated emails. That's it. That's your sales funnel.
All paid ads must have a strategy.
Test your ads, campaigns, and everything else (also called as A/B testing). You can't ever be sure about what works and what doesn't.
You just can't buy your way into people's hearts.
Social media paid ads, just like Google Advertising, is not like a magic wand: It takes time (and budget) to reach a particular success threshold.
Email Marketing For WordPress eCommerce Business
It's email marketing that'll bring in the cash for your eCommerce business. Period. You can search high-and-low. Do what you want, but email is here to stay.
Good thing about WordPress? Every email marketing tool or email marketing company builds native integrations with WordPress.
Like, practically every single tool out there just integrates with WordPress (usually with a WordPress plugin).
As discussed above, email marketing starts with the offer you make (using landing pages, opt-in forms, pop-ups, or whatever you use).
Then, a dedicated sequence of emails will follow. This helps in nurturing your leads (while building a pipeline of potential customers), leading to sales (and then more sales).
Here are a few email marketing tools that are quite popular:
Note: When it comes to email marketing, it doesn't matter which email marketing tool you use (do note that some might be a better fit for you than others).

What matters then? Whether or not you send email marketing messages at all? Do you follow copywriting basics when writing email sequences? Do you sell too much in your emails (or not sell at all?).
The only way to determine if you are doing email marketing right is when the numbers speak for themselves.
Once you do get email marketing results, it's time to optimize, test, and do more of what works.
Analytics for your eCommerce Store
After doing all of the work above (and on a continuous basis), it's a shame if there's no way to know if all of your efforts are paying off. The only way to know is to use eCommerce analytics.
You do have the mighty Google Analytics for WordPress eCommerce to help. A few other tools that you can use to make it easier for your WordPress eCommerce are as follows (starting with the obvious one);
Next Generation Google Analytics
Google Analytics for eCommerce starts with how you setup Google Analytics properties, a dedicated eCommerce view, conversions, and more. Setting up Google Analytics can be simple or hard, depending on how you go about it.

Here are the basics of setting up Google Analytics and support for the new Generation Analytics 4.
There are also several plugins that can help (not getting into this, for this post).
MonsterInsights
If you want a single plugin that can help you with not only basic Google Analytics setup but also eCommerce analytics, Google Analytics eCommerce integration, and more, MonsterInsights can help.
MonsterInsights comes with Universal tracking, link tracking, eCommerce tracking, eCommerce enhanced tracking, customizable eCommerce reports, and more.
SuperMetrics for eCommerce
If you are an advanced user or if you are firing away on all cylinders, try SuperMetrics for eCommerce.

On top of tight integration with Google Analytics, SuperMetrics for eCommerce offers granular data on channels, enhanced eCommerce tracking, and super-customizable eCommerce reports.
Plus, there are several connectors available for you to import data to Data Studio or even your humble excel sheet.
Bringing it all together (& your Marketing Plan for eCommerce)
Most of the content you read online talks about the "technical" or the "design" or the "development" side of WordPress eCommerce. Here's an effort to try to show you the more important (but often never discussed or easily overlooked) marketing, lead generation, and management side of WordPress eCommerce.

Don't let anyone tell you that running a successful eCommerce store on WordPress is easy.
If that's what you believed, I am hoping that you at least have a faint idea as to just how much work is involved when it comes to being successful with eCommerce.