If you are the WordPress eCommerce type, here's how to use Divi for eCommerce — the right way.
Note: Whether you use Shopify, BigCommerce, WooCommerce, PrestaShop and any other platform for eCommerce, I highly recommend reducing the amount of time spent on "development and design" and focus on eCommerce marketing as soon as possible.
All the time lost on building, designing, tweaking, re-tweaking is an opportunity cost you'd have otherwise use on trying to grow your eCommerce business. Period.
Divi, by Elegant Themes, is one of the most popular WordPress builders using which you can design WordPress websites (one-page websites, landing pages, full-fledged small business websites, large websites, online publications, blogs, and eCommerce stores).
Divi gives you speed, stability, and complete control over design — along with ways to speed up the design and build processes, complete layouts, libraries, free themes, and more.
You also get several other features to help you grow your business with social media plugins such as Monarch, email marketing plugin such as bloom, and also A/B testing features (more on these below).
Here's how to use Divi for eCommerce
You don't have to be a web developer (or a designer) to use Divi. Using all-visual building tools, you can customize every page on your WordPress eCommerce site.
Design and build of a WordPress eCommerce site is completely in your hands with countless design settings, layouts, free divi layout packs, and the Divi visual builder.
Pick and design every single element on every page of your Divi eCommerce store with full control on design for checkout pages, cart pages, product pages, standalone static pages, and even the default WooCommerce pages.
Without using a line of code, take advantage of features such as A/B testing, using conditions, one-click social media sharing enabled (with Monarch), and deploy email marketing with connections to several leading email marketing services (such as Mailerlite, ConvertKit, Mailchimp, and more)
Divi Visual Builder
You could use practically any theme in the world with Divi, and that's one option. Or, you could pick from any of the free Divi Layouts (and complete eCommerce store packs) to start with.
You don't have to stick with anything you see though. Starting with your own branding elements such as logo, fonts, colors, graphics, and images, customize the entire eCommerce store (including design, structure, layouts, and branding) without touching a line of code.
The Divi Visual Builder helps you achieve just that.
eCommerce Page Design& Product Page Control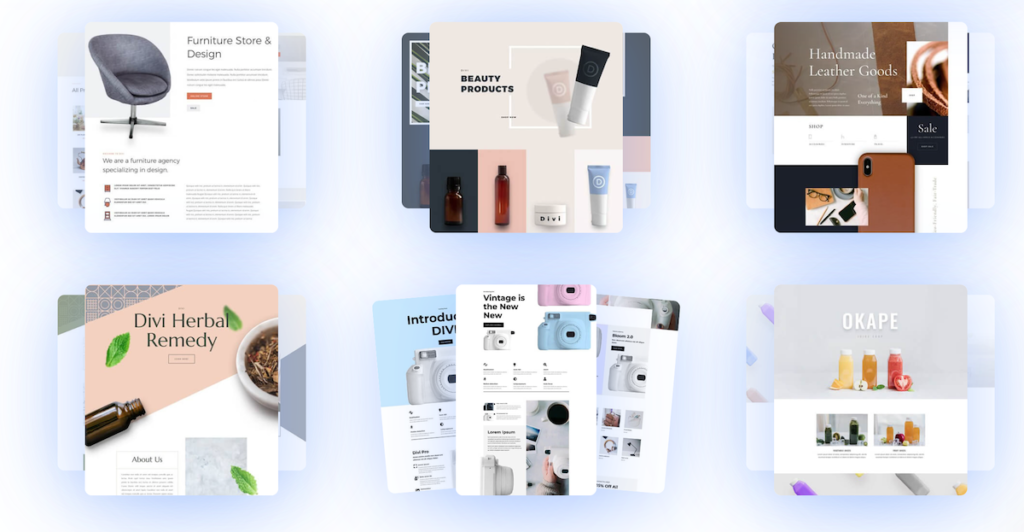 Product pages for eCommerce will make or break eCommerce conversions. It's not just about how product pages look; it's also very much about how intuitive, easy-to-use, fast-loading, and crash-free these pages are.
With Divi, you can take complete control over WooCommerce product pages by completely customizing your products and product pages.
There are more than 2000+ pre-made layouts available within Divi, along with custom WooCommerce product, cart and checkout templates that are available for free
For all product pages (or other individual pages within your eCommerce store), customize how your menus, footers, and headers look like.
Customize Cart & Checkout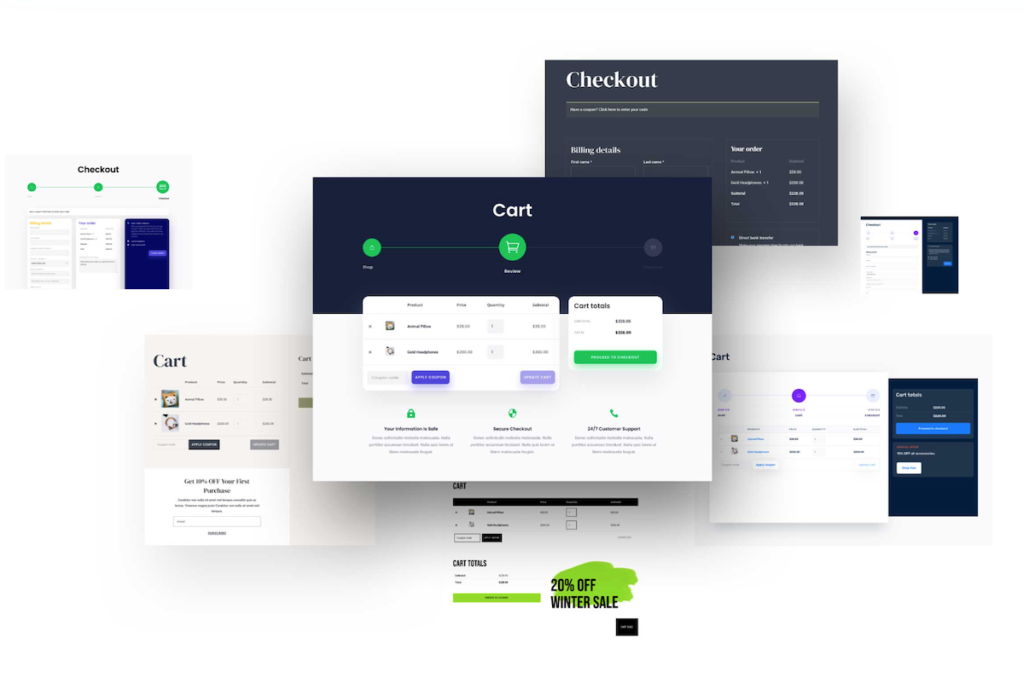 You already know how important checkout design flow is for your eCommerce store.
Divi allows you to create checkout forms that are stable, on-brand, and completely customizable.
Don't settle for boring forms, checkout options, and "what that theme gave you…". Use Divi and customize how your shopping cart looks like. Further, focus on putting in more time to ensure that your checkout is designed right.
Your Cart and Checkout are essentially the moment of truth when it comes to eCommerce.
Use appropriate, WordPress managed hosting along with Divi such as Kinsta or WP Engine to build up the necessary infrastructure to ensure that your store can handle traffic and concurrent user sessions without crashing.
WooCommerce Enhancer
How large is the product Image? How does the product show up? What is the size of the buttons you use to display pricing or for important call-to-action buttons such as "Add to Cart".
What about the hundreds of little elements that are typical to an eCommerce store?
You don't have to settle with the "WooCommerce Defaults" or even the "theme defaults" — take it into your hands and customize every single WooCommerce element — using the layout options, colors, sizes, and fonts that you like.
Divi has (or enables) thousands of design settings to help you make your eCommerce site truly your own.
Email Marketing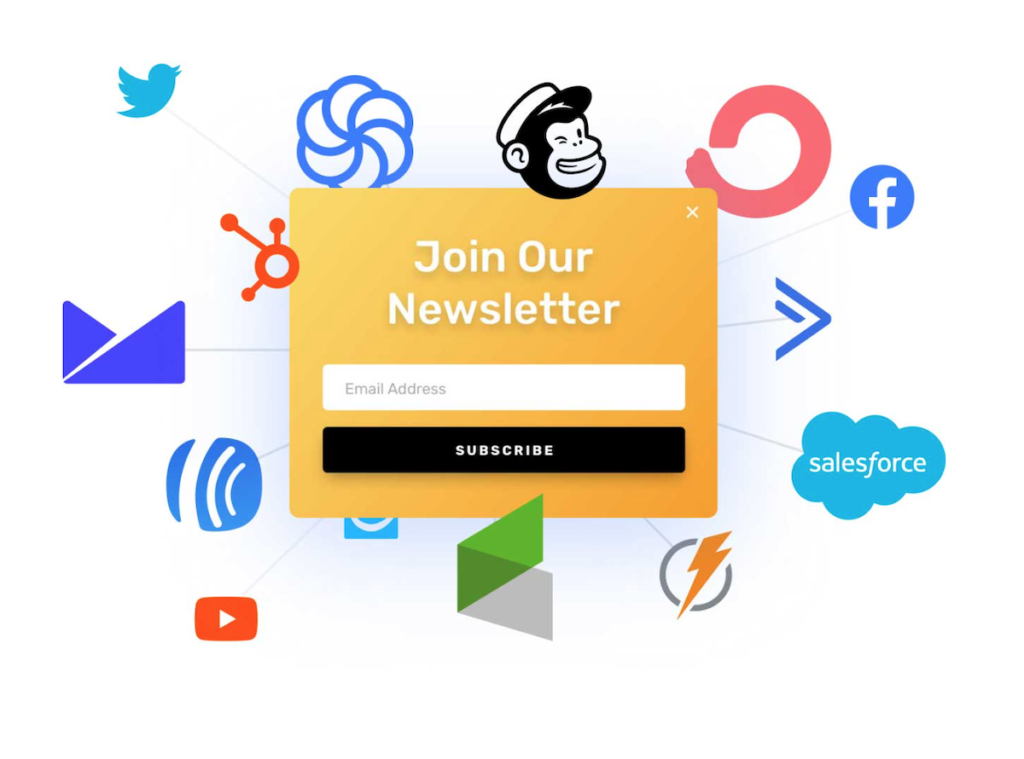 Divi comes with all the features you need to help generate leads and/or to grow your eCommerce list. Divi, along with the email marketing plugin called Bloom, allows you to integrate your website with one of the many email marketing services available for you to direct integrate with.
Divi's Bloom, meanwhile, allows you to create pop-ups, lead generation elements, opt-in forms, embedded forms, and other ways to generate leads for your eCommerce store — with more than 100+ pre-made templates that you could use, right out of the box (available for use right within Divi modules).
Bloom Plugin connects with Mailerlite, Convertkit, Mailchimp, Emma, Campaign Monitor, Constant Contact, ActiveCampaign, SendInBlue, and HubSpot, Keap (earlier known as Infusionsoft), and many others.
Social Media Marketing & Sharing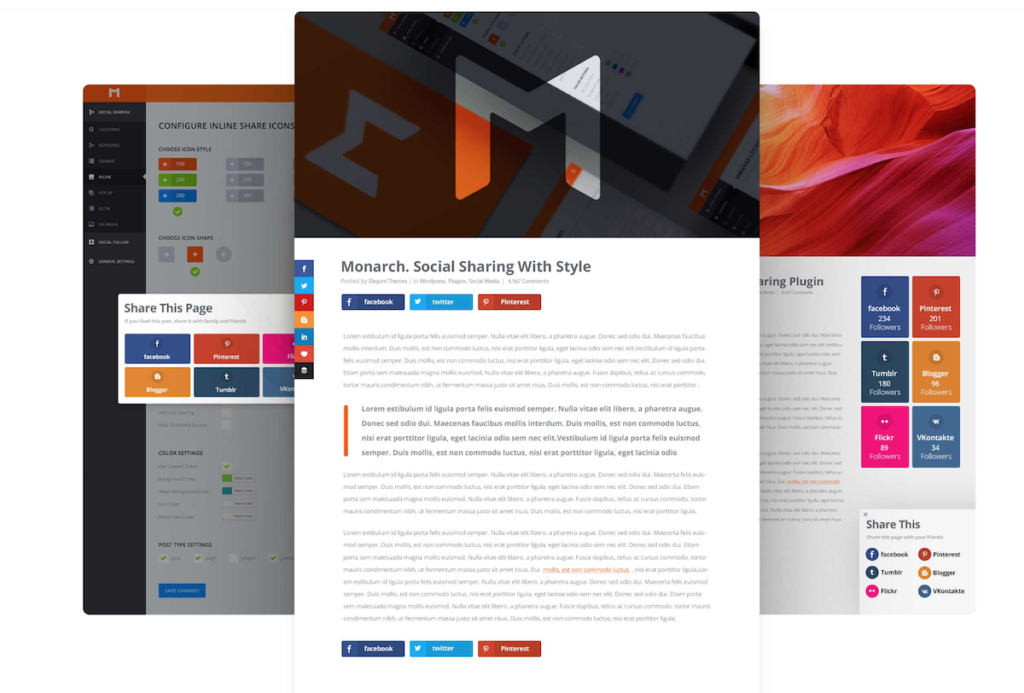 You don't have to buy (or invest in) separate plugins for social media sharing buttons, social media integrations, and making sure that you are "social media ready".
Divi's plugin called Monarch allows you to instantly create and display social sharing buttons (not withstanding several social media modules that you can drag and drop on any page within Divi visual builder).
Monarch itself is lightning fast, allows you to drop social media follow buttons on more locations (on your eCommerce store) than ever, and gives you better design control.
You also get to display social buttons and social sharing buttons below blog comments, after a certain time of inactivity, after product purchases, bottom of pages or posts, on scroll, or upon timed delay.
Competitor Research & Analytics
If you want to succeed with eCommerce, you'd want to get a bird's eye view of the arena you are walking into.
Know all about your competitors — who they are, what they do, the kind of marketing campaigns they use (including SMS marketing campaigns, email marketing campaigns, the technology stack deployed, the platforms your competitors use, the technology or marketing tools they use, the paid ads they run, and more).
Get a sneak peek into the target audiences your competitors are trying to reach with several tools available for competitor research and analytics.
Using competitor research and analytics, you get to benchmark your own marketing campaigns, learn from your competition, and eventually do better than them.
eCommerce Blogging With Divi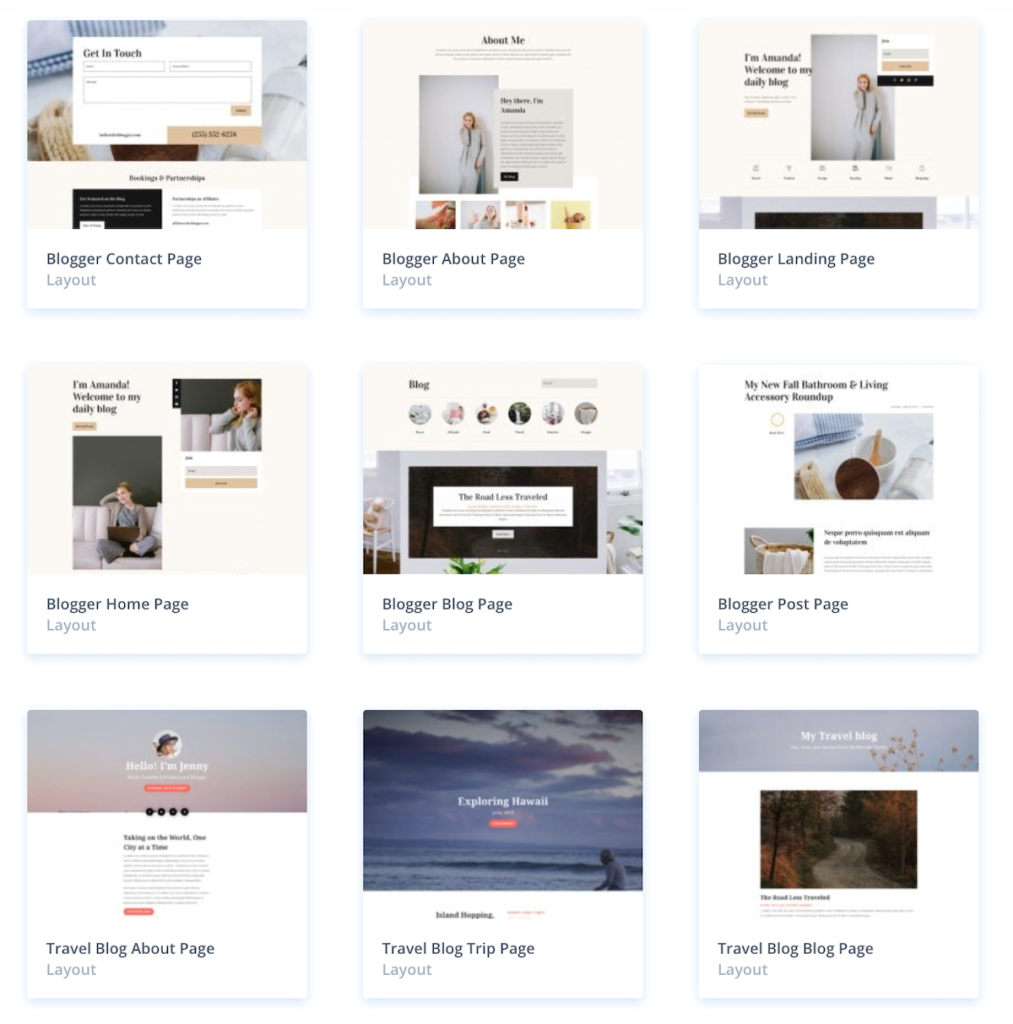 If your product margins are healthy, you'd want to consider long-term content marketing. eCommerce blogging plays a huge role in getting you traffic, building trust, attract new customers, retain old customers, and build a brand.
To make it easier now, you can also use Google Bard for eCommerce marketing (save time and resources).
Divi is built on WordPress, for WordPress. As such, it's inherently built for blogging as well.
Create a blog page using Divi, and it works just as any WordPress blog. Use the various layout options, if you like, to give your blog any kind of visual theme — blog with a list layout, a grid layout, or even a blog which pretty much looks like a magazine.
Write about your products, the problems your products are likely to solve, and bring in all of the content marketing power to help grow your eCommerce business.
Read:
22 Companies That Grew With Content Marketing
Advanced Display & Dynamic Conditions With Divi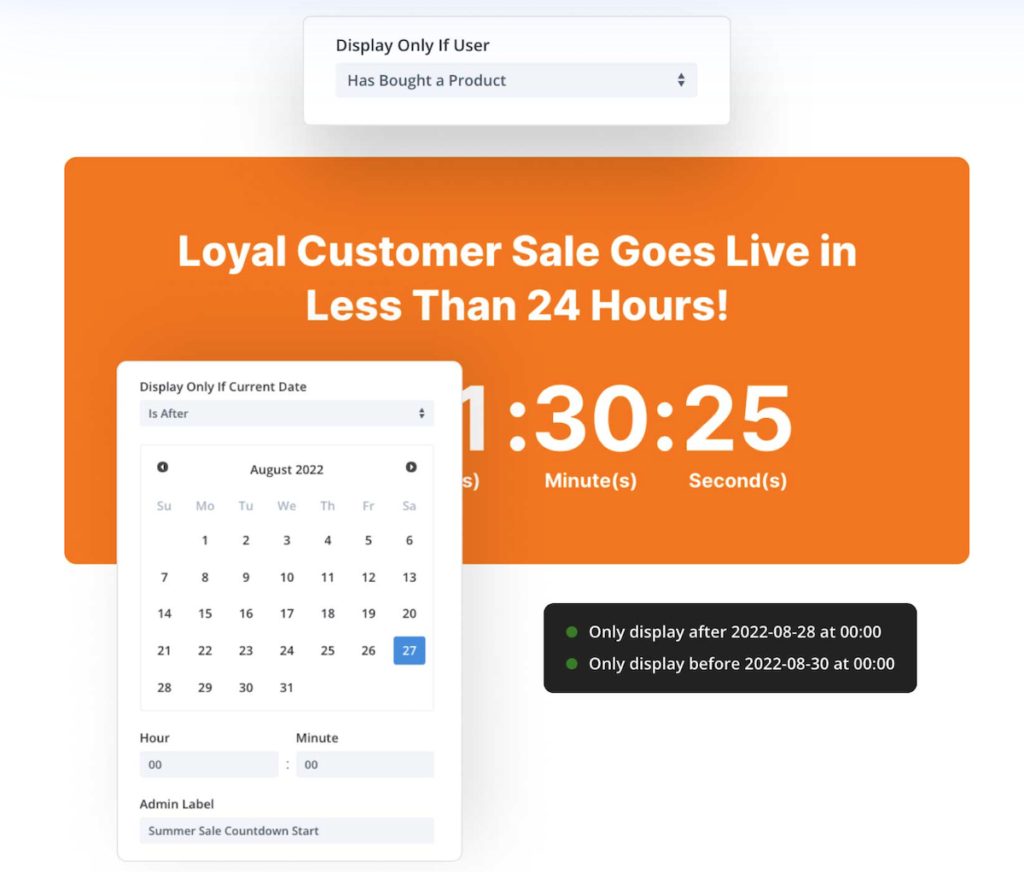 On your Divi eCommerce store, let's say a customer visits a product page (of a particular product), you can show a specific set of content to that particular visitor. If a customer purchases a product, you can show a completely different type of content to that customer.
By using a set of conditions (called display conditions), you can use one of the many Divi's Display Conditions to use display logic to control when and where specific blocks of content will appear.
Split Testing With Divi Visual Builder

Without you having to reach out for some other advanced split testing tool, Divi visual builder comes with a split testing system.
Don't even get anywhere with digital marketing for eCommerce stores without the necessary foundations you'd need for split testing (also called as A/B testing) and analytics.
Test out content types, page layouts, buttons, design, graphics, and other elements easily along with analytics to tell you what's working and what's not.
Making A/B testing a habit ensures that you lead with data-driven marketing (and not what your cousin thinks about what you should be doing!).
There are some rules for split testing (even if you use Built-In Split Testing features that Divi provides)
You'd need large and consistent sample sizes to make any relevant, "this will change my business" decisions.
You'd always split test or do A/B testing with "one" measured change at a time.
Record your split testing journey (taking notes along the way — What's your goal? What did you change, on which page? What's the hypothesis when you made that change? How did the change contribute towards your goal?
Use eCommerce Analytics & Get Smart
Analytics for eCommerce can be as basic or as advanced as you'd like it to be. The key is that you won't know where you are going without knowing your numbers. You can't measure eCommerce KPI without analytics.
Without a way to visualize your numbers and track your analytics data, you'd know nothing.
Divi has easy ways to help you use GA4 tracking code. Or you could use Google Tag Manager to set up your GA4 tracking.
Even without Divi, you could start using Google Analytics 4 for eCommerce. Connect your store with Google Analytics 4 manually. Or install GA4 by using MonsterInsights, Google Analytics 4 plugins, or many other plugins available.
Here are some of the best Google Analytics Plugins available for WordPress
If you'd require advanced analytics, tracking, and data visualization for eCommerce. I'd highly recommend using the following tools:
Further, take a look at my complete list of incredible analytics tools you could use.
Expand Toolkit With Divi Marketplace

Not all eCommerce businesses are the same. As such, your needs might differ. You might want something more. You could be looking for specific changes to your eCommerce store.
That's when the expansive Divi Marketplace comes to the rescue.
The Divi Marketplace features Divi Child themes, divi layouts, Divi plugins, and Divi extensions. Make use of specifically designed WordPress plugins (built for Divi) and layouts that work well with your Divi eCommerce store. Some of the notable plugins you could pick from Divi Marketplace include:
The Ultimate Bundles: Divi Starter Bundle, Divi Utility Bundle, Divi Header & Menu Bundle, and the Divi Module Bundle.
How do you use Divi for eCommerce? What Do you use for eCommerce and why?
Tell me all about it on Twitter, LinkedIn, or my LinkedIn Brand page.