Competitor analytics tools (which also work for competitive benchmarking, social listening, social monitoring, and brand management) are critical for competitive analysis (and knowing where you stand).
If you wanted to know who your competitors are, what they do, and how they do it. Or you wanted to know how your brand is being perceived, what's being spoken about you, what Redditors think about your brand, and what Twitter or LinkedIn users say about you out in the wild….
You get the idea.
As they say, you can't play by yourself, in the dark, without knowing what's happening around you. Plus, some feedback is essential for your brand to stay the course, to learn, to adapt, and to get better.
While the title does say something like "best competitor benchmarking tools", remember that you can also learn a lot about your own brand (and how you pit yourself against others in your cohort). Further, there's also social media which lends you a sharp ear for all that's being said about you (If you are popular and well-known, this is bound to happen).
Here are some of the best competitor benchmarking, competitor intelligence, social listening, and social monitoring tools you should know about:
Note: Pick what you like. But do use some of these.
Panoramata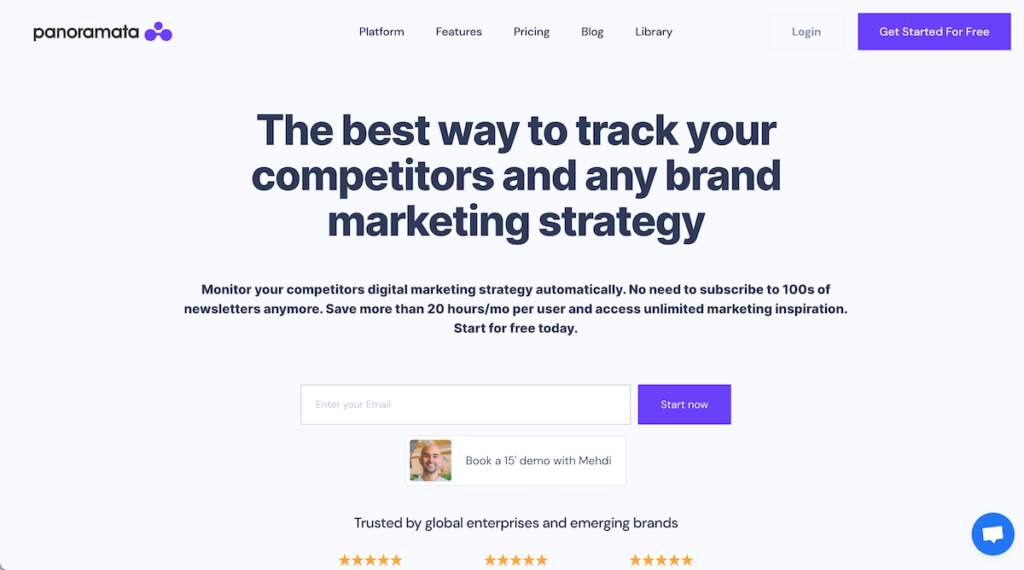 Panoramata is probably the tool in this list that allows you to take a peek at competitor analysis specific to email marketing while it still does touch on a few other aspects. As far as email marketing goes, you can get an instant look at all of your competitors operating in the eCommerce vertical/industry/niche you operate in.
Create inspiration lists, email marketing ready reckoners, or create lists for your entire team to stay on top on.
You also get to see the actual emails being used, the frequency of emails, email automations that your competitors use, subject lines that work (down to details such as emojis, subject line length, spam score, and more). You also get to see email design, email copy, and so on.
Apart from email marketing itself, you also get a bird's-eye view such as website change (with snapshots), marketing stack used by your competitors, SMS marketing campaigns, landing pages, ads, and more.
Brandwatch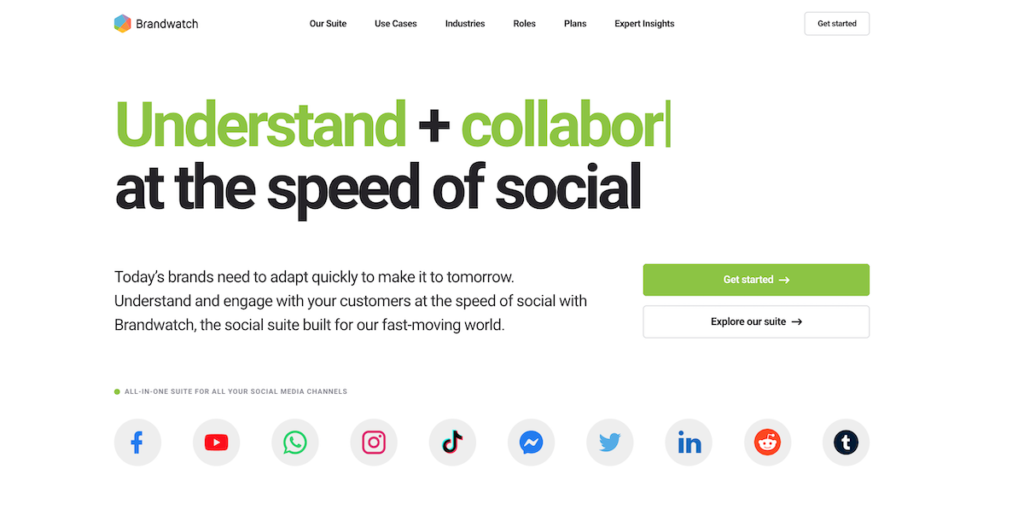 Easy to understand, graphical representation that shows your social share of voice. What kind of impact is your brand making on social media. 
Brandwatch is an all-in-one suite for social media channels that helps you conduct research, anticipate consumer demand, monitor your brand (across networks), create social media content that resonates, and also engage with your potential (& existing) customers (with BrandWatch's social Inbox).
By allowing you to stay on top of trends that matter, get access to a large repository of consumer opinions online.
Brandwatch also leverages AI to help you discover new trends before anyone else, shield your brand from emerging threats to your brand, and respond with speed.
Note: Social share of voice is a measure of how much people talk about your brand online compared to how much they talk about your competitors
Synapview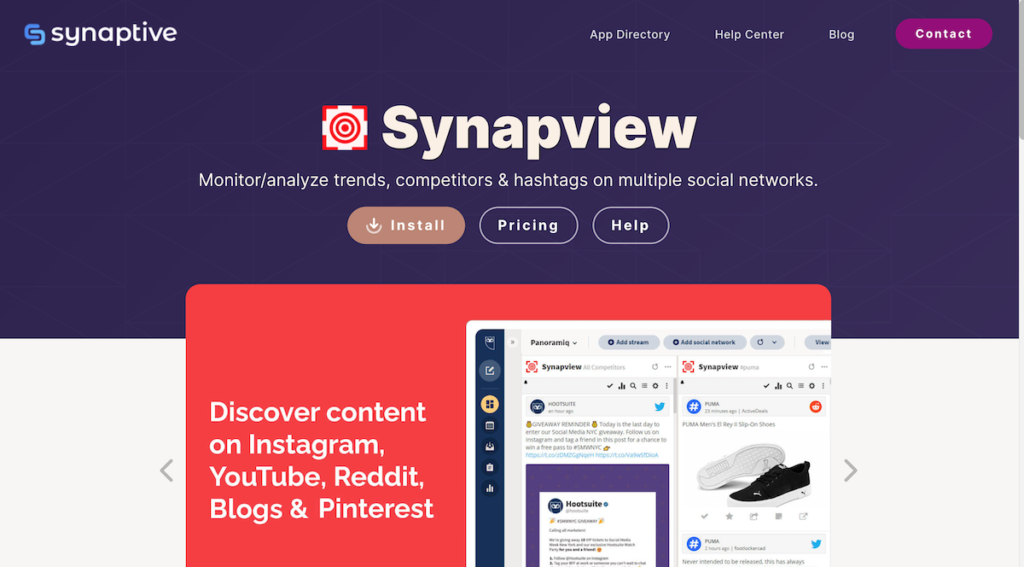 Synapview by Synaptive makes it a breeze to monitor competitors, hashtags, and trends on social media networks — including hashtags and mentions on Reddit and on blogs too.
Pulling in data from multiple sources (such as YouTube, Reddit, Pinterest, blogs, and instagram), you'll be able to not only monitor your own brand but also your competitor brands (across networks).
Further, monitor trends, stay on top of popular topics, save posts of interest, auto-discover competitors' social media accounts, and more.
Synapview also comes with features such as "reshare" (it does what you think it does) and 'complex search' allowing you to combine multiple hashtags with "NOT" and other boolean operators to filter results.
Note: I am not sure if Synaptive is a standalone app (like others on this list) or is an exclusive HootSuite App. If you know about this, please let me know.
Mentionlytics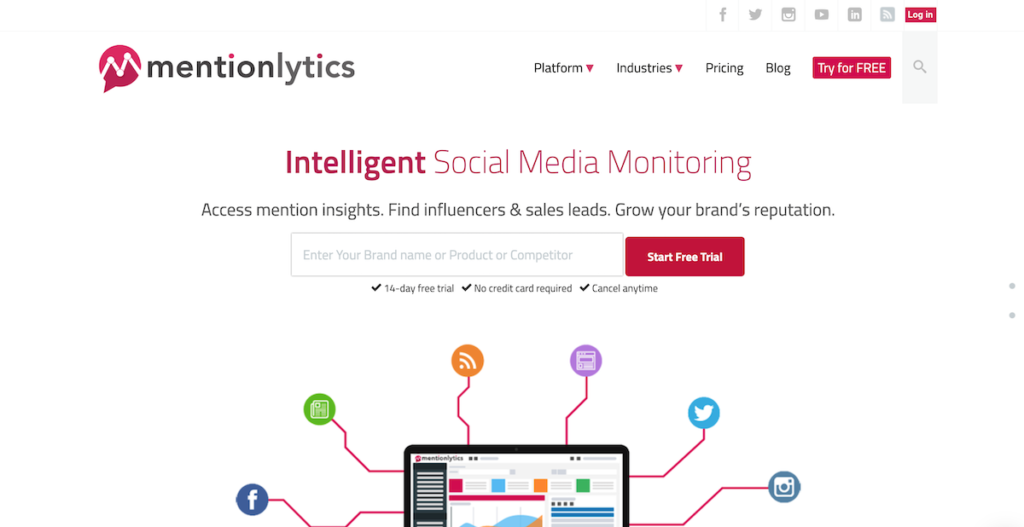 Mentionlytics is a social media monitoring tool (+ sentiment analysis that determines "how" things are mentioned about you. It helps you identify everything that's mentioned about your brand (or any keyword) on  Twitter, Instagram, Facebook, Youtube, Pinterest and all web sources (news, blogs, etc.).
Primarily, Mentionlytics is a way for you to monitor your brand's reputation online, gather competitor insights, and to help engage/respond and grow.
Use Mentionlytics to join conversations to talk about your brand and products. Get yourself primed for crisis management (bound to happen sometime).
You can also use Mentionlytics to find leads, dig up opportunities, and keep your competition closer. As an aside, you'll also be able to find influencers and spot those who mention your brand.
Talkwalker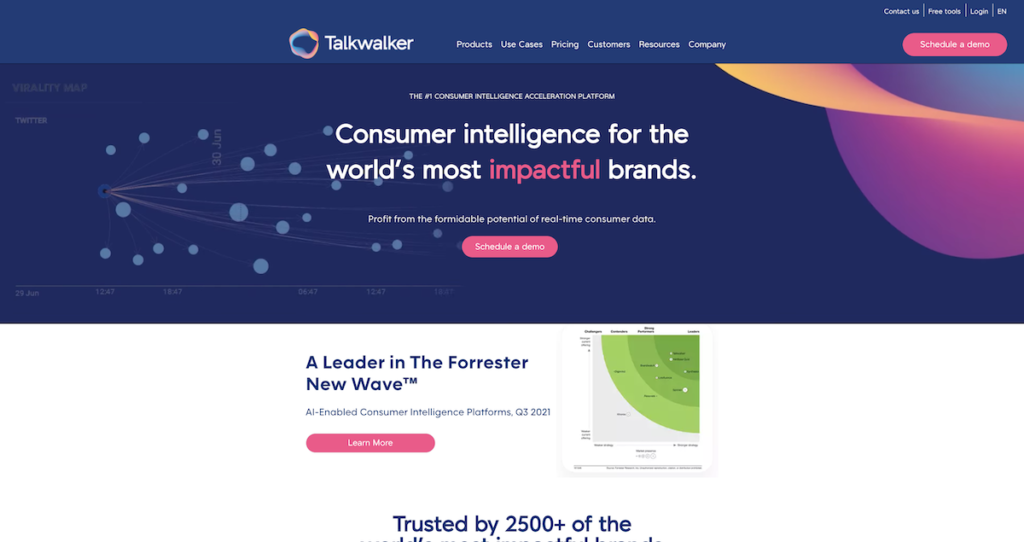 Talkwalker is a social Listening tool to help spy on your competitors, high-level overviews, and detailed analyses. 
Enabling real-time data, it's designated as a leader among AI-enabled consumer intelligence platforms by the Forrester New Wave™.
Talkwalker provides comprehensive solutions for brand management, reputation management, social media intelligence, social media monitoring, social campaign strategy, trend analysis, and more.
The specific products (among others) with Talkwalker that's relevant to the topic here is Talkwalker's social intelligence and social listening.
Loco Buzz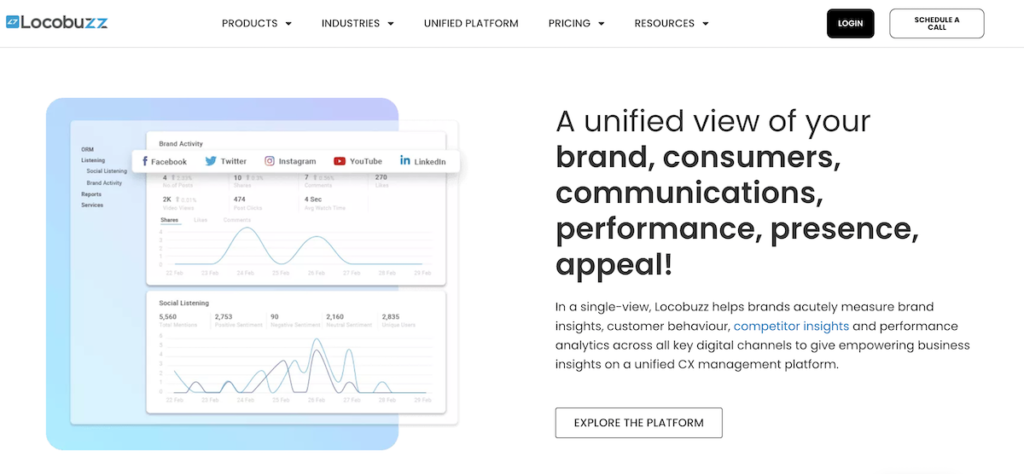 Loco Buzz positions itself as a complete and unified solution for competitive insights, customer management, and brand management, and more.
Featuring not only social listening and social monitoring insights, Loco Buzz also provides you with unified channels of communication across social networks, WhatsApp, conversational commerce, chatbots, and more.
With Loco Buzz, capture trends and market insights. Stay on top of the pulse of your intended target audience. Know what your competitors are doing, and derive critical social data to help manage your brand.
Loco Buzz also features AI-automation and helps save time from time-consuming customer service tasks.
Sprout Social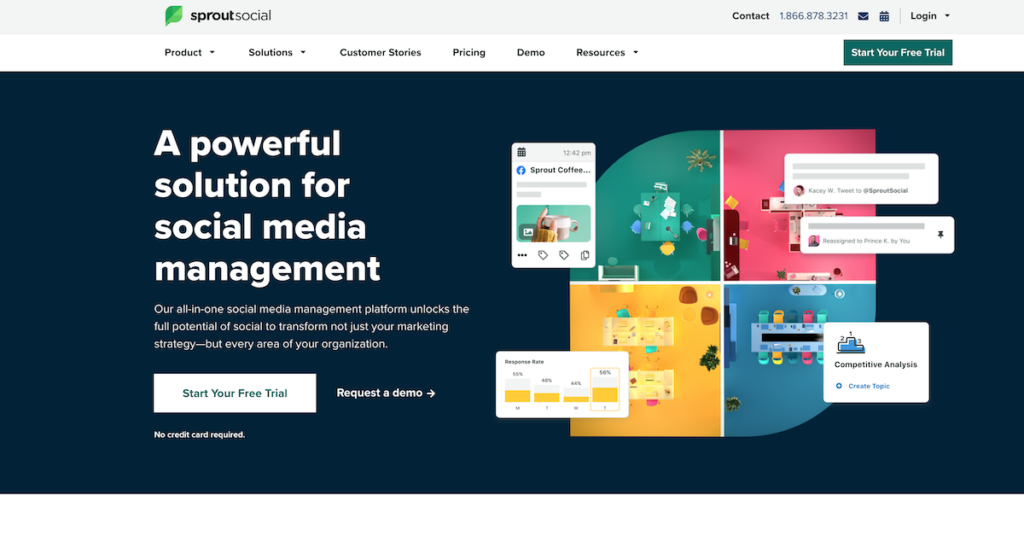 Spout Social is a comprehensive social media management platform to help you extract the most out of your social media presence. Starting with a full-featured social media shared Inbox, use social media for actively listening, tuning into conversations, and engaging with your audience.
Working as any other social media scheduler, your team can plan and execute social campaigns with ease. Meanwhile, aim for data-driven decision-making with access to social media data and analytics (know what performs and what doesn't).
Of course, Sprout Social also provides you ways to uncover trends, do active social listening, brand monitoring, and more.
Awario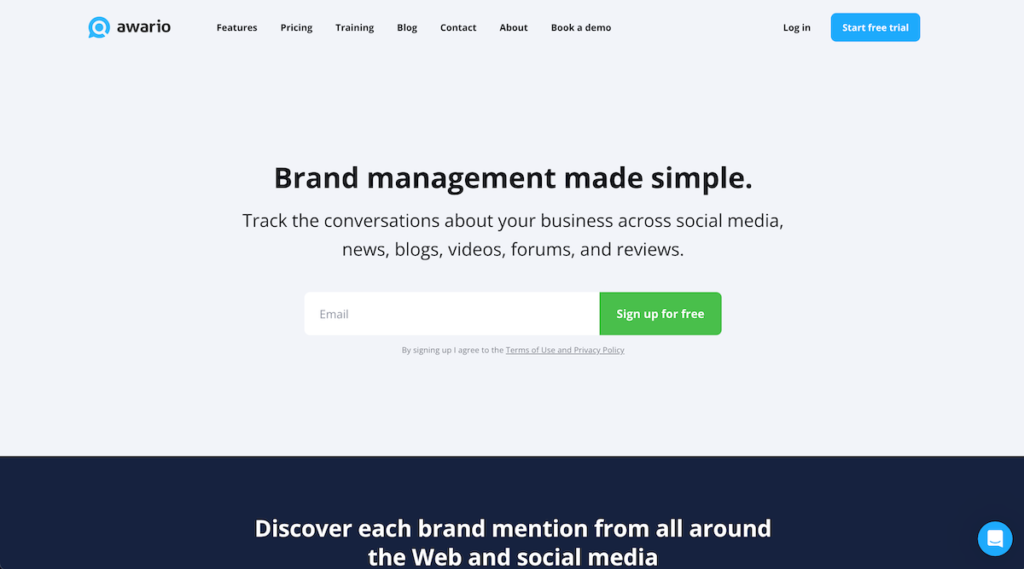 If a micro influencer (or major influencer) mentions your brand, you should know. Published in the news? You should know.
How? Awario can help. Track and manage conversations about your business using Awario. Manage brand mentions across news, blog posts, videos, forums, YouTube, Reddit, Twitter (along with Facebook and others), reviews, and on social networks.
Stay on top of the most important conversations online — including more than 13 billion web pages — for brand mentions and conversations about your brand.
Further, take advantage of competitor analysis, competitive intelligence, social listening and monitoring. Find leads, sales opportunities, recruit active affiliates, and more.
Mention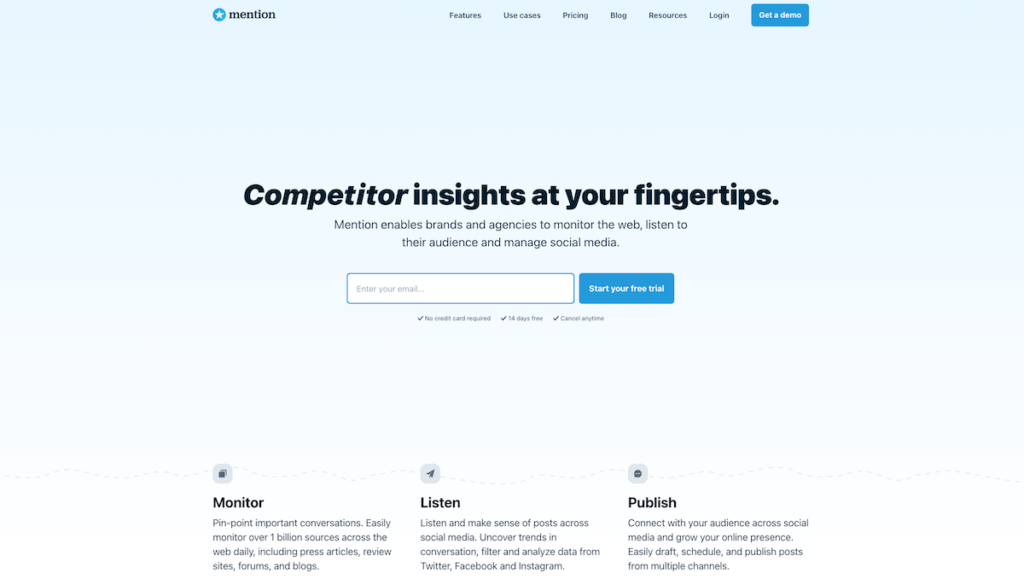 Be it market insights, competitor insights, brand insights, social talk, engagement, forum discussions, LinkedIn mentions, or Twitter mentions — you have it all on one dashboard with Mention.
Mention helps monitor, listen, and pin-point conversations that matter. Take action, engage, respond, and maybe even protect your brand reputation.
Analyze the impact your competition is making (+ monitor what is being said about your competition). Monitor your own brand and manage it (crisis response, in case things go south). Also comes with social listening, social media content scheduling, and get access to audience insights. 
New features for mention include monitoring LinkedIn pages, mentioning other pages or brands, the ability to use tags, and a lot more.
Meltwater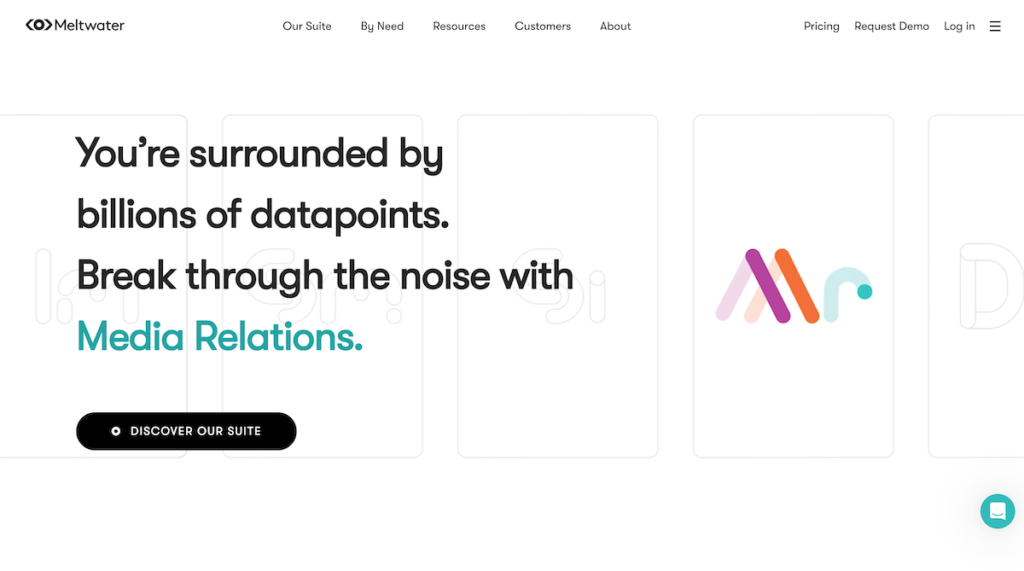 Meltwater believes that "Lack of data isn't the problem; it's knowing what to do with it".
That's right.
Meltwater provides a complete suite of products that help you unlock the power of data and use it to your advantage.
Powered by an AI-engine, Natural Language Processing, and advanced analytics, Meltwater Suite helps you discover insights for customer intelligence, media intelligence, and more.
Complete suite of products that helps your business with media intelligence, consumer intelligence (reach out to journalists), break barriers with influencer marketing, tap into sales intelligence, and also take advantage of social listening + analytics.
Keyhole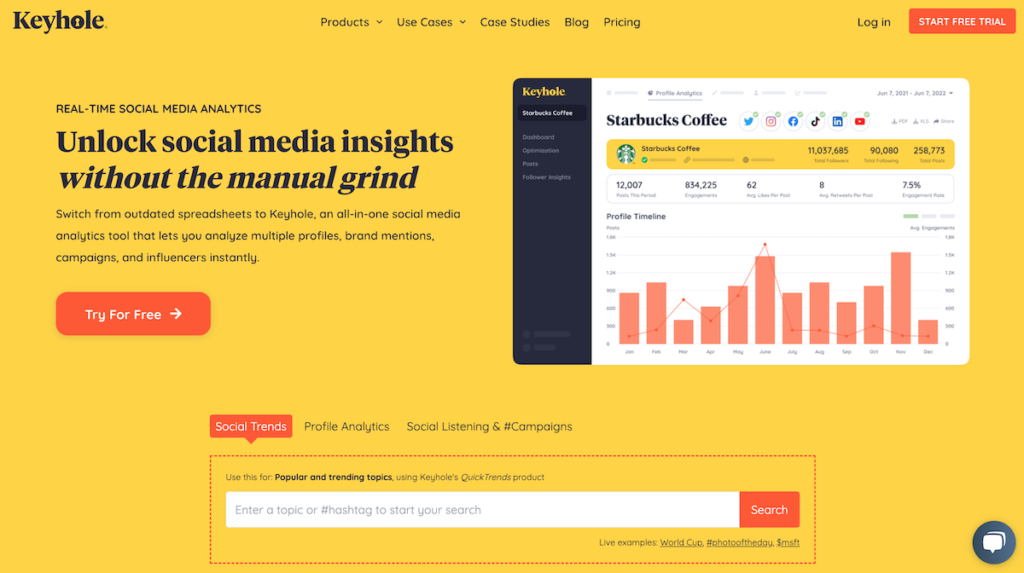 Put your finger on social media trends, profile analytics, social listening, track influencers, competitor analytics, and hashtag tracking with Keyhole 
Keyhole features social listening, social campaigns, social analytics, profile analytics (watch how your branded accounts grow on social platforms), influencer tracking, trend discovery, and more.
Use Keyhole for competitor analysis, influencer discovery, finding affiliates, recruiting able partners, brand monitoring, discovering conversations around your brand, and more.
Brand24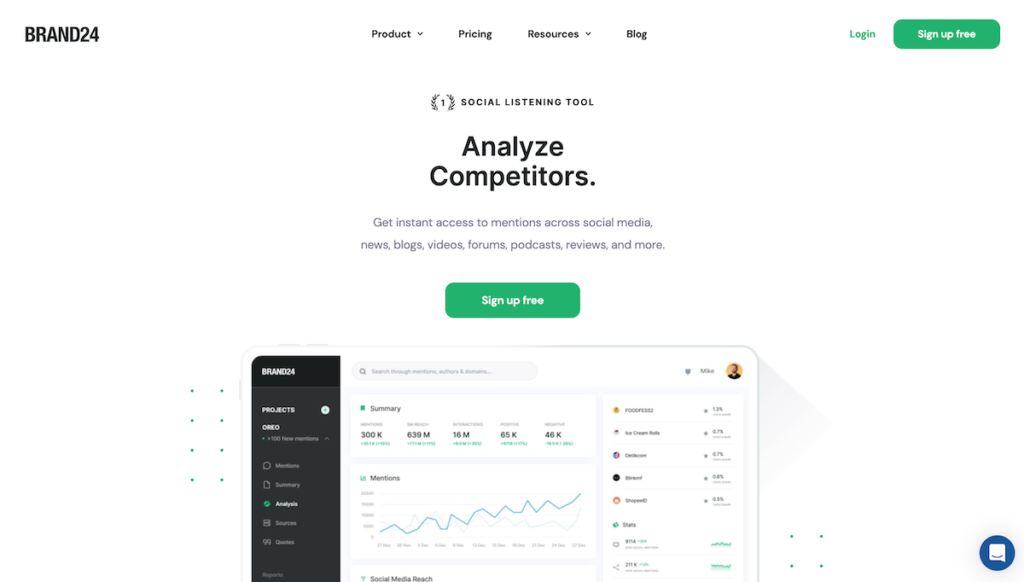 Brand24 is a complete platform to help you with brand sentiment analysis, alerts, and a dedicated mentions feed (a constant feed of what's being said about your brand).
You also get a discussion volume chart, mention analytics, influence score, and also filtering (to help narrow down on what matters).
Get instant access to mentions on social media, blogs, news, reviews, forums, podcasts, and more. Also, analyze sentiments, view reports, protect your reputation, automate reporting, and get to know your customers better. 
What are some of your hot picks from any of these best competitor analytics tools?
Tell me all about it on Twitter, LinkedIn, or my LinkedIn Brand page.