Seriously? You wanted to see what makes sense? Blogging Vs Social Media? Don't look at it that way.
If you had two twins (adorable, cute, and happy little ones), would you compare? Or would you embrace both with the kind of love only parents know? The latter, right?

Now, I am not asking you to love blogging or social media or kids as much as you love your kids; what I am trying to get at is that the Blogging Vs Social Media comparison searches should just get out of your system.
Blogging has its benefits; so does social media (pick and add any social media network here. I won't get into that here).
Two different beasts; several different characteristics that make either of those powerful enough to stand their own ground respectively.
Prefer to watch a video?

How Blogging Helps Businesses
There's only one issue with social media as far as content creation and content distribution is concerned: Short shelf life.

HubSpot and Bit.ly research reveals that the average shelf life of social media just around 3-4 hours (slightly more for YouTube videos).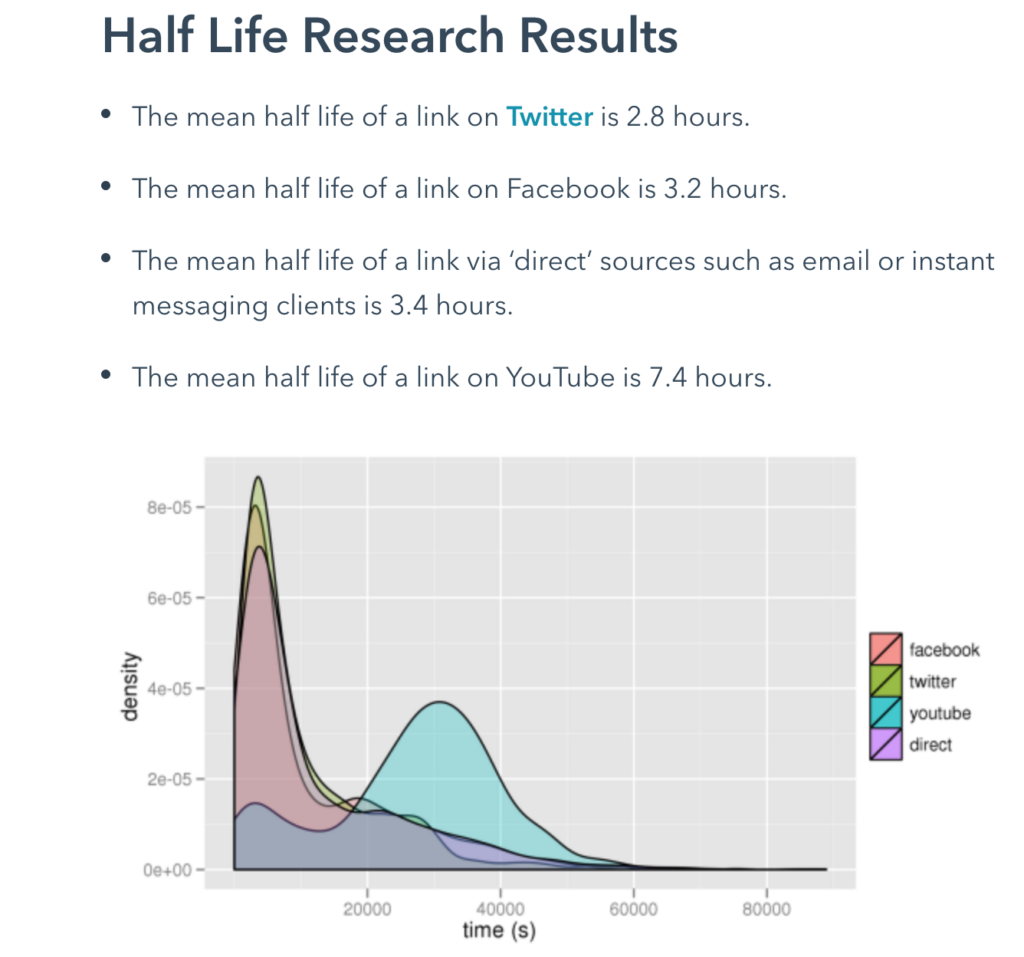 The exception: I know, for a fact, that LinkedIn newsletters, LinkedIn articles, Medium Posts work great for content distribution, content discovery, and more.

I know some of my LinkedIn articles surface long after they've been written and published. Apart from these specific types of content, your social media posts don't last long.

Writing blog posts regularly at a publishing velocity is the best thing you'd do for your business, however:
Blogging helps you establish thought leadership and grow credibility.

You can educate, inspire, teach, and allow your potential customers a glimpse of your products, services, or business/brand itself.
Blogging is a no-friction entry-point (in longer format, which only leads to more engagement) than what a Twitter tweet can do.
Here's blogging, simplified:
Pick a cluster of topics that relate best to your business. Choose topics that are directly and indirectly related to products, services, or what your business does or what your brand stands for.
Write regularly, at a publishing velocity (this, right here, is not open to debate). Publishing blogs regularly is the ultimate SEO hack.
Optimize blog posts for lead generation. If not, why blog at all?
Add a call to action button, image, or an Opt-in form (Use ConvertPro or OptinMonster). Or you can use Divi's bloom plugin (if you use Divi, that is).
Or, you can add a call-to-action without using anything at all.
Here's a video to show you how to add CTA buttons to your blog posts.
Format your blog posts properly. Blogs should have titles as H1, Sub heads as h2,h3, and so on. Link out to credible sources or other influencers. (outbound linking)
Link back to your own blog posts published earlier. (Inbound linking)
Here's a video on how to format blog posts in WordPress (applicable to any CMS you use, including Shopify).
That's it. Do this and you'll set your business up for a constant stream of traffic, leads, and sales.
Yes, it takes time and effort (on top of a clear head with an eye out for purposeful blogging).

How Social Media helps Businesses
Before you tell me that social media is dead and all that Jazz, let me assure you: Social media helps generate leads and brings in sales and revenue for businesses, according to Social Media Examiner.
Social Media is all about connection-driven, conversation-led growth.
There's "social" in social media.
Typically, businesses aren't used to the "kind of giving, more than taking" that social media actually demands.

It's almost counter-intuitive, to say the least.
Apart from creating content (for your blog, read above), you'd not only share your content on social media but also manage conversations, make meaningful connections, and show a side of you (and that of your team members individually) that tears open a shade of "personal vulnerability".
You already know the basics of social media for business, how social media helps you build social proof (for brand, products, and services), and so much more.

To focus, the side of "being personal" on social media extends itself to:
Original content you share on social.
Contextualized shares of your existing content (such as blog posts) — with your unique signature style.
Actual conversations (including small talk)
Responses and everything else you do on social media
Livestreams and video content, and more.
While you are at it, please do avoid social flexing and stop making social media more toxic than it already is.
It's that personal side that helps your brand endear itself to your existing and potential customers.
You thought brands don't do that? Sounds ridiculous to you? See examples here:

Semrush
Semrush could get away without having to say a word on social media. But they share some really good content on SEO, SEM, social, and more. Plus, they talk, they interact, and they are always present on social.

See what SEMRush does (with their LinkedIn brand page example):
Moz
You know Moz already. If you don't, it's simple: Moz is where you'd learn the best SEO techniques from.
Maybe Semrush and Ahrefs could be close seconds.
Authoritative, proof-backed, absolutely stunning content on SEO. Period.
See how they use social media leading by "questions and engagement" sometimes:
Read:
Learn How to Grow your LinkedIn Company Pages Now
Kinsta

Now, let's switch to Twitter.
See how Kinsta — a popular WordPress managed hosting provider — uses Twitter to use polls to get their followers ""talking".
See what I am getting?
That's just the beginning of what's possible for your brand with social media.
And we didn't even cover all of the other networks and the seemingly endless things you could such as using the Meta Business Suite, Instagram Stories, going on YouTube, and more.
Live Streaming on Social Media
You can live stream on almost every social media platform like YouTube, Twitter, LinkedIn, Twitch, and several others. Let's just pick LinkedIn, to give you some perspective:
According to HubSpot, Since early 2020, LinkedIn live streams have more than doubled, increasing by 158%. (LinkedIn, 2020).

That's just LinkedIn.
Imagine the kind of audience reach, growth, engagement, and results you'd get if you live stream to multiple destinations (I highly recommend picking up a free account with Restream).
Do live streams (I am trying to. See my first live stream on my LinkedIn profile). There are a few more on my YouTube Channel.
I'd bet you've never seen social media come alive so much.
Building Your Business Brand AND personal Brand
You thought we were done? No, we ain't.

There are several professionals and brands who've done well for themselves. Take a platform like LinkedIn, for instance.
See how personal branding helps these professionals achieve business results (on top of their efforts to grow their personal brands).
Michelle J. Raymond

Michelle is the founder of Good Trading Co., and the co-author of the Bestseller book Business Gold.
She is a LinkedIn Branding expert and provides a ton of value when it comes to growing your business on LinkedIn (especially with the help of LinkedIn company pages).
She packs a punch with both her personal brand ( Michelle Raymond) and her company page.
See what she does:
Michael 'O'Connor
Mike is the founder of the popular ServiceProfessionalNetwork (SPN) and an awesome person to connect with.

While he has the primary responsibility to grow the SPN network, he does a lot in terms of uplifting, connecting, inspiring, sharing, educating, and then connecting some more with others.

Standing up for brutal honesty while being warm, approachable, and totally relatable (for me at least).
See what he does:
Ira Bowman
Ira Bowman, founder of Bowman Digital Media, is a fellow digital marketing pro. But that's not the only thing he does.

Like Mike (above), Ira goes out of his way to help others. Live streaming, videos, regular posts on LinkedIn (and on Twitter), Ira does everything he can to help, to connect, and more.
Here's a sample of what Ira does on LinkedIn:
Kevin D. Turner
Kevin had a lucrative corporate career. But he didn't stop there (and did a lot). What's inspiring is that he kicked his side gig into a full-blown career lasting for 10+ years.

Kevin is a personal branding expert, a LinkedIn "feature beacon", and is the managing Partner of TNT Brand Strategist, a technology and business-focused business focused on organizational and personal brand building.
He has a way to keep you on your toes and build up excitement for the seemingly endless features that LinkedIn keeps throwing our way (notwithstanding his wisdom, care, and expertise).

With all that, he still has the time to motivate, inspire, and share.
Kevin on his personal profile:
Rex Allen
Rex Allen is the founder and Chief Creative at his company Stokes Design Co.
See any of Rex's posts (on his profile and for his company at Stokes Branding) and you'll just swoon over his ability to do branding. I can never have enough of his posts.
On top of the branding awesomeness, he is an incredibly nice person to talk to. Shares freely, packing top-notch advice on branding, and more.
Time for his awesome branding capabilities:
Yes, all of them are on LinkedIn (I spend a lifetime on LinkedIn, that's why). There are several others out there who are inspiring and I learn from them everyday.
The point? Be like them. I am trying. Are you going to?
Some folks do great on Twitter as well (that's for another post soon).
See what's happening here?

Blogging Vs Social Media shouldn't even be a question you should be asking.
Stop comparing. Embrace both.
Get results. Play the long-term game.

Have thoughts? Want to share your tips and insights? Join fetchprofits community and let me know. Or follow me on LinkedIn or Twitter