Looking for ways to reduce shopping Cart Abandonment? You should.
If you don't, it's cancerous for your eCommerce business. To reduce Shopify shopping cart abandonment isn't one of those things you'd think about much.
You might not care about it, it could be an "after thought", or maybe you thought it wasn't a priority.
It ought to be one of the first things to optimize your eCommerce business for growth and success.
Depending on where you look for abandonment rate statistics, Baymard lists out the average online shopping cart abandonment rate at 66%.
More than half of your potential customers are leaving. You, meanwhile, will leave money on the table if you don't do much about it.
While this post is specifically for ways to reduce shopping cart abandonment rate, you could apply these principles universally — from BigCommerce to WordPress eCommerce; from Simvoly to Versoly.
Note: For the purposes of this post (to try and keep it focused), I am going to use Shopify as the case scenario. Most other platforms also allow you to test, tweak, make changes, and work on your efforts to reduce shopping cart abandonment.
Shopify Checkout: Redesign, Iterate, Tweak, Test
Your checkout will be where the moment of truth is.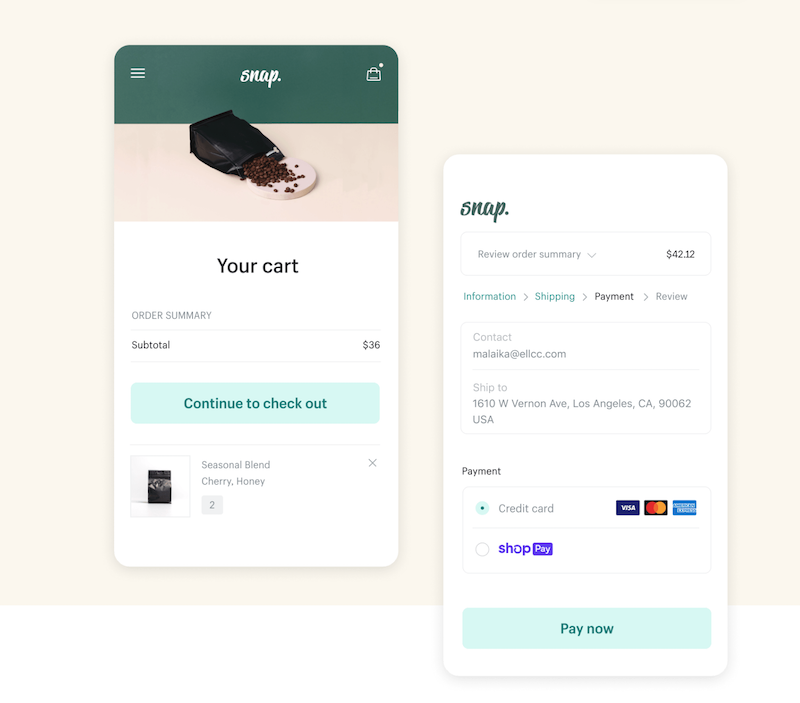 From add-to-cart to an actual transaction, this where you'd know if your business is a business at all. Read: Does it make money?
Shopify, thankfully, has Shopify Checkout. Developed after years of testing and tweaking, it does a great job on its own after processing 5.5+ billion transactions.
Shopify Checkout is lightning fast, scalable, reliable, and is free to use for all Shopify merchants. The "One-click Checkout " called Shop Pay allows for up to 91% higher mobile conversions, 4X faster checkout, and more than 100+ users rely on it.
But no one said you had to use Shopify Checkout the way it's delivered to you. Work on aspects that you can work on:
— Add product image thumbnails throughout the checkout process.
— Change the copy on the buttons, on the product titles, and other "easy wins".
— Tweak, optimize, test, and reiterate until you get the kind of conversions you ought to get.
Learn more about Shopify Checkout
Use Popups: Catch Them, When You Should
You can hate pop-ups; but they work. When in business, do what works (you can release hatred in the bar).
Marketers and business owners love to diss on pop-ups. Businesses that win with pop-ups, however, aren't complaining.
You don't have to like or dislike something for it to work. It just has to work.
There are essential strategies on how to reduce shopping cart abandonment.
In addition to the above (Pop-ups, Exit Popups, Slide-ins), do this:
During checkout, float the cart to the right (like Shopify does by default). Or show "go to cart" buttons using floating bars, floating buttons, or sticky bars and buttons all the while a user has an active session (non-active sessions and for those that exited without doing anything?
Read:

Top Shopify Apps for Shopping Cart Abandonment
Show Exact Costs: Don't Make Them Guess
Think about the last time you went online on its own eCommerce store to go shopping. did you like it when you have to keep pressing about the price that shows up on the right side checkout cart you wouldn't right?
Unexpected shipping costs are the number one reason why online shoppers abandon their carts.
"Unexpected" anything, really.
Let your customers know exactly how much they have to pay — this includes final prices with taxes, shipping and so on.
A good way to do this is to provide final upfront costs. Charge flat rates for shipping (or free shipping) to make it easier on you.
Add taxes regardless of where the customer is located. Opt to design your cart page — the best way possible from the start and then keep testing different variants of your cart page or checkout.
Make product Copy more Convincing
Convincing product copy has nothing to do with how convincing "you think" product copy is.
You can only answer "How Good Is my copywriting?" question by letting it do the work.
It's good if it brings results.
As with copywriting, it goes back and clings to the basics. Tell a story, make it easy to read, dwell on emotions, focus on benefits, avoid Jargon, use action words, and use bullet points for copy.
But then, there's a lot of excellent advice on writing effective and punchy eCommerce product copy or profit-pulling product descriptions.
69+ High-quality Copywriting Templates Proven to Work
Complete Guide to Writing Product Copy That Sells Itself by BigCommerce
Note: How effective, good, excellent your product copy is not what your copywriter claims it is or what you feel about it.
Good copywriting = leads and sales. Actual numbers.
Show me the proof.
Use Product Thumbnails. Everywhere
Imagine walking into a real store asking for a product, going through the entire checkout process in the store (walking across to the billing area, getting billed, and so on) but never getting the opportunity to see, feel, or touch the product.
Would you be comfortable?
You wouldn't.
Product images stop showing up after checkout on most eCommerce stores. This leads to a disconnect between shoppers and what they want to buy.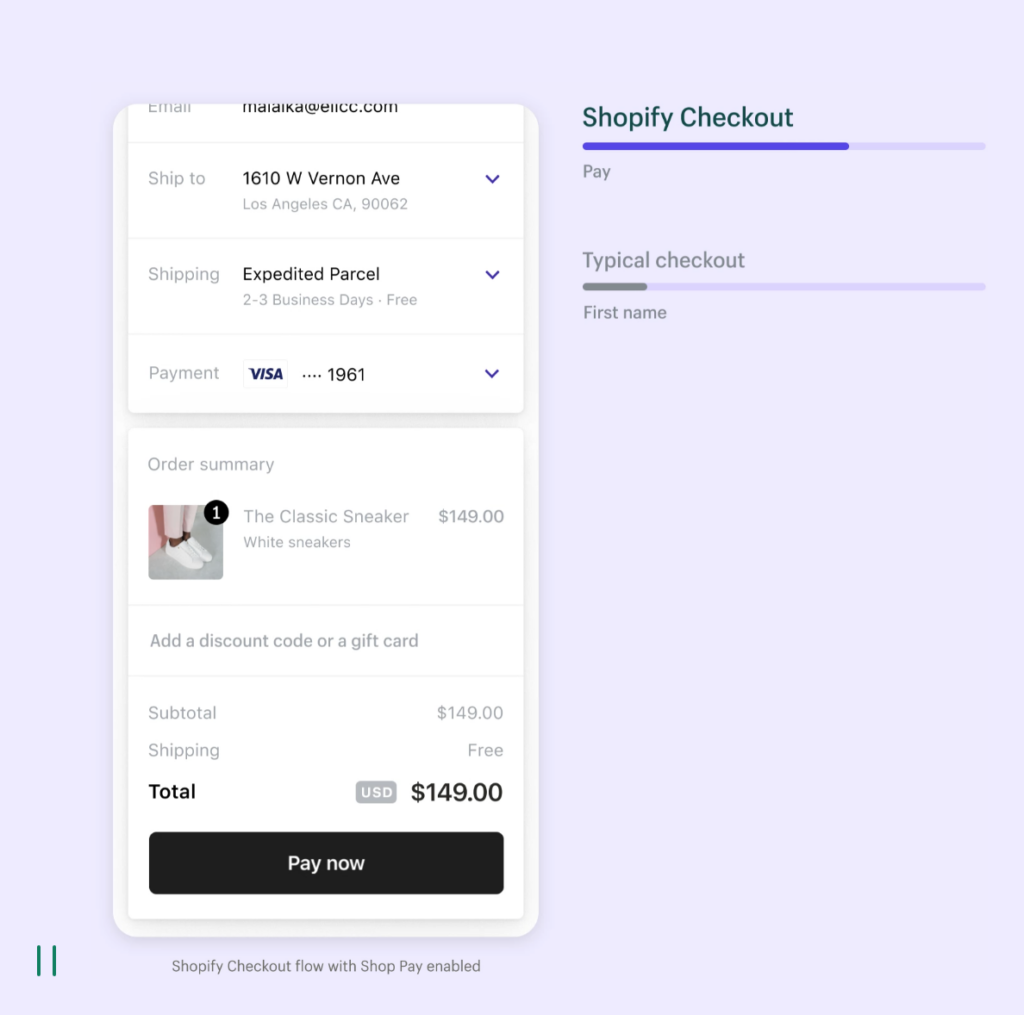 Image Credit: Shopify
Make your product image thumbnails show up (inside the cart) during checkout.
Most popular checkout apps and even some Shopify themes allow you to do this.
Site to Checkout: Move with Ease
On your Shopify site, you want to minimize friction of any kind.
Your customers shouldn't have to go looking for the shopping card after they are done shopping.
Design the checkout process in a way that the navigation between the main site and shopping Cart is seamless.
Create popups to direct customers to the checkout screen.
Have the check out card (or panel) show up on the right side as a panel while their shopping or continuing to shop.
Utilize " Buy Now" buttons that float on the top side of the store or show up on the right side.
You could use simple to use apps (free) or use the likes of pop-ups and sticky bars Unbounce or Leadpages to create floating bars or sticky bars. If you want even more options, use Sleeknote by Drip or OptinMonster.
Or pick any of the apps available to you from the Shopify App Store
Automatically take customers to the checkout page once done. If you are using Shopify, you'd use Shopify themes.
Some themes work in your favor; some don't.
The hard work has been done for you. Gorgias team analyzed more than 13,191 themes and picked the best out of the lot.
Here are the 32 best Shopify Themes you could pick from.
Need more ideas?
Read:
40+ Best Shopify Apps to Optimize eCommerce Stores
Offer More Payment Options & Purchase Options
With Shopify, you can offer subscriptions and pre-orders. Experiment with new types of revenue streams and give your customers choices (no one likes to be boxed in, as long as they need options).
Shopify integrates with several payment options already (depending on your location). Further, with pre-orders and subscriptions, you can expand on various ways your products can be purchased and used.
Image Credit: Gorgias
By offering payment options, you let shoppers pay their way. You get closer to the sheer choice available for your customers as far as payments are concerned.
Meanwhile, offering pre-orders and subscriptions automatically allow you to increase the average order value, open the gates for recurring streams of income, increase loyalty, and make your cash flow healthier.
Use Active And Real-time eCommerce Insights
Shopify also provides you with eCommerce analytics — across the board — which enables you to zone in on what matters, take decisions like a pro, and to double-down on what works.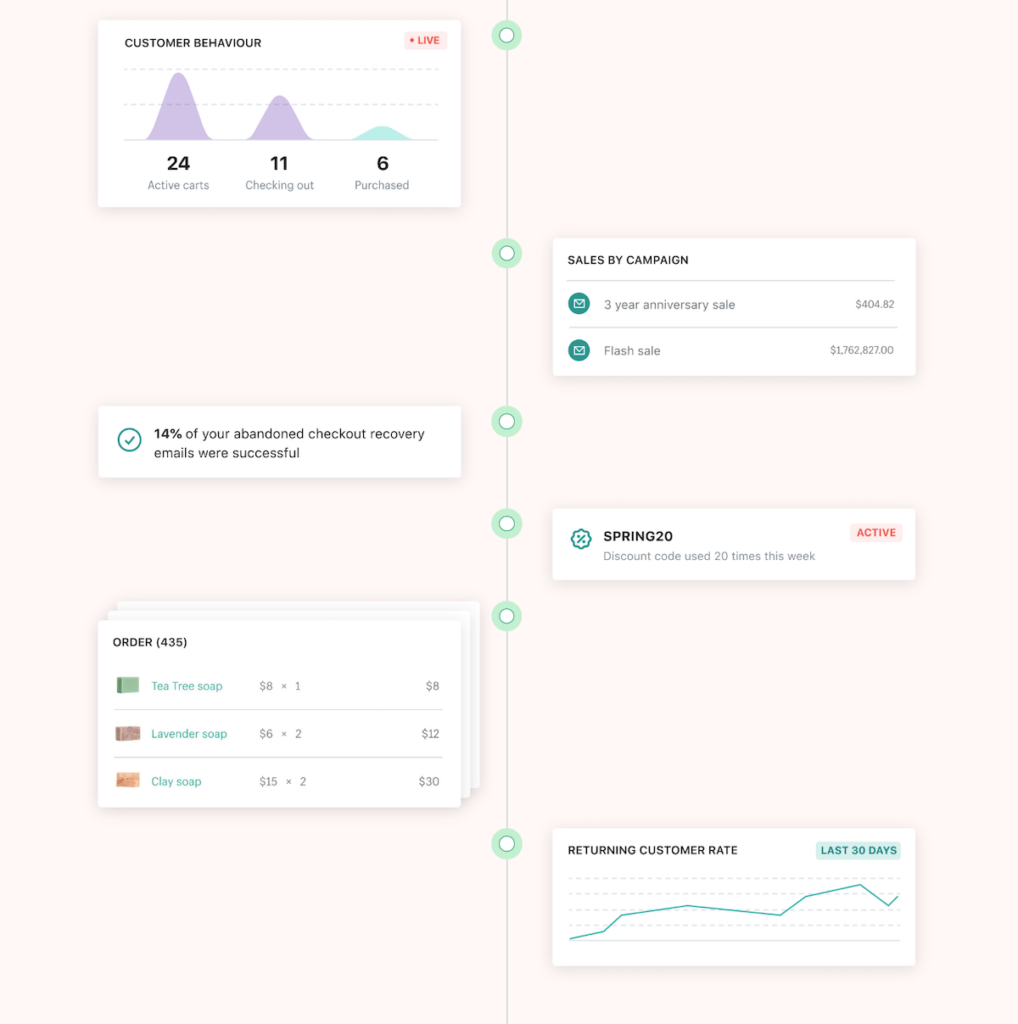 Image Credit: Shopify
Insights allow you to answer questions such as:
— How many active carts converted into actual transactions for a particular time period?
— What are the segregated sale totals for campaign types — such as anniversary sale campaigns, flash sale campaigns, seasonal sale campaigns, on-store discount campaigns, and more?
— How many times was a particular discount code used? What total sales did any particular discount code lead to?
— What is your eCommerce store's returning customer rate?
Let Customer Support Platforms Deliver Magic
The eCommerce brand Crossnet secured a whopping $450,000 through a simple, live chat conversation alone, according to Gorgias
Customer support is the profit centre you never thought you had (and you are probably not using it). Image credit: Gorgias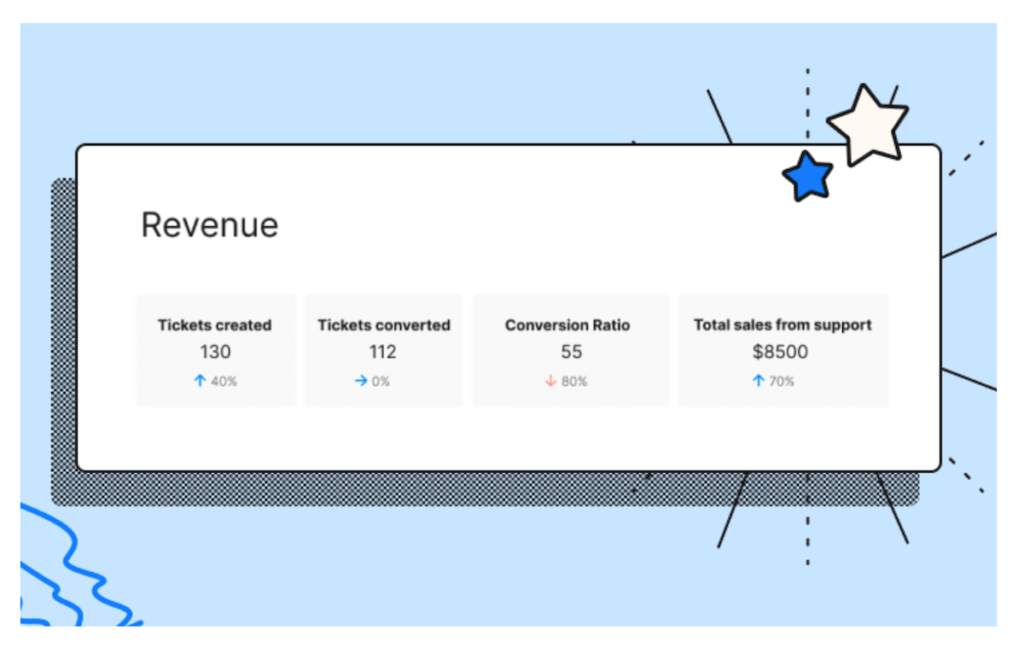 Live chat tools — along with the full feature list of most eCommerce customer support platforms — allow you to take advantage of several features (integrated with even more tools in your marketing stack) to take advantage of "simple conversations, relevant prompts, and a mere nudge sometimes" to make more sales to bring in revenue.
Read:
14 Best Shopify Live Chat Apps [ Pros, Cons, & Screenshots]
60+ Customer Support Statistics You Should Know
17 Customer Support Metrics Your Team Should Be Measuring [+ How to Calculate them]
See how brands make billions with the right support or see how proactive customer support adds to your revenue.
Read:
Customer Support for eCommerce: The Profit Center You Still Ignore
Visit and Exit? Story not Over. Use Smart Email Campaigns
Visitors or shoppers getting to your eCommerce site, clicking around, browsing, adding items to a cart, and actually purchasing products are not a one-time thing — for each visitor.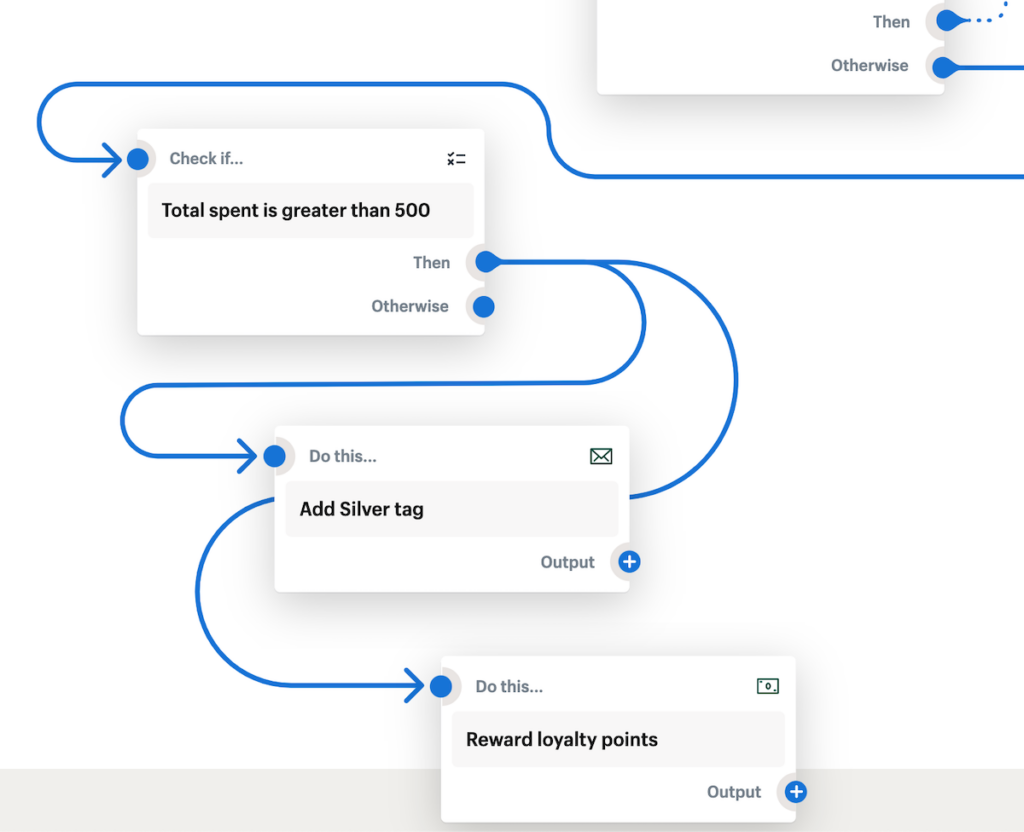 If you had to depend on one-time visits and random sales, you'd not have an eCommerce brand that you'd be able to call a "business".
Building custom email workflows — specifically for eCommerce — help you run a business with sustainability and longevity leading to profits.
Shopify Flow helps you automate several tasks (mundane, repetitive). You can start automating critical and non-critical aspects of your eCommerce business with pre-built templates in seconds.
Use powerful tools like Mailerlite or Convertkit to make email automation work for you. Here are several features on how Mailerlite works with Shopify and how it's a match made in heaven.
Automated email workflows are serious money makers for your eCommerce brand. Specifically, for Shopify, you'd need a Shopify Cart Abandonment Workflow.
The story is not over yet. You can further optimize your eCommerce business for more by using several other email automation workflows.
Some eCommerce automation workflow examples:

eCommerce Welcome Emails That Build Trust For Long-term
Awesome Welcome Emails Fit for eCommerce
Read:
The Ultimate Guide to Email Marketing
Use Shopify Flow and smart email campaigns to enhance buyer experience, manage customers, and stay on top of inventory and merchandise.
Further, take advantage of Shopify Flow to prevent risk and fraud, for order management, customer segmentation, promotions, managing loyalty programs, and more.
Start your eCommerce store with Shopify
Reduce your Shopify shopping cart abandonment rates and win with eCommerce. You owe that much to your business.
Want some inspiration? See how these entrepreneurs bounced back and reclaimed success