eCommerce is growing, and there's no doubt about it. However, it's no "walk-in" opportunity although it might "seem" like it.
Individuals, small businesses, and even large businesses embracing eCommerce are in for a shock though: thrive or be left out.
Thanks to Synebo's research, the team found that in a Havas report, more than 75% of businesses could disappear and customers wouldn't care less. The Havas report surveyed more than 395,000 people worldwide.

Here's what was common for all of those people surveyed: providing better customer experiences and managing customer experiences was key.
Hint: use Gorgias for better customer relationships. Or take a look at some of the best platforms for better customer experience management platforms.
Shopify recently unleashed a slew of new features, apps, themes, and upgrades to the Shopify platform.

If you thought Shopify was awesome, just go to their Summer 2022 editions page and see just how much more incredible the platform got.

Of the many additions and upgrades, Shopify Flow is particularly intriguing.
What Is Shopify Flow?

Shopify Flow (available for businesses and merchants on the Shopify, Shopify Advanced, and Shopify Plus Plans) helps you build workflow automations (across the board) for your eCommerce business needs.

Pick from templated workflow automations (already created for you) or create custom workflow automations.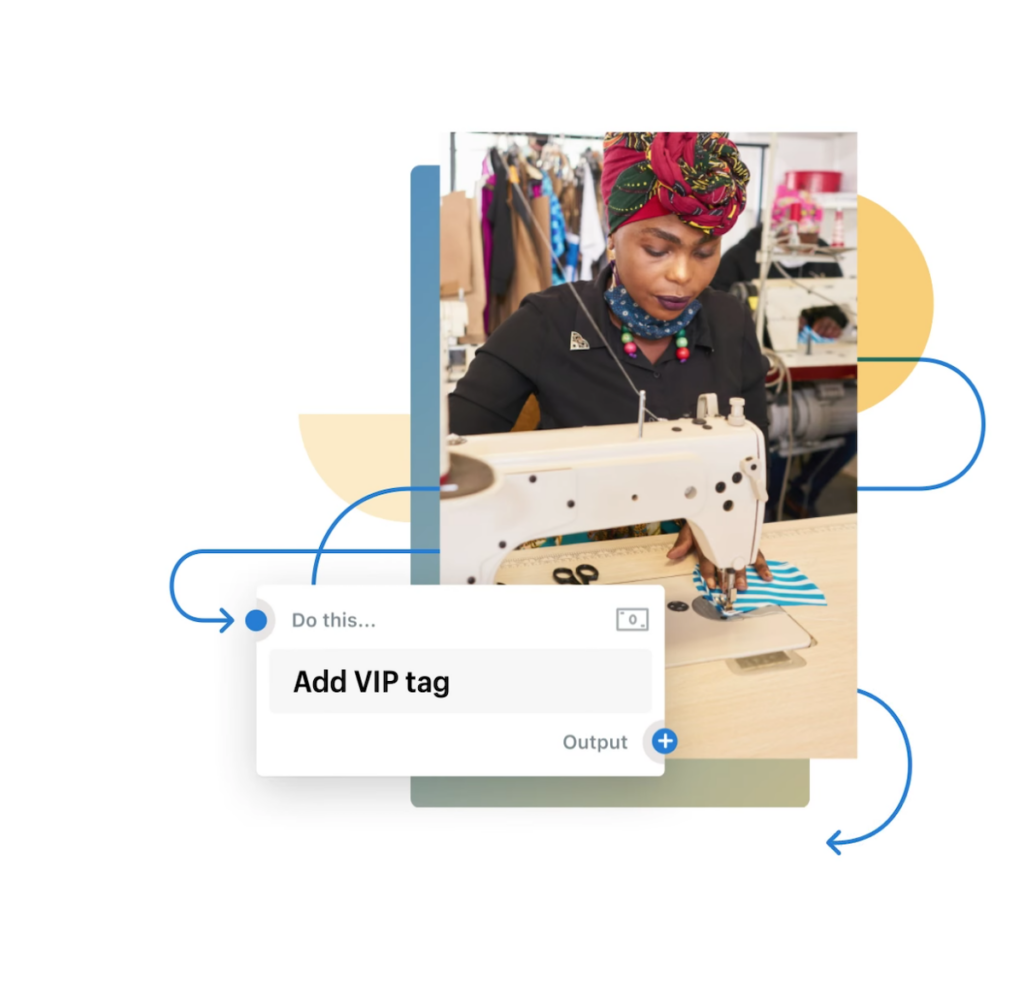 Using simple triggers, conditions, and action blocks — absolutely anyone can create automation workflows for eCommerce. 
The Evolution of Shopify Flow: How It Helps
Ever heard of the case of "doing the work (manually) just to make automation happen". Starting soon, you'll be able to use scheduling in Shopify Flow to complete manual, "things to do today" tasks pertaining to your Shopify business.
Things such as:
Show me a list of low-inventory products
Determine the number of (and show me a list of) unfulfilled products on my Shopify store.
How many products were shipped late today (or this week/month)?
How many customers placed multiple orders?
What's the total average order value per customer?
Total number of chargebacks in a day.
With the new Shopify Flow, you have all the power you need at your fingertips with "data fetching" and creating scheduled workflows
Read:
The Next Big Evolution of Shopify Flow
Shopify Flow Examples: Here's How eCommerce Automations Look Like

If the phrase "eCommerce automation" is overwhelming, try this.
You already know that there'd be a hundred different things for you to manage when it comes to your eCommerce store as far as tasks go: human resources, team management, inventory management, fraud prevention, segmenting customers, connecting one app to another, and more.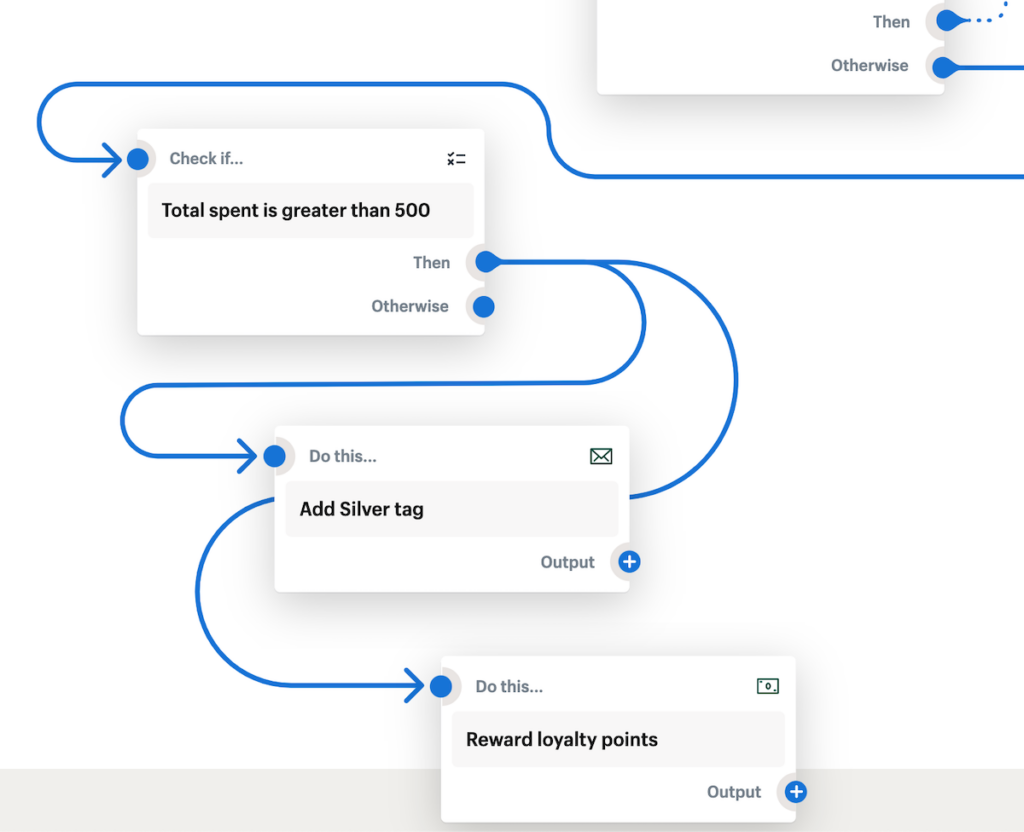 Here are a few specific examples of how eCommerce automation with Shopify Flow helps you run Shopify stores like a pro:
Add all orders to a Google Spreadsheet, an Airtable record, and so on. 
Automatically flag high-risk orders (instead of manually through each order) 
Identify and tag customers based on parameters you set (total order value, total spend, number of repeat orders, loyalty points, etc.) 
Get more out of the apps you already use such as your email marketing systems, customer relationship management systems, customer support systems, and more. 
Send "Winback email marketing sequences" to "at risk of leaving" customers automatically. 
Run complete and comprehensive email marketing automation campaigns. 
Track specific product or product category purchases in your loyalty program. 
Get notified when inventory is low. Or automatically hide products from Shopify stores when inventory reaches zero. 
There are tons of different ways to automate eCommerce store operations — depending on tasks you spend time on, the style and approach to eCommerce marketing and management, and more.
Why Use Shopify Flow?
eCommerce business automation is time consuming. If you aren't careful enough, you'd end up spending thousands of dollars or "time" that you won't ever get back.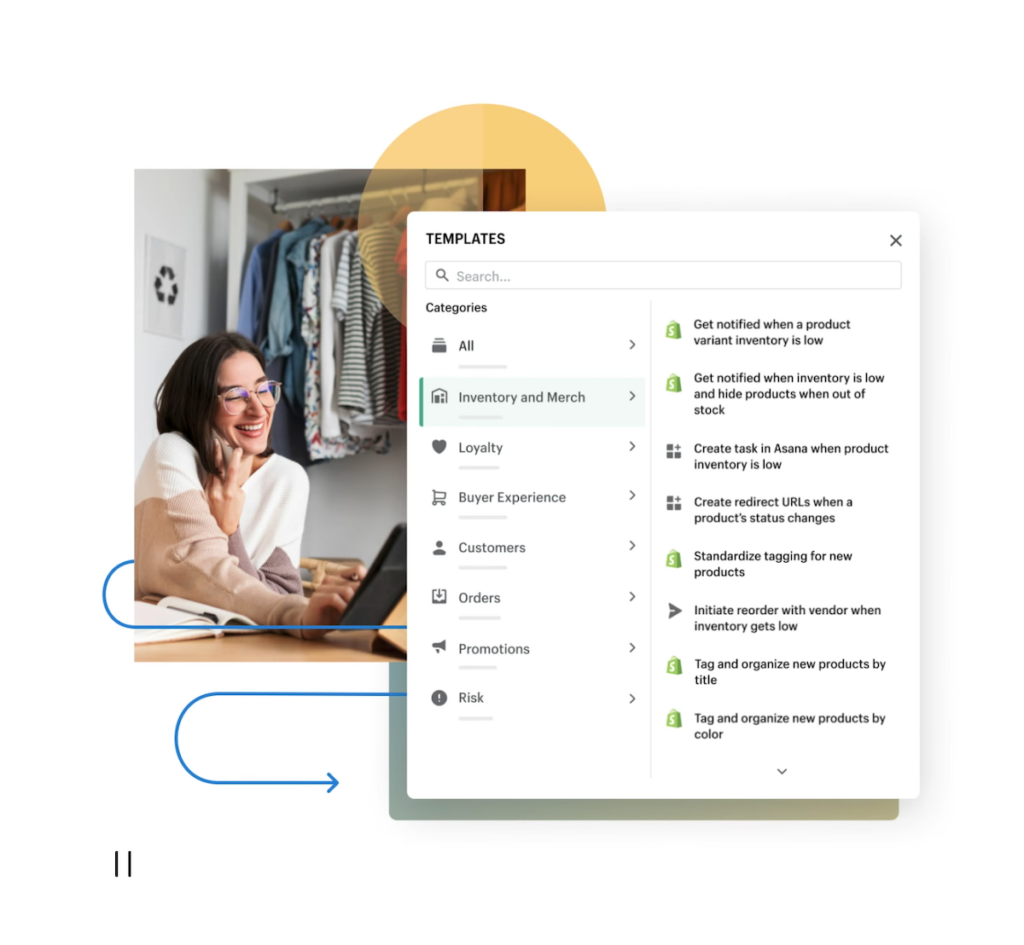 Look at the way you run your own eCommerce business. Chances are that you are losing out on both time and money.
Did you know that an average person, according to Asana, an average person spends about 60% of their time on "Work" that has something to do with "work"?
That's ridiculous. All of that time could be used for something more productive.

We didn't even get anywhere near eCommerce fraud prevention, integrations with your marketing or operations stack for eCommerce, inventory management, and so on.
The good news is that several Shopify merchants and businesses are already neck-deep with custom eCommerce automation workflows.
For instance, here are a few eCommerce automation stats, according to Shopify: more than 562+ million automation workflows during Black Friday Cyber Monday on Shopify platform alone. About 22,000+ unique jobs were completed, and at least a 1 Million+ decisions were automated each month.

Once you set it up and let it go (I recommend keeping an eye on your flows, jobs, and workflows you create along with a healthy dose of iterating and testing), Shopify Flow handles everything.
For instance, Shopify Flow handles high-pressure days such as BFCM (Black Friday Cyber Monday), manages easily forgotten manual tasks, automates crucial eCommerce marketing tasks, and so on.
Take a look at Shopify Flow, how it can help your business take the leap into eCommerce automation, and learn how to start automating eCommerce workflows.
How will you use Shopify Flow?
Read:
Free Shopify Tools [Whether or Not You use Shopify]
Top Shopify Apps for Shopping Cart Abandonment
Best Retargeting Apps for Shopify