This Shopify review is being updated in 2022, for all the things that Shopify platform now has available for you.
eCommerce is a multi-billion dollar industry and the good news is that it's an opportunity for everyone.
No high barriers. No stupid politics.
If you have a dream, and have products to sell, ecommerce is your way out.
Adobe Commerce (earlier called Magento Go — a cloud-based derivative of the popular Magento platform) doesn't even have pricing available for you to look at.
There are alternatives to Shopify for mid-sized and large eCommerce businesses (especially Shopify Plus and Enterprise plans). But this post isn't about that.
Here's why you should stop wasting time and switch to Shopify:
Marketing Your eCommerce Business: Focus on Marketing; not just the Platform

Blogging On Shopify
Social Media Marketing
Shopify Email
Live Chat For eCommerce

Shopify Themes
Shopify Store & Business management
Shopify POS
Shopify Analytics
Shopify Apps (Shopify App Store)
Free tools and resources from Shopify
Shopify Costs: Not Just The Numbers
WordPress is expensive when it comes to eCommerce. Period.
You'd not know this until you start working with WordPress — the themes, the hosting, the endless list of plugins. This doesn't take away the marketing work, the maintenance for your site, the constant hassle of managing WordPress itself, and more.
Want to try Magento? While there's a softalicious that can do a 1-minute quick install, you'd either have to buy a reasonably good Magento theme or get one custom developed. This alone costs you hosting and the price for the template. If you are not technically inclined, you'd look for help to install your Magento theme and only adds to your expenses.
If you work with Magento, you'd have to work with modules. These modules can cause conflict, have API restrictions, and can cost you a bomb.
With Shopify, there's no need to configure databases, look for PHP5 availability, worry about hosting, wonder if you should continue with your shared hosting or look for dedicated servers (and pay for those).
Really, you should start with Shopify, set off, and work on your business instead of worrying about all things technology.
Shopify Security: Lack Of It Kills Your Business
Security is now the numbero uno issue facing eCommerce, Data companies, and the entirety of the technology industry.
Ecommerce isn't like blogging. There are products with product related information. You are likely to store your customers' credit cards and payment information. Getting hacked is probably the end of your business, so to speak.
If, for any reason, you lose customer information, email lists, credit card lists, or your own financial data along with customer data, you'd go belly up.
Shopify is a protected wall-garden. It's a fortress. Since it's not Magento (open-source) and is not used in volume, the chances of getting hacked are less. It's also not WordPress and doesn't come with the huge list of security issues with WordPress. Further, WordPress themes (if you are not picking the right ones) leaves your eCommerce business vulnerable.
Shopify takes security seriously.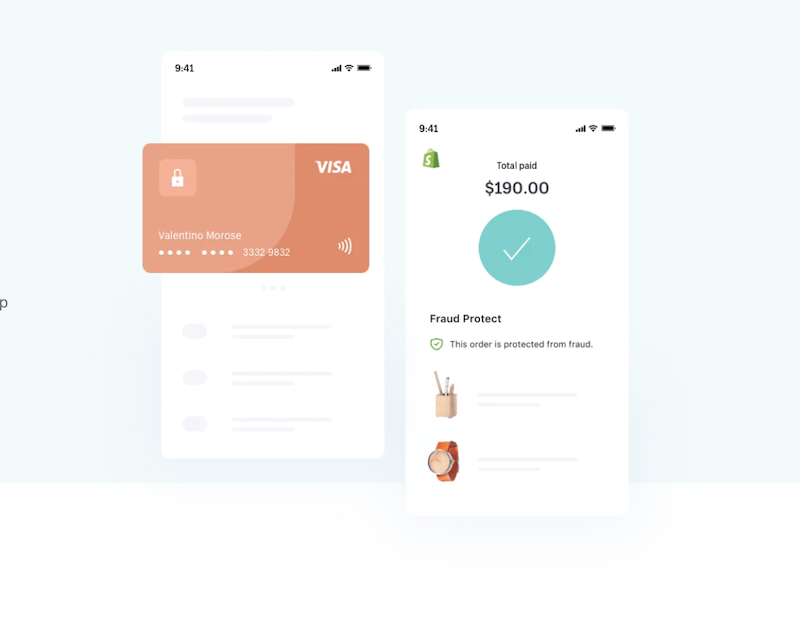 Shopify "owns" everything from hosting to your checkout process. It takes care of data security, security breaches, software upgrades, and any other vulnerability issues.
Shopify's secuity and compliance covers all six PCI standard categories (which applies to every store on the platform). Further, Shopify has ways to protect card holder data and the company maintains a vulnerability management program.
Shopify implements strong access control measures. It mains an information security policy and regularly monitors and tests networks.
You can just sit and collect cash from your bank deposits.
Learn more about Shopify Security
Shopify Marketing: Focus on marketing, & Not Platform
Consider this: if you are in business, there's tons of work you need to do for marketing. Do you have time to work on the backend? Worry about hosting? Setup and install modules? Figure out why your checkout process doesn't seem to work?
You don't.
Leave the heavy lifting like servers, hosting, database, configurations, backend techno mumbo-jumbo, and everything else that takes you away from your business to folks at Shopify and work on your marketing.
Here are some of the features available for eCommerce marketing, done right.
Blogging On Shopify
Shopify has a built in blogging feature — a Content Marketing System (much like WordPress) — completely usable from inside your Shopify admin.
Blogging just works. I don't even need to prove it you (because you know it by now). Blog on topics that tend to cluster around what your business is all about.
Selling e-bikes? You could not only write on all things related to well-being and health benefits of biking but also on product features, going green, about the bikes themselves, and more.
The mechanics of blogging remain the same (just as it does for me here or for anyone doing blogging for business).
Learn more about blogging (and its many nuances) below
Read:
Business Blogging Basics Revisited: You are Overcomplicating It
Best Business Blogging Tools: Use it Or Miss the Boat
Ridiculous Small Business Blogging Mistakes
Social Media Marketing
Social media — collectively — does a lot more for you than you think. While many business owners and marketers tend to quickly gravitate towards favourites (like Twitter, TikTok, or what not), that's not how you should come to a decision.
Facebook (Now Meta) has a full-suite of features that'll allow you reach audiences from a pool of billions. That doesn't even count Instagram for eCommerce. Then, bring in the sheer power of Youtube for reach, and now we are just getting started.
Be sure to use social media not just to promote or share your products (or the content you publish on your blog) but also to try and build tight audiences and fans around your brand.
Here are some resources to help:
Although this was written for content creators, this social media guide from Thinkific is a great one to start with along with a bonus checklist
Read:
Boost Social Media Reach: How to Go Social On Steroids
Social Marketing: 10+ Tools Guaranteed to Boost Engagement
Shopify Email Marketing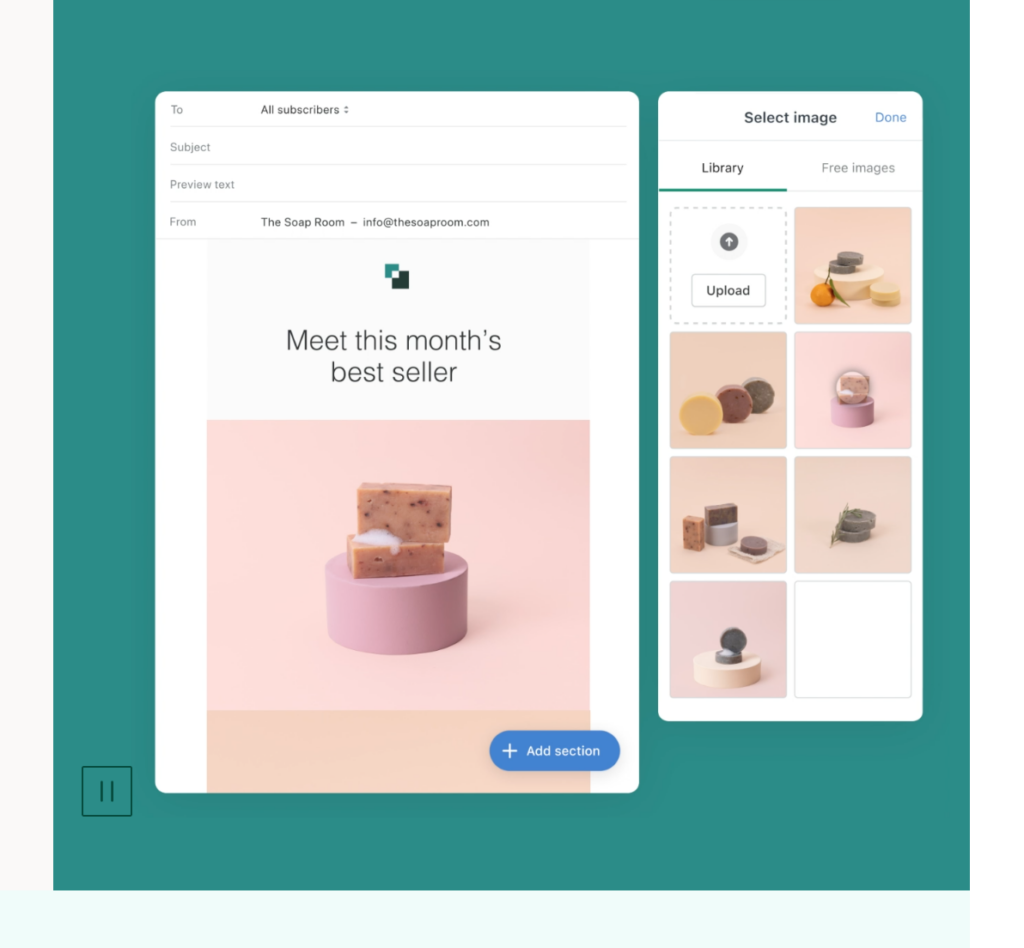 Shopify now has its own email marketing feature, called Shopify Email. For what its worth, you can pretty much hang up your boots and retire with Shopify email marketing alone (just kidding).
With Shopify Email, you get everything you get in an eCommerce specific email marketing tool.
Say what: templates, automated email workflows, reporting, and more. Create smart, strategic, and relevant email marketing campaigns with Shopify Email.
Here's what you get with Shopify Email:
Skip coding. Use templates: Use pre-built templates for one-off emails, automated workflows, and more. Shopify Email does most of the work for you like pulling in your brand assets (logos, products, and prices directly from your store).
Automate eCommerce emails: Shopify Emails come with automation built-in. Choose automation emails for more engagement, to take time off "heavy strategizing syndrome". Pick from automation templates, edit emails, turn on automations, and watch all sorts of magic wizardry to grow your business.
Manage eCommerce campaigns, like a pro: You can create, send, edit, manage, and keep track of all of your campaigns — from one place (from within your Shopify store).
eCommerce Live Chat : Doing Things That Don't Scale (as much)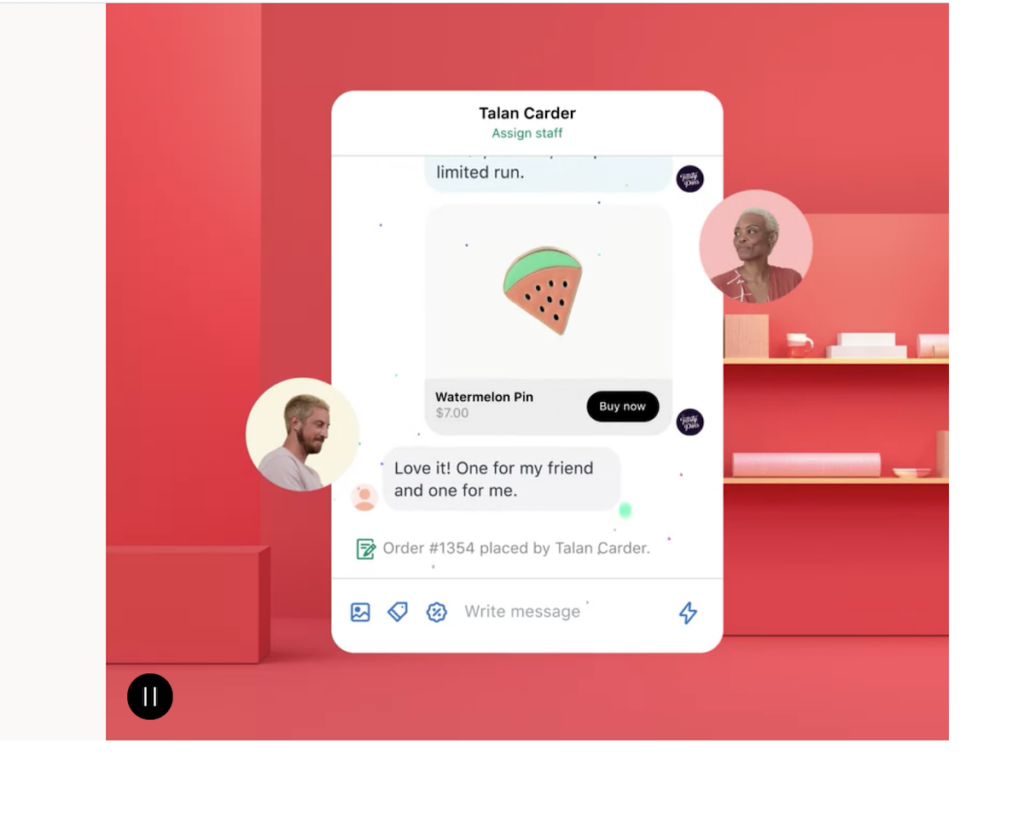 I am big on live chat for eCommerce. I firmly believe that it's one of those silly, stupid, but crazy revenue-generating little things you could do. Customer support is one of those billion-dollar opportunities that you aren't paying enough attention to.
There are some heavy-hitting, super-awesome businesses that thrive on providing rock-solid customer support tools and solutions like Gorgias. Then, there are also 3rd-part live chat solutions.
You could choose complete customer support solutions (for a complete feature set, and if your operations + revenues justifies such an investment). If you are just starting out though, most of those solutions are an overkill.
That's when you appreciate Business chat Shopify feature.
One click. One switch. Go to Shopify admin and switch it on. That's it. You can also setup custom responses, chat anytime your customers are on your store. You'll also know who's there thanks to "live view" (above).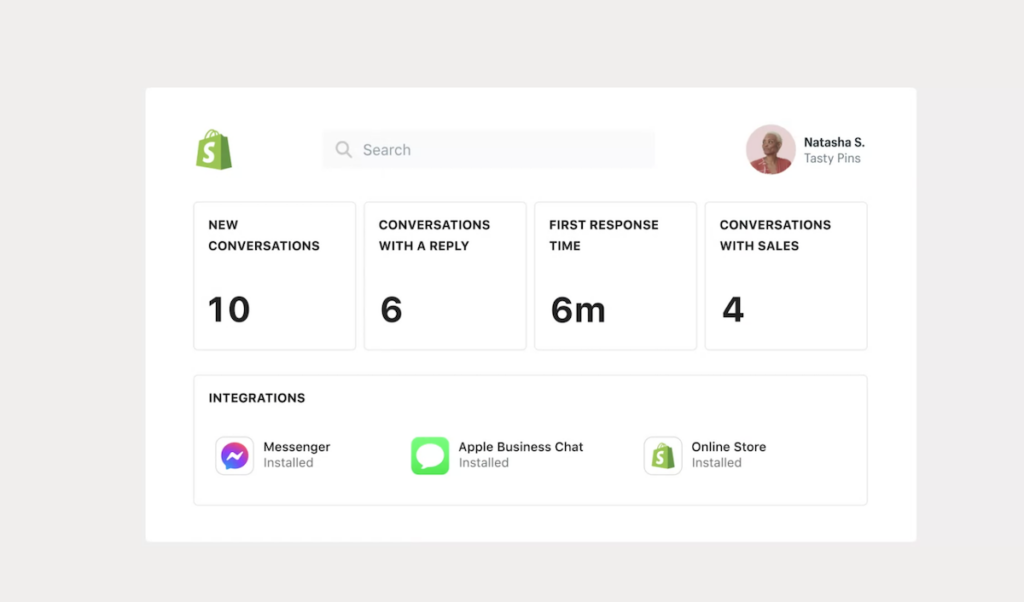 Keep on eye out for metrics that matter (as shown above), along with integrations that you can use such as WhatsApp, Facebook Messenger, Apple Business Chat — in addition to your online store.
Shopify Themes: The eCommerce Store Setup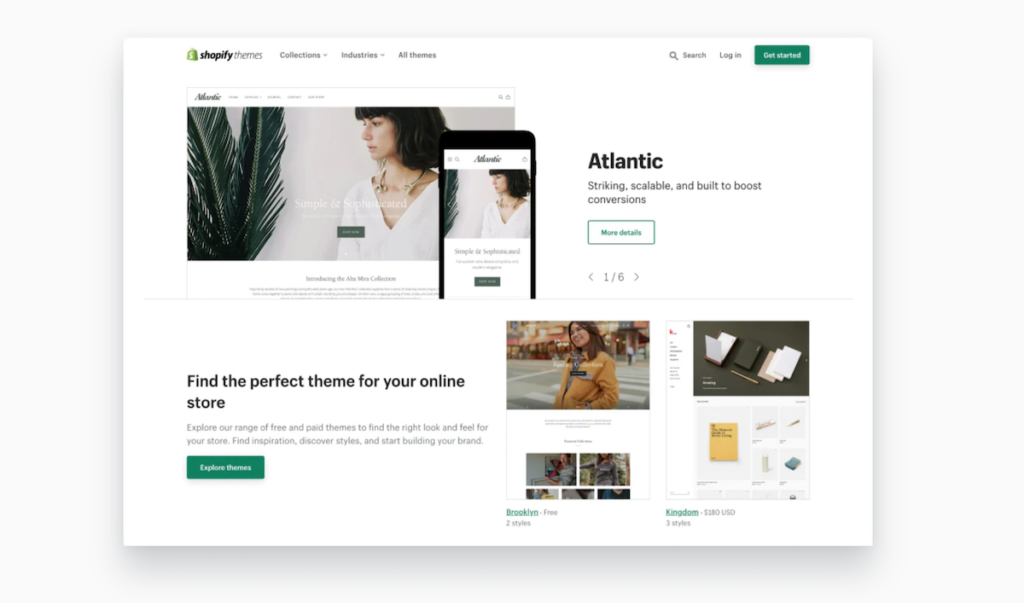 Code is a mess. It's ugly to look at. For everyone else except developers, code is meaningless.
If you are a business owner, code is nothing for you (until it does).
Shopify themes are fantastic, and they work right off the box. Really, there's no need to anything fancy to your Shopify themes (especially if you are just starting out).
If you are a mid-sized or a large eCommerce business, you can do anything you like though.
Even then, in the interest of marketing and results alone, don't mess with anything if it ain't broken. Start first, get the revenue in. This can help justify any tweaking, changing, or customizing you need for Shopify themes later.
Shopify themes already exist (free and paid) — across industries and categories (including themes for Shopify for services) so you don't have to get a new one developed (no need for custom Shopify themes).
Next thing you know, you should be uploading product photos, descriptions, and do blogging. Then get on social media and build your list.
Shopify will take care of everything else, thank you.
Shopify Store Management, Products, & Management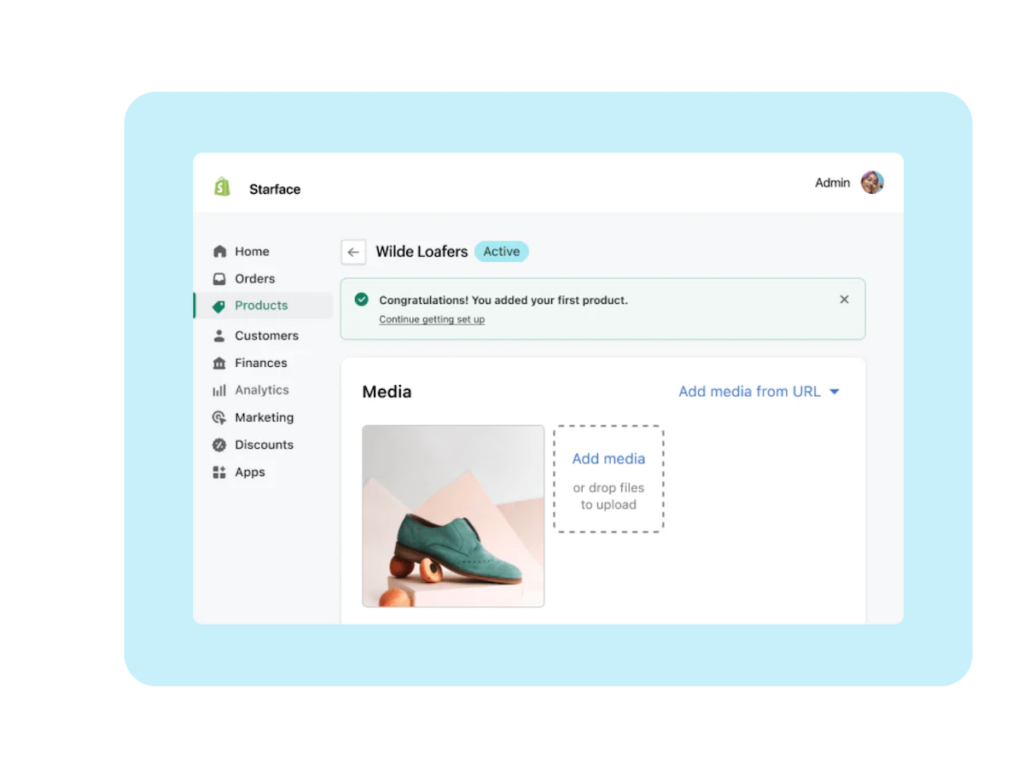 Shopify POS (Point of Sale)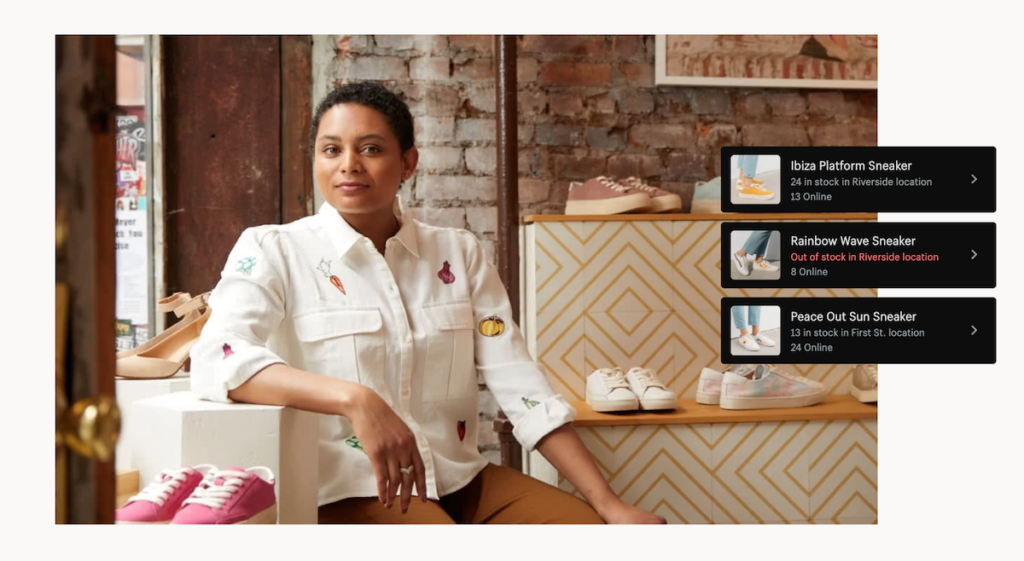 If you are a traditional business (physical stores, malls, or large brand with physical store presence), you'll love Shopify Point of Sale (POS) solutions.
With the Shopify POS, you spread wings.
Take your mobile device (iOS or Android), install a special Shopify Retail POS app, and turn your mobile device or tablet into a powerful POS device.
Customize your POS terminal (keep your most-used features, apps, discounts, information, customer info, and others) at your finger tips.
Shopify POS also connects seamlessly with Shopify Card Readers and other compatible hardware accessories.
Shopify POS to Power Up Retail Businesses
It's not easy to do retail business (and Kevin O' Leary will agree). You only owe it yourself to make it easier for yourself using the best of technology and platforms have to offer.
The Shopify POS suite is a complete end-to-end retail management solution which helps you with inventory tracking, staff management, sales, promotions, reporting, analytics, and more.
Which leads us to…
Shopify Omnichannel Selling
eCommerce is eCommerce. Traditional buying experiences are just that as well. We don't, however, live in a world like that. For us, it's a mixed bag.
For businesses and brands, this is a call for Omnichannel selling. With Shopify, you don't just do eCommerce; you do omnichannel selling by offering a smooth, seamless, connected, and synced experience for customers.
Sell online. Sell offline. Sell anywhere in between.
With Omnichannel selling, you can mix the traditional offline commerce and the contemporary eCommerce benefits. Enable features such as:
Local pick up
Browse in Physical Stores, Buy Online
Buy online, Pick up at store
Buy in Store, Ship out to customers
Buy anywhere, Ship anywhere
Customer Profiles, In sync
Power up Marketing Campaigns
Use Built-in Loyalty Programs
Product QR codes
Send cart to buy online
Buy online, exchange and return in store
..and more.
Shopify Analytics
When you login into your eCommerce platform dashboard, you should be working on something beautiful. You'd need an intuitive dashboard that shows numbers that matter.
What kind of numbers matter, you ask? Not the ones that the whole world (or maybe it's in your head) pushes you to pursue.
Also called as analytics and KPI (Key Performance Indicators), the end of the story is that few numbers matter (notwithstanding business function specific numbers such as inventory reports for eCommerce).
Shopify Analytics — available for all Shopify Plans, varying feature-wise depending on the plan – allow you to keep your eyes on your numbers.
Connect Shopify Analytics with mind-boggling data visualization tools such as Databox — and you'll have numbers in a single dashboard (or multiple dashboards) that you can see while being displayed on a TV or a monitor.
Shopify Analytics includes:
Analytics Page (dashboard)
Finance reports (including taxes and payments)
Product analytics
Live view (of everything that's happening on your Shopify store)
Customer Acqusition reports
Inventory reports
Customer behavior reports
Marketing reports
Order reports
Sales reports
Retail sales reports (along with those related to Shopify POS)
You can also slice and dice to create custom reports. Remember Databox (above)? You can make all of these numbers appear in a single dashboard updated regularly so you have once place to see all the numbers that mean business.
Shopify Apps: There are apps. There are more apps
Here's the favourite part, and I absolutely love this. As if all the good things about Shopify weren't enough, the Shopify app store is a treasure trove of various apps that you can use to make your eCommerce business work.
Marketing, sales, social media, inventory management, accounting, automation, reporting and shipping – you have apps for all of these.
Some of those available are Shopify apps; others are paid Shopify apps. Regardless, you have what you need, when you need them.
For instance, here are a list of retargeting apps that you could use for Shopify stores. Or a complete list of Shopping Cart Abandonment prevention apps (learn more about how to reduce Shopping Cart Abandonment, and Prevent the Bleeding).
Shopify Flow: Automation Made For The Future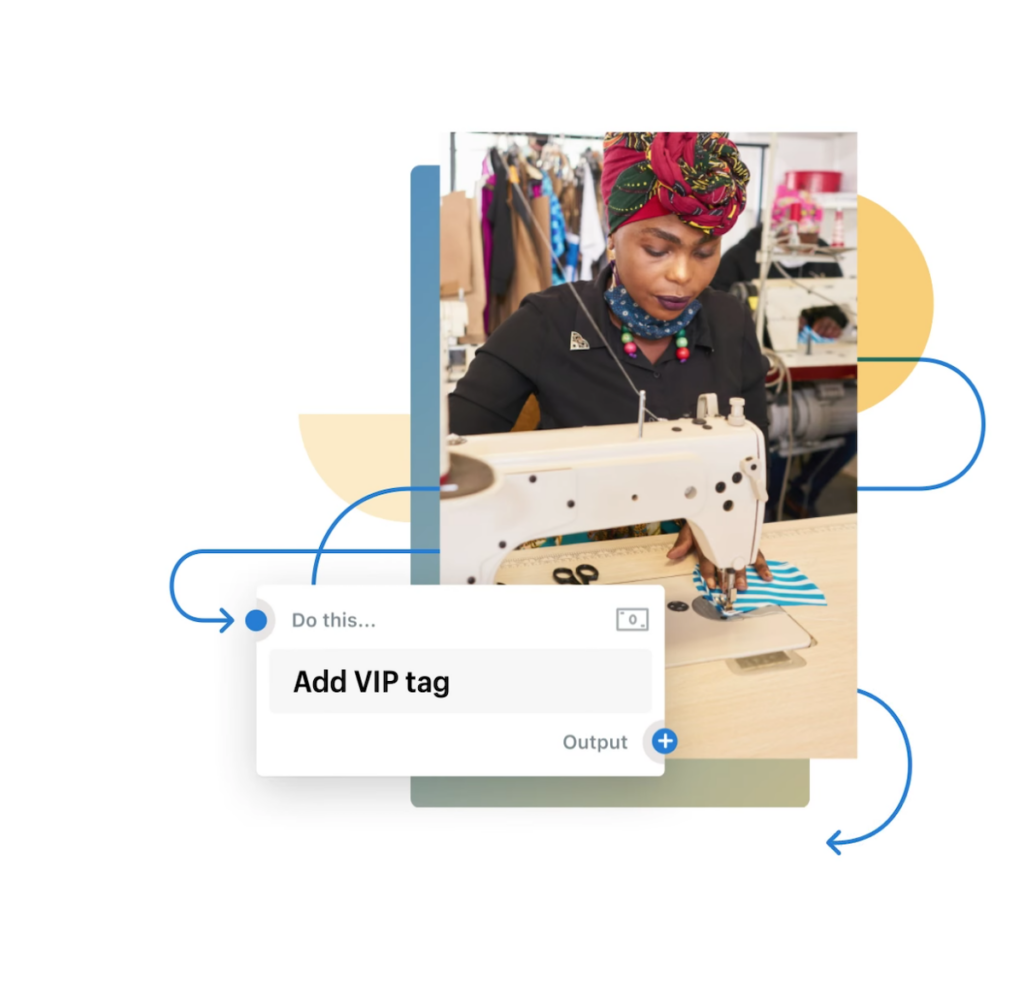 How do you get the magic of triggered emails, better personalization of email campaigns happen? What should you do to bring in email marketing automation?
Use Shopify Flow.
Shopify Flow helps you create custom workflows for eCommerce — from your existing apps.
Extending across functions of your business — from inventory management to customer lifecycle management; from marketing to fraud prevention; from loyalty programs to shipping.
Be it simple operations that you can automate for eCommerce or complex, multi-step workflows designed to automate repetitive tasks, Shopify Flow does it all.
Read:
Learn more about Shopify Flow and How It Helps eCommerce
Shopify Free Tools
Shopify stores are super fast, agile, and capable of taking all that traffic you can throw at it. Meanwhile, its underbelly is massive which gives you the capacity to handle massive numbers of customers.
The belly, by the way, can also take unlimited traffic, product inventory, and a lot more.
While this Shopify review mainly focuses on the platform itself, there are some things worth taking note: Shopify resources, and free Shopify tools.
Did you know that Shopify free tools is a list of never-ending tools and resources that you could use for your business (any business), regardless of your choice of platform?
For instance, you get:
… and many more. See more about free tools that Shopify provides.
Yes, it's one of those marketing lessons from Shopify we should all learn.
Talking about lessons, there are also several inspiring Shopify merchant stories or individuals and brands that made it big on Shopify, after scraping themselves off of the bottom.
Note: Shopify releases several new features along the way and I'll do my best to update this Shopify review at all times to ensure relevance and accurate information.
Move to Shopify now. What's missing in this Shopify Review? What should be added to make this Shopify review better?
Tell me when your store goes live.