As a small business, your marketing budget is probably very limited, and that's why social media is а must.
Social media is a great way to discover new fans or potential customers, it's also very good for communicating with existing potential users. By not being on social media, you'd be losing out on a lot of potential connections, which could've brought more sales.
The question "How to use social media for small business?" might have popped up in your head.
This article is going to explain how to use social media for small business. By implementing these social media marketing tips, you'd be on the way to the top before you even start posting.
1. Make Sure Your Website Is as Good as It Gets
Before jumping into social media, make sure that your website looks trustworthy, performs well, and is able to handle high traffic. There's no point in creating a social media marketing plan with a broken website. Since your social media profiles will direct users to your site, pay attention to it.
Host your site with a dependable web hosting company (here are some of the best cheap web hosting picks), invest thought and time into finding a suitable design, and make sure your site is SEO optimized.
Want to look for premium, fast, fully-managed, and safe hosting solutions? Try the following:
Read:
How to Increase WordPress Website Speed (10 Proven Solutions)
2. Create a Marketing Plan
A good business always starts with a plan. You can't just start posting without having a planned posting schedule or a goal that you want to reach. These things are necessary to determine your actions.
Without a plan, you'll just be going in blind and not be able to correctly measure the progress you've made. To create a productive social media marketing plan, there are a few necessary steps you need to take:
Research the topic you're gonna post about. In order to post attractive content, you need to know what attracts people. Your competitors are a good place to start this research, as they have already acquired an audience that is similar to what you need. Choose a topic that covers the niche that your business is in.
Set measurable and relevant goals. These goals should be social media related, usually likes or views, but can also be related to how much traffic they're driving to your website or how many sales are happening because of them. There's no limit to creativity.
Analyse competition. Look through your competitors' profiles and get inspired. This will help you determine the content that works with your target group. Never copy! Just gather ideas.
Determine the content. This is paramount to success. There's a rule called "80-20", which basically means that 80% of your content should be informative and 20% promotive.
3. Don't Invest Much in The Beginning
You probably know that social media is free to use, but did you know you can pay to reach more people?
It might be tempting to invest a lot of money in advertising and sponsored posts straight from the beginning. I don't recommend any business that – invest little by little. Spare, let's say, $5 for a single post on a platform of choice for sponsored advertising.
Track the performance of that post – does it pay off? Does your profile get more views, likes, and clicks on a link to your website?
Before investing huge sums, try the waters first.
4. Determine Which Platforms Suit Your Business
Using social media for small business is a great way to acquire customers, but determining which platforms to use can be a bit tricky.
Surprisingly, the statistics show a picture that more than 60% of baby boomers in the US use Facebook and YouTube. Look for statistics like these when selecting platforms.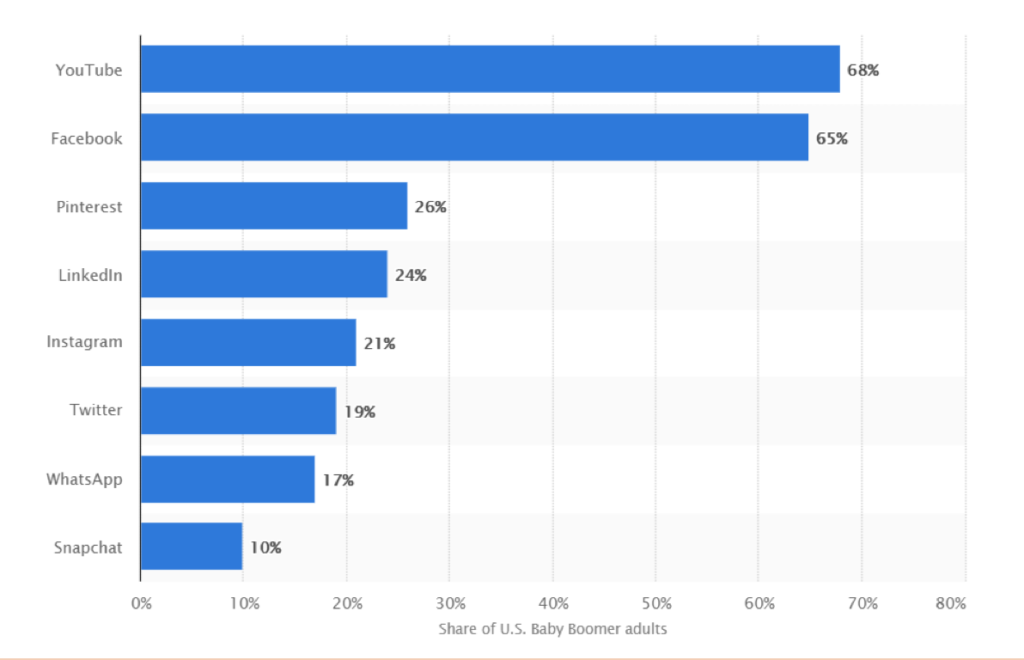 However, use your common sense, too. If your small business sells something visually appealing – Instagram should be your focus platform as it concentrates more on visual content. Do you manage a business that, let's say, deals with accounting? LinkedIn is the way to go – it's a platform aimed at professionals.

Choose 2-3 social media platforms and concentrate your marketing, funds, and content on them.
5. Define Your Audience
Social media lets you target any specific audience. It allows you to choose a specific set of audience characteristics, especially for paid advertising.
This is why it's very important to understand your audience. Take a piece of paper and write down any common things the members of your audience have. For example, the audience of a fishing store has the fishing hobby in common, they like to read about that.
The more detailed you define your audience, the better – but don't go over the board. While it's good to know every detail about your audience, it can greatly restrict customer acquisition.
Facebook has an audience creation tool which includes a "lookalike audience". This feature will find users similar to an audience you select, users that might like your content.
6. Quality or quantity?
Most people would answer this question with a single word – quality. But that might not always be correct. There isn't always a need for extremely high-quality posts or pictures. Finding the balance between quality and quantity is the best way to go.
For example, a local café doesn't need to post extremely high-quality pictures taken with a DSLR and a $1300 lens. Often times, a smartphone is enough. Instead of wasting money on buying an expensive DSLR or paying somebody that already owns one, they can just take pictures with a smartphone.
Smartphones nowadays take great pictures. With modern technology, they even excel in night photography. Some smartphones even automatically add effects to beautify the picture.
However, for written content, I always prefer quality over quantity. There isn't a fast way to build good written content, and readers want to read something interesting and unique.
7. Communicate
You already have a Facebook, Twitter, Instagram, or LinkedIn page. Now you need to accommodate the followers. They ask a question? You answer the question. They post something about you? Maybe join in the conversation. A good idea would be incorporating a Facebook messenger chatbot. This way, you can always be available to your customers.
Have you seen Wendy's twitter account? It's amazing how much they interact with their audience. They even get into some heated roast-battles at times, it's interesting to read even for someone who doesn't have access to their food.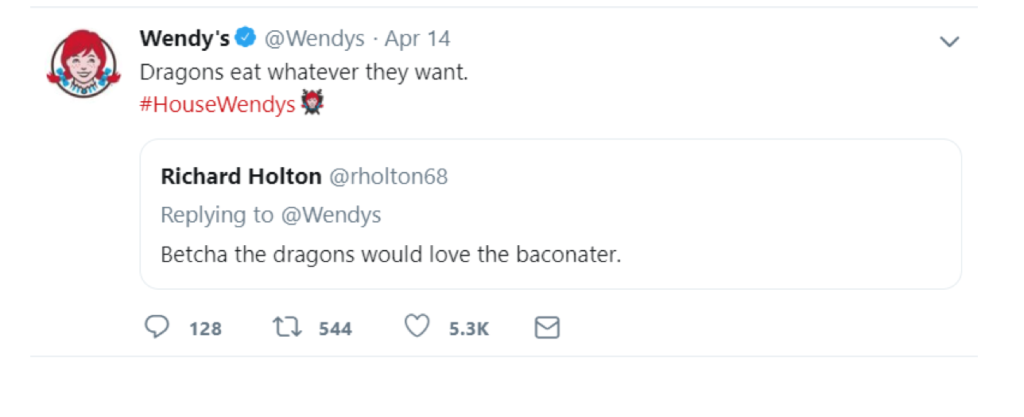 8. Find Helpful Tools
Managing social media accounts is hard enough even without having multiple accounts. However, there are tools that help automate social media tasks. Tools like Hootsuite and Sprout Social will definitely help you free up some time and even increase your social media performance.
A user-friendly chatbot builder will help you create a chatbot without the whole coding hassle.
A tool I frequently use for my Instagram pictures is Best Hashtags. By entering a keyword into the search box, it will generate hashtags relevant to the keyword you searched for. This makes it easy to post online without doing a lot of hashtag research. Keep in mind this will bring users from all over the world, not just your local place.
Analytic tools should be the top priority for your social media management. By analyzing the posts, you'd know what works and what doesn't. You would be able to find out the audience that liked a certain post, the audience that clicked a certain link, and more.
Social Media is a Must for Your Small Business
Social media marketing for small business isn't as easy as it seems. Even if it's not a large-scale advertisement campaign, it still takes some effort to get it going and keep it going. By utilizing these social media marketing tips you will be able to launch your social media profiles with more knowledge.
You should invest in knowing your audience, pick appropriate platforms, and keep your communication at a golden standard.