Wondering how to use Google Optimize? You are at the right place.
The one thing that digital marketing allows you to do that traditional advertising cannot is the ability to test out every single pixel on a web page to try to make these web pages work to the maximum benefit.
You have limited resources and you'd need every page, pixel, and element to work in your favor. The only way you'd know what works and what doesn't is when you do A/B testing or multivariate testing for your web properties.
While A/B testing is a must for everything you use for digital marketing – such as websites, landing pages, the headlines, email subject lines, Ads you use for Google Adwords or Facebook ads – we'll focus on testing the various elements of your regular website.
Normally, if your website is built on WordPress or HTML5/CSS3, your only options until now were to use Optimizely and Visual Website Optimizer (both of them are great tools, of course).
But then, the big daddy Google now released what's called as Google Optimize which makes use of your existing analytics account and helps you test out your web pages, completely for free.
Using Google Optimize, you can setup "experiments" to test out:
Your homepage design
Contact pages
About page
Landing Pages
Product pages
Shopping carts
Thank you pages, and more
You can also run Multivariate tests and Redirect tests in addition to A/B testing.
Google helpfully says this:
Before performing tests on your most popular web pages (like your home page) consider starting small first, which will allow you to experiment with lower-risk pages.

Keep in mind that you'll need to test pages with enough traffic to get results quickly.

Start by experimenting with the color of a button, the copy in a call to action, or the order of a navigation bar. After completing a few experiments, graduate to testing headlines, images and landing pages when you're ready.
Here's how you do it:
Get access to Google Optimize
Go here and sign up for your Google Optimize Account
Once you have access to Google optimize, you'd only have to link to your Google Analytics account, select your website (and the corresponding view), and create a "container".
Note: You can only have three experiments running at any given time with your free Google Optimize account. If you need more, you'd have to use the premium version called Google Optimize 360 which is a part of Google Analytics 360 Suite.
Here's how the features stack up: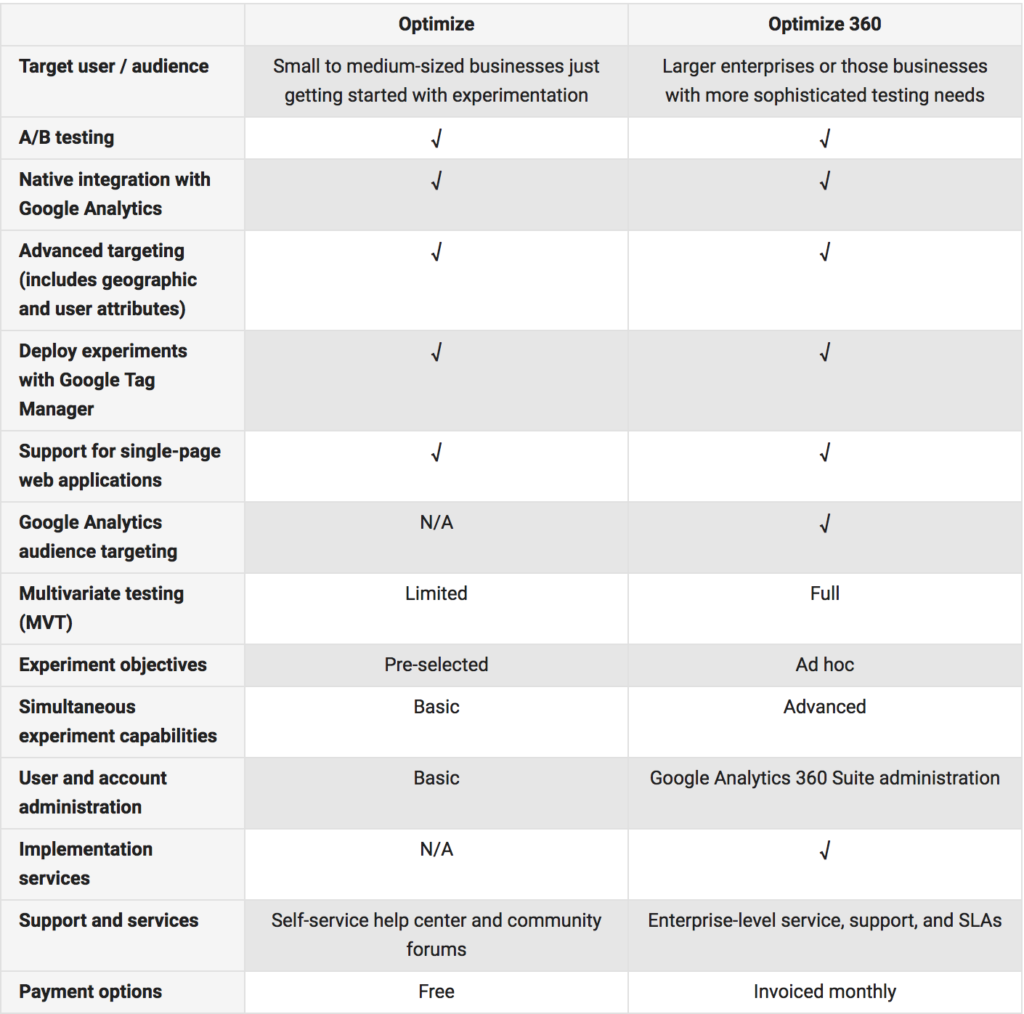 Setup Your Experiment
After you link your Google Analytics account and you are all ready to go, you'll see that your website now shows up Google Optimize.
You'll also notice that your website now shows up as the original version for testing. You'd now have to create a second version (Version B) to test it against your original version A.
For the purposes of keeping it simple, let's just assume that you want to test out the hero section of your home page.
My experiment involves testing the headline on the hero section of my page. Presently, it says "Learn digital marketing for free". I might want to test this against a new version (because I never know what works until I test things out).
The original version of the hero section of your home page is my version A. In my example, it's as shown below
Version A: LEARN DIGITAL MARKETING FOR FREE

Version B: 10 MILLION+ OPPORTUNITIES FOR DIGITAL MARKETERS. ARE YOU READY FOR IT YET?

Obviously, you might start with apportioning 50% of all your incoming traffic to either of the versions.
Let your original version be. However, for the second version that you are testing against the original one, make necessary changes such as changing your headline on the hero section, for instance.
When you are done, this is how your experiment will look like: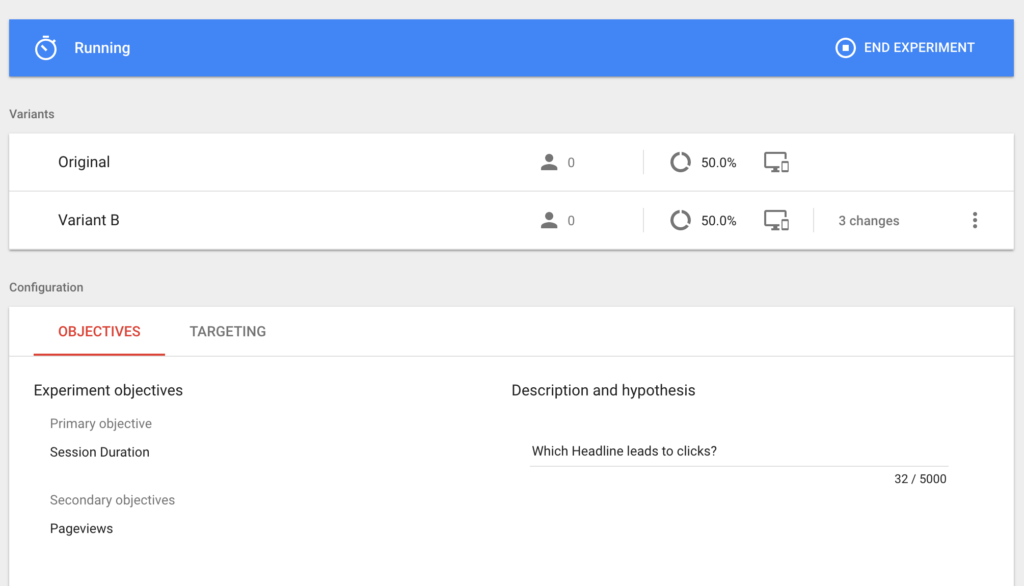 Be sure to also setup your primary objective, secondary objective, and place notes on the description and hypethesis just so that you remember what you were running these A/B tests for.
Run Your Experiments
It'll take a while for you to gather enough traffic (and hence data) for your experiments with Google Optimize. After you start running your experiments, let these experiments run for a couple of days or weeks (depending on how much traffic you get).
Wait for a few days and click on the "reporting" tab to see how you fare with your experiments. Have you used Google Optimize yet? Did you run any experiments off late? Please do share your experiences with me.