The usual song-and-dance about ads and clicks, Inbound marketing, blogging, and email marketing is all good, but it lacks in something that's critical for the very fabric of humanity.
Personal touch.
We are humans. We connect in person, or at least with voice.
Bring that human touch to your digital marketing or at least paid campaigns, and you'll see it all works different (as compared to just letting people click on ads and visit landing pages).
I see an ad. I also see a number. I place a phone call. Someone human picks it up and talks — now, that's powerful stuff, if only businesses can make it happen.
If you are running paid ads (like Google Ads), you should track your inbound calls. Period.
Not convinced? Here's why you should let your potential customers call you and why you should invest in call tracking:
Inbound Calls Are Pure Gold
By 2018, BIA/Kelsey estimates that mobile search will generate 73 billion calls to businesses in 2018, up from 30 billion in 2013.
Calls to U.S. businesses from search, social, display, or other paid ad campaigns ads have grown 110 percent since 2014. That represents a total of 162 billion calls in the United States alone each year, and we aren't even talking about the rest of the world (which is even bigger than we can fathom).
Your business is simply missing out on all the action without those local, regular, toll-free, or virtual numbers.
According to Ryan Shank of PhoneWagon,
Call-focused search ads are one of the growing forces behind high returns from digital ad spend
When people call, they're ready to buy. Google research shows that 61% of calls are coming from folks that are ready to make a decision.
Google also found an 8% increase in click-through-rates of search ads that had a call button. And, people get frustrated when they can't pick up the phone and get a hold of a business.
52% of those who take action after seeing a mobile ad do so via mobile phones.
You're 7X more likely to close a deal if you call back within the hour of a missed call.
And what would happen if there's no call button?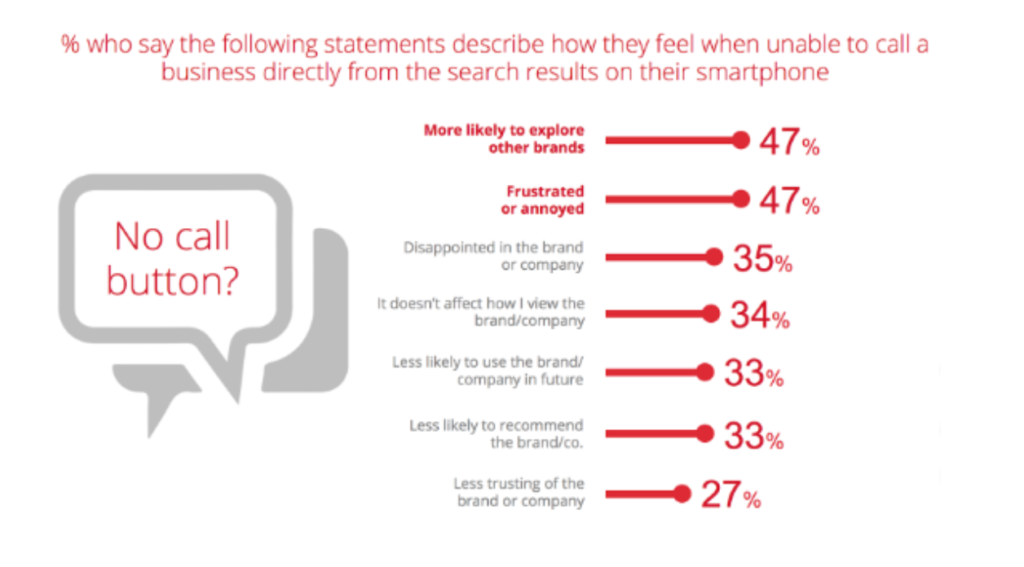 Open That window of Opportunity
By letting your potential visitors make phone calls and with proper call tracking tools in place, you are opening a window of opportunity that's normally not open with just ads.
By setting up a regular local phone number, a call tracking phone number, a virtual phone number, or a toll-free number, the levels of trust you'll invoke among your potential customers are a whole new level than if it were just an ecommerce site with nothing but buttons, shopping carts, and product images on it.
Call Tracking By Medium
Guess what traditional advertising couldn't give you (or at least made it insanely expensive and cumbersome to do)?
You would put up your toll-free number or regular inbound phone numbers on your traditional ads (on print, TV, or Radio) and you'd find it really hard to track your inbound calls.
With Call tracking software, you can easily track your inbound calls by source or medium. Are your Google Ads generating phone calls more than the regular traffic that your website gets (organic search)?
Is the main toll-free number for your business generating those phone calls? Or are your landing pages generating the calls?
Among the Google Ad campaigns you are running, which of those campaigns are generating calls? Or which of the keywords you use for your campaigns are pulling in the maximum number of calls compared to others?
With the right call tracking software, you have reams and reams of data that'll help you not only track incoming calls but also dig into data to determine which media gives you maximum ROI.
Are you tracking your Inbound calls? Do you have a number set up for your business?