"We're entering a new world in which data may be more important than software." – Tim O'Reilly, founder, O'Reilly Media.
Whether you are an affiliate, a business owner, or an agency, moving towards data-driven decision making isn't something fancy; it's only the move forward.
As such this AnyTrack review is a work-in-progress as we also deal with further developments, newer features, and more.

Analytics and tracking — for most of the marketing effort we put in- is seriously ignored.

Some advanced marketers and super affiliates do try to dig into analytics and do basics such as:
Using professional analytics tools — starting from the humble and powerful Google Analytics all the way to powerful analytics tools such as Databox & Supermetrics — helps you:
Create and connect your web or app properties with tools like Google Analytics (and go beyond the usual metrics everyone digs into). There are several more analytics tools available (depending on you), that you could pick from.
Understanding the power of UTM (Urchin Tracking Mode) and then let data flow into your analytics systems to understand the results of their marketing efforts. 
Tapping into powerful analytics dashboards to get an understanding of what marketing channels work, and what don't. 
For the most part, managing analytics isn't as easy as it sounds though. For average souls like us who struggle with everyday marketing, using analytics the right way is "work".

It'd be nice to have a way to track, analyze, and get into decision-making without actually breaking the bank (or your neck).
That's where tools like AnyTrack come in. 
What Is AnyTrack?
AnyTrack is a conversion data platform that automatically tracks and orchestrates your conversion data across all your marketing and analytics channels—while simultaneously building remarketing audiences for you. 
So you can keep your mind off the tech and stay focused on what you do best: marketing.
By using a single line of code, Anytrack enables cross-platform analytics and automatically creates "events" of all kinds that you can track inside Anytrack — page views, outbound clicks, form fills, landing page lead generation events, and other goals you might set up. 
For instance, AnyTrack also integrates with Unbounce (to track leads as goals or results in your analytics), LeadPages, Instapage, or virtually anything else (thanks to webhooks!) including all the eCommerce activity that could occur thanks to your email marketing efforts with Drip

For business owners, this gives you an opportunity to go beyond the usual KPIs such as "new users", "audiences", and "time on page spent per session".

With AnyTrack, you now have audiences that are actually "engaged" with your site. All those people who scrolled, clicked, played videos, and so much more.
These audiences are special; they are more engaged. They are more invested. They are interested. They certainly aren't bots.

They are real people. So, you can:
On Google Analytics, you can create custom audiences of users who "clicked" on certain outbound links. Or those that viewed pages. Or those that filled up forms.
By connecting with the Facebook Pixel, you can do even more: create lookalike audiences matching your engaged audiences.

See the pattern?

For Affiliates, there's more to AnyTrack: you can integrate directly with affiliate networks such as ShareAsale, HasOffers, Impact, and several others (the integration catalog is always growing).
By integrating, affiliates now have a complete picture of how their marketing campaigns tie-in to their revenue. 

On Anytrack, affiliates get integrations with over +50 Integrated networks, direct API or Postback URL integrations, optimized URL tracking, and more.
Whether you run on Google Ads or run Native ads with Taboola, AnyTrack syncs your entire customer journey so you can optimize for every type of conversions.
For Businesses:
Imagine being in the know about every click on your website, every form filled, every link clicked on, and what's exactly happening with the conversions on your website (including forms, prospects booking calls, and more).
You can use Anytrack to measure all of these (+ attribute a dollar value to each of these) so that you know how well your website performs.
Note: This Anytrack Review is more general — a much more detailed application of AnyTrack affiliates is coming soon.
Anytrack: Conversion data Platform for Super Marketers (and Affiliates)
If you were ever stymied by the typical approach to setting up pixels, tracking analytics using Google Analytics, drawing up dashboards to make sense of data flowing in, and to set up your tracking right, you are not alone.
For the most part, learning analytics is not tough; starting with analytics the right way certainly is. There's a dark side to analytics and tracking that you'd be better off not to get into, as Evan laPointe of Search Engine Land. 
If you are a business owner, freelancer, or an agency you'd want to know how to use analytics the right way. You'd want to:
Track your traffic sources — from various ad networks — paid & organic simultaneously across your sites, funnels
Amplify the value of each visitor with custom retargeting audiences generated for you automatically in each ad network.
Attribute with 100% accuracy the ads, ad networks, and social media channels that are the most profitable for you.
Easily improve KPIs, Quality Score, and multiple other metrics faster than ever.
Leverage ROAS bidding to lower your CPA, and scale your campaigns with total confidence.
Tie conversions and revenue to your SERP to gauge the impact of every piece of content in your funnels.
AnyTrack helps you achieve all the above: by using a single line of code (placed in the <head> section of your website (you can also use the Google Tag Manager for this). 
AnyTrack uses a single tag — that you place on your website — to track outbound clicks, page views, form fills, lead generation, opt-in form results, and so much more.
No coding needed. Real-time validation. Easy setup. It works with your current setup using "auto-tracking" without you ever touching a line of code. 
AnyTrack also automatically tags your offer links, landing page entries, forms, outbound clicks, and pageviews to guarantee a perfect funnel tracking and attribution across your entire marketing tools, channels, affiliate networks and advertisers (if you are an affiliate).
See how AnyTrack works for my website here: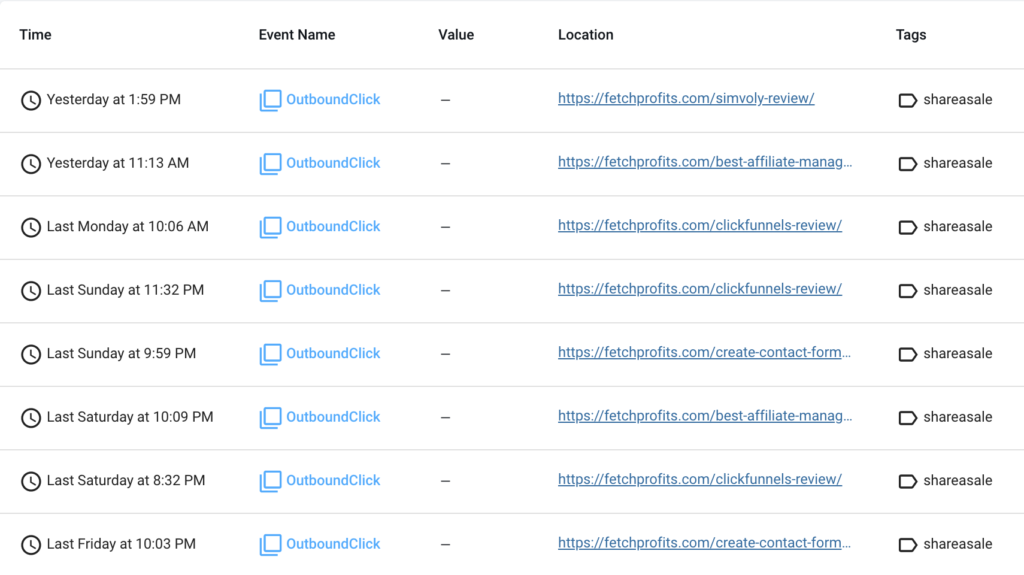 How To Run A Lead Generation Campaign On Google Ads
How to combine NativeAds with Google Remarketing for explosive results
AnyTrack For Data-driven Marketing
Let's take the case of an affiliate here, for simplicity of understanding:
You are an affiliate marketer. Your blog posts have several links pointing to even more offers. How do you know if any of your affiliate links are being clicked at all?
If they are, how do you track conversions happening (on an affiliate network such as ShareAsale)? If and when conversions do happen, how do you pull it all together to track these conversions, especially since you don't have a way to put conversion tags or JavaScript codes on merchant landing pages?). 
Use AnyTrack: One tag, a few integrations (with affiliate platforms), and by connecting Google Analytics (and Facebook Pixel), you now have all the insights you need.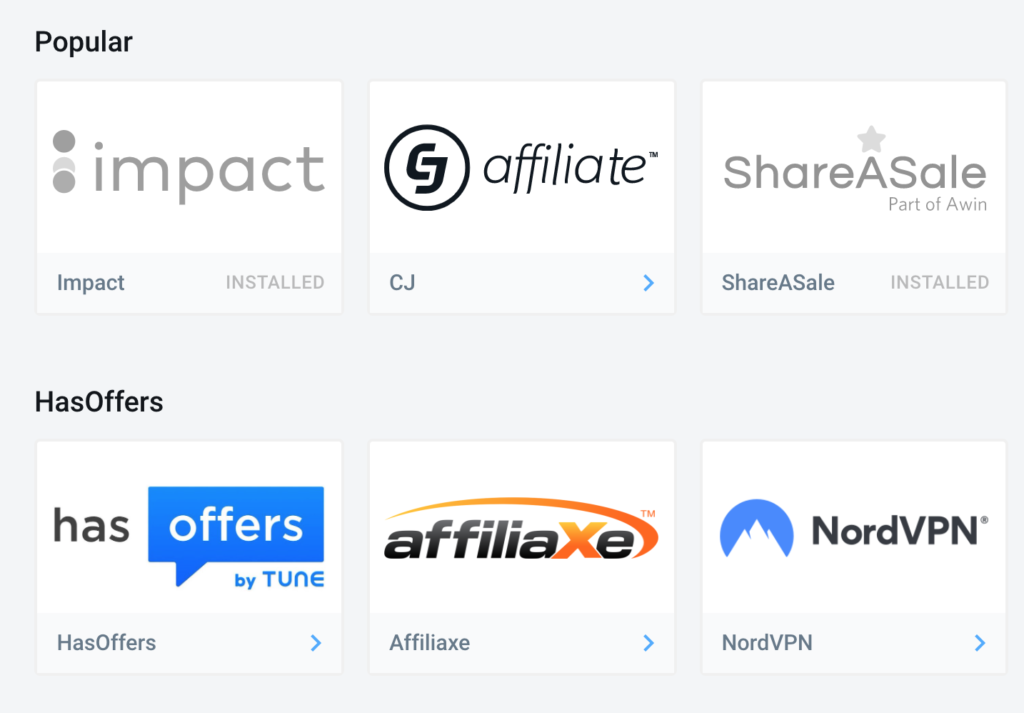 Now, let's take a look at what you can do (at a simplistic level) as a website owner, business founder, or a blogger:
Go deeper with insights on specific audiences that have filled up forms, clicked on links (and also what specific links), or signed up as leads. Having these audiences (include or exclude these audiences) can help you run highly-targeted campaigns across all networks (including Quora Ads, LinkedIn Ads, and more).
Use appropriate UTM tracking to gain rich data for your marketing efforts.
Run Facebook Ads, Google Ads, Quora Ads, LinkedIn Ads with Ads Tracking URL template (provided for you by AnyTrack) — this way, you know precisely what's happening to your ads and all the resultant data from the tracking template (populated into Google Analytics).
Cross-leverage traffic from other sources (such as all the organic traffic you get from SEO and social media organic) and turn them into custom audiences based on behavior so that you can use these audiences for remarketing (Interested in learning more about retargeting? Sign up for pre-launch of my retargeting course).
Run smart campaigns (especially paid ads) thanks to all the granular data you now have available. Thanks to AnyTrack, you have data such as what's driving conversions, data applicable to multi-channel campaigns, and so much more.
Start with a free AnyTrack account and see how it helps you (like magic).
Leverage data insights such as sessions, outbound clicks, form fills, leads generated, and then use this data to run hyper-targeted marketing campaigns that'll change the way you do marketing. 
Read More: