Bottlenecks in marketing are mostly our fault — I mean, it's not like you are working on long manufacturing lines where things could go wrong. There are all kinds of bottlenecks in life, marketing, and business, agreed.
But the bottlenecks in marketing are worrying. If you are a business owner (regardless of the size of the busineess), you are almost always at fault.
That's because you are the reason for many of these bottlenecks. Here are some of the bottlenecks in marketing & a running line of collective thoughts for you to work on:
Unhealthy Love for Design
Look at what most people are usually obsessed with? It's all those "pretty things". Anything that gets attention, is flashy, and is loud is what most people secretly want. Or at least, they are momentarily swayed by it (happens to the best of us).
That's why website design is critical. But designers don't know much about developing websites for "marketing" centric workflows. They design websites based on what the latest trends in typography are, or generously use sliders, or whatever.
Your love for website design is unhealthy because it takes a huge amount of time, money, and resources (mix and match those). All that time could have been better spent on marketing itself. You know? The hustle.
With more than 23+ NoCode website builders available in the market today using which you can build websites in less than 10 minutes, do you really justify spending weeks and months just to go live?
There are tools that exist for digital marketing campaigns as well. Such as those for landing pages, lead generation, a few for videos, tools for sales prospecting, and more.
What's your excuse now?
Digital Marketing Processes (None at all? Or Too Many?)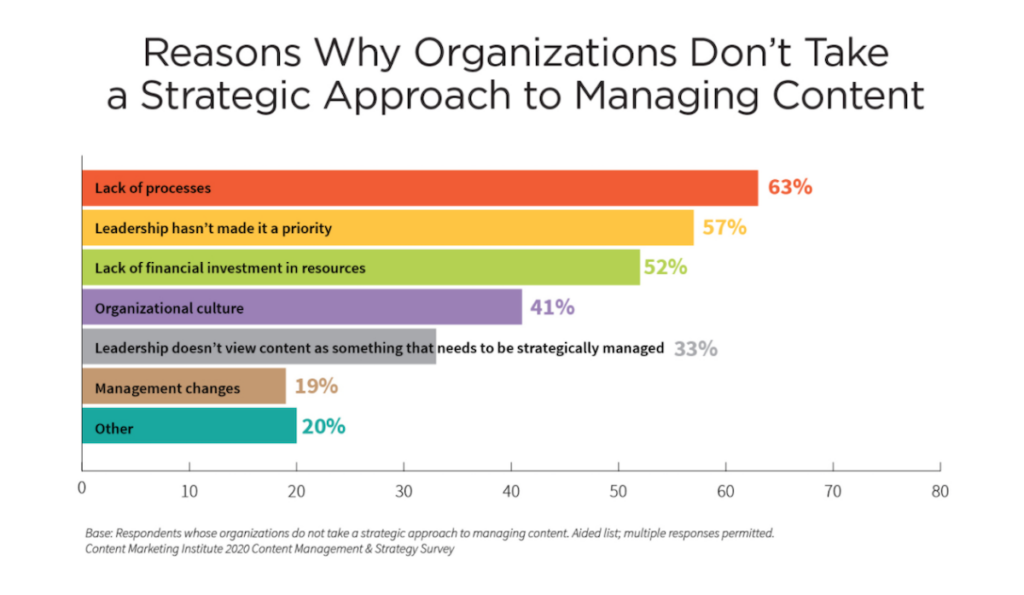 According to a recent CMI research, a "lack of processes" is one of the top reasons why there isn't a proper content management strategy in the first place.
In other cases, the usual issues stem from "leadership teams not making content a priority", "team challenges", and more.
When all of this does work together though, there are beautiful stories we can all learn from: such as any of these individual bloggers who can shame some large name brands. Or these brands that grew with nothing more than content and sweat.
For many more small businesses — here's what the research doesn't show (but I know is true):
Lack of Publishing velocity
I stated earlier that maintaining a publishing velocity is the number one SEO strategy no one bothers to tell you. They won't tell you that because it's ridiculously hard to keep publishing content and it takes time to bring in the results.
All that is assuming you are doing things right — blogging with a purpose, collecting leads with a blog that's optimized to generate leads, use data visualization to keep a tab on your analytics, and then make decisions.
Chances are that you don't blog. How do you think you'll get visitors or generate leads?
Wrong expectations from content marketing
You think that content pieces (like newsletters, live streams, blog posts, images, videos, and others) are like ads. Publish them and the money will roll in. Not happening.
Getting the wrong kind of help: Ever seen requests for typical content marketing jobs (including freelancer briefs?
They usually go like, "We are looking for a fantastic writer or blogger". You are asking for the wrong kind of help here. Fantastic writers are fantastic writers.
That doesn't mean they can help you meet your business goals.
Lack of Tracking and Analytics
When you look for help (or when you set out blogging for yourself): the only goal should be this: What's the traffic growth like, Month on month? How many leads are we able to generate from blogging and other content? How many of these leads signed up as customers?
Use tools like DataBox, Google Analytics, Mouseflow, or SuperMetrics to keep track of your numbers.
Make use of those numbers to make your marketing decisions. You can even use data visualization to make it easier for you to track your analytics and stay on top of numbers that are critical for your business.
Nothing else matters.
Your Opinions On Marketing
There are digital marketing channels, digital marketing tools, and digital marketing strategies. They are all there for a reason.
You can have opinions but you can't let those opinions influence your decisions. Your decisions should be led by data — it's called data-driven marketing.
Here's a video where I try to explain how to decide between which popup to use (applicable to landing pages, website design, or anything else) where you don't decide based on how "good looking" these things are.
I also published about how opinions are destroying your marketing potential in my LinkedIn newsletter.
Marketing doesn't need your opinions; it needs data and execution.