Digital marketing minimalism is a hard concept to follow; just like minimalism itself is.
What do Joshua and Ryan who run The Minimalists and Courtney who runs BeMoreWithLess have in common?
They are minimalists.
The advocate the need to get rid of all the crap you hoarded in your life.
I followed their advice (what I really did is content for another post)
I've forced myself to become a minimalist. It feels good.
But wait, the fetchprofits blog isn't about minimalism right? It's about digital marketing, for god's sake. Why are we discussing minimalism here?
The answer is easy: because you hoard up ideas and thoughts when it comes to digital marketing (just like you end up buying a house you don't need, a car you'll buy, and buying yourself a 55-inch smart television set because you choose to).
Following the ideas and thoughts, you'll also end up doing a little too much with your digital marketing.
You spend hours and days perfecting things you shouldn't have to.
You fuss over words and sentences when writing for your blog (or when others write for you)
You stick to your stupid opinions, whims, and fancies when designing landing pages for your campaigns.
You refuse to believe that ugly looking websites — along with ugly logos — still bring in the revenue (just see my logo and the website you are on right now).
You shouldn't have to hoard up stuff into your digital marketing workflow. It's time you go minimalistic with your digital marketing.
Allow me to simplify it for you:
For organic marketing,
You'll need to write and publish high-quality posts on your blog regularly. Throw in a dash of personality (just be yourself) and link to other bloggers and research while you are at it.
Share what you publish on social media. In addition to that, connect with others (small talk, say hello, say wow) while you are there.
Give something away for free (or for less) and grow your email list. Why? Because you can nurture your list of subscribers who'll eventually buy from you.
Repurpose your blog posts (in other formats like video, slide decks, and infographics) for a few other platforms where your potential customers hang out at.
For paid advertising
Choose an appropriate platform for paid advertising (Is Facebook advertising right for you or is it Google advertising?
Think of an offer you can make. Build your campaign around that offer.
Always create ads in pairs (for testing them out). Likewise, create landing pages (again in pairs) to match those ads.
Collect leads — make sure you integrate your landing pages with your email service provider (like Mailchimp, Campaign Monitor, and Drip)
Nurture leads (10:1 ratio — which means that for every 10 emails you send out, only one or two emails have soft pitches or direct sales content).
Sell and track your sales.
Admittedly, it's not as easy to implement all of the above as it is to read. The point I am making, however, is that there's nothing more you need than this.
Here's how exactly you should approach digital marketing with a minimalistic mindset:
Content Creation: Focus on quality & efficiency
Quality is subjective; efficiency is not.
Normally, many bloggers and businesses do believe in producing quality content. They forget efficiency though. Fussing over grammatical mistakes, worrying whether or not you should use specific words or sentences, spending 7 days on editing a single blog post, and banging your head on the wall to determine a publishing frequency — these habits slow you down.
Develop a process for content publishing, social media, and for sending out emails. Automate what you can and stop worrying incessantly about the quality.
You'll get better with time.
Take emotions out. Put data in
I like red. Use red.
I want video on top. Content at the bottom. No copy. Button should say "I am a button".
Too many businesses spend too much time (and waste it) over stupid things like button colors and landing page layout.
Those are important things only if your continued A/B testing results push you to that conclusion.
Worry about buttons when your data tells you to.
Care about graphics when your previously used graphics don't seem to deliver.
Take emotions out of copy, design, and implementation of your digital marketing workflows.
Use data to make decisions.
Don't over complicate Stuff
I want to use Wix with Sumo.
I want to use Unbounce or Leadpages to build a website with 76 pages full of content.
Build my website on Wix. Then, make it load fast.
Platforms have limitations. Everything has limitations.
If you find yourself choosing one platform over another, prepare to sacrifice something for something else.
Wix, for instance, doesn't work with Sumo. It just won't.
Unbounce is a tool to build fantastic landing pages; not for building websites.
If you use fully-hosted platforms like Wix, how fast your websites or e-commerce stores load is not really in your control (and Wix websites aren't that fast).
But then, there are fully-hosted e-commerce platforms like Shopify for instance that load fast and come with tons of features.
Choose your platforms with care, and realize that you are limited by those platforms. It helps if you don't shoot for the moon.
Campaigns: Keep them simple
Learn to make good offers. Test offers out. Keep making new offers.
No one perfected the art of making offers or pricing yet. It's always been part art and part science. Some individuals and businesses do it well. Others struggle.
When you launch paid campaigns, don't overthink your offers. Don't make your campaigns more complicated than they ought to be.
Basic campaigns look like this: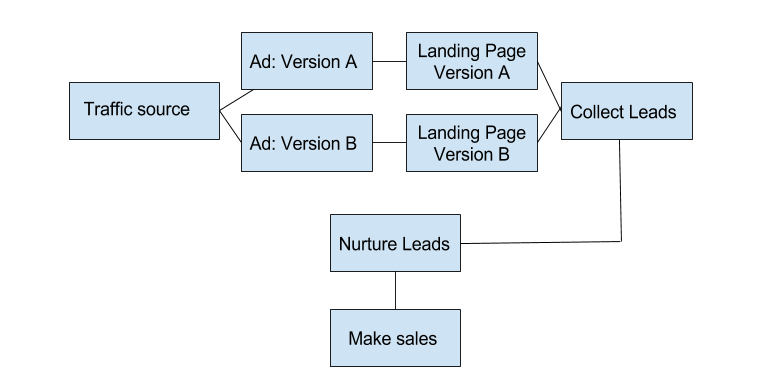 How many complications do you want to add to this workflow?
Stick to Lead nurturing basics
I tried everything on the market, and I already the homework for you. Don't waste time reading reviews.
For almost every business, pick Mailchimp (it has everything you need)
If your business has anything to do with visuals (e-commerce stores, for instance), you should consider Campaign Monitor and Convertkit
Once you pick and run with an email marketing service provider, all you need to do is create emails.
Create autoresponders as first messages that go out when your leads signup for an offer (including welcome messages).
Launch more emails to follow up with the first email. These emails should try to develop a "relationship" with your subscribers. You do this by providing value in the form of information.
Add a basic RSS-to-email campaign (the email that goes out to everyone on your list with your latest blog posts published the week previously).
Occasionally, pitch your products and services.
Track important email marketing metrics such as open rates, click rates,and sales.
Ignore unsubscribers.
This is all you need, really.
Which of the above is missing from your marketing efforts?