Learning how to write eCommerce product descriptions helps you drive up sales, inch closer towards desired customer lifetime value (CLV), boost average Order Value (AOL), lowers the incidence of returns, increases sales, and puts cash in your pocket.
It sounds simple enough (and it partly is). Other part? You complicate it. Like, you complicate everything else.
The Global eCommerce market is going to exceed US $6 Trillion by the end of 2023. It's likely to cross US $8 Trillion by 2026, according to Abdul Rehman of Cloudways
It's strange that as eCommerce business owners or as marketers, we don't take time out to think about "How you made your last purchase online" — it certainly was based on a quick search, finding a product, reading the product description, checking out the related product images, watching a few product-related videos, and then "thinking about it".
You came to the purchase part only when you were ready for it (credit card in hand).
How is it that you expect your own customers to skip the whole process and get to the checkout right away.
Not happening.
One of the fundamental aspects of your customers' journey has to do with product descriptions.
You have nifty tools today (driven by AI) such as Shopify Magic that automatically writes product descriptions or the Visme AI writer to help create all sorts of content for visual assets (including product descriptions).
So what?
AI can help write, but it can't infuse style, personality, and a wee bit of "you".
You thought "no one reads product descriptions"? You are wrong.
An eCommerce study conducted by Nielsen Norman group reveals that more than 20% of unsuccessful purchases are "due to lack of relevant information in product descriptions"
eCommerce copywriting doesn't mean "World class copy" or just how smart it sounds; there's a lot to do with relatability, how simple product descriptions are, whether (or not) your customers understand what the product does (or is, or can do) for them.
Well-crafted product descriptions are simple to understand. They get to the point quickly. They let potential customers know how the product helps them (and allows them to do what exactly?).
Even better product descriptions help move buyers through conversion funnels (compelling copy that attracts them, inches up the desirability quotient, and makes them want to go "I want this!".
Read:
eCommerce Copywriting: How to Write Words That Sell
Here's how to (or how not to) write eCommerce product descriptions:
Pack As Much Info You Possibly Can
There isn't going to be an eCommerce product descriptions examples list without mentioning Nike — a brand that's not only popular but also knows a thing or two about marketing.
I don't wear Nike. Not affiliated with Nike in any way.
I like what they do with marketing in general and product descriptions (along with colors that pop and hugely desirable products).
One of the things Nike does well is to pack as much information as they can into a single paragraph product description.
Take a look at this example below: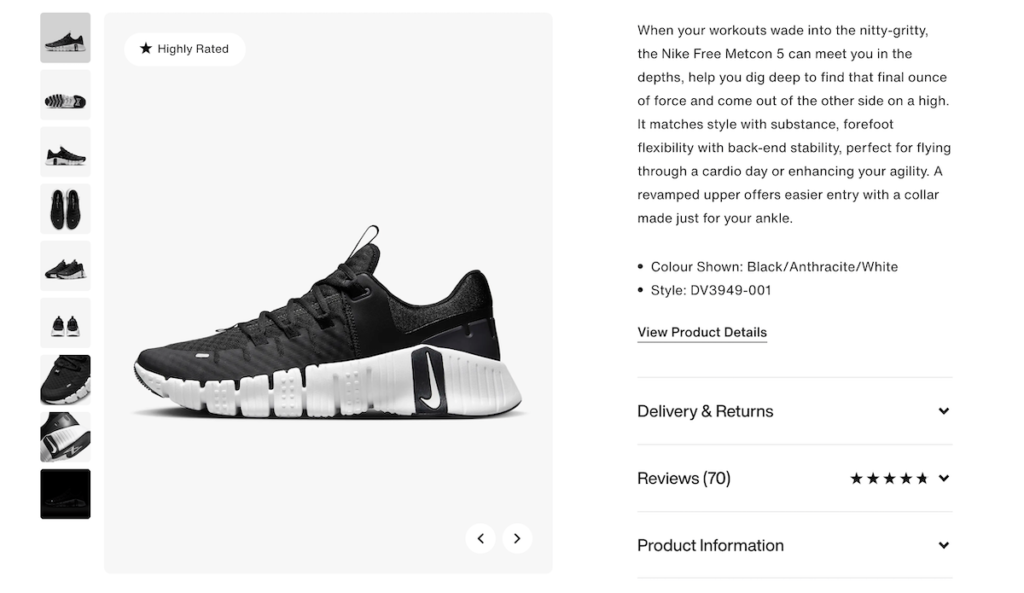 It's one paragraph (they didn't even break it the para).
"Style", "Substance", "Enhancing Cardio", "Revamped Upper", "…Offers easier entry", "collar made just for your ankle", "flexibility", and "back-end stability".
None of the words or phrases used are Jargon. Everyone with a wee bit interest in trainers and sports shoes will understand what's being said.
The humongous power of the brand is another feather in the hat.
Can't beat it, but we can learn.
Read:
Nike Email Marketing Campaigns: The Secrets are Out
Avoid Anything "Yeah Yeah, Yeah Right!"
Henneke Duistermaat writes about this particular "default" copywriting nonsense that we sometimes end up with.
Things like "Excellent product quality", "100% Vegan", or "State-of-the-art". These phrases make potential customers go "Yah right!".
Instead of writing "rah rah, yeah yeah", see how BeardBand writes product copy.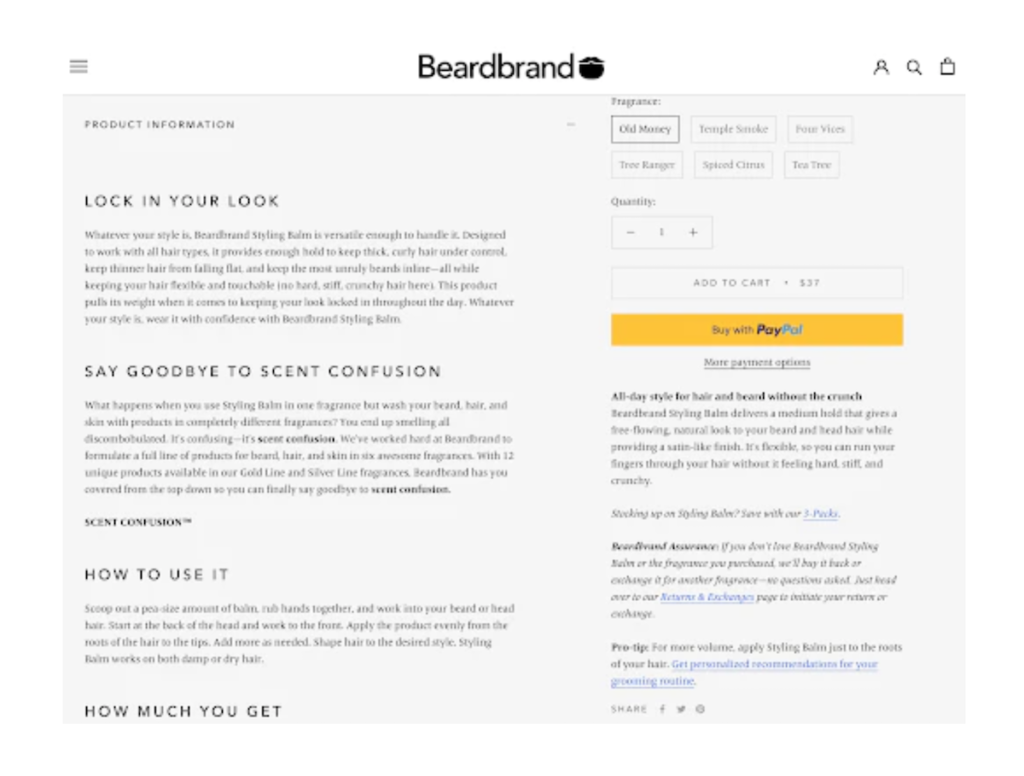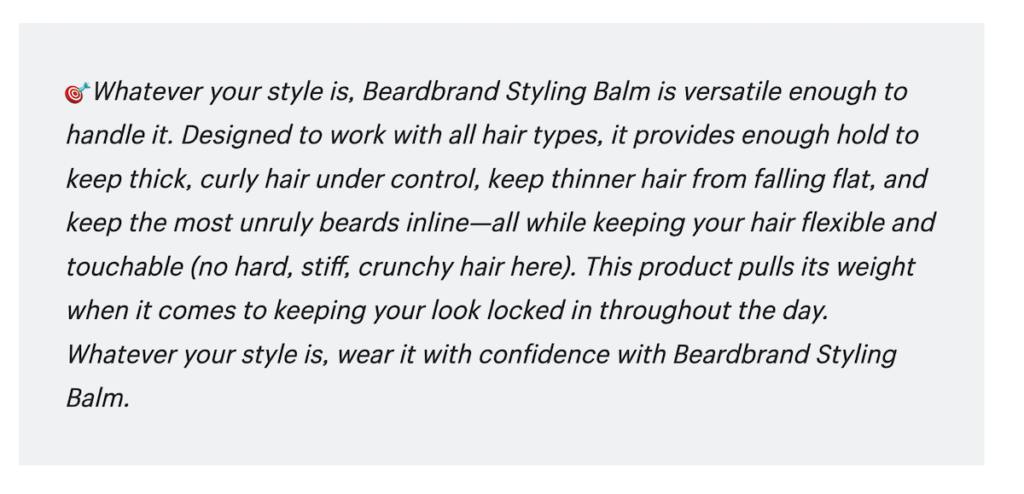 Image Credits: Shopify
Product benefits? Explained in detail. There isn't a single word in there that you wouldn't understand (about hair, hair types, and the balm). Solves problems that need solving.
What's not to like, apart from our problematic hair?
We are Smart (but still dumb)
Some manufacturers and retailers assume that "everyone in my particular target segment" understands.
No, we don't. I love geeking out on electronics, but I am not a "pro". I am just a relatively smart user. So, when you show me a brand new monitor like the Samsung Odyssey G9 or the ASUS RT-AX86U Dual band router, here are a few things going on in my head: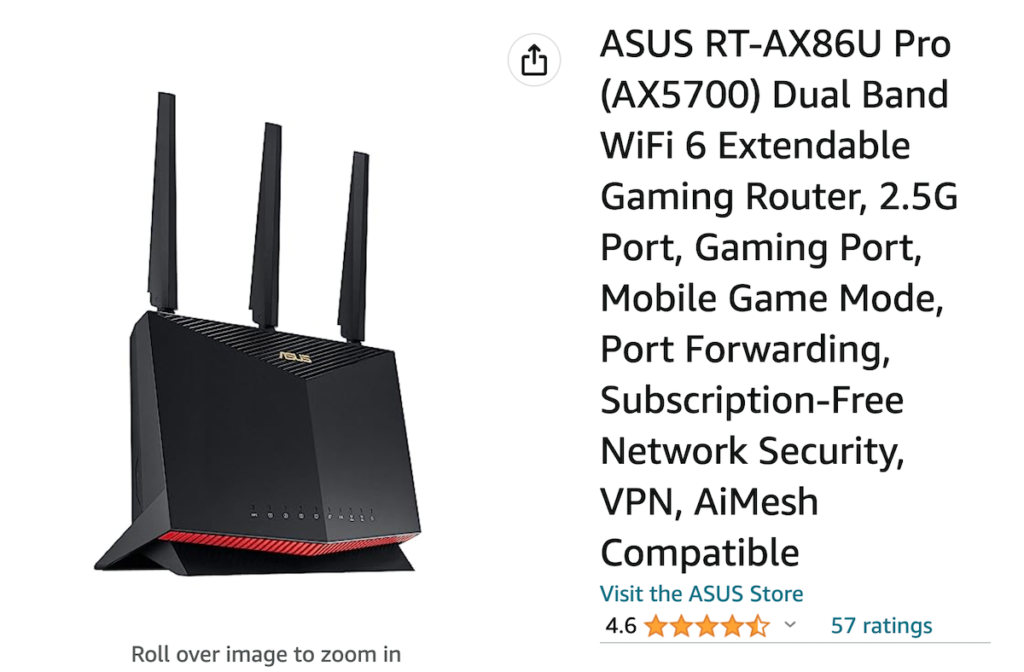 Here's an example on Amazon for ASUS RT-AX86U Pro (AX5700) [Can't manufacturers use simpler names for their products?]
I know I need a fast, dual-band router. But how is this expensive $350 to $500 better than my $100 router? Explain like I am a 5-yr old.
Using terms like Access point mode, wireless communication standards (such as 802.11b, 802.11ax, 802.11 ac, high-efficiency (yeah right!), WiFi 5, 160 MHz channels isn't helping at all.
What's Port Forwarding? What's an AiMesh? How do I use VPN that comes with this router?
How exactly is plonking $400 more on a router going to make my life better?
Shower Me With Details
Simple copy doesn't mean half-stories. Or no stories. Or half-baked descriptions.
Just mentioning your product name and dropping a product description for namesake is not going to help.
Sometimes, you'd need to add details in the product description. Lots of details (as much as you can. No, you don't need to write essays).
See what Bala — a multi-million dollar fitness brand, running on Shopify — does for one of its products called The Play Mat Plus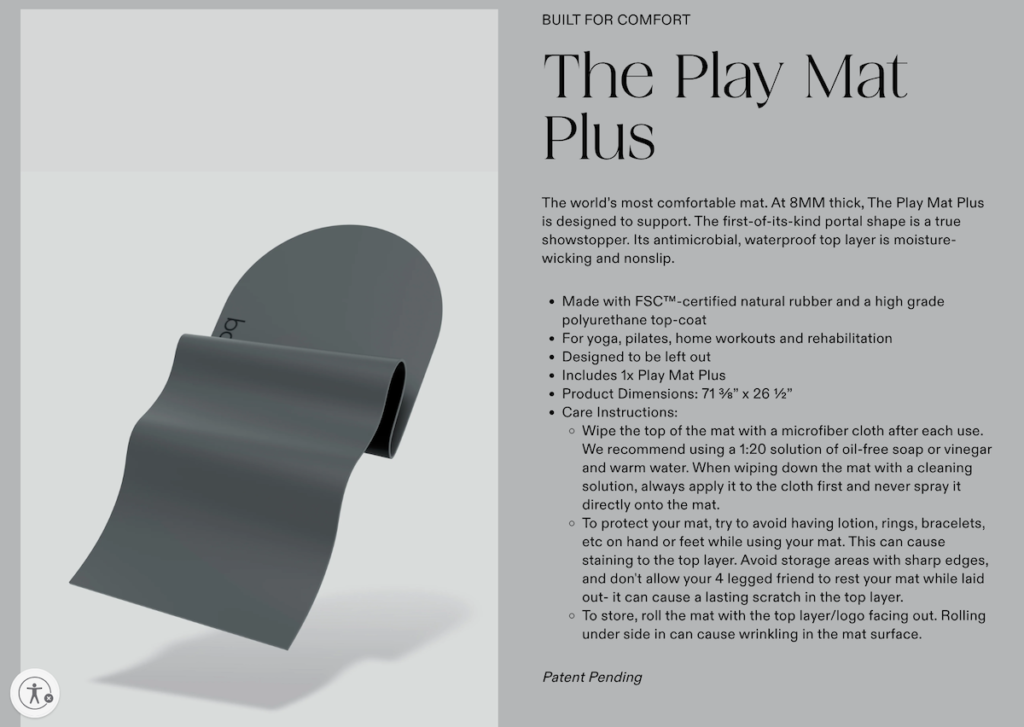 The product description gets into specifics (complete with certifications such as the FSC™-certified natural rubber).
You'll see what it's for (Yoga, home workouts, rehab) — complete with product dimensions, what the package includes, what the product is made of, how it helps, and some other benefits.
Also, notice care instructions (in detail again).
Nicely done.
Social Proof Please?
Product descriptions? Yes. Dollops of social proof? Even better.
Little Chonk sells backpacks (called "Maxine") to carry your pet dog. Specific product, aimed at dog owners (awesome for marketing).
See what the brand does for social proof, featuring snippets of praise from sources such as Wired, Good Housekeeping, and The Dodo.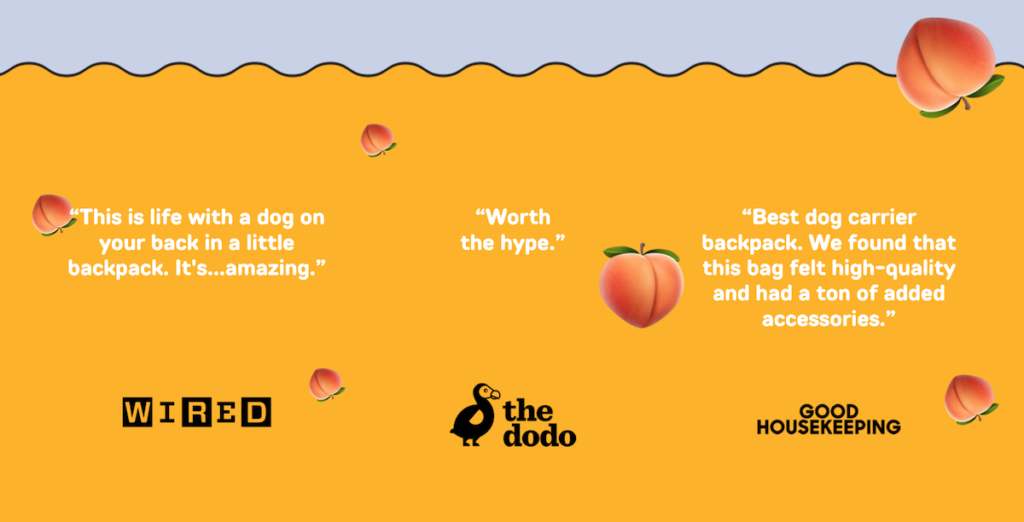 Additional Reads:
12+ eCommerce Product Description Examples to Follow
9 Ways to Write product Descriptions That Inform and Persuade Your Customers
What other ways do you think work to help improve eCommerce product descriptions for better conversions?
Tell me all about it on Twitter, LinkedIn, or my LinkedIn Brand page.