The folks at Visme are on steroids, I think.
Visme has several new features planned. Visme is already a well-equipped graphics design and content marketing asset creation tool that gives your business super powers.
Earlier, Visme announced a new way to create and use forms. The kind of forms that aren't boring but those that actually boost conversions (regardless of why and how you use forms).
Here's a snippet of that information I posted on my LinkedIn page earlier:
What's Visme AI Writer?
Even if you are good at writing, you can't always bring up the creative juices (+ creativity, energy, ideas, and attention to detail) to keep coming up with new content for "everything" that you need to do.
Content for blog posts, captions for Instagram, email copy, social media posts, descriptions for YouTube Videos, content for presentations, content for slide decks — and so on and on.
If you are a busy entrepreneur, content creator, blogger, or a small business owner (invested in content marketing), you really need a way out.
That's what Visme AI writer helps with — It gives you a way to super charge your content (without having to think too much, but you'd still have to edit content to induce some personality).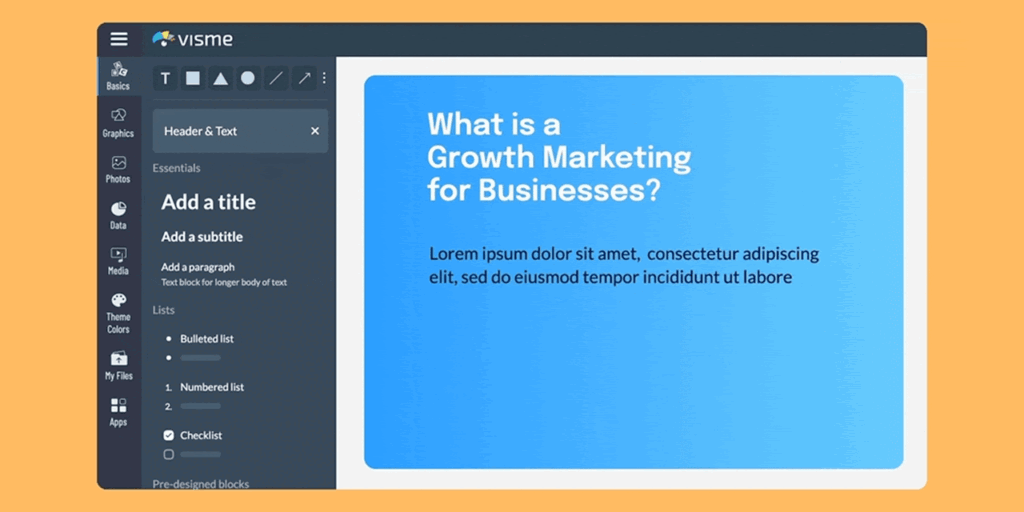 Image Credit: Visme
Struggling with writer's block? Looking to craft that perfect sales pitch? Don't have any ideas for a new product launch video script?
Tap into the power of Visme's AI Writer. Built into every text field and powered by OpenAI API, our latest AI tool will help you speed up content production and unleash your creativity.
AI Writer is built into every text field so that you can quickly tap into its power when you need help writing (Easily accessible inside any project, old or new).
For the various content pieces you'd normally create with Visme — be it brainstorming on whiteboards, coming up with a promotional video idea, generating a catchy tagline for a social media post, and more — you'd be able to provide a prompt and get the content automatically created for you.
It's as simple as that.
Note: Please remember to use your personality, edit anything "too boring, and too factual", and bring your content to life.
How Visme AI Writer Can Help [Use cases]
Visme AI writer helps just as any modern AI tool helps — boosts your productivity, helps produce content faster, and allow you to reach your business goals.
The focus should be in generating decent, valuable, and helpful content for your visitors or readers. Visme AI writer makes it easier, saves time, and allows you to do more.
Create Content for Visual Content Assets
What Visme is exceptionally good at is to give you the firepower you need to create visual assets — carousels for social media, social media posts themselves, presentations, infographics, eBooks, White papers, slide decks, and others.
Creating regular content itself is a huge co-ordinated effort for businesses and brands. Anything else — in the form of content assets (created as a part of content marketing strategy) — is an additional burden.
But burden it doesn't have to be.
With Visme AI writer, all you have to do is to provide prompts. Tell Visme AI writer what you need. The content is generated for you.
Edit this content to suit your style, branding ethos, brand voice, and then let it fly.
Generate Instagram Captions, Like a Pro
Instagram is all about images and videos. Instagram is also a lot about the captions you use (along with hashtags). Getting it right, for every single post (that contains images or videos) is no easy task.
Imagine a small business owner trying to take time out everyday of the week to come up with creative captions and content for Instagram.
Not easy.
Use AI Writer as an Instagram caption generator. When prompted, describe the objective, particular tone of voice and any information that needs to be included.
Ask the generator to draft a list of CTAs for a promotion or landing page in different styles and tones for various target customers.
Conquer Writer's Block
Sitting there and staring at the screen is "just one of those things" that anyone with anything to do with content faces. It's inevitable.
It's time to make it easier on yourself — instead of letting things like Imposter Syndrome, Writers' block, and other useless things cost you time and opportunity cost.
Use AI Writer to conquer writer's block. Ask AI Writer to write a first draft. You can then expand on the content and make it your own.
Or treat it as a topic generator and come up with a huge range of topics that you can work with.
For eCommerce brands, use the Visme AI Writer as a product name generator, product-description generator, eCommerce site content generator, eCommerce product page copy generator, or as a conclusion generator for longer blog posts you create as a part of your eCommerce blogging efforts.
Resident Error Manager and Grammar Monitor
Imagine how ridiculous it'd be if you had to create a presentation ( to stake holders) and your presentation or slide deck has errors.
Not going to look good on you.
Ask Visme AI Writer to check for spelling and grammar errors. Add your text to the prompt window and ask for specific proofreading steps; rewrite sentences, spellcheck, rewrite for clarity, rephrase for a particular target audience, etc.
Change your text length easily with AI Writer. Upload your text to the AI Writer window and ask the AI to shorten your text or make your text longer.
Read:
Go to Visme. Start creating winning content assets for your content strategy now.
Have you checked out Visme AI writer yet?
Tell me all about it on Twitter, LinkedIn, or my LinkedIn Brand page.