Off late, there's been a jump in search for Linktree alternatives. This is "too-much-drama-to-handle-while-I-still-have-a-business-to-run".
Business owners, bloggers, affiliate marketers, content creators, or [plug what you do in here] don't have the time for this.
Note: I am not against Linktree. Nor do I stop using Twitter. It's just that there might just be better ways than looking for Linktree alternatives which might just stop working one day.
The positives of using Linktree are pretty obvious: one link, many destinations. Visitors choose what they want to see, read, consume, checkout, and what not.
Should you really bother with Linktree, with all the drama around Elon Musk-backed Twitter's update on Linktree ban and then putting out the fire, according to TechCrunch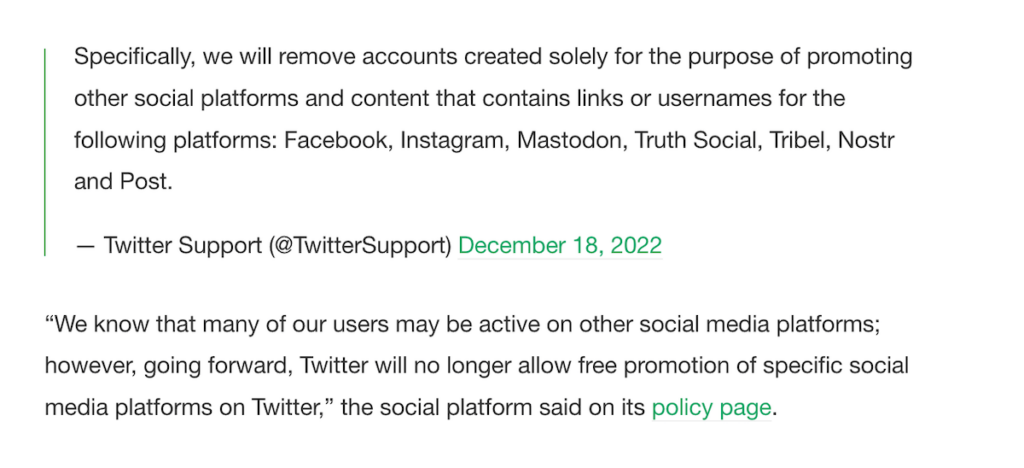 Twitter might have backed out (thanks to a major criticism and backlash). For all you know, by the time you read this, you might be able to use Linktree again.
That's not the point though. This is just one of those reminders that:
Never depend on any "one" social network for your business (like, "I love Twitter", "I love LinkedIn", "Insta is the thang" songs we love to sing).
For a few things, such as "Link-In-Bio tools", either pick Link-In-Bio tools from platforms that don't have the "drama DNA".
Even better? Use what you have already: There are simple ways to create something similar to what Link-In-Bio tools do.
Stop Looking for Linktree Alternatives: Do This Instead
Design Landing Pages That Mimic Link-In-Bio tool Functionality.
The key is to design landing pages that work just like Link-In-Bio tools do. It's not rocket science, you don't need to be a 30-yr veteran in design, and you get everything (and even more) if you just depend on the platforms you already know and love.
Link-In-Bio Options For Shopify Merchants & WordPress
Shopify has its own Link-In-Bio tool, available for free called Linkpop.
With Linkpop, you can present pages with curated content. You also have features to help you analyze traffic, and sell products through one shareable link.
Linkpop directly and seamlessly connects to your Shopify store — share products directly on your page, have visitors see your products, and have followers shop in a few clicks. Linkpop is also powered by Shopify's fast and secure checkout.
If you are into eCommerce (especially products), Linkpop is all you need.
Read:
How to Craft a Link In Bio With LinkPop
Looking for WordPress plugins that can do the job? Here are a few such as Link In Bio By C & C and Social Lite by Chadwick Marketing
If you don't want to use WordPress plugins for Link In Bio, you can also create landing pages right insight WordPress (if your theme allows it). Or you can use an all-purpose design tool for WordPress such as Divi.
Podia
Most people know that Podia is a terrific platform for creating and selling online courses, selling digital downloads, memberships, webinars, live access to paid videos, and coaching. But did you know that you can build a dedicated "Link-in-Bio" page with podia as well?
The promise is that you don't need to settle with a "cookie-cutter Link In Bio" which looks exactly the same as that of anyone else's link in bio page or that of any other business. Further, you don't need to pay for a separate tool like Linktree.
If you have Podia — as a business or as a content creator — you not only get a fantastic platform for selling digital products, online courses, and digital downloads but you also have access to a capable website and landing page builder using which you can create a custom link in bio page for yourself.
Read:
How to Make an Irresistible Link In Bio Page With Podia
Landing Page Builders
Pick up Unbounce and create any kind of landing pages you need, including something that looks like a "Link-In-Bio" page.
Or pick any of the hundreds of templates that Leadpages or Instapage provides and quickly add buttons or boxes with links to replicate the Link-In-Bio tool functionality.
In fact, you can use any of these landing page builders to quickly create Link-In-Bio pages. All of these software tools were built for heavy-duty marketing campaigns. Some of these also have integrations other tools, boast of built-in apps, and are easy to use.
It's faster. This gives you control over layouts, colors, styles, design, and content.
Convertkit
If you are already a Convertkit user (even for the free Convertkit accounts), you get access to several landing page templates right inside Convertkit (in addition to fantastic email automations, broadcast emails, tagging, segmenting, Convertkit Commerce, and so much more).
Use Convertkit landing page templates (they also have a few templates readily available for Link-In-Bio page styles.
If you use Convertkit Commerce, there's also an option to directly link your digital products from your Link-In-Bio pages you create.
Mailchimp
Did you know that Mailchimp also has a landing page builder? While it's the most clunky, cumbersome, and also expensive to use Mailchimp landing pages, the point is that you can.
If you are already a Mailchimp user (paying top money for the service), you also have access to landing pages inside Mailchimp.
No Code Websites
My popular guide on 23+ No Code Website builders has a complete list of easy-to-use and new-age website builders including the likes of Strikingly, Wix, Leadpages Website Builder, and more.
Pick any of these website builders and they also have features where you can create either landing pages or full-fledged regular pages that work like Link-In-Bio tools.
Have Linktree? Using Linktree? Looking for Linktree alternatives? Would you like to go down this path instead?
Tell me all about it on Twitter, LinkedIn, or my LinkedIn Brand page.